« RIP: Rush Limbaugh Has Passed
Update: Rush's Wife Announces His Death
|
Main
|
Revealed: Both CNN and MSNBC Paid the Antifa Leader $35,000 for His Video of the Riots He Encouraged and Took Part In »
February 17, 2021
Update: Trump Talks About Rush Limbaugh
Also below: Rush's wife announced his death to open the show.
The Babylon Bee: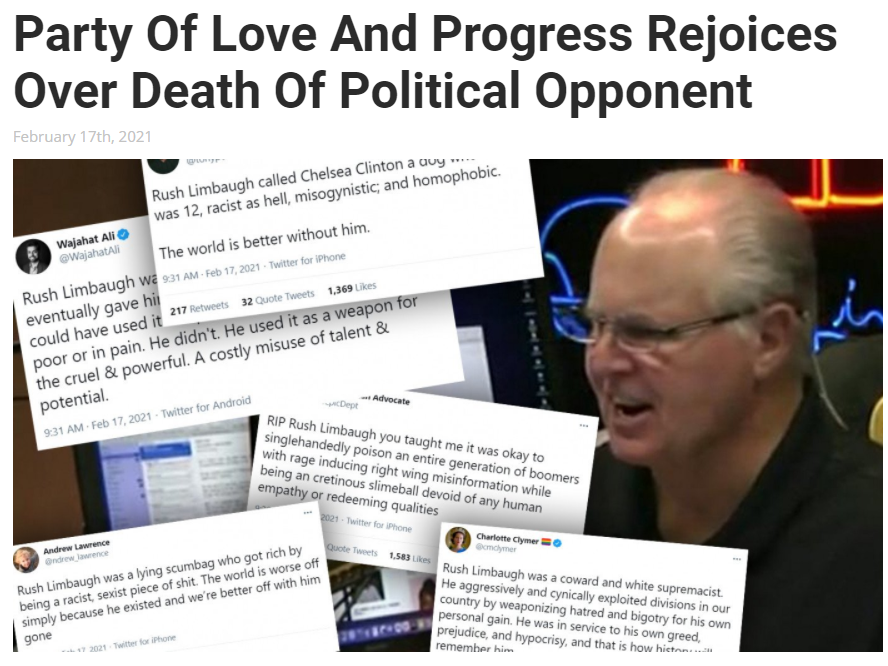 "Both ssssidesss," the cvks like Iowahawk hiss.
Perhaps Iowahawk might have noticed that the few people saying anything untoward about RBG's death were anonymous rando accounts, while the leftwing features its Media "Elite" gloating about Rush's death.
But nah.
Like the left, the Pseudoright draws an equivalence for "QAnon Shaman's" support of violent protest, with... the support of rioting by the Vice President of the United States.
Rather a... bit of a difference there, no?
No, according to the Jonah Goldbergs and the Iowahawks and the Twitter-Fabulous of the Pseudoright.
Both Sides Forever.


82 Iowahawk is wearing his own skinsuit now.
Posted by: Lady in Black - GODSPEED Rush Limbaugh

New update: Rush Limbaugh eulogizes Andrew Breitbart, who said of the impotent, no-account Twitter Addicts celebrating his death: "Leftists are filled with an unspeakable, vicious glee today, but Brietbart would have loved to read them for they show the impact he had."
Applies to Rush as well.
9 You have reached end of watch, sir.

We'll take it from here. RIP, GOOD MAN.
Posted by: IRONGRAMPA
That's from Huck Follywood:
131 Legal Insurrection posted Rush's great remembrance of Andrew Breitbart, when Andrew died. Good stuff.

"You only get one life."
"Leftists are filled with an unspeakable, vicious glee today, but Brietbart would have loved to read them for they show the impact he had"


https://youtu.be/yi4pQKU7qv4
Posted by: Huck Follywood, registered Independent

posted by Ace at
01:08 PM
|
Access Comments