« Monday Overnight Open Thread (2/15/21)
|
Main
|
Mid-Morning Art Thread »
February 16, 2021
The Morning Report - 2/16/21 [J.J. Sefton]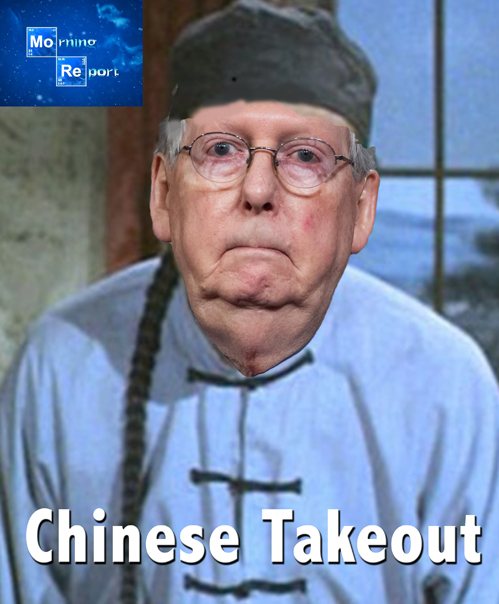 Good morning, kids. Tuesday and the beat-down goes on. While President-in-Exile Trump has been acquitted in that second impeachment "trial" - in quotes since it was a complete sham of a kangaroo court show trial without even a scintilla of legality - the effort to prevent him or anyone who like him has any notion of running with the aim of dismantling the State formerly known as Deep and now totally out of the closet goes on. And the GOP-e is fully on board with that enterprise. Despite my loathing of the seven traitors who voted with the Democrats to convict, Mitch McConnell beats them out by a mile in the despicability derby by voting to acquit yet going to the microphones to blood libel PIEOTUS Trump. When he and his ilk do that, they are doing it to all of us. We are a constituency in search of a party, and on the way to being without a country.
Let's look at the numbers, first. A record 50% of Americans surveyed now identify as political independents. It is an even split for those identifying as members of the two major parties at 25% apiece. This finding is a net drop of 5% identifying as Democrats and an increase of 1% for Republicans since early January. The Gallup poll found that 62% of U.S. adults say the "parties do such a poor job representing the American people that a third party is needed."

According to Gallup's historical trends, 60% supported a third party in 2013, which increased to 61% in 2017. These surveys followed the reelection of Barack Obama and the election of Donald Trump, respectively. It is interesting to note that it has not fallen below 57% since 2013. In cycles since 2003, it fell into the 40s during election years. That did not happen in 2016 or 2020. In September of 2020, with two candidates to choose from in November, it sat at 57%. Since the election, the desire for a third party has risen to 62%.

Because they lean left, Gallup seems to think the cause for the increase in support for a third party comes from anti-Trump Republicans from prior administrations. That idea is debatable. There are just as many Trump supporters disillusioned with moderate GOP members. There was also a significant amount of support for President Trump's rumored Patriot Party...

...It seems more than possible that a platform that returns us to intelligent energy independence, a foreign policy that clearly defines our allies and enemies, with a focus on Americans' prosperity and security at its core, could appeal to a broad coalition. A return to a shared and more patriotic national identity is popular among 57% of likely voters. The party that can define it, communicate it authentically, and find candidates to support it will be the undeniable winner in the future.
As Stacy Lennox at PJ Media notes, there is disaffection if not hatred for both the Democrats and the GOP not just at each other but crucially from their respective bases, albeit for different reasons. Let's strip away all the vituperative rhetoric and the personalities and try to get to the core. Two concepts are in play here. First, there's the debate over specific policy issues and second is the debate over the very nature of how we are to organize society and run our affairs to deal with those issues. The gigantic hurdle that must be overcome is the brainwashing of so many on the Left of the illegitimacy and original sin that America is evil. Assuming that we can at least breach that divide (and the jury is out on that), the recognition that there is indeed something rotten in Denmark could engender a renaissance of the MAGA movement, perhaps by another name, but still with the same goal of liberating us from globalist enslavement.
It's kind of ironic that 10 years on "the 1%" label is no longer something to be mocked as a Bolshevik smear but as a reflection of the political reality we are all facing, both Democrat and Republican voters. We are indeed controlled by a self-proclaimed elitist cabal of information oligarchs, Wall Street and banking mega corporations who have subsumed our G-d given liberties for their own advancement and embellishment.
In lots of places, people feel like second-class citizens in their own country. The defining characteristic of many Third-World societies and all totalitarianisms is that a tiny elite, whether called the party members or oligarchs who call the shots. Generally speaking, only the democratic West was the exception to this rule. The U.S. long avoided the aristocrat/peasant split through growth in middle- and lower-class income. But beginning with Ronald Reagan or Barack Obama, depending on what economist you believe, this income growth stopped and trends started splitting America into two halves. Unchecked, the combination of stagnating middle-class incomes and increasing 'elite' control over government would inevitably fuel a Third-World-ization of America and spark a populist rebellion against the status quo...

...For reasons of their own, the members of the globalist coalition wanted to get rid of the Deplorables, along with their ideas of high wages, vacations, G-d, and American exceptionalism. Here was the basis for the greatest alliance of convenience since Detroit built trucks for Stalin during WW2. "A decade ago, no one would've put NBA superstar LeBron James and Apple CEO Tim Cook in the same family album, but here they are now, linked by their fantastic wealth owing to cheap Chinese manufacturing."
Can we somehow bridge this divide? Can we somehow deprogram a significant number of reflexively Democrat voters and create some semblance of a nation again in order to solve political differences without making the legitimacy of the nation itself a political difference? PIEOTUS Trump was the first and so far only person who was able to do that. 75-80 million people who re-elected him last November is proof that he attracted a significant number of Democrats and disaffected others to cross over and vote not just for him but his vision of what this nation should be, as became tangible in his achievements from 2017-2020 (the Chinese Lung AIDS pandemic shut down sabotage notwithstanding). All of this assumes that national and local races will not be rigged going forward. But there are millions and millions of pissed-off people out there. And as this insane junta shambles on, ruining lives, destroying/confiscating wealth and growing richer and more powerful as all of us descend into misery, the stage will be set for a real revolution.
I'm hoping it's a massive and peaceful one. I fear it may not be. But something is going to happen.

ABOVE THE FOLD, BREAKING, NOTEWORTHY
NOTE: The opinions expressed in some links may or may not reflect my own. I include them because of their relevance to the discussion of a particular issue.
ALSO: The Morning Report is cross-posted at CutJibNewsletter.com if you want to continue the conversation all day.
Follow us on Twitter: @CutJibNews
Follow us on Instagram: @Cutjibnewsletter


posted by Open Blogger at
07:47 AM
|
Access Comments