« Andrew Cuomo's Top Aide Admits: We Hid The Numbers Of How Many Nursing Home Patients We Killed Because We Feared that Federal Prosecutors Would Use Them Against Us
|
Main
|
To Appease Our New Transgender Overlords and Slave-Masters, We Are Now All Required to Say "Chestfeeding" Instead of "Breastfeeding" »
February 12, 2021
Someone At the Lincoln Project Appears to Have Illegally Broken Into Former Partner Jennifer Horn's Twitter Account, and Then Illegally Posted Private DMs on Twitter
FBI Investigating
And then, when morbidly obese troll George Conway noted that this might maybe constitute a federal felony, they scrambled to delete all the messages.
Whoops!
Whoopsie!
Yashar Ali asked Twitter if this was a violation of Twitter's bullshit, selectively-enforced "hacked materials" policy. Apparently they're claiming they banned Project Veritas and James O'Keefe for posting "hacked materials."
Now, someone at the National Man-Boy Lincoln Association obviously had access to former partner Jennifer Horn's private DM's.
It seems extremely unlikely that Horn, who departed the organization angrily, would give the fat angry men at the Lincoln Project her password.
So these "materials" seem obviously "hacked."
But, Twitter says: Nah. It's all cool for our leftwing friends.
And it gets better. Do you remember in previous #MeToo sexual harassment controversies, the abused women demanded to be released from their non-disclosure agreements so that they could come forward with their allegations?
Well, staffers and interns at the National Man-Boy Lincoln Association are demanding that they be released from their non-disclosure agreements.
Leaders of the anti-Trump GOP political action committee the Lincoln Project are coming under fire from six former employees who are demanding to be released from "all Non-Disclosure Agreements" to allow them to discuss allegations that a now-departed co-founder of the group, John Weaver, sexually harassed young men.

The Lincoln Project, which has been heavily criticized for days over the allegations involving Weaver, on Thursday night announced that it was hiring outside investigators to review Weaver's tenure with the organization.
Oh, yes, that's the standard next move in the cover-up playbook.
An "outside investigator" who is... paid by the organization and controlled by the organization to deliver the report the organization wants.
Lincoln Project leaders claim they were unaware of Weaver's behavior until it was disclosed in recent media reports.

The six former employees, in an open letter that was provided to the New York Times, urged the Lincoln Project to waive the nondisclosure agreements.

Here is that open letter: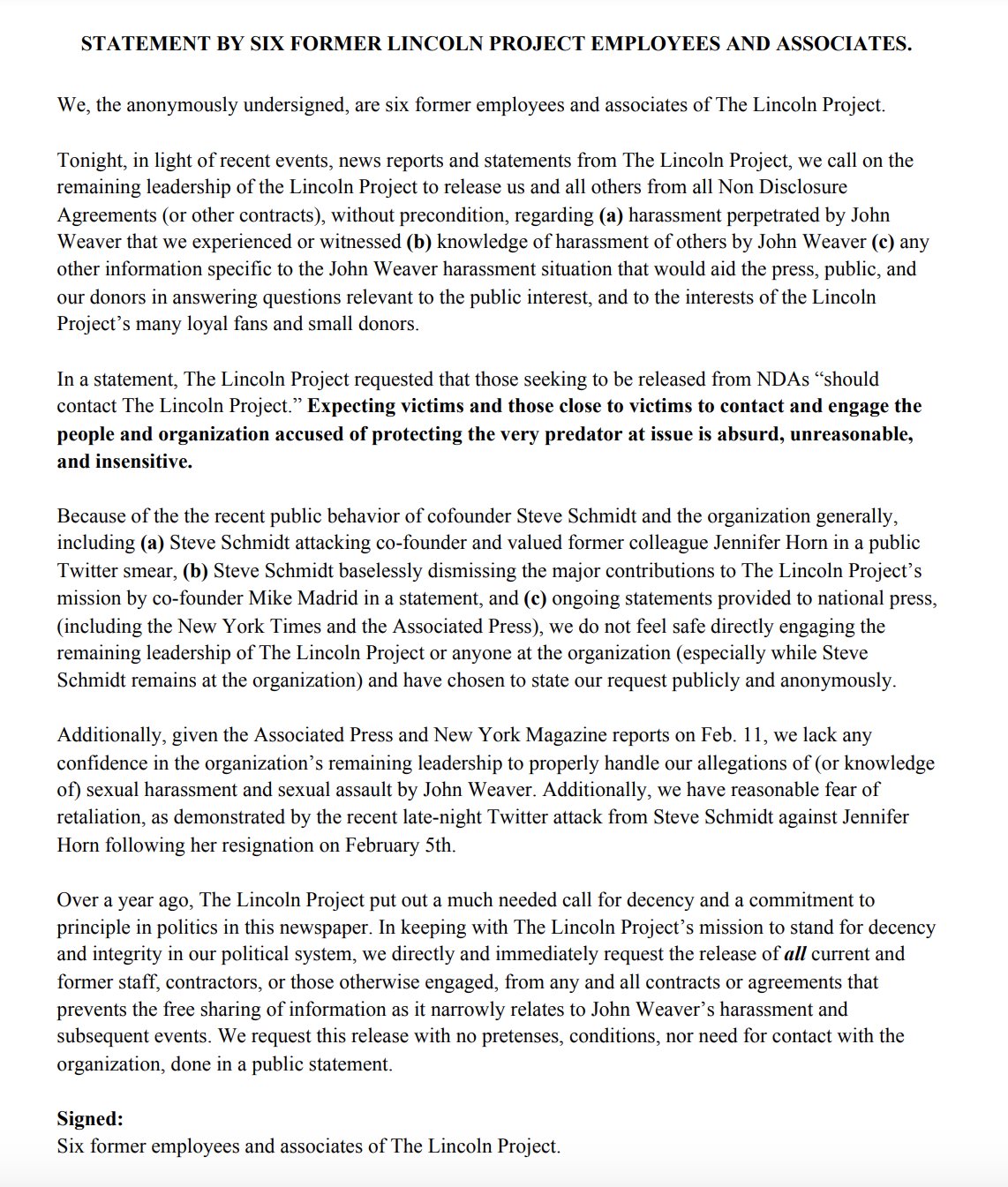 New York Magazine has a new article up about John Weaver and his pedophile-adjacent partners.
Remember, Karl Rove said he knew that John Weaver was a boy-hunter since 1988.
And the Lincoln Project claims to not have heard about any of this until recently.
But guess who was a protege of Karl Rove?!?
Weaver started the group with some of the biggest names in Republican politics to defeat Donald Trump. Joining him was Steve Schmidt, a Karl Rove protege during George W. Bush's reelection campaign, known for his no-holds-barred style of attack, who later worked on McCain's 2008 campaign.
So Steve Schmidt -- who has been very forward-leaning in claiming to have no knowledge of Weaver's predilections, ever -- is claiming that Karl Rove, his mentor during the George Bush 2004 campaign, never once warned him that he was getting into bed with a pedophile?
Is.
This.
Even.
Remotely.
Plausible?
Meanwhile, even the FBI is now investigating the allegations against John Weaver.
I'm sure they'll conclude he "lacked intent" to f*** underaged boys, but in the meantime they'll put on their usual show for the rubes.

El Kabong (who came up with the "National Man-Boy Lincoln Association") name is having all kinds of fun-GAINZZZ with this story: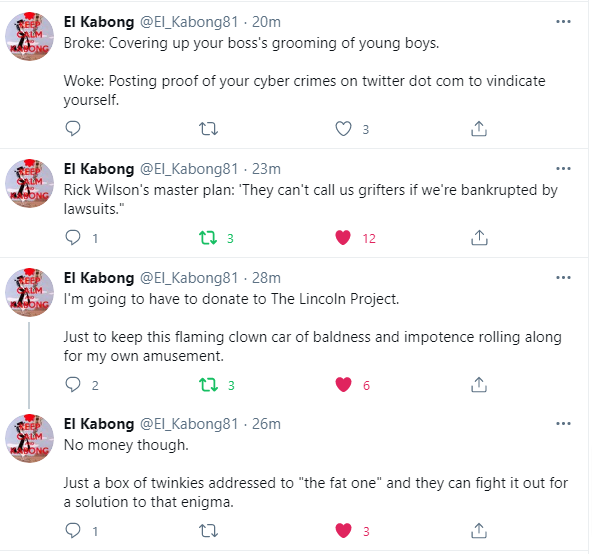 Finally, Julie Kelly, She-Scourge of the NeverTrumpers, has a very, very good question.
Do you know who's partnered up with the National Man-Boy Lincoln Association?
Bill Kristol and his "Defending Democracy Together" organization and Bill Kristol's "Republican Voters Against Trump."
When did Bill Kristol know, and when did he know it?
How about all the other NeverTrump cocksuckers at Defending Democracy Together?
And is Bill Kristol claiming that despite his long romance of John McCain, he never heard these rumors about John McCain's advisor John Weaver?
Never?
If he claims that, he's lying. Period.

The Lincoln Project
Honor. Civility. Respect. Occasional sex with underaged boys. An extra dose of Honor to make up for the pedophilia.
It's what America is all about.

posted by Ace at
01:08 PM
|
Access Comments