ę The Morning Rant
|
Main
|
Florida Education Commissioner: Why No, I Won't Be Following the CDC's Teachers-Union Dictated Slow-Roll Plan to Fake-Open (Really, Keep Closed) the Schools. We'll Just Keep Them Open, Thank You. Ľ
February 15, 2021
Buffy the Vampire Slayer Creator and Noted Male Feminist Joss Whedon Is Hit By New Allegations of Abuse by Actresses
Every male feminist should be forced to hand out r@pe whistles to all women within 500 yards.
The actresses released statements on social media putting distance between themselves and the embattled director/producer/writer.

"While I am proud to have my name associated with Buffy Summers, I donít want to be forever associated with the name Joss Whedon," Gellar, 43, wrote via Instagram on Wednesday. "I am more focused on raising my family and surviving a pandemic currently so I will not be making any further statements. At this time, but I stand with all survivors of abuse and I'm proud of them for speaking out."

Trachtenberg wrote on Instagram, "Thank you @sarahmgellar for saying this. I am brave enough now as a 35-year-old woman....To repost this. Because. This must. Be known. As a teenager. With his not appropriate behavior....very. Not. Appropriate."

...

"For nearly two decades, I have held my tongue and even made excuses for certain events that traumatized me to this day," the actress began her two-page note. "Joss Whedon abused his power on numerous occasions while working together on sets of Buffy the Vampire Slayer and Angel. While he found his misconduct amusing, it only served to intensify my performance anxiety, disempower me, and alienate me from my peers. The disturbing incidents triggered a chronic physical condition from which I still suffer. It is with a beating, heavy heart that I say I coped in isolation and, at times, destructively."
Actress Michelle Tractenberg has revealed a suggestive claim:
On Thursday, the actress (who played Dawn Summers on the show) claimed that there was a rule on set that Whedon was not allowed to be in a room alone with her.

"The last. Comment I will make on this. Was. There was a rule. Saying. He's not allowed in a room alone with Michelle again," Trachtenberg wrote in an Instagram post. In the same post, Trachtenberg had reposted "Buffy" star Sarah Michelle Gellar's social media post saying she "stands with all survivors of abuse and am proud of them for speaking out."

Insider contacted Whedon's and Trachtenberg's representatives for further comment but did not get a response.
Below, the complaint of Charisma Carpenter that started this.
Whedon called her "fat." She told him that that was because she was four months pregnant.
He then demanded to know if she was going to "keep it," with the suggestion that she was behaving selfishly by keeping the baby and being all "fat" for his stupid man-boy vampire fantasy bullshit show.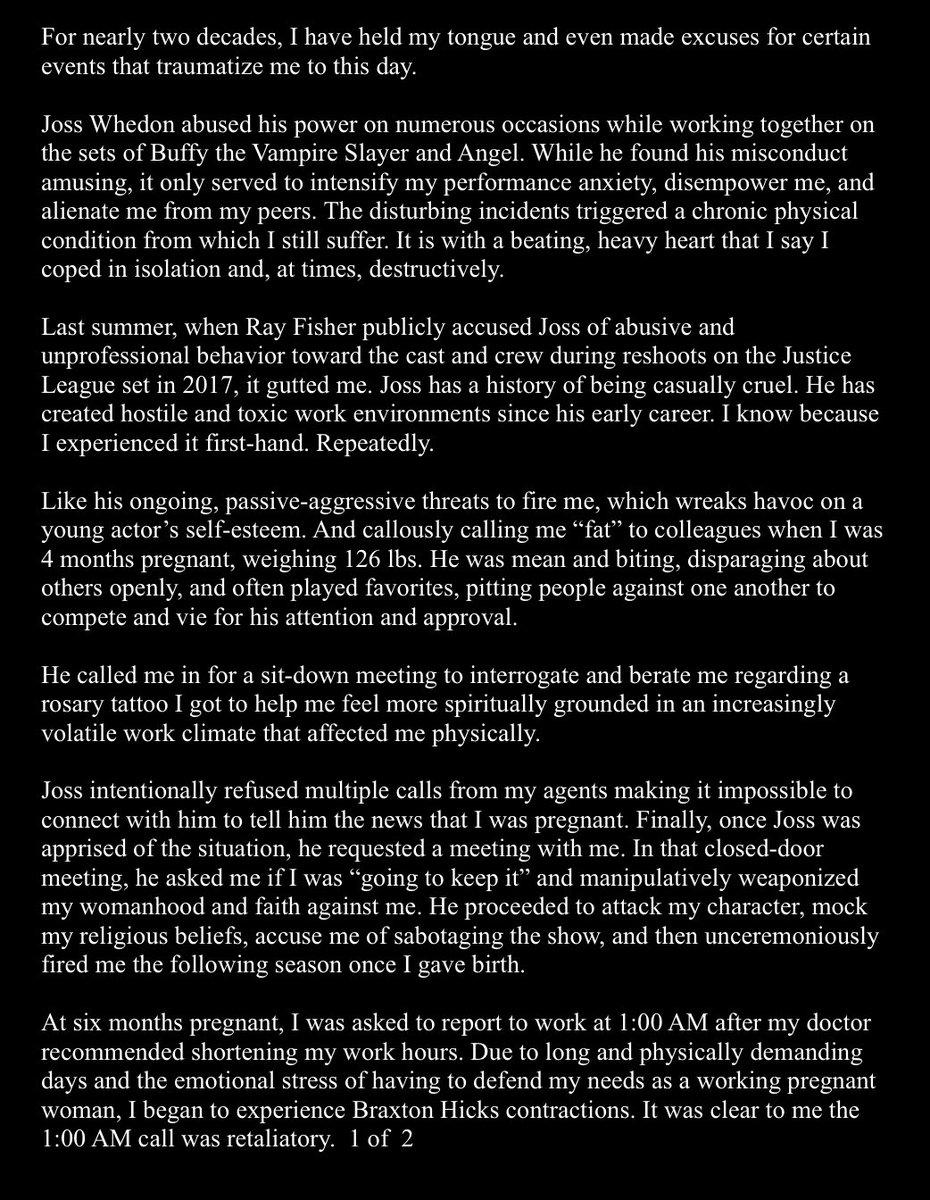 Sounds like Disney Material to me.

posted by Ace at
12:11 PM
|
Access Comments