« Monday Overnight Open Thread (2/8/21)
|
Main
|
Mid-Morning Art Thread »
February 09, 2021
The Morning Report - 2/9/21 [J.J. Sefton]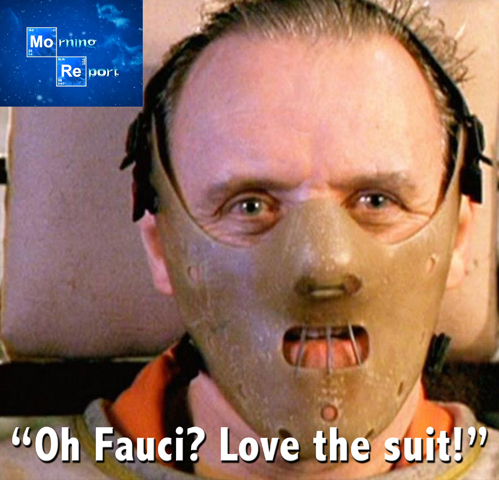 Good morning, kids. Tuesday, and while the complete farcical distraction of impeaching and removing from office a private citizen who is no longer in office, the dismantling of our society continues with the concomitant figurative and in some cases literal clapping in irons of "we the people." Lower case, since "We The People" no longer exists in any real, meaningful way -- with the possible exception of the Second Amendment. Watered down and degraded as it might be, the fact remains that upwards of 200 million of us are armed with at least double that number in firearms and even more in ammunition and that salient fact has not been lost on the enemy junta that now rule us. G-d help them it doesn't stay lost on us. But I digress.
While the impeachment of President-in-Exile of the United States Donald Trump in purely legal terms is unconstitutional on the face of it, the fact remains that the Democrats have the power to proceed and worse, that the GOP wing of their party have no problem with going along with it. Remember now, these people are throwing around terms like "insurrection" and "treason" not only in referring to PIEOTUS Trump but blood-libeling hundreds of peaceful citizens who merely attended Black Wednesday at the Capitol and are now being actively sought for prosecution by the DOJ. Remember, too, that Kevin Clinesmith received a punishment so meaningless in relation to the gravity of his crime that it makes a wrist-slap look like a biker gang beat-down in comparison, while hundreds of BLM/Antifa thug terrorists and droogs responsible for real insurrection in the Dresdenization of several dozen cities since last June either were not prosecuted, got the same mint-on-the-pillow treatment as Clinesmith or were bailed out with funds raised by celebrities and even the nudge-nudge wink-wink "vice president" and returned to the bosom of their parents' Cheeto-dusted couch.
That's not to mention dozens of individuals who have been censored, muzzled and even fired from their jobs and blackballed for being within 10 miles of the Capitol on the day America was murdered, or posting that they too believe that the election was stolen. Never mind the fact that Time magazine just published what amounts to not only an admission that the election was indeed rigged and stolen, but is proud, brazen and boastful in its tone. To now go against the regime-approved narrative is to face retribution from the State, and worse, its enforcers who are your neighbors, co-workers and even friends and family.
Meanwhile, while that garbage is going on, another generation of children whose necks somehow miraculously escaped Kermit Gosnell's rusty scissors will grow up permanently traumatized due to the ongoing psychological warfare unleashed on us with the continued lockdowns.
Chris Buckner, the father of a young man in Illinois who committed suicide, told the media that "the teen had been battling depression the last few years, but his depression worsened significantly after COVID hit.'"

According to the Centers for Disease Control and Prevention, children's mental-health-related visits to emergency rooms are up by as much as a third, compared to 2019 figures.

In a single week in mid-March 2020, kids' lives were turned upside-down. They lost it all in short order: routine, school, friends, activities. There is no indication if or when things may return to normal, and they are now spending their days glued to Zoom school, isolated and increasingly besieged by the effects of our pandemic-mitigation efforts...

...Millions of American kids are struggling, and their chances for long-term improved mental health is predicated on the notion that we will now prioritize their emotional well-being, which our society has tragically shown it has no intention of doing.

Our hope for raising an emotionally healthy and mentally stable generation is dissipating with every day kids are kept locked in their bedrooms and out of schools. Skyrocketing rates of depression and anxiety are in no small part due to the fact that children feel neglected and forgotten, and they are not wrong to feel that way.

Our society has abandoned them and treated them as disposable. The damage caused by this abandonment is incalculable, and compounding every day we allow inertia, irrationality and the craven priorities of teachers unions to rule our decision-making.
It's cold comfort but at least they're not being exposed to the anti-American, anti-Western, racist propaganda brainwashing in the classroom. I guess we'll have to see which is more damaging to our society. Considering we have raised two generations or more who are eager to make America a massive gulag vassal state to Chinese-controlled world globalism/communism, it's a toss-up.
Meanwhile, bureaucrats whose hubris and egos are inversely proportional to their actual abilities, common sense and real expertise are socially engineering us towards a Kolyma-sized doom. Bad example. Kolyma was a mine and there will be no more mining or oil drilling.
Fauci is still insisting on masks today, masks tomorrow and masks forever while in another part of the forest, Mayor Peter Puffer is not only talking about mandatory anal swabs if you want to get on a domestic flight, but he's got that glassy-eyed dictator look in predicting that our normal routines of traveling freely are a thing of the past.
Time to say the Serenity Prayer and dwell on what I said about the Second Amendment.

ABOVE THE FOLD, BREAKING, NOTEWORTHY
NOTE: The opinions expressed in some links may or may not reflect my own. I include them because of their relevance to the discussion of a particular issue.
ALSO: The Morning Report is cross-posted at CutJibNewsletter.com if you want to continue the conversation all day.
Follow us on Twitter: @CutJibNews
Follow us on Instagram: @Cutjibnewsletter


posted by Open Blogger at
07:23 AM
|
Access Comments