« The Morning Rant
|
Main
|
Jennifer Horn, a Co-Founder of the National Man-Boy Lincoln Association, Quits Group, Citing The Fact That It's Really an Underaged Boner Inspection Business »
February 08, 2021
Leftwing Hysterical "Journalist" Virginia Heffernan Goes Into Histrionic Hate-Spiral After Trump Supporting Neighbors Plow Her Driveway, For Free
What's the problem?, you might wonder.
Well, there could be several answers to that question.
Histrionic personality disorder (HPD) is defined by the American Psychiatric Association as a personality disorder characterized by a pattern of excessive attention-seeking behaviors, usually beginning in early childhood, including inappropriate seduction and an excessive desire for approval. People diagnosed with the disorder are said to be lively, dramatic, vivacious, enthusiastic, and flirtatious. Women are diagnosed with HPD roughly 4 times as often as men.[1] It affects 2-3% of the general population and 10-15% in inpatient and outpatient mental health institutions.[2]

HPD lies in the dramatic cluster of personality disorders.[3] People with HPD have a high desire for attention, make loud and inappropriate appearances, exaggerate their behaviors and emotions, and crave stimulation.[3] They may exhibit sexually provocative behavior, express strong emotions with an impressionistic style, and can be easily influenced by others. Associated features include egocentrism, self-indulgence, continuous longing for appreciation, and persistent manipulative behavior to achieve their own needs.
Sorry, I accidentally linked that. It has no relevance here.
The problem is that these neighbors graciously plowed her driveway without asking for pay and without being asked. They had their snowplow out, and they were just plowing the neighborhood, as a favor.
The problem is that Heffernan feels she might owe them at least a thank-you.
But, because they voted for Trump, she doesn't want to give them that thank-you.
So you can see this hysterical woman's First World Problem.
Byron York comments on her hateful article:
@ByronYork Byron York

Dilemma for writer Virginia Heffernan. When it snows at her 'pandemic getaway,' helpful neighbors plow her driveway unbidden. Do a 'great job.' What a nice thing! They don't do this in the city! Only problem: Neighbors support Trump. 1/10
Column: What can you do about the Trumpites next door?
My neighbors kept President Trump in business with their support. They also just plowed my driveway, gratis.


Heffernan frets. Realizes 'I owe them thanks.' But Trump! Heffernan becomes suspicious: This could be, like, a terrorist thing: 'Hezbollah, the Shiite Islamist political party in Lebanon, also gives things away for free.' OMG! They're Trumpite terrorists! 2/10

Or they're Trumpite Nazis! After all, French collaborators said the Nazis were very polis, French for 'polite.' 'So when I accept generosity...acknowledging the legitimate kindness...am I also sealing us in as fellow travelers who are very polis to each other?' 3/10

This is terrifying! And what if the neighbors commit some other kindness in the future? What then? Heffernan: 'What do we do about the Trumpites around us?' 4/10

'My neighbors supported a man who showed near-murderous contempt for the majority of Americans,' says Heffernan. 'They kept him in business with support.' And I'm supposed to accept generosity from THEM? 5/10

Still, they plowed the driveway so nicely. What to do? Heffernan thinks and thinks, comes up with answer: I'll acknowledge their kindness with 'a wave and a thanks.' But no 'absolution.' No way. 'Free driveway work...is just not the same currency as justice and truth.' 6/10

But wait! Heffernan *can* give her neighbors something. She'll give them the opportunity to apologize for supporting Trump! 7/10

More importantly, Heffernan will offer her neighbors the opportunity to put aside what they believe and take up what she believes. What could be more generous and neighborly? 8/10

Heffernan: 'I can offer them a standing invitation to make amends. Not with a snowplow but by recognizing the truth about the Trump administration and, more important, by working for justice for all those whom the administration harmed.'

Thus Virginia Heffernan comes up with a way to repay the spontaneous kindness of neighbors: A wave, a thanks, and an invitation to become like Virginia Heffernan. What more could a neighbor want? 10/10 End.
[QUOTING HEFFERNAN:] "These neighbors are staunch partisans of blue lives, and there aren't a lot of anything other than white lives in the neighborhood. This is also kind of weird. Back in the city, people don't sweep other people's walkways for nothing," she continued. "Maybe it's like what Eddie Murphy discovered in that old 'Saturday Night Live' sketch 'White Like Me'. He goes undercover in white makeup and finds that when white people are among their own, they pop free champagne and live the high life. As Murphy puts it: "Slowly I began to realize that when white people are alone, they give things to each other. For free.
So they're Secret White Supremacists too.
Wait, it's not Secret. They voted for Trump.
Hezbollah, the Shiite Islamist political party in Lebanon, also gives things away for free. The favors Hezbollah does for people in the cities Tyre and Sidon probably don't involve snowplows, but, like other mafias, Hezbollah tends to its own - the Shiite sick, elderly and hungry. They offer protection and hospitality and win loyalty that way. And they also demand devotion to their brutal, us-versus-them anti-Sunni cause. Some of us are family, the favors say; the rest are infidels."


One tweet was enough to blow up the situation. "The poison here, from [Heffernan], suggests one should shun their kind neighbors because of their political choices. This is the kind of psychopathic behaviour that only a lifetime of indoctrination (and/or drugs) can create," a user tweeted highlighting the paragraphs in the article where Heffernan allegedly spewed hate.

For anyone thinking, "Boy, she seems so emotionally balanced, she surely must be a pleasant-looking woman to be so naturally socially gracious," boy, did you make a boner on that, boner-maker!!!!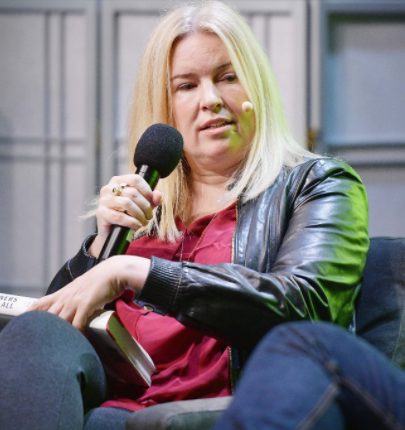 posted by Ace at
12:09 PM
|
Access Comments