« Saturday Gardening and Puttering Thread, February 6 [KT]
|
Main
|
Saturday Afternoon Chess thread 02-06-2021 »
February 06, 2021
Ace of Spades Pet Thread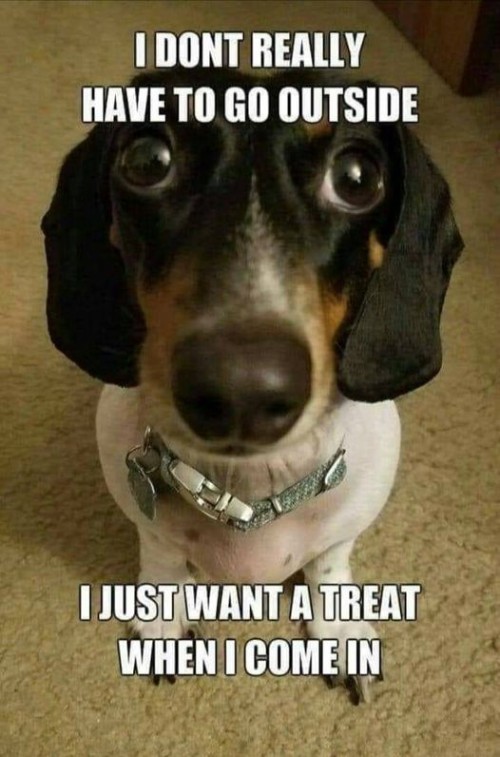 ***
Good afternoon and welcome to the almost world famous Ace of Spades Pet Thread. Let's leave the cold, cruel world outside the front door and enjoy the world of animals.
***
A Little of This. A Little of That.

When it come to the Setters. I'll take my chance without this vaccination. H/T Hrothgar
***
What is your dog's love language? Dreamer is Quality Time and Izzy is Receiving Gifts.
***
Meet The PetMorons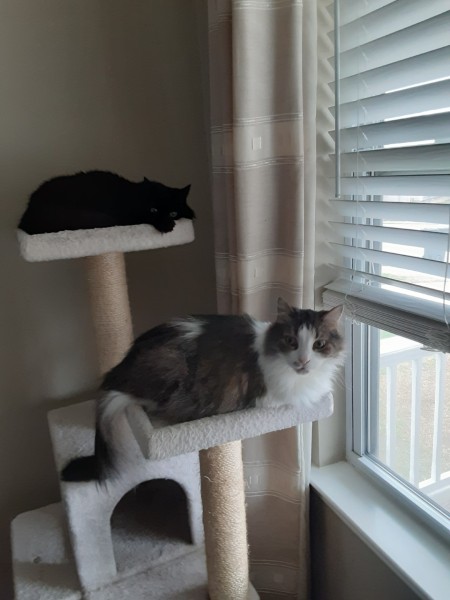 &&&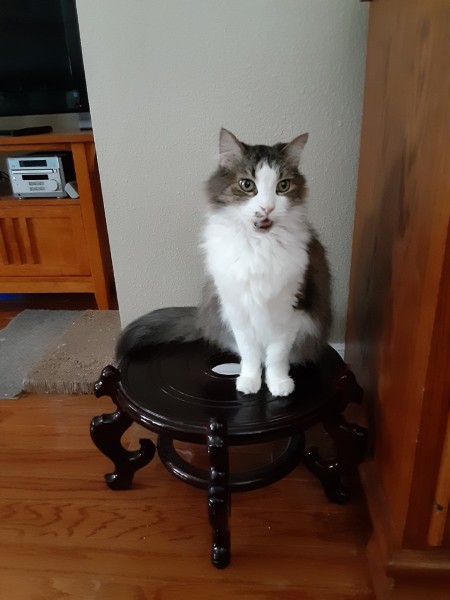 Mis Hum,

These are the Cats New Dawn. 11 year old Littermates, brother n' sister. On the lower perch is Scamp. Vet says mostly Maine Coon, but at 13 lbs., on the smaller size of such. He's an ever-loving, big ol' mush, except when he's aggressive towards his sister. Which is Bonnie, on the upper perch. Six Pounds of cat, Sixteen Hundred Tons of Love. She's too smart for her own good, too. PhD in Cuteness, with a minor in Adorable.

Both of 'em have exactingly accurate internal clocks, and assume their respective positions to receive their 9:30 pm "treats". Him on a scratching pad in front of the TV, and her on the same perch on which she's here pictured mid-nap. They don't do the typical "cat figure 8" walk around the ankles. Nope. They go to their begging spots, and stare you down until you comply.

And you WILL comply. The wide eyed stares are like tractor beams to move you to the treat-bag and bring the goodies to their perches. The pair are both Lap Monsters, too. Cats have unique Laws of Physics, where they become 3x heavier than their own weight after an hour atop the ol' femurs.

I'll stop there. It would be easy to tell more Tales of the Cats, but I'll save those for another time and another Pet Thread. Long Live the Pet Thread!

An addendum to yesterday's mail featuring Bonnie & Scamp. Here's Scamp, as of about 5 minutes ago, perched atop the Pedestal of Beggitude. As noted, neither he nor his sister do the typical cat "figure 8s around the ankles" dance. Rather, he will sit on this pedestal and stare you down into submission. She does the same from atop the cat tree by the front window.

Or, as is the case in this photo, add his plaintive whine to the stare. The camera caught his mouth open in the midst of such a plea. Aren't you already up and moving towards the treat bag to assuage his pitiful lack? He's STARVING, can't you see? *as he quits in frustration and ambles over to the always full bowl of dry food, which awaits*

They have us so very well trained.


Jim
Sunk New Dawn
Galveston, TX
They are just beautiful cats Jim. Sounds like they are a tad spoiled. But aren't all PetMorons? They sure have some neat furniture to hang out on. Thanks for sharing with us today.
***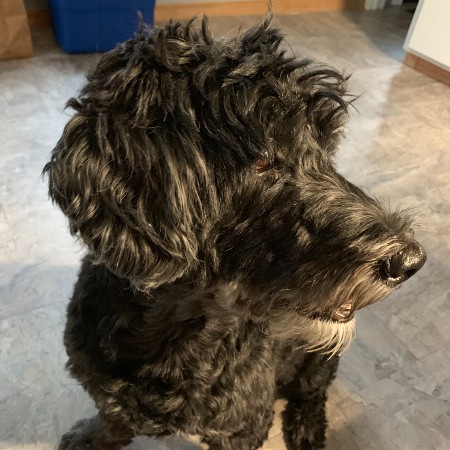 This is Moura, our Portuguese Water Dog, who we put down ten days ago at just over eleven years of age. Bright, full of sass, and always willing to go for a walk (especially in the snow) or, even more so, a swim, she became my favorite dog ever despite being "mom's service dog". We were best buddies. She always was up for a round of fetch or a good rassle. I still find myself listening for her to get up from behind the couch in our living room's front bay window to greet me whenever I come in through our front door. Her ashes came back to us today; we will bury them in our front garden when our two grandkids come to visit us on Monday. - Kenneth

We are so sorry to hear of your loss. Unfortunately we all find ourselves listening for our beloved pets as you are at the moment. Sounds like she was an excellent dog. She certainly was a good looking pooch.
***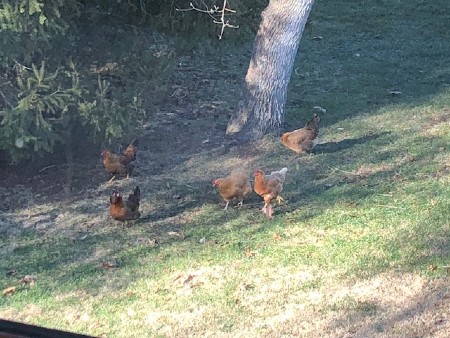 Hello, Pet Thread,

So, I was getting yet another cup of coffee the other day from the Chinese Lung-Rot Employee Break Room (aka my kitchen), when out past the fence line I saw two moving blobs, one brown and one black. A quick trip to the back of the property revealed seven chickens! Apparently, my neighbor in the back has taken to raising poultry, but not, you know, supervising them or fencing them in. I tossed them some bird seed from my back bird feeder, which they gobbled up before waddling home.

The next day, I looked out my front window, and five of them had traveled all the way to my front feeder and were pecking at the spilled bird seed on the ground. The sound of my dog losing her damn mind and doing DEFCON-Eleventy level barking from the living room window soon had them scurrying back home, but they've stopped by a couple times since just to say "hi." Breaks up the monotony.

Helen, Lurking Lurker Who Lurks a Lot
Well I know who should be having fried chicken for dinner some night. I bet your pooch wouldn't mind it either. Thanks for your contribution today. We don't get many chicken stories with photos.
***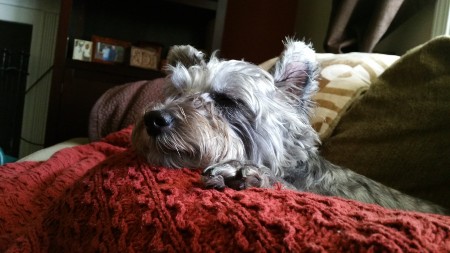 Hi,

I think all the pet morons know the sorrow of having to decide what's best for our pets at the end of their lives. I hate that no matter how strong the bond we shared, I can't explain to her that we are going to release her from her old age and pain. I hate that my own doubts and insecurities about the afterlife make it even harder to let her go because I want to believe I will see her again. I hate how she looked at me with all the trust in the world as the vet injected her with the anesthesia. She wasn't my first dog, but she was the best by a mile.

Anyway, I wanted to write some tribute or something for my girl, Aubrey. But honestly, if you just posted a picture and called her the bestest girl, that'd be fine by me.

In 2005 my wife and I were separated and headed for a divorce. So while I was out of the house she brought Aubrey home as a spiteful "fuck you" towards me. I was not a dog person. My family had dogs but they were always outdoor dogs.

I would come over to watch our son while she would go to work nights, and that dog…….

That dog stole my heart.

My wife and I patched things up, thankfully she still keeps me around today.

We had 15 ½ years with Aubrey.

The best dog.

The smartest dog.

The best friend.

We put her down the morning of January 6th. I've told the family there's going to be a mourning period before we bring home another pet.

What I haven't told them is I'm going to mourn forever. - Clayton

Quite the story, happiness and sadness all in one. Of course she stole your heart, she was a Terrier. They do that kind of thing. It really sounds that Aubrey was the dog of a life time. So sorry to hear you had to say "goodbye" to her. It sucks.
***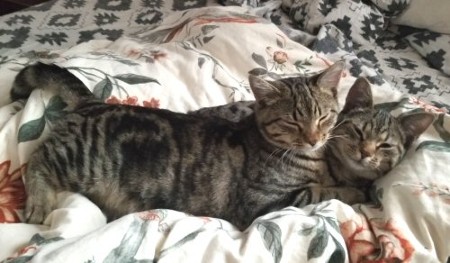 What Moron Robbie dubbed the two-headed kittehs, the day we found
them, were featured on the Pet Thread, Sep 19, 2020
http://acecomments.mu.nu/?post=390266
More about them in my comment #24 there.

Attached: recent photo of the two-headed kittehs at about six months.
Photo cred: Sugar Plum Fairy.
Turns out they were both males, and the names that settled on them are
Kismet (left) and Comet (right). You can't tell, comparing this with
earlier pix, but they've really grown.--mindful webworker
Beautiful kittehs Mindful. They do look like they have grown. How are they getting along with all of the other critters? Thanks for your contribution today.
***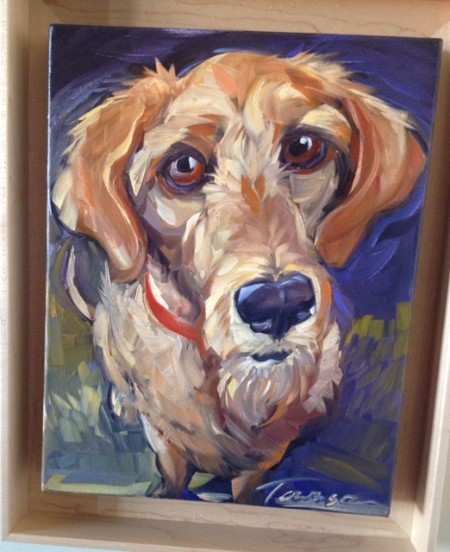 Here's a painting done of our sweet Labradoodle, Maylie, whose photo you graciously posted some time back; we lost her after 12 years on August 3, 2020, so February 3 is six months that she's been gone. The World's Best Dog. Thanks. - FIIGMO

PS: I sent you a painting of our Labradoodle, Maylie, and I should give credit where credit is due—the painting was done by Connie Townsend. She does whimsical critter paintings but in our case, she captured Maylie perfectly. See the link.

CR Townsend Art | CR Townsend Art

The frame was made by my son—paramedic, chef, woodworker, husband, and dad.

Thanks again for the always interesting pet thread. . . .
We extend our condolences for your loss. What a lovely portrait of Maylie. If you get a new family member please share with us. Thank you for your contribution today and kind words.
***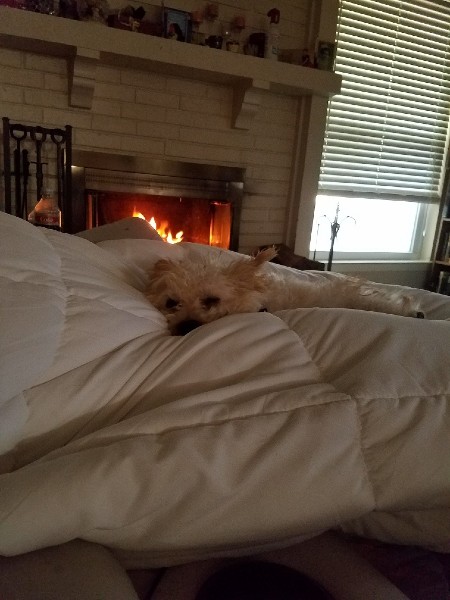 This is Nemo, whom you've had on the thread a couple of times over the years.

For the past 2.5 years, he's been fighting off Type B canine lymphoma. He never gave up, and the vet said he had fewer chemo sideeffects than he's ever seen.

It was finally too much for him on Jan 16th 2020. This photo from Christmas is how I'll remember him.

He was a good boy. -SDN

I understand the Canine Type B lymphoma. As I had a dog suffer with it. 2.5 years is a good run after the diagnosis. From that photo it appears Nemo was one spoiled pooch. Thanks for sharing your memory of your pal.
***

This wraps up another AoS Pet Thread. Thank you all for contributing and commenting today. If you have something pet/animal related and want to submit it you can reach us at petmorons at gmail dot com.
Thanks for your patience we are getting through the In-Box.
Have a great week!

posted by Misanthropic Humanitarian at
03:01 PM
|
Access Comments