« First-World Problems...Part "Thirteenth Prime"
|
Main
|
Super Bowl Thread »
February 07, 2021
Food Thread: If Only There Was A Maple Syrup Fairy!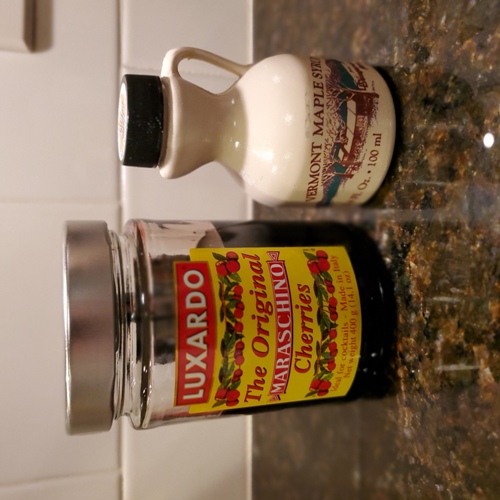 I was on a Martini kick for much of the summer and fall, but then one day I lost my taste for them. it was odd, and almost immediate. It's not that I become nauseous at the thought of a crispy-cold gin Martini with a couple of fat olives; it's just that I decided one that "boy oh boy! A Manhattan would sure hit the spot," and I was off to the races.
But my kitchen's massive consumption of maple syrup (that container is about a year's worth) increases when I drink Manhattans, because of course that is the best sweet component for them.


Four ounces Rye Whiskey (100 proof is best)

One ounce red vermouth (Carpano Antica if you want to splurge)

One bar spoon of maple syrup

Three dashes of Angostura bitters
Stir in a lot of ice for about 30 seconds, then strain into a lowball glass and garnish with a Maraschino cherry. But not one of those horrid neon-red child's cherries. If you can't find a good one, then garnish with a twist of orange peel.
But I am down to just a few more drinks' worth of syrup, so I will have to tolerate the sneers of my neighbors and actually buy a container of maple syrup.
The horror...the horror.
******
Yeah...that's cauliflower with bacon. And of course I cooked the cauliflower in the bacon fat, because I am not a fool or a savage. I like the finer things in life, and bacon fat is one of them!
I precooked the cauliflower florettes in the microwave, which works really well. And it's easier than parboiling, which I hate doing for some reason. It seems like such a waste of time.

******
I have never heard of
BarProducts.com
and probably would have remained ignorant of it forever. But the leftist scum who want to deplatform the owner for exercising his rights have plopped it front and center, and I will spend some money on some barware, regardless of whether I need any.
Customers revolt after CEO posts Capitol selfie on day of riots
BarProducts founder and CEO Mark Hastings posted (and has since deleted) a photo with the caption "Stop the steal," according to the Wall Street Journal. While Hastings said in the post that he wasn't inside the Capitol and broke no laws, his protest against the Electoral College vote certification seems to have upset many of his company's customers.

Social media is filled with calls to boycott the company. And several bartenders and bar managers, who claim to have been long-standing customers, are saying they will take their business elsewhere. BarProducts is a private business, so it is unknown how much of an impact the protests are having on its bottom line.
******
Last week commenter "Javems" mentioned a steak cooking technique that stood most of what we know on its head. Cold pan? What the....? This is madness! But it seems to have turned out well, and he even tossed in a photo of a very nice cutting board with a clever addition.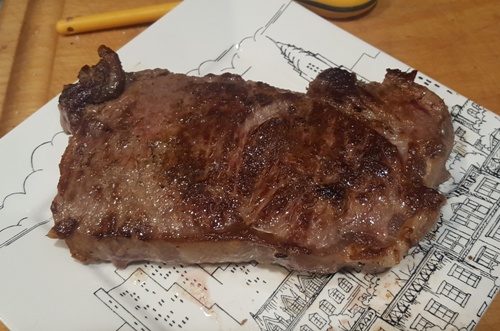 The steak turned out fine. You start it in a cold, dry non-stick pan. When the meat is in you set the burner to medium high and turn the steaks every two minutes. When the color looks right, turn burner to medium low and continue turning until it reaches the desired temp. The thought is that the fond remains on the steak, not in the pan. Big plus is that there is very little oil splatter to clean up. I would think it would work best on a flat steak, not bone in. I will probably use a flat iron on top next time as well.

Also enclosing a pic of a cutting board I just had made by a local guy.
It is 20"x 16"x 2". and solid maple. The inset bowl dia is 6" and it hangs in the board and is flush with the top. Got some feets as well to keep it off the countertop. Works out well.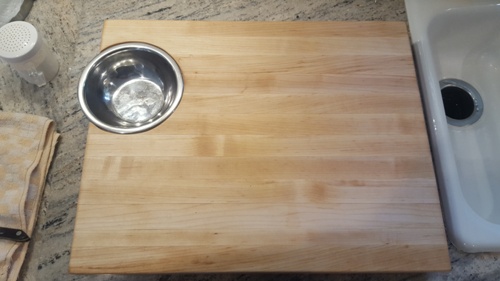 ******
Shut the fuck up.
Ditch the Wings, These Celery Sticks Are the Main Event
The idea that we should make vegetables the centerpiece of our diets is just like the leftist belief in the perfectibility of man: there is literally no empirical evidence to support the contention!
[Hat Tip: Misanthropic Humanitarian]

******
[Hat Tip: JT]
******
From commenter "TN Deplorable" comes a delightful-sounding dish that unfortunately is difficult to make because of the ingredients. Beef cheeks are tough to find! But worth the search. I have had beef cheek ragu that was a revelation, and a plain old stew that was fantastic.
I was going to drop this in the food thread comments last Sunday, but instead I was having a late brunch and drinking too much wine. I was also afraid that I might trigger the spam pixies due to the length of it. It occurred to me that you might want to use it for content some day. We have a wonderful restaurant near us that we go to on special occasions called the Foothills Milling Company. One of their menu items is Beef Cheeks. Always sounded a bit strange to me - I usually go for the cornmeal encrusted fried lobster tails. The last time we were there my wife decided to try them, and they were fantastic. I asked the waiter about them since I had never seen them anywhere before. He said that butcher shops have a hard time selling them so they take them home to their families.

Beef cheeks are very fatty, and also have a bit of sinew in them, so low and slow is the order of the day. A couple of weeks ago I was at a specialty butcher shop and asked if they had any and they did. I bought 4 cheeks frozen (about 2.5 pounds). We found a couple recipes on the net and created sort of a blended prep. Here is what we did:

1. Sweat some onions (we used yellow), carrots and crushed garlic in a cast iron Dutch oven.
2. Browned the meat thoroughly on all sides - about 10 to 15 minutes.
3. Add a container of beef broth (or bone broth, but I refuse to pay for "organic" bone broth).
4. Add some dried mushrooms - we used porcini and shiitaki.
5. Add some more garlic and a cup of red wine.
6. Braise in a 275 degree oven for 5 to 6 hours. We did about 5.5 hours.
7. Let rest a bit and serve over mashed potatoes (or pasta, polenta, rice - any simple starch). You don't want to lose the flavor of the luscious fatty gravy in that pan.

I'm not usually a fan of well done meat, but this was spectacular. So tender it falls apart on your fork, but fabulous flavor. We had about a cup of gravy left over that we saved, and I think I'm going to make sliced filet mignon steak sandwiches tonight and slather that stuff all over them.
******
I love risotto, and I sometimes make it, but like this blogger I rarely cook it exactly the way it is supposed to turn out. That is not to say it fails, because in spite of the incredibly convoluted and labor-intensive recipes that abound, it's a pretty simple dish with a lot of room for error. It might not turn out perfectly, but rice and fat and cheese is rarely a bad thing.
But this technique is a keeper. Or a tryer. I'll keep it if it works, but I am betting that it will.
parmesan oven risotto
Anyone ever try anything like this?

******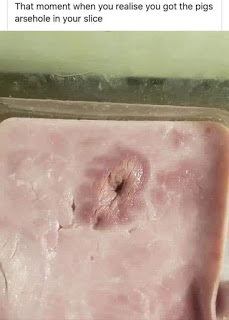 [Hat Tip: JT]
******
Food and cooking tips, Large-breasted Muscovy ducks, young wild pigs, bartenders who use vermouth in Martinis (but not too much), pork belly that doesn't have 5-spice, an herb garden that actually grows herbs, beef short ribs that have meat on them (not the stupid little sliver of bone they sneak into the packages) and good tomatoes that aren't square, pale pink and covered with Mestizo E.coli:
cbd dot aoshq at gmail dot com
. Any advocacy of French Toast with syrup will result in disciplinary action up to and including being
nuked from orbit.
And yes, shaking a Manhattan is blasphemy...it's in the Bible!

posted by CBD at
04:00 PM
|
Access Comments