« Sunday Overnight Open Thread (1/31/21)
|
Main
|
Mid-Morning Art Thread »
February 01, 2021
The Morning Report - 2/1/21 [J.J. Sefton]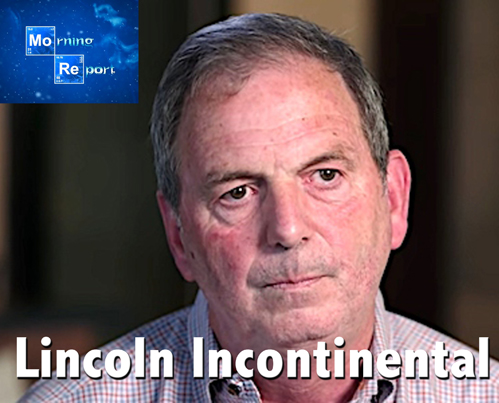 Good morning, kids. Yes, a nor'easter is slamming the east coast so if you're affected, use your common sense and stay safe and warm. For those too young or too brainwashed to understand this and are fearing "climate change," what you're witnessing is known in the trade as typical winter weather.
February. Already? Before marveling at the speed that time seems to be passing, a mere scanning of the headlines shows the next four to eight years are going to be interminable. And I say "four to eight years" advisedly since it presumes normal free and fair elections, which flies in the face of my declaration that the United States of America ceases to exist; its demise the result of the theft of the 2020 national election.
In the lead is the news that Lincoln Project cofounder John Weaver is not a poor, put upon closeted gay man who was wrenched from his hiding place by cruel, bigoted Trump-supporting Bible-thumpers, but a chronically sick pedophile who had been luring and abusing young boys -- for years. However miserable bastards like Bill Kristol, Steve Schmidt and Rick Wilson try to spin this and distance themselves from Weaver, it turns out that none other than fellow fat failure and Trump-hater Karl Rove blew the whistle on Weaver way back in 2004. The accusation came out in lefty house organ The Atlantic which, in the failed effort to drag Cash-in Kerry across the finish line, was bashing anyone associated with Dubya, instead of doing real journalism. Shocking, I know.
Aside from the schadenfreude of watching a leading Never-Trumper and traitor to the former republic squirm, my first reaction is big deal; the Enemy and its propagandists will either use the news to bash the GOP, itself a sham organization used to perpetuate the illusion of opposition and keep us subjugated without real political power, or they'll bury it in the next news cycle, since the Lincoln Project is a useful ally (for the moment) to the Junta. The latter needs the former to transmit the meme that Trump, Trumpism, the MAGA agenda and all they collectively represent are responsible for the riots, division and suffering of 2020 - which the Enemy alone was responsible for - as well as the blame for the suffering and destruction that's to come, and will doubtless make 2020 look like Salad Days.
Again, I don't have to tell you the score; it's bleak, depressing and downright frightening. And two of my favorite writers/pundits, kind of irritated me a bit today. First, Daniel Greenfield was all bent of shape over Rep. Marjorie Taylor Greene.
Instead of talking about Biden's barrage of unconstitutional executive orders, about his radical appointees, and about what Schumer and Pelosi are plotting to do with our country, we're talking about Greene's kooky idea that Jewish space lasers are starting forest fires.

Or we're discussing her 9/11 Truther nonsense or her school shooting conspiracy theories.

Greene's laser nonsense has been condemned by conservative Jewish groups from the Coalition for Jewish Values to the Republican Jewish Coalition. Her presence in the Republican Party undermines our fight against Democrat leftist anti-Semitic racists like Rep. Ilhan Omar.

The Democrat Party is the party for anti-Semitic kooks. It's the party for nuts who think Bush flew the planes into the World Trade Center and that kids murdered in schools by violent thugs were really actors. We don't need this garbage and right now we can't afford the distraction.
Okay, yeah, I get it. She's a chucklehead that does us no favors by opening her yap. But the fact is the Enemy already controls the media and are going to bash her as hard as they are ripping into people like Josh Hawley and Ted Cruz, whom they are a red nether hair's breadth away for charging with treason and then hanging. This is a political party and movement that has packed Congress as well as dozens of state and local governments with rabid racialists, anti-Semites and bust-out Marxists from top to bottom. Hell, the DNC's platform comprises all of that as openly as BLM declares itself to be Marxist. Frankly, I'm more concerned with getting rid of the likes of Pee-Air Defecto, Liz-ard Cheney and the Gas Chamber of Crony Commerce than making Marjorie Taylor Greene the focus of my efforts.
Then, Dr. Brian Joondeph over at American Thinker was getting pissed at President-in-exile Donald Trump, for some reason.
Does Trump still have a trump card to play? As time passes, this glimmer of hope is fading faster than our freedom of speech on social media. It's not in his nature to lose, especially in such fashion, exiting the biggest stage in the world like a lamb.

He has hinted at things to come, as when he mentioned in passing while golfing, "we haven't finished yet." I hold out hope, although dwindling, as without hope there is nothing. Is the lamb actually a wolf in sheep's clothing? We'll see.

The corruptocrats have certainly not finished. We have doctors telling us we should wear not one, but four masks. Never mind breathing through a dozen layers of fabric or mask shortages. Or Black Lives Matter, after violently destroying neighborhoods and cities last summer, being nominated for a Nobel "Peace" Prize. The only distinction between protests and insurrection is whether Democrats or Republicans are involved. Up is down and down is up. If this is the new normal, America is finished.

The lion left the building like a lamb, and the only storm is one being unleashed on those not in the "big club," punished and castigated for supporting the lion in his quest to make America great again. Instead of a steaming cup of covfefe, all we are left with is a flaming bag of disappointment and dwindling hopes.
Disappointed? I'm absolutely enraged, but the focus of it isn't on Trump. If you can blame him for anything it's that he expected people who could have and should have done the necessary, legal, moral, ethical and totally justified thing to do by showing a spine and rejecting the stolen election. They didn't. If that's a fault, then I guess all of us except for the most hard-bitten cynics are guilty of believing in a system and really believing that morality and ethics exists not only in ordinary citizens but in our elected officials, especially on the most local levels where this could have been foiled, still exists. One look at our religious institutions and especially our schools would have disabused us of that notion in a heartbeat.
And yet, still I persist. Still, I believe that whatever hell is to come - and it is coming and it'll be yuuge, glamorous and spectacular (to coin a phrase) - Trump has awakened a sleeping giant.
Trump fought like Samson with superhuman strength that never seemed to wane. Always surrounded by enemies. Always betrayed by his so-called friends. But he'd slay them all with a well-timed tweet or the perfect, cutting joke.

Rebels don't always win, of course, no matter how just their cause may be. John the Baptist scrapped with the Romans and the religious authorities of his day. They ignored him until he became too much of a threat to ignore.

So they killed him. But did they kill the legend? We're still talking about him, but who remembers them?...

...Trump was the first president in decades to see everyday Americans as people, not props. He fought for them -- for us -- every single day of his presidency. He unleashed our nation like no one since Reagan.

And the elites conspired together and took him down for it. There's a good chance President Trump's influence is about to grow, thousands of people are about to run for office as "Trump Republicans." Mayor, Governor, Senator. Waves of Trumps are coming.

And like Obi-Wan Kenobi says at the end of the original Star Wars, struck down, Trump may only become more powerful than they can possibly imagine.
This war is just beginning. And we have not even begun to fight. Stay angry. Meh, with everything that we are going to be hit with, that's a given.

ABOVE THE FOLD, BREAKING, NOTEWORTHY
NOTE: The opinions expressed in some links may or may not reflect my own. I include them because of their relevance to the discussion of a particular issue.
ALSO: The Morning Report is cross-posted at CutJibNewsletter.com if you want to continue the conversation all day.
Follow us on Twitter: @CutJibNews
Follow us on Instagram: @Cutjibnewsletter


posted by Open Blogger at
07:49 AM
|
Access Comments