« The Morning Rant
|
Main
|
Axios: "Trust in Media Hits New Crisis Low" »
January 22, 2021
Politico: Neocon Viperess Liz Cheney Fights For Her Political Life
And I laugh, and laugh, and laugh.
Only 20% of the GOP caucus was required to sign a petition which would force a secret ballot vote on whether to keep Cheney as the GOP's #3 leader (note: I previously erred and said #2), or to ditch the bitch.
Over half of the caucus signed the petition.
Yes, they might say one thing in public vote and another in a secret-ballot vote, but... that's a lot of signatures.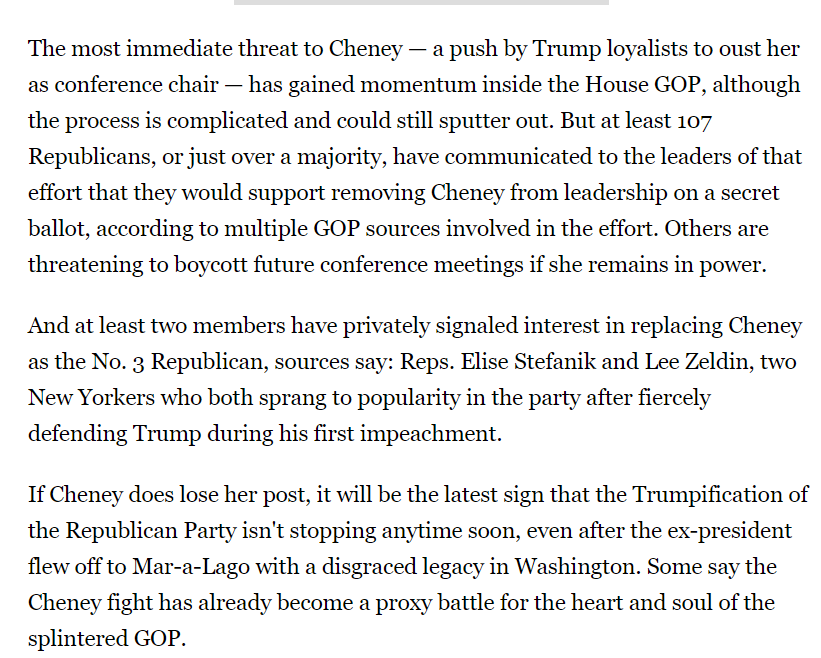 You know who else just got censured by his home-county GOP organization?
=Scourgeof the Tea Party, Mitch McConnell.
The leadership of the Nelson County Republican Party unanimously approved issuing a formal rebuke of U.S. Sen. Mitch McConnell Tuesday evening.


The unanimous vote of the 11 members of the executive committee came about six hours after McConnell took to the U.S. Senate floor and said President Donald Trump provoked a violent mob that attacked the U.S. Capitol on Jan. 6.

A censure, or formal rebuke, issued after the vote accused McConnell of "implying (Trump) and his administration lied about the election," and that "McConnell has abandoned his Republican base that put him in office."
Speaking over neoliberal pseudorepublicans who need to be purged: George Bush, Jr. (ever notice the GOP has a real problem with undeserving nepots?) declared that Democrat Congressman James Clyburn was a "savoir" of the country for endorsing Biden, because only Biden could beat Trump.
So again, let's note that our Republican Ruling Class who has been trying to get Democrats elected three cycles in a row.
And let's again note that they deny that there is a DC Insider Uniparty, despite, you know, merging with the Democrats to become an actual Uniparty.
Former President George W. Bush called House Majority Whip James Clyburn "the savior" for his endorsement of Joe Biden in last year's presidential primary, the Democratic lawmaker revealed.

Speaking to reporters during a press call Wednesday after the swearing in of the 46th commander-in-chief, Clyburn (D-SC) revealed that Bush made the comments to him directly that morning as they awaited the start of the inauguration.

"George Bush said to me today, he said, 'You know, you're the savior because if you had not nominated Joe Biden, we would not be having this transfer of power today,'" the No. 3 House Democrat said after being asked what he was thinking as he watched President Biden being sworn in.

"He said to me that Joe Biden was the only one who could have defeated the incumbent president," Clyburn continued.
Enough of Kennebunkport "Konservatism."
Quick note: Dan Riehl relayed to me, years back, a complaint Mark Levin had about working in the Reagan Administration. Levin was in the DOJ. Or was a US Attorney. I forget which.
Anyway, Levin said that despite the fact that Reagan was voted in as a real conservative, a soft-r revolutionary, and a populist, and intended to govern that way, lots of weak Rockefeller Republicans and George Bush Sr. Connecticut Republicans swept into the government with him.
Levin said it was a constant fight to enact Reagan's stated priorities -- the ones he ran on, and received an overwhelming mandate for -- because the liberal Bushies and Rockefellerites were sabotaging and subverting him at every turn, always attempting to keep the Democrat-in-all-but-name liberalism they preferred.
We just saw four more years of that.
It's time to purge the party of these Democrats in Establishment GOP Clothing. They are only "with" you in the times when their support is the least necessary -- when you're easily winning.
But they're always looking for the opportunity to turn traitor and sell you out to their Democrat allies.
So they're "with" you when you don't need them -- just to feather their own nests -- and the minute you do need them, they back-stab you.
Their brand is betrayal.
We do not need them. We can no longer abide them.
It's time for the neocons to recategorize themselves properly -- as pro-war, but otherwise urban liberal Democrats -- or to get out of politics completely, and learn to fuckin' code.

posted by Ace at
12:08 PM
|
Access Comments