« The Morning Rant: Minimalist Edition
|
Main
|
Bill Sammon, Fox News' Managing Editor in DC and Patient Zero for Infecting the Network with NeverTrump AIDS, Announces His Retirement »
January 19, 2021
Twitter Permits Video Calling for Liberals to "Fight Back" Against Trump Supporters to Go Viral
That video is below the fold. The video claims that Trump is literally forming a "new army" intent on violence, and then urges leftwingers to "fight back" against hypothetical, imaginary violence.
Given that he's saying his lunatics must "fight back" against hypothetical violence, I can't see how "fight back" can be read as "fight back with words."
The rules are different for the left. They have Violence Privilege.
Here are some of the Karen's who are sexually shriveled yet oddly aroused at the prospect of new opportunities to act as Stasi informers.
@kh_culver

People, if you know someone who is serving in the National Guard, who you suspect has become a radicalized Trump supporter. . . If that person has been sent to DC for the inauguration, please share your concerns with the FBI tip line 1-800-CALL-FBI (1-800-225-5324)

@ThaddMEvans

This is a great post.
elizagn @elizagnnnn Replying to @ThaddMEvans

It is. Just call and report if they voted for him. Or if they said "I like how he passed the prison reform bill". This must not be allowed to stand. We must find anyone anywhere who dared support that monster in any way.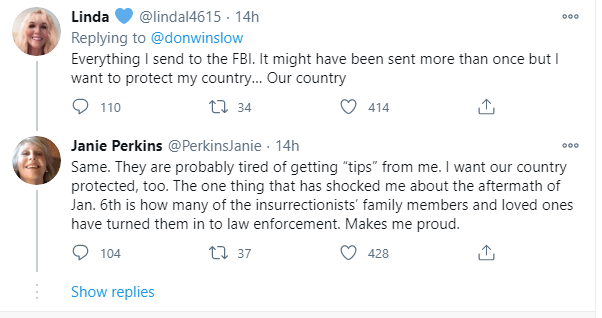 A friend notes ruefully that Covid gave these Stasi Karens just had a nine-month binge high for informing on non-compliance. They've become addicted, and they're not going to kick the addiction any time soon.
@JackPosobiec

WH official -- "Zero active threats as of this morning, just tons of anonymous tips from paranoid Biden supporters though...lines have been flooded with psychobable and nothing burgers since Friday."

@evanchill
Former intelligence official on PBS NewsHour tonight saying that the US should think about a "9/11 Commission" for domestic extremism and consider applying some of the lessons from the fight against Al Qaeda here at home.
For those of you who said Obama's hard push to turn the National Security apparatus away from detecting foreign Muslim terrorists to detecting domestic Republican voters, collect your winnings.
And here's that video which Twitter is allowing to go viral. It's a call for a Kristallnacht.

posted by Ace at
12:05 PM
|
Access Comments