« Food Thread: I'll Have What He Is Having....Once!
|
Main
|
Sunday Overnight Open Thread (1/10/21) »
January 10, 2021
Gun Thread: Living in Interesting Times Edition! [Weasel]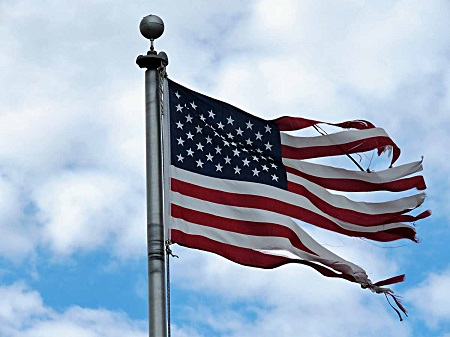 To say we're living in interesting times is an understatement of epic proportions, and I suspect things are about to get more interestinger. The left will very soon control the White House, the Senate, and the House of Representatives, and there is very little stopping them from doing what they have said all along they intend to do with respect to guns, ammunition and the 2nd Amendment.
We'll get to that in a minute, but first I want to make a few observations. Everyone is pissed, and I get that. I'm pissed too. However, I'm equally disappointed in some of the comments on this blog during the last week or so. Specifically, those where commenters express their anger and frustration by making threatening comments about real and specific people, or other acts of retribution they envision carrying out. First of all, you aren't scaring or impressing anybody. Anyone seriously contemplating these acts and discussing it on the internet is an idiot, so I have to conclude it's mostly bravado from tough-cookie internet keyboard warriors. Knock it off.
Second and much more importantly, we are all guests here. There is one guy who owns this place, and it ain't you or me. By making idiotic threats, even veiled ones, you are placing the entire site at risk. We are already seeing a move against conservative voices, and by making yourself feel like a big badass internet hombre, you're making Ace of Spades HQ a big juicy target. Again, knock it off. I happen to like this place, and spend a fair amount of time reading, commenting, and writing the Gun Thread. I do not want to see it ruined just because a few people are so selfish, undisciplined and lacking in common sense they're unable to control what they say. So please, if you enjoy the blog in general and the Gun Thread in particular and don't want to see them go away, knock it off.
Now, with that unpleasantness out of the way, let's see what we have below, shall we?
Back to our interesting times.
So what's going to happen? Who the hell knows, but I think it's safe to assume we are going to see some significant infringements on our 2nd Amendment rights. Whether that's in the form of outright banning specific weapons platforms, making certain components illegal to possess, implementation of confiscatory taxes or even registration mandates, remains to be seen. Suffice it to say, we're all going to feel it and probably very soon. We also have some decisions to make, and right now is the time to start making them. If you were considering buying a gun, or if you need to stock up on ammo, you had better get busy. The clock is ticking and time is not in your favor. I cannot make this any clearer. Get moving.
Now is also a really good time to consider adopting a Grey Man strategy for your life in general. Although usually thought of in terms of disaster and survival scenarios, the same concepts can be applied to living behind enemy lines, which is where we all find ourselves now. Examples of ways to practice this strategy can be found here and here. Be creative in thinking of ways to minimize your conservative and gun owner footprint. You may want to be more circumspect before joining groups or letting new people into your circle of friends. I am in no way suggesting you abandon your beliefs, but rather simply suggesting you not want to be the tallest blade of grass.
Finally, try and enjoy your life. I know it's tough to think about right now, but having a positive outlook does wonders for your well-being and the effect you have on those around you. Not everything is doom and gloom, all of the time. This is the hand we were dealt and now we have to live with it. You have two choices; you either hop on the "it's over" bus and crash, or figure out ways to adapt to our new reality. I am unwilling to spend all of the days I have remaining being miserable. The choice is up to you, but I'm not willing to toss in the towel just yet.
A couple of GT housekeeping announcements.
Some time ago I purchased the domain Weasel Gun Thread. The idea at the time was to have a central place to archive old GT posts, and consolidate other content. Although I haven't done much with the site so far, if something were to happen to this blog that will be the place to go for Gun Thread content if you're still interested. I suggest you bookmark the site now if you are so inclined. Also, I am ditching the gmail account morongunthread@gmail.com and will begin using gunthread@protonmail.com effective immediately. I will keep the gmail account open for a while, but if you want to get in touch with me, please use the new email address starting now. Also, when writing, please include your AoSHQ nic if you have one.
******
First up, our pal Duke Lowell's son recently took delivery of a Mosin Nagant and accessories. According to Duke, cleaning the cosmoline was a chore, but well worth the effort. Since I forgot to put this in the thread for a couple of weeks it has now been to the range and I cant wait for a report on how it shoots!


At the Gunshop


Ready for the Range!
******
In late December, our pal Sua Sponte reported he had been introducing his grand daughter to shooting and was surprising her for Christmas with her very own rifle!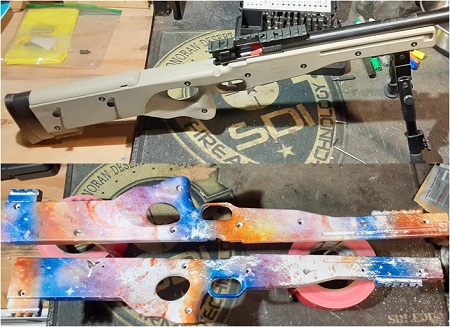 I have been working with my grand daughter the past few months on her introduction to firearms and started her off with her very own Red Rider BB gun. She's became quite accomplished with it, more importantly, has really nailed down the safety rules of firearms. She turns 9 this month and has been asking me for several weeks when she will be able to upgrade from the BB gun and start shooting a 22. She's progressed quite a bit and it was time to get her her very own 22. We sat down one evening and went through some rifles she might like. She wanted nothing to do with any stocks that looked too girly, such as the bright pink and purple's. I favored the KSA Crickett as a good starter, single shot, pull to cock firing pin, making it a bit more safer yet still accomplishing the goal of really learning. Anyhow, they had one in a Muddy-Girl design she really liked and naturally with the way things are lately, were nowhere to be found. I did however come across one in FDE and decided to spice it up for her. I hydro-dipped the stock and cheek rest in the Galaxy film. It's a fairly simple process, but does require some patience and attention to detail during the application. I graduated from SDI in 2018 and happened to have a roll of it still on the shelf from class and hope it doesn't border too much on the girly side but is still unique. I'm pretty sure I'm more excited about this and getting her out on the range than she will be.
And here is the Christmas Day follow-up!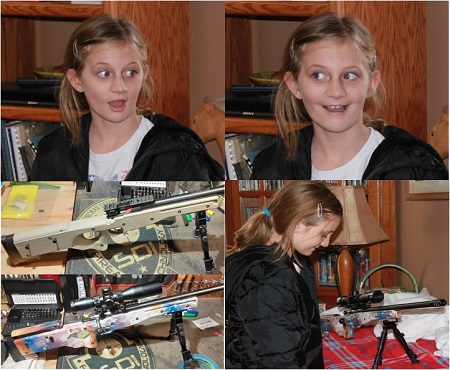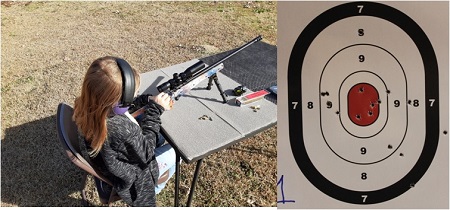 Was finally able to get my grand daughter out on the range with her new Pew Pew. As I said before, I was more excited than she was. We spent about twenty minutes going over safety rules and then I had her dry run through the manual of arms a few times. After that, she was a natural. She was shooting from 25 yards. It's a great little rifle and shoots very well, I think this is a really good starter for kids.
I think the look on her face says it all! Very nicely done, Grandpa!
******
Next up, our pal AHL takes his Yugo out for a drive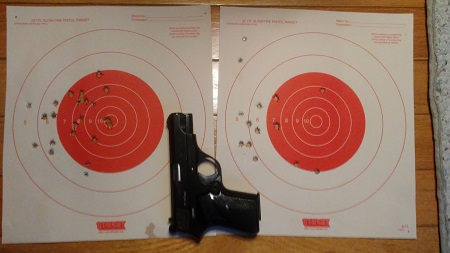 I once again used my Yugo M70 in 7.65mm Browning (.32 ACP to us Americans). The two targets you see were both used at a range of 10 yards. One has significantly more hits and better shot placement. So why the difference?

The answer is: stress. I got more hits (and better ones) when I was relaxed and taking my time. I was doing the same drill - racking before engaging, pausing to reacquire the target after each shot, but I was not in a hurry.

With the other target I tried to go as fast as possible - as if my life depended on it! The result was worse hits and a lot of shots didn't even make the paper. That's what stress does to you.

It's good to do both - building fundamentals and accuracy and then pushing yourself.

I'll conclude by reminding folks that M70s can be had for about $250 and ammo for them is still available and relatively cheap.
I cannot agree with you more, AHL. Don't just stand there plinking, but rather practice with a purpose and concentrate on what you're doing!
******
I'm not sure why you would want to store guns in a vacuum sealed bag. Maybe preserving freshness is a thing? Who knew!
******
On several occasions, we have discussed various self defense ammo and wadcutters have been mentioned. If I am not mistaken, our very own pal
Jim - Sunk New Dawn
is an advocate of their use in this application. Let's take a closer look in this video from Lucky Gunner.
******
The use of old ammo is a perennial question here on the 'ol Gun Thread. Here's a guy in the woods discussing the matter.
Towards the end he mentions something about 25 years being the point at which you start to worry about ammo. I'm here to tell you that I shoot surplus ammo all the time which is close to three times as old with absolutely no problem. I am not suggesting you use ancient ammo in your primary self defense weapon, but for plinking and practice, it's more than likely just fine unless there are obvious signs of deterioration.
******
Next up, our pal CK shares a DIY project.


People ask from time to time about brass catchers. This was my very first project when I got my first AR and had just started shooting. This brass catcher has caught 95% of the brass/steel I've ever shot. I started out with cardboard prototypes and ended up with this. It works, field tested, scrap shelving and a cut up duffel bag!!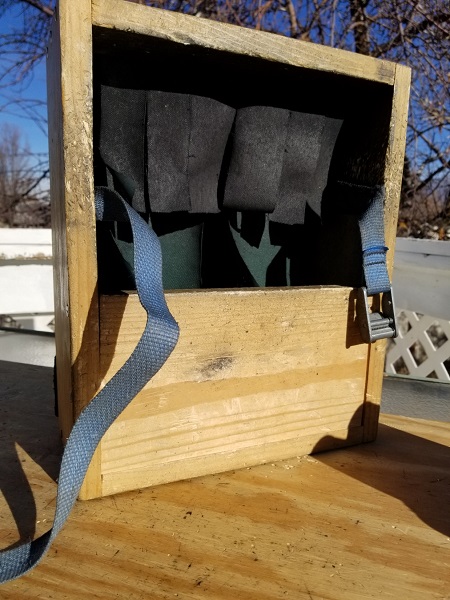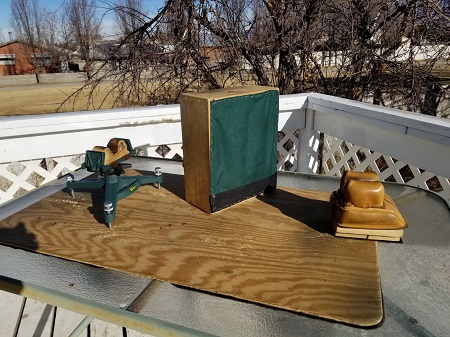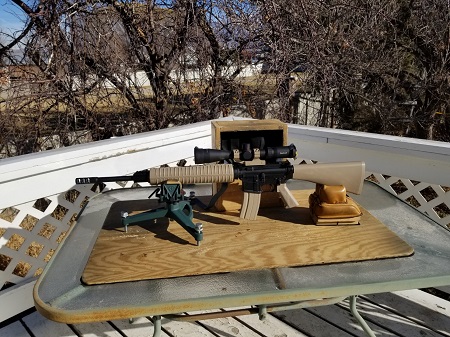 I like these types of projects a lot. Something that annoys me is how anything made specifically for a sport magically becomes extremely overpriced, and I like to find inventive ways around that. Great job, CK! You made something functional out of spare stuff you had around the shop.
How about you all? Any inventive Morons out there? What have you made or modified for use in the shooting sports? Send a picture and a description and I will feature your work!
******
I received an email offer for this system ($99) and since we've again been discussing training aids, thought I'd toss it out for comment.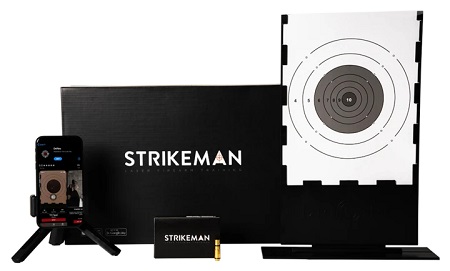 Anyone have a Strikeman Laser Training System and care to do a review?
******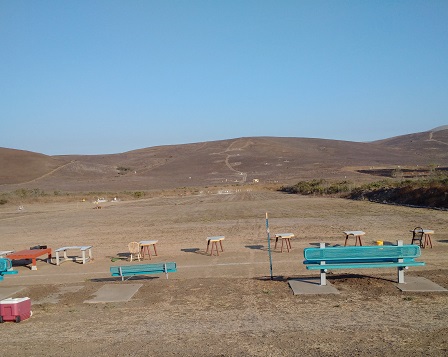 A couple of weeks back our pal Blake shared some pics and a range report and late in the thread our other pal ROBYN ADKINS made the following comment:
Nice story from Blake, allow me to make a shameless plug for the range he mentioned, San Luis Obispo Sportsmen's Association, slosa.org. To have a range of this quality in my backyard is a true blessing. Sitting on over 400 acres, we have every type of shooting you can imagine. We also host firearms classes nearly every weekend...great for new firearms owners!

Our three main public ranges are rifle & pistol, trap & skeet, and archery. In addition to those three ranges, there are a wide variety of specialty venues/matches at SLOSA: Chorro Valley Regulators Muzzleloaders, various matches at the Hogue Action Pistol range (IDPA, ICORE, USPSA, Steel Challenge, USPSA-3-Gun, USPSA Tactical Shotgun, Rimfire Match).

The range is located off of Highway 1 between San Luis Obispo and Morro Bay. Map our physical address: 3270 Gilardi Road, San Luis Obispo, CA.
It occurs to me that it might be fun to feature some of your home ranges from time to time. So if your range is doing a good job, send me a pic and let us know what they are doing right along with the general location in case nearby Morons are interested.
******
Link-O-Rama
I'm really very seriously not kidding around anymore. Buy Ammo
AmmoSeek - online ammo search tool
GunBot - online ammo search tool
SG Ammo
Palmetto State Armory
Georgia Arms
AmmoMan
Target Sports USA
***Mail Bag***
Our pal MisHum sends in this week's entry. Thanks for this and all you do, MisHum!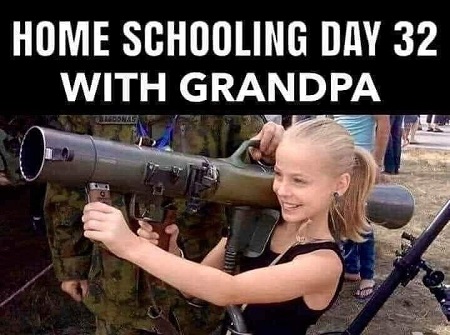 ******
Please note the new and improved protonmail account gunthread at protonmail dot com. An informal Gun Thread archive can be found HERE. Future expansion plans are in the works for the site Weasel Gun Thread. If you have a question you would like to ask Gun Thread Staff offline, just send us a note and we'll do our best to answer. If you care to share the story of your favorite firearm, send a picture with your nic and tell us what you sadly lost in the tragic canoe accident. If you would like to remain completely anonymous, just say so. Lurkers are always welcome!
That's it for this week - have you been to the range?

posted by Open Blogger at
07:00 PM
|
Access Comments