« There Is Nothing Quite Like A Job Well Done
|
Main
|
Gun Thread: Living in Interesting Times Edition! [Weasel] »
January 10, 2021
Food Thread: I'll Have What He Is Having....Once!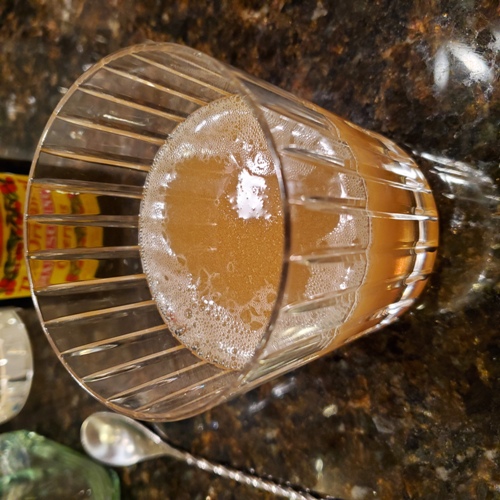 That's a Swiss Speciall, concocted by one of our resident bartenders, naturalfake. Notice I didn't insult him by calling him a mixologist!
1 oz Gin
1 oz Kirsch
2 oz Rye
.25 oz Simple Syrup
Shake, strain into glass.
Float .5 tsp of Grand Marnier. Garnish with cherry.
He discussed this drink last week, and I was intrigued, so I made it that night.
And I didn't like it. At all. But it was certainly interesting and it gave me the opportunity to use some Kirsch, which I haven't used since I made fondue about 300 years ago.
it had medicinal undertones that I found unpleasant, and I though that the gin and the rye competed too much. I also think that with a little tweaking it could be an interesting drink for my palate. "My" being the important word here. You may love this drink as it is. That's why, while it may be tempting to make fun of silly or odd drinks, the only thing that matters is the pleasure you derive from them. And if a chocolate martini with extra chocolate sauce makes you tingle all over, or if a bourbon and coke (yuck!) is your idea of alcoholic perfection. then have at it!
That's the fun thing about cocktails, and why I absolutely love dropping into a new bar and discovering a new twist on an old standard, or even a completely wacky drink like this one. Sometimes they are successful, and sometimes they aren't. It was however interesting enough for me to finish it, and that's not just because I am a cheap bastard and don't like wasting booze.
By the way, it tasted nothing like what I expected, which was a hoot. The first thing I did when I tasted it was check whether I had in fact used Kirsch, or if I had grabbed something else in my haste!
******
Bacon Jam? What's not to love?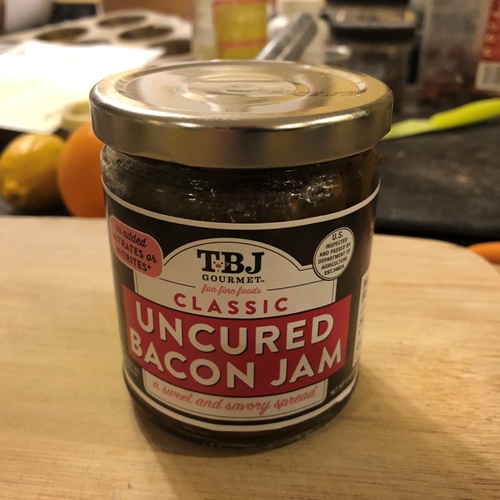 I have had this stuff at restaurants, and have even made something like it. Off hand I can't think of anything that won't be improved by this. And don't say ice cream, because a bit of this on top of a scoop of butter pecan or vanilla ice cream would be damned fine eating.
[Hat Tip: hrothgar]

******
Pro Tip:
Never ever remove the top trim of your microwave/exhaust fan to reveal the secondary filter and the internal duct work. It is attached with hidden and poorly anchored screws, and it doesn't seem like something that is intended to be done regularly. Yet the space behind it collects an amazing amount of grease and dirt and yucky stuff.
******
Am I the only one who thinks that canola oil tastes sort of crappy? It is specified by many chefs, and I have seen restaurant menus that feature it as some sort of virtue-signalling frying oil.
But...damn! I think it tastes sort of rancid and fishy, and I stopped using it long ago. There is a local place that has a solid kitchen, and they use it for their frying. There is nothing so disappointing as a French Fry that has been cooked perfectly but tastes faintly of three-day-old mackerel.
My go-to oil is plain old corn oil, and if I am frying something special (a rarity) I will sometimes use peanut oil, even though it is quite pricey.
By the way, I have fried in vegetable shortening, and that stuff is great!

******
A chef John parody that's pretty well done.
******
We always have tons of leftover mashed potatoes. It's not that I don't make a good version; it's that I always make far too much. So this sounds like a fun little snack for Friday morning after Thanksgiving. Or maybe Thursday evening after the dishes are done!
[Hat Tip: Misanthropic Humanitarian]

******
CaliGirl's rib roast!
It starts with a high temperature sear, then a low temperature cook until it turns out a gorgeous medium-rare. Or it was barbecued. She's not sure which is which, and since she made one of each, we'll just have to guess.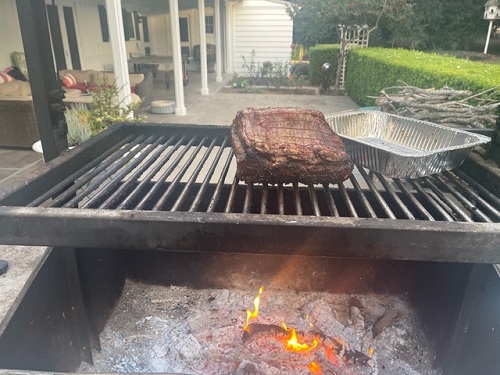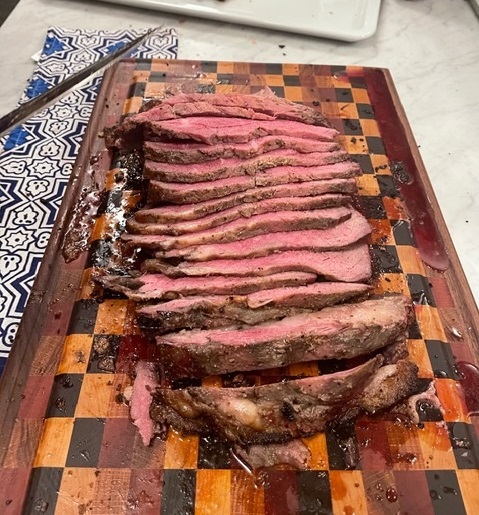 And look at that cutting board! it was made by the son of a friend of hers, and he doesn't do it professionally, he should.

******
Food and cooking tips, Large-breasted Muscovy ducks, young wild pigs, bartenders who use vermouth in Martinis (but not too much), pork belly that doesn't have 5-spice, low-temperature-roast chicken, and good tomatoes that aren't square, pale pink and covered with Mestizo E.coli:
cbd dot aoshq at gmail dot com
. Any advocacy of French Toast with syrup will result in disciplinary action up to and including being
nuked from orbit.
And yes, shaking a Manhattan is blasphemy...it's in the Bible!

posted by CBD at
04:00 PM
|
Access Comments