« Saturday Evening Movie Thread 12-26-2020 [Hosted By: Moviegique]
|
Main
|
Sunday Morning Open Thread [J.J. Sefton] »
December 26, 2020
Saturday Overnight Open Thread (12/26/20) Moron-Mart Edition
(Mystery click H/T bluebell)
***
The Saturday Night Joke
Very heartwarming....read to the end. It's worth the read.
Every morning, the CEO of a large bank in Manhattan walks to the corner where a shoe shine is always located.
He sits on the couch, examines the Wall Street Journal, and the shoe shine gives his shoes a shiny, excellent look.
One morning the shoeshine asks the Executive Director:
"What do you think about the situation in the stock market?"

The Director asks in turn arrogantly:
"Why are you so interested in that - that topic?"
"I have a million dollars in your bank," the shoeshine says, "and I'm considering investing some of the money in the capital market."

"What your name? –"Asks the Director.
"John Smith."
The Director arrives at the bank and asks the Manager of the Customer Department:

"Do we have a client named John Smith?"
"Certainly –"answers the Customer Service Manager–, "he is a highly esteemed customer. He has a million dollars in his account."
The Director comes out, approaches the shoeshine, and says:
"Mr. Smith, I ask you this coming Monday to be the guest of honor at our board meeting and tell us the story of your life. I am sure we will have something to learn from you."
At the board meeting, the Executive Director introduces him to the board members:
"We all know Mr. Smith, who makes our shoes shine in the corner; But Mr. Smith is also our esteemed customer with a million dollars in his account. I invited him to tell us the story of his life. I am sure we can learn from him."
Mr. Smith began his story:
"I came to this country fifty years ago as a young immigrant from Europe with an unpronounceable name. I got off the ship without a penny. The first thing I did was change my name to Smith. I was hungry and exhausted. I started wandering around looking for a job but to no avail. Suddenly I found a coin on the sidewalk. I bought an apple. I had two options: eat the apple and quench my hunger or start a business. I sold the apple for two dollars and bought two apples with the money. I also sold them and continued in business. When I started accumulating dollars, I was able to buy a set of used brushes and shoe polish and started polishing shoes. I didn't spend a penny on entertainment or clothing, I just bought bread and some cheese to survive. I saved penny by penny and after a while, I bought a new set of shoe brushes and ointments in different shades and expanded my clientele. I lived like a monk and saved penny by penny. After a while I was able to buy an armchair so that my clients could sit comfortably while cleaning their shoes, and that brought me more clients. I did not spend a penny on the joys of life. I kept saving every penny. A few years ago, when the previous shoe shine on the corner decided to retire, I had already saved enough money to buy his shoeshine location at this great place.
Finally, three months ago, my sister, who was a whore in Chicago, passed away and left me a million dollars."
***

OK Morons, is this someone who needs to be kicked out of a restaurant? A two word answer would suffice, "Hell No!"

An Australian restaurant has apologised to an Italian backpacker after refusing to serve her and her boyfriend because she was dressed 'inappropriately'. Martina Corradi posted that she was 'embarrassed and offended' when a waitress told her she was not dressed 'acceptably' and then called the manager to kick her out 'in front of everyone' on Christmas Eve. Today North Bondi Fish General Manager Gemma Swanson told Daily Mail Australia the restaurant had apologised to Ms Corradi and offered her a free meal. She said: 'We have reviewed the incident and acknowledge that it was an error of judgment to ask Martina and her partner to leave the restaurant.
***

Iron Crotch. No we aren't talking about Michigan's governor Karen Whitmer.

Kung Fu Masters in China Who Practice the Painful Looking Dying Tradition Known as 'Iron Crotch'

Kung Fu masters in the Chinese province of Henan deliberately stand in front of a swinging log that's capped with steel in order to take a blow to the crotch while using Qigong breathing practices to allay any pain. This incredibly painful-looking practice is colloquially known as "Iron Crotch", an ancient tradition that requires years and years of training in order to withstand both the physical and the mental anguish of such a feat.

The move involves a log, capped with a steel plate, measuring 2 metres (6ft 7in) in length and weighing 40kg (88lbs) that is swung through the air before it is smashed into the crotch area of the practitioner. …Wang Liutai, a 65-year-old kung fu master who has been practising "iron crotch" for around half a century, said the move does not hurt and has no effect on fertility if done with the right methods and sufficient practise.
***
When a Bottle of Costco Bourbon Is More Than Just a Bottle of Costco Bourbon - Sometimes, circumstances make you take another sip

It's not like Mark and I were close friends.

We'd see each other in the dirt parking lot at the town field after the boys' soccer practice, talking as our sons half-jogged over, laughing like sixth graders do, before we got in our cars. When my younger son got sick—real sick—my wife and I would sometimes drop our older boy at Mark and Mary's house in the middle of the night before rushing to the hospital. Mark would quietly wish us luck and smile as he put his hand on my son's shoulder, taking him in. Mark was tall and strong and calm, and he always smiled.

Once, after another sleepover, our older son came home and reported that Mark had taken them on a run through the woods.

A run? Through the woods?

Our son hated running. Didn't like hiking. But he said he loved this day, flying through the trees with his buddy and his buddy's dad.

Then Mark got sick. Real sick, real fast. Now it was we who were taking their boy in, sometimes for nights at a time.

Mark died last year of multiple myeloma. A month before his 50th birthday.
***
Lewis Black discusses math. I'll make an exception this evening...............

***
Sorry Missy, I've been washing my hair before you were an accidental birth.

Believe it or not, but how to wash your hair has actually become a popular talking point.


A hairdresser on TikTok has gone viral after uploading a video showing how people should be washing their hair properly.

While you might think that you're doing it correctly, this video contains lots of handy tips to make sure you are.

According to TikTok user @amy.does.some.hair, there's a proper technique to ensure your locks are squeaky clean.

Her video has racked up 284,000 views and hundreds of comments since being shared on TikTok.
We really have become a world full of easily entertained imbeciles.
***

The government which wants you to social distance, wear masks and get inoculated against the Chinese Kung Flu promotes encephalitis and salmonella.

Desperate Marietta residents have taken to banging on pots and pans to shoo the birds away, while others have even lit fireworks to scare them off. But these are only temporary solutions.

According to Lancaster Online, black vultures are a federally protected species and can't be trapped or killed without a permit. Doing so could yield a fine of up to $15,000 and up to six months in prison.

Makeshift solutions are thus the law of the land for Marietta residents right now. Some have put up taxidermied vulture effigies in a surprisingly effective move that scares the living ones away. Even this, however, requires legal permission.
***
I had some of these as a kid growing up. My bike caused more injuries than these toys. What about you?

7 Absurdly Dangerous Toys That Your Parents And Grandparents Probably Got For Christmas


From a science kit that contained uranium to a toy gun that generated fireballs, these dangerous toys would launch a thousand lawsuits if they were released today.
***
***
Adult Moron pudding cups. H/T redc1c4
***

The old saying is if life gives you lemons make lemonade. In snow country, "If life is going to give you snow, play in it until the fucking nannies outlaw everything fun."

As snow piles up in yards and parks across the United States this winter, many children will be hitting their neighborhood hills to sled on their days away from school. Common injuries caused by the time-honored winter activity, however, have led some cities in the Midwest to place a ban on sledding.

According to a study from The Center for Injury Research and Policy (CIRP) at Nationwide Children's Hospital, more than 20,000 Americans younger than age 19 receive treatment for sledding-related injuries each year.

Some cities in Nebraska, Iowa, Illinois and Indiana have banned sledding on steep hills in recent years. Other municipalities have posted warning signs cautioning people to sled at their own risk
***
The ONT Musical Interlude

Dion DiMucci says battle with drugs, alcohol inspired new Christmas hits: 'I was a heroin addict for 15 years
AND
***
Well at least he doesn't have any money to be seized by The Man. Genius Award Winner.

A Pennsylvania man charged with narcotics distribution claimed to police that he did not sell methamphetamine, but instead gave it away for free to those who came to his storage unit and asked for the drug, according to a criminal complaint.

Mark Hiles, 56, was arrested Saturday for allegedly selling drugs from a storage unit several blocks from his home in Altoona. Hiles, free on $50,000 bond, faces a pair of felony drug charges and three misdemeanor counts.

According to police, Hiles and Tyler Bartley, 25, were collared after investigators found them inside Hiles's storage unit, which "appeared to being used as a residence." During questioning, Bartley reportedly admitted that he worked as a "middle man" setting up drug transactions between Hiles and street buyers.

Bartley told cops that he would "exchange money for drugs" at Hiles's storage unit, adding that "a large amount of methamphetamine was to be in the storage unit."
***
Tonight's ONT has been brought to you by Not Primary Or Secondary Colors.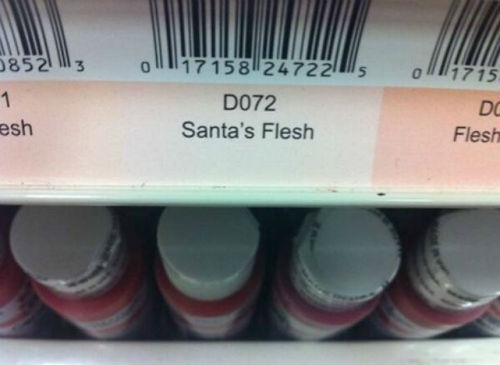 Notice: Posted with permission by the Ace Media Empire and AceCorp, LLC. No receipts, no returns. Original receipts required. Not responsible for shipping charges. You are on your own.

posted by Misanthropic Humanitarian at
10:00 PM
|
Access Comments