« Saturday Gardening and Puttering Thread, December 12, 2020 [KT]
|
Main
|
Saturday Afternoon Chess thread 12-12-2020 »
December 12, 2020
Ace of Spades Pet Thread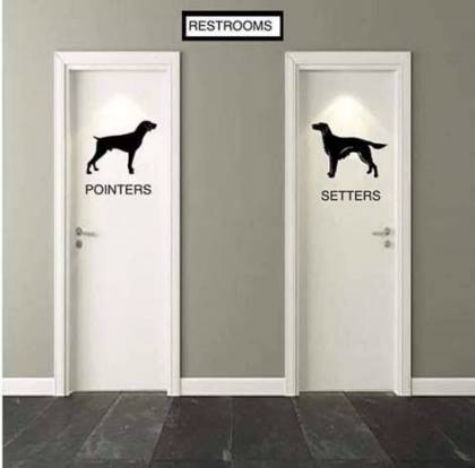 ***

Good afternoon and welcome to the almost world famous Ace of Spades Pet Thread. Here's a suggestion, drop carefully whatever you are doing and enjoy the world of animals.
***
A Little of This. A Little of That.
I'm not sure about you, but this isn't my idea of a furry companion. When James Your Baby Bat Is So Cute He Can Do Whatever He Wants(H/T Jr.)
***

Our buddy Hrothgar submitted this. Border Collie extravaganza!
***

Another Moron contribution. This one from Weasel, Kitties are so nice!
***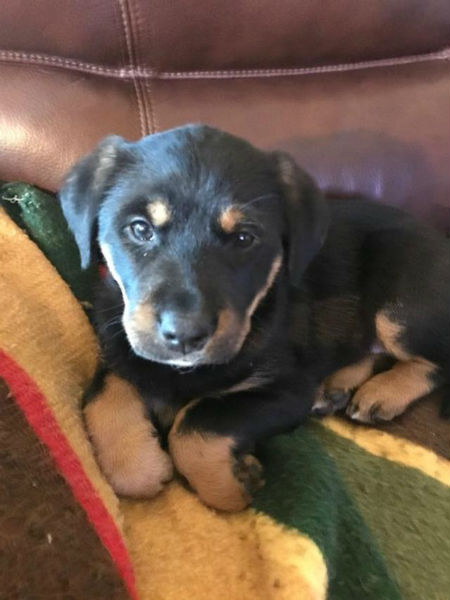 Wound up with a new puppy because a dog was knocking over our trash cans at the VFW. Watched the security cameras and one member said that dog knocking over the trash cans belonged to her neighbor and just had puppies last month. Went to talk to the owner about her keeping the dog out of our trash cans and we wound up leaving with a new puppy. - Mister Scott (Formerly GWS)

Quite the civic duty, stop trash can vandals and pick up one hell of a cute puppeh!!!! Nice job Mister Scott, what an adorable little critter.
***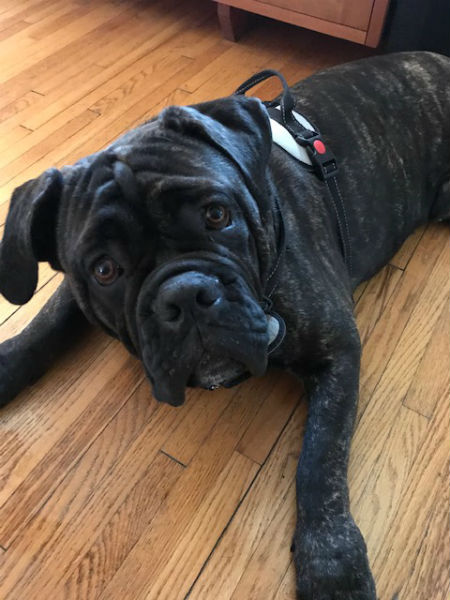 This is Gus aka "Gustopher" (taken on his 1st birthday). He is a 100 lb. baby. Half English Bulldog/Half Neopolitan Mastiff. We got him 3 or 4 days before everything shut down last March, so he is incredibly spoiled for attention because we've all been home so much of the time. - No name provided
Oh my, Gus looks like he is still growing. What a huge puppeh you have there. Is he a lap dog to boot? Thanks for sharing today.
***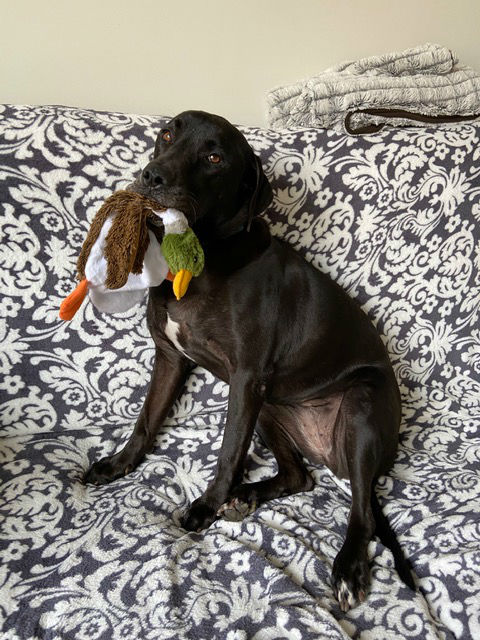 Meet Daisy, part lab rescue that my son and daughter-in-law brought home recently. She is a very loving dog and likes nothing better than to curl up on the couch next to you or just curl up on the couch. They bought her a duck because....retriever. I think it has taken a little while for her to realize that she is in her forever home and gets a little bolder every day. So I am now Grammy to a doggie. - No name provided
The nice thing about being a Pet Grandparent? You get to spoil the little critters and then send them home to their parents. Congrats on the new addition, she looks like she is adapting well. Thank you for your contribution today.
***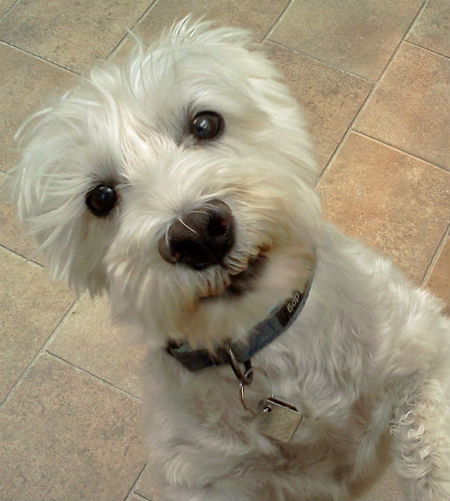 Captain is a Wauzer (Westie+Schnauzer), age 14+. He's now having some senior dog challenges but he still makes us laugh every day. He joined us ten years ago from the good people at National Mill Dog Rescue, just outside Colorado Springs, after being fostered by a local Air Force family -- they gave him his name (and commission).

We look forward to the pet thread every week, and check Ace every day. Keep the faith. - Sutton Hoo
I don't know how that foster family could have turned Captain over to you and your family. What an adorable little dog. We are happy to hear that he has provided joy over the years. Thanks for sharing.
***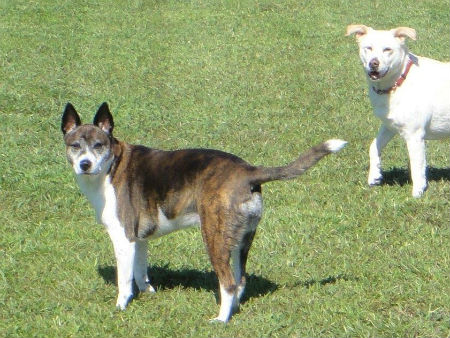 &&&
I lost White Dog 2 months ago and had to let Jack (brindle) go this past
Monday. But on Nov 20th there appeared a strange little dog on my (dead
end) street. I first saw him in the middle of the road and he watched
me pass and then continued on his way. I thought he was headed home. I
had errands so I passed him laying down in a yard close to the main
highway several times. About dark, I couldn't take it and went to see
if he was still there. He was and he was hungry and shivering. No
collar, but I called both vets in town and gave his description for a
lost dog. No takers ... so his name is Gus. I have never had a little
dog before. He is smart and already knows I won't tolerate yapping.
;) Love the Pet thread. You have kindly posted pics of my motley crew
over the last few years. I appreciate your hard work. - Pamazon
First off Pamazon, so sorry to hear of not one loss but 2 losses ins such a short period of time. Truly a sad period of time. But it looks like Someone knew that you and Gus needed one another. Congrats on your new "homie".
***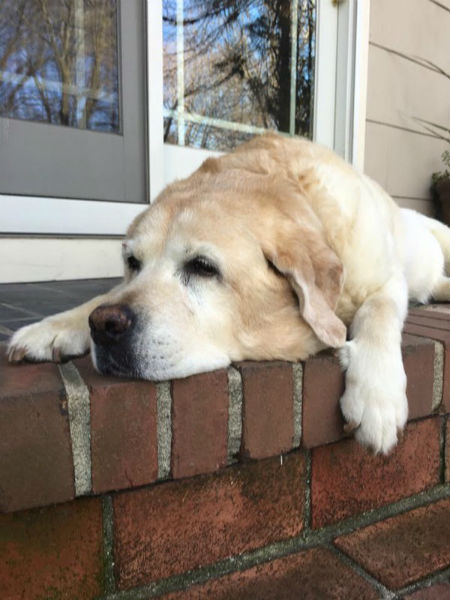 &&&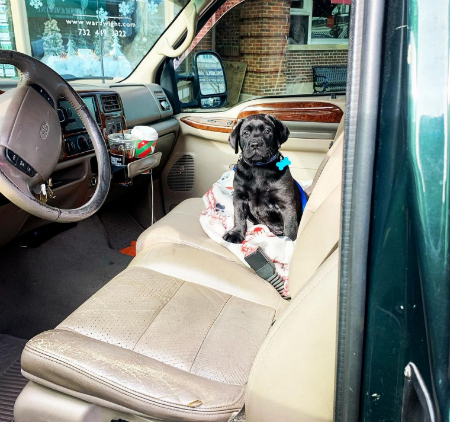 Long time daily reader/lurker. The yellow lab is Maggie, she was on the pet thread once before. Maggie rode on ahead in 2014. Still miss her.

The black is out new grandpup, Hank. He's cute, but can be very busy. Adapted well in two weeks, already acts like he owns the place. - No name provided
Grandpup Hank looks like he has some mischief in those eyes. But, that's what puppies are for, amirite? Maggie reminds me of a friend's yellow Lab, what a sweet gal she appears to have been. Thanks for sharing today.
***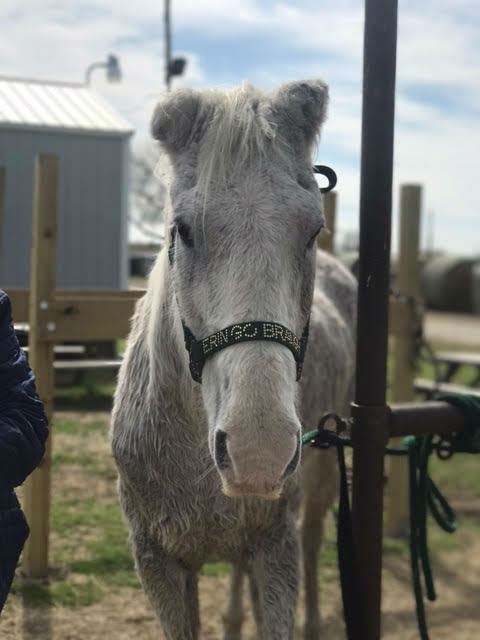 This is Bubbles the Horse. Some of you may remember his story from a couple years back. He was an old horse who took his destiny into his own hooves. While our group was saving a group of donkeys (Blizzard included!) this old guy tried to blend in with the crowd. Of course he stood taller than the donks but our staff fell in love with him and saved him as well. He lived the rest of his days at the rescue. He was a ladies man and had several girlfriends.

You will notice that his ears are folded over. We believe he may have come from a colder climate in which his ears were frost bitten.

Here is a link to the RIDE TV video of his story.

https://vimeo.com/205586494

The rescue recently announced it is moving from Frisco, TX to Wolfe City, TX. The process is going to be slow as there are about 100 animals to transport over the next year. If there are any horde members in North Texas that have the time and would like to help the rescue move, please contact Becky's Hope Horse Rescue. - MW in Texas

All animals need love and care. From the photos and stories from you MW in Texas you are involved in the forefront of abandoned and forgotten animals. A big heart you have. Thank you for all you do.
***

Another Saturday, another Pet Thread and once again a great thread made possible by Viewers like you. Thank you.
If you something you wish to submit please feel free to contact us here at petmorons at the gmail dot com thingy.
Until next Saturday have a great week!

posted by Misanthropic Humanitarian at
03:00 PM
|
Access Comments