« Gorsuch writes a scathing rebuke of Gov. Cuomo's COVID restrictions as Supreme Court rules in favor of religious liberty [Buck Throckmorton]
|
Main
|
Iran's Top Nuclear Scientist Killed in Shootout
John Brennan Calls The Killing "Criminal" »
November 27, 2020
Pinball Wizardry [Moviegique]
I'm a computer programmer by trade, a musician by training, a writer by avocation and one thing all those things have in common is that they involve sitting and manipulating non-tangible things (bits, sounds, words). If not for exercise and cleaning the pool (which is lit these days in the winter when the water is in the 40s), I wouldn't have any kind of physical labor at all.
But this spring, I finally pulled the trigger and got rid of all my old video game cabinets—I had an odd assortment of classic coin-op video games I'd stored in my garage for 25 years—and the guy who bought them also repaired pinball machines. Well, it's one thing in a post-MAME world to get rid of video games but I wasn't letting go of my pinball machine (which had been a birthday gift the year before I bought all the video games).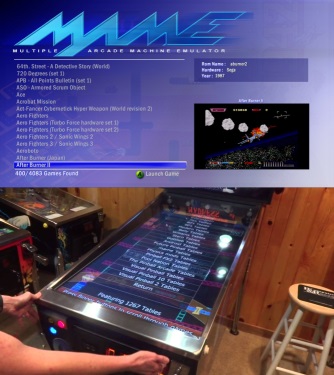 Top, M.A.M.E. allows you to play a massive variety of video games. Bottom, Visual Pinball (which does something similar for pinball games) running in a real cabinet.
So, I had him fix it up, and in playing it with the kids (my two oldest remembered playing it, but not the youngest), I remembered how much joy these silly for-amusement-only devices had brought me. Some of my earliest memories are padding around an arcade with nickels, dimes and quarters and playing these machines (and some other novelties which amaze me with their creativity and mechanical ingenuity).
But, the thing was, I had let it go for a while, so a simple repair wasn't quite enough to make it perfect. Pinball machines require a fair amount of attention, especially electromagnetic ones like mine (and more on that momentarily). The first thing I learned that I hadn't known, e.g., was that pinballs wear out. Of course I knew machine itself would, because of course that's subject to all kinds of wear and tear, but the actual pinball!
The "slingshots" are the powerful bumpers just above the flippers. The "rubbers" are the white bands around the slingshots.

It's a 1 1/16" steel ball. How does that happen from rolling on a wooden playfield? I don't know, but I did replace the ball and discovered a lot of erratic movement went away. I also found myself replacing the rubbers, which had a tendency to slip off the slingshots.
Tables need to be waxed. The playfield can wear down, too. There are a lot of fidgety sensors and triggers. The fit of the rubbers and the pizazz in the bumpers can make the difference between a table that's fun to play and one that seems dull, even when talking about the same model of the machine. (And some people "upgrade" their old machines by putting in modern LEDs with brighter colors not really possible back in the old days.) And then there's the game logic.
As a computer programmer, this fascinates me. It is the key difference between an electromagnetic machine (EM) and a solid state (SS) machine. In an SS machine, you have logic in a computer program. Something like:

IF BONUSMULTIPLYER = 10 THEN EXTRABALLTARGET.LIGHT =
ON
In an EM machine, well, that program looks like this: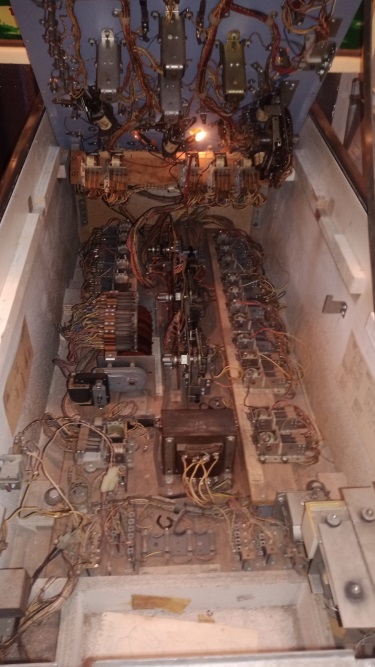 Roughly speaking, the stuff on the top are the solenoids and cables to light up the playfield, but the stuff on the bottom is the logic, these days replaced by one or two small computers.

Yeah. Those wires (and those in the head) contain the logic of the game. It's a physical manifestation of a computer program. (Or, more accurately, computer programs are the virtualization of...that.)
Well, at this point, I'm hooked. I find a guy down the street selling an old EM game with a pool theme, and it's just a few hundred bucks. Now I have two machines and each has its own unique set of issues and ideas.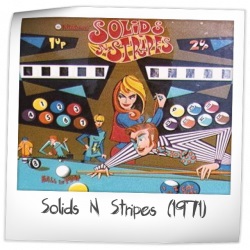 "Polaroid" of Williams' "Solids & Stripes" from Pinside.com, which has a database, marketplace, forums all dedicated to pinball.

What if, I begin to think, what if I built my own pinball machine? Of course, the ideas start coming fast and furious. There are a lot of interesting thematic ideas one could put into a pinball machine, and there's probably never been an easier time to build one. I look at some videos on the 'net, which are interesting: A lot of people do this (a lot more do it virtually which I really don't want) and the results are all over the map as you might expect.
I'm surprised, for example, how much the art matters to me. I see someone put together a nice table and I end up disliking it because the art looks chintzy. Pinball art is tacky, stylized, in the '80s it dipped into sleazy photorealism, but it shouldn't look cheap.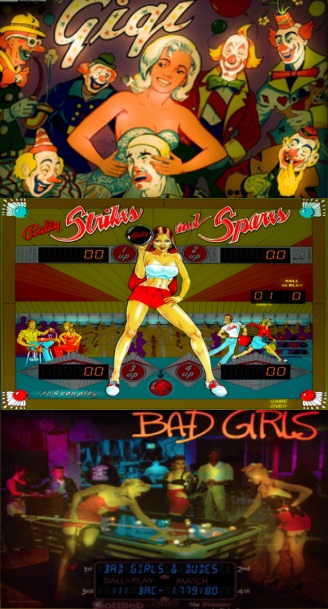 Compare and contrast: stylized (Gigi, 1963), tacky (Strikes and Spares, 1978 ) and sleazy (Bad Girls, 1988 )

Fortunately I live in a house full of artists and I decide my best bet is to make a pinball machine with a kind of scattered theme: Memes. I get a few rough ideas (double rainbow spinners, all your base—my kids call these "vintage memes"—woman yelling at cat, and so on) and figure out how I want the table to flow.
There's design software for making virtual pinball machines, so I try a few things out to see if my ideas flow. There's so much I want to do but I don't want to overdo on my first machine. I make a plan:



Design game


Make cabinet


Make head


Make playfield


Plug in all the bumpers and other gizmos


Create the artwork


Program light sequences


Make sound effects


It's not quite a sequence. Some of these things have to be done simultaneously. And there's a lot I don't know
how
to do. Fortunately, I know people who can help with the woodworking (cabinet, head and playfield).
Then there's the aesthetic consideration. While I don't want to do a purely EM machine (those wires!), I also don't want to do a purely electronic version. I like the old school chimes and bells, and I think one could be really creative with those—especially given all the space freed up by not having quite so many wires on the inside of the cabinet.
Anyway, if this is a journey you'd like to join me on, if only to point and laugh, just let me know! I've learned a lot already and I'm going to be learning a lot more in the coming months.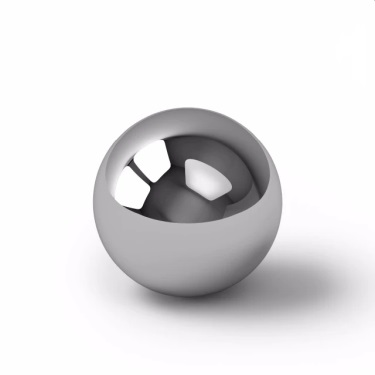 They wear out! Who knew?

posted by Open Blogger at
02:06 PM
|
Access Comments