« Quarantine Cafe: Mostly Weird Cats Edition
|
Main
|
EMT 11/26/20 »
November 25, 2020
Wednesday Overnight Open Thread (11/25/20) Thanksgiving Eve Edition Not Your Typical ONT
***
The Quotes of The Day

Quote I

Vegetables are a must on a diet. I suggest carrot cake, zucchini bread, and pumpkin pie. Jim Davis

Quote II

I give thanks to my Creator for this wonderful life where each of us has the opportunity to learn lessons we could not fully comprehend by any other means. Joseph B. Wirthlin

Quote III

[T]he Thanksgiving season is upon us and once again we have much to give thanks for. But this year we ought to be especially thankful for our ancestors, the Pilgrims, on their four hundredth anniversary. Their faith, their bravery, their wisdom places them in the American pantheon. Alongside the Patriots of 1776, the Pilgrims of 1620 deserve the honor of American founders. Sen Tom Cotton (R-AR)

Quote IV

"I would maintain that thanks are the highest form of thought, and that gratitude is happiness doubled by wonder." G.K. Chesterton

Quote V

"It is important for Americans to realize that, in spite of their good intentions, neither a governor, a president-elect nor I as your state representative have the constitutional authority to restrict the number of family members who gather in your home," Colorado Republican state representative Mark Baisley
***
***
(Is there a Mystery Click?)
***

Even squirrels get into the Holiday "spirits".

Squirrel Accidentally Gets Wasted Off Of Fermented Pears

My dad has set out bird feeders along the front of my childhood home, since birdwatching has become a passion of his. Especially since COVID sent everyone working from home, he enjoys looking out the window of his make-shift office and watching as cardinals and blue jays flutter to feast on what he's set up. But he has one complaint: pesky squirrels always try to steal the food! The solution? He hasn't figured that out yet, but maybe getting the squirrels drunk might help.

In Inver Grove Heights, Minnesota, Katy Morlok had put out old pears for wildlife to eat, giving them a little Thanksgiving feast to help celebrate the holiday season as well. One specific squirrel, who she calls Lil Red, took one of the pears for himself and scoured up a nearby tree. An hour later, Lil Red came stumbling down, clearly unbalanced and clumsy, but also clearly looking for the rest of the pears. Morlok, initially confused at Lil Red's demeanor, told FOX 9, "It kind of dawned on me: 'Oh no, those pears were so old, I bet they fermented,'" realizing that the fermented pears were causing Lil Red's drunken appearance.
***

A traditional Thanksgiving meal not on your menu? Fast food burgers ranked for you and your taste buds.

The hamburger is one of the USA's most recognizable food icons. So much so, in fact, that in 2013, Americans were estimated to eat 50 billion burgers a year — or enough to circle the Earth 32 times. And despite some uncertainty about their specific country of origin, they're now thought of all around the world as nothing less than purely American. It stands to reason, then, that the best hamburgers are found in the States. But where?


Countless fast food restaurants across the country sell burgers — the choice is almost limitless. Even more unhelpful is the fact that the nature of the sandwich means that there are countless different ways you can construct one. A hamburger can be almost anything, meaning the range of quality between the best and the worst of them is vast indeed. It is very important, then, that you make your choice wisely. Luckily, we're here to help. Here are the most well-known fast food burgers, ranked worst to best.
***

I'm certainly Thankful I wasn't invited to this dinner. Let's see what we can throw together since we are locked down with vegans.

There are plenty of good reasons to skip the grocery store this Thanksgiving. With covid-19 cases on the rise, avoiding unnecessary shopping trips is a good idea, and so is refraining from big family gatherings. Somehow, even amid the pandemic, grocery lines are also super long.

I'm not happy about this. I miss gatherings, and I miss the store. Some people find food shopping annoying or overwhelming, but I love it, even for Thanksgiving. I love making lists of all the things I need and knowing I'll pick up a few things I don't need if they're on sale. I love choosing the juiciest looking apples for pies, and crispest kale and sometimes even Googling reviews of all the available kinds of parmesan.

Here's the thing, though: I'm only cooking for the few immediate family members who I'm quarantining with, and my parents are vegan, which rules out turkey and buttery mashed potatoes, anyway. I also already have food in my house. It may not be Thanksgiving fare exactly, but I don't want it to go to waste.
***
In the event that your Homeowner's or Renter's Insurance excludes Genius Award Turkey Cooking claims, How to Deep-Fry a Turkey Without Burning Your House Down (Video)

We get it, you're tired of overcooked and dried-out turkeys. You have two options: up your roasting game or be a total hero and attempt to deep fry your bird. People love to fry stuff (we've seen it all: Kool-Aid, Twinkies, Oreos, etc.) What's more patriotic than deep-frying Thanksgiving dinner? We've put together a pros and cons list to weigh in your cooking options.

OK, so you're gonna do it:
Deep frying the bird is absolutely a fire hazard. Open propane gas fires are often unstable. If you challenge yourself to deep fry, remember that this must be done outside and away from anything you care about (in other words, do not attempt this while in a garage, close to a house, your friends or under a tree.)
***

Meet Sarah Joseph Hale single, white, suburban woman.

Meet Sarah Josepha Hale, The Woman Who Convinced President Lincoln To Make Thanksgiving A National Holiday

After Sarah Hale became the first female magazine editor in America, she used her unique platform to help create Thanksgiving as we know it.
***

Let's take a listen to Rush Limbaugh's True Story of Thanksgiving...........

***
***

Our country was established by nuisances and Morons. The story of the Puritans.

This week is Thanksgiving in the United States, and it is also the 400th anniversary of the event that is largely responsible for the holiday. On Nov. 2, 1620, the English ship Mayflower dropped anchor at the tip of what is now Cape Cod. After a ten-week voyage, a crew of thirty and 102 passengers landed in "the promised land" to found what would become the Plymouth colony.

In the context of the times, it was a trivial event. The passengers, who would become known as Pilgrims in American mythology, were mostly a nuisance in the Old World, so their decision to head off to the wilderness was unremarked at the time. The most likely outcome was that they would be killed by the locals or starve to death. Instead it turned out to be one of the most important events in history.

Those Puritans, as we also call them, went on to create one of the greatest empires the world has known. No one thinks of it like that, because no one goes around calling themselves a Puritan these days. Ironically, the Puritans are often held up as a cartoon example of the sorts of people the ruling class opposes. The word "puritanical" is used as an epithet to tar the enemies of the status quo as narrow and stupid.
***
In the last several decades, conservation organizations have successfully brought wild turkeys back from the brink of extinction in the U.S.—so it's not uncommon to run into one (or many) in your neighborhood. While most of these encounters are innocuous, turkeys have been known to lash out at cars, mail carriers, and kitchen windows in the past. Here are six of the strangest stories to bring to the table this Thanksgiving.
***
***

2020 has been a Shit Show. I'm thankful I'm not a Florida Man. NSFW
***

The ONT Is Always Looking Out For You TM How to take that great Thanksgiving nap.
***

Not only is The ONT looking out for you. The ONT is also looking out for your best friend, the 4 legged ones.

Dogs are omnivores like us, so nearly everything on a Thanksgiving table may be appetizing to your pup. But a traditional turkey dinner includes things that can be harmful to dogs in large amounts. So if you plan to treat your pet to some leftovers, here's what to be aware of.

Don't worry our pies are out of reach from the 2 terrorists.
***
The ONT Musical Interlude
On this day: 25 Nov 1976
The Band made their final performance; 'The Last Waltz' held on American Thanksgiving Day, at Winterland Ballroom in San Francisco. The show also featured Joni Mitchell, Dr John, Neil Young, Van Morrison, Neil Diamond, Eric Clapton and others. The event was filmed by director Martin Scorsese and made into a documentary of the same name, released in 1978. via thisdayinmusic.com
On this day: 25 Nov 2007
Kevin Dubrow, the frontman with metal band Quiet Riot, was found dead in his Las Vegas home at the age of 52. Their 1983 release Metal Health was the first metal album to top the US charts. The band's biggest hit was 'Cum on Feel the Noize', a cover of the Slade song which they are said to have grudgingly recorded in just one take. via thisdayinmusic.com
***

Still one of the best TV Thanksgiving episodes ever..............

***
Genius Award Winner
***

Tonight's ONT has been brought to you by the Fabulous Mrs. Mis Hum's Turkey Dressing Recipe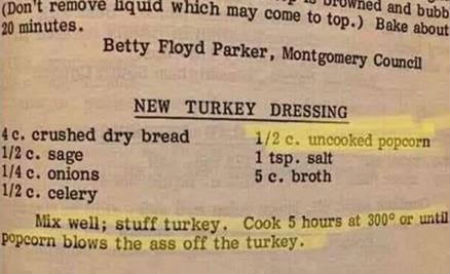 AND
Misanthropic Humanitarian's Guide for Christmas Shopping.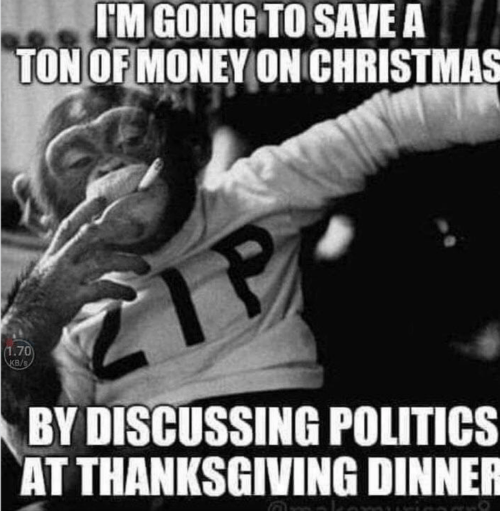 ***
Notice: Posted with permission by the Ace Media Empire and AceCorp, LLC. I wish you and your loved ones a Happy Thanksgiving. Thank you for making The ONT part of your world.


posted by Misanthropic Humanitarian at
09:55 PM
|
Access Comments