« Tonight's ONT Is Knee Deep In The Hoopla
|
Main
|
Mid-Morning Art Thread »
November 20, 2020
The Morning Report - 11/20/20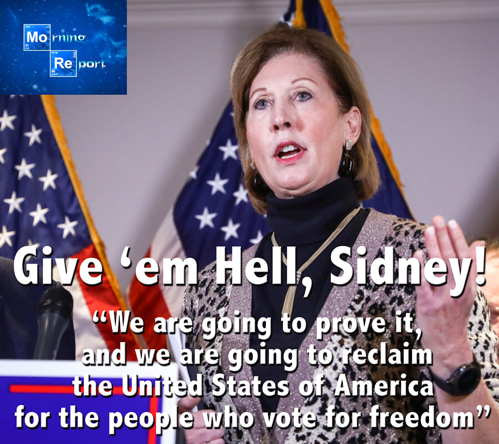 Good morning, kids. The weekend is here and the lead story was Team Trump's press
conference yesterday. Rudy Giuliani, Jenna Ellis and most of all Sidney Powell presented, for lack of a better expression their "opening argument" in describing what happened on Election Day and night and the weeks or perhaps even years leading up to it. I said "opening argument" was problematic because far too many in the press and even here consider this a trial, or at the very least, are castigating Team Trump for not showing the evidence in one fell swoop and then expecting like magic all the electoral votes will wind up in Trump's column. Yesterday was not the trial; it was merely the necessary public affirmation and rebuttal to the media narrative begun two weeks ago tomorrow when the press proclaimed Biden to be the winner. The most egregious example of this was none other than Tucker Carlson himself. I'm not saying Carlson is supposed to go "rah-rah, go Trump!" for him to gain my approval. But for him to not recognize the purpose of yesterday's conference is either stupidity or something else. And he's no dope. I guess now we know why he didn't jump off the rapidly sinking wreckage of Fox News. Well, to hell with him.
Getting back to the briefing, the way in which the Enemy stole the election was sophisticated, involving multiple players including foreign actors and perhaps governments as well as hundreds or even thousands of operatives handling both paper ballots as well as rigging the computer tabulations. But the one thing they didn't count on - just like in 2016 - was Trump's voters turning out en masse in a way that completely screwed up the steal. And that's when they panicked and someone sent out a signal to the six swing states to stuff the ballot boxes. That is how they got caught.
Whatever one thinks about Rudy Giuliani on a personal level, his decades of experience as both a politician in New York (a state and city not known for corruption-free politics) and as a prosecutor who pioneered the use of the RICO laws to take down the Mafia are priceless in terms of identifying patterns of corruption as was most certainly the case with this election. Both he, and Jenna Ellis also took a rhetorical sledgehammer to the propagandists for the way they acted in smearing both Trump's legal and Constitutional right to challenge this election as well as their actions on and after Election Day, which I would describe as co-conspirators before and after the fact.
But far and away, Sidney Powell is a national treasure.
"This is stunning, heartbreaking, Infuriating and the most unpatriotic acts I can even imagine for people in this country to have participated in, in any way, shape or form, and I want the American public to know right now that we will not be intimidated. American patriots are fed up with the corruption from the local level to the highest level of our government, and we are going to take this country back," she said.

"We are not going to be intimidated. We are not going to back down. We are going to clean this mess up now. President Trump won by a landslide. We are going to prove it, and we are going to reclaim the United States of America for the people who vote for freedom," Powell said.
If you heard her speak, there were a couple of times when I thought she was going to burst into tears. But it was the absolute outrage and anger for what a Globalist cabal with the Democrat Party as its spearhead did to this country that kept her composed. As I said to a friend yesterday, who G-d bless him also was nitpicking things, if you were given six months to prepare this case for trial, you'd still be under the gun in getting your ducks in a row. They have I believe until December 8th. If anyone thinks that Powell and the others are doing this to burnish their credentials for a future TV gig or a book deal, well, I don't even know what to say to that. The raw emotion in that woman's voice and the words she stated are exactly what tens of millions of us have been saying and feeling for over two weeks now. I cannot see how anyone who saw that speech can question her motives.
If we come out of this nightmare vindicated with President Trump's rightful victory restored, Sidney Powell will go down in history as a patriot. In my view, she already is. Something else to consider; the "case" as it were that is being prepared is not only intended for the courts or ultimately the Supreme Court. It is being made to the state legislators and even our side in the House should, as I suspect, the SCOTUS declines to hear it (I think they will) or if they defer to those bodies over separation of powers issues. And considering that well over 30% of Democrat voters think the election is stolen, the case being made has ramifications for the nation long after its final disposition.
I'm not going to lie to you. This is still going to be an uphill battle, not because the case and the evidence isn't or won't be rock solid and airtight. It's because we are relying on human beings, some of whom are very flawed (as well as scared shitless of winding up dead) to actually do their constitutional duty. If you're already praying for Trump and the nation, you might want to ask the Lord to give all of these people the strength and courage to do what they have to do and save this republic.
It's not over, not by a long shot. But the clock is ticking.
Lots of other links so have at it, and have a nice weekend.


THE 2020 DEMOCRAT ELECTION HEIST
NOTE: The opinions expressed in some links may or may not reflect my own. I include them because of their relevance to the discussion of a particular issue.
ALSO: The Morning Report is cross-posted at CutJibNewsletter.com if you want to continue the conversation all day.
Follow us on Twitter: @CutJibNews
Follow us on Instagram: @Cutjibnewsletter


posted by at
07:30 AM
|
Access Comments