« Saturday Evening Movie Thread 11-21-2020 [TheJamesMadison]
|
Main
|
EMT 11/22/20 »
November 21, 2020
Saturday Overnight Open Thread – 11/21/2020 [Buck Throckmorton]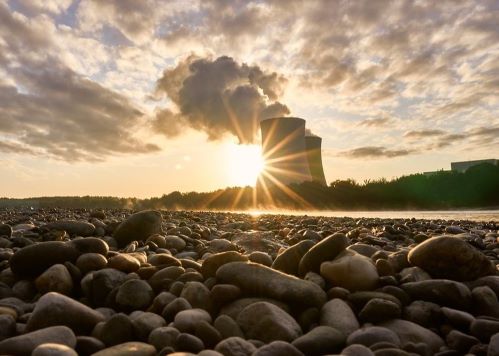 *****
BAD STATUES
If there's one thing I know I don't ever want, it's for there to be a statue commissioned of me. Even if it's not ultimately pulled down by some filthy antifa goon, there's a good chance it will look awful. Here are some real winners.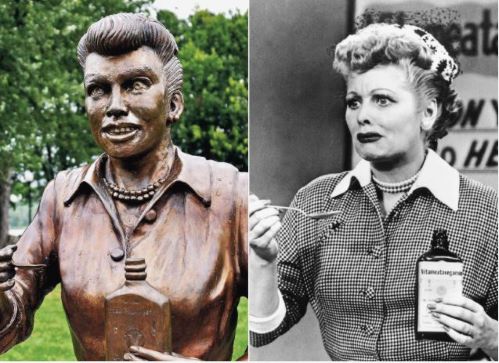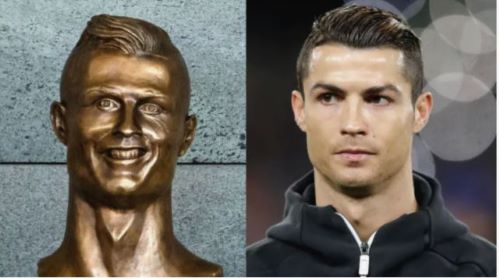 Speaking of statues - one of the statues that left-wing outrage mobs are trying to tear down is a Throckmorton! Former Texas Governor James Throckmorton (1866 – 1867) was a doctor who never owned a slave. Prior to the Civil War he opposed secession, and he even voted against secession as a Texas legislator, but when Texas ultimately seceded from the Union, he chose to serve his state as an officer in the Confederate army. He became Governor during post-war reconstruction.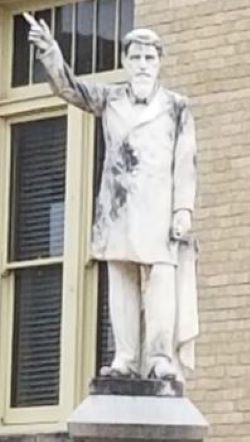 The Throckmorton statue in McKinney, TX doesn't even mention his military service, it simply reads: "A Tennessean By Birth | A Texan By Adoption | A slight tribute to the patriot and statesman from his fellow citizens and admirers because of his pre-eminent personal worth, and distinguished public services."
Despite the left-wing mob, Governor Throckmorton is still standing in McKinney, at least for now.
Although he's not kin to me, his rugged good looks are typical of most Throckmorton men.
*****
AS GOD IS MY WITNESS, I THOUGHT WHALES COULD FLY
Eight years before WKRP's Les Nessman provided live coverage of Pinedale Shopping Center being bombed by live turkeys, Paul Linnman of KATU-TV in Portland covered the real life explosion of a dead 9-ton whale in 1970.
The Oregon Highway Division had decided the best way to remove the dead 8-ton sperm whale that had washed ashore was to stuff it with 24 cases of dynamite and blow it up. The idea was that the rotting whale would be nearly disintegrated by the blast, and that any smaller pieces left over would be taken care of by seagulls or other scavengers. But it didn't go as planned.
In the video below, the whale explodes at exactly the 2:00 mark. Mr. Linnman captures the "gravity" of the situation shortly thereafter, observing that:
"The humor of the entire situation suddenly gave way to a run for survival as huge chunks of whale blubber fell everywhere."
*****
"THERE'S MY BIDEN SIGN. DON'T DESTROY ANYTHING."
With BLM and Antifa, the left unleashed a rabid tiger. They somehow thought it would only go after those icky conservatives. This video from Portland is kind of sad, but the left brought this on themselves, as they now start to find themselves being the prey of the violent creature that they nurtured.
Left-Wing Senior Citizen: "There's my Biden sign. Don't Destroy anything. Be peaceful."
Young Leftist: "Asking for people to be peaceful is white supremacy."
*****
LIFE IS FARGILE
My wife and I drove by this sign a few months ago and we thought there might be some clever word play involved – that maybe "fargile" is a religious term that we don't know. Looked it up. Nope. Just a misspelling.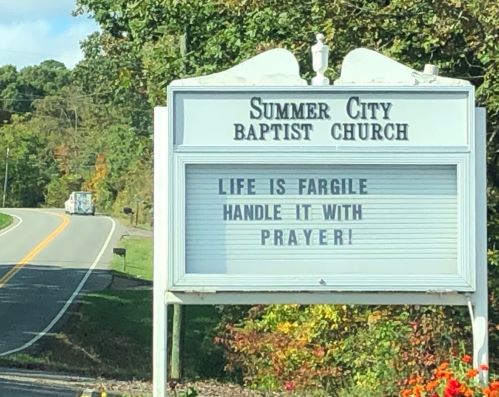 So - we've made it a word. We now use "fargile" as an adjective for a situation or person in need of prayer.
Are there any "words" that your family or circle of friends use that may not be found in a dictionary, but you all know what it means?
*****
RAT-LESS IN ALBERTA
Our Canadian friends in Alberta have successfully kept their province free of rats for 70 years. That is just amazing. The US doesn't even have the will to keep coyotes and narco-terrorists from crossing our southern border. Congrats to Alberta Oil Peon and his compadres up above the 49th Parallel on their successful war on rats.
How Alberta completely eradicated rats from the province by declaring war on rodent hordes
*****
GUN CONTROL
"GUN CONTROL: The theory that a woman found dead in an alley, raped and strangled with her panty hose, is somehow morally superior to a woman explaining to police how her attacker got that fatal bullet wound." – L. Neil Smith
Woman shoots intruder armed with knife in her Mesa home
*****
CLASSICAL MUSIC YOU LIKE BUT CAN'T NAME
Most of us grew up hearing and liking a lot of classical music that is played as background or mood music, but if you're like me, you reached adulthood and didn't know the names of specific pieces you liked, much less their composers. Here's a couple that you'll recognize.
Robert Schumann: "The Merry Peasant"
Wolfgang Amadeus Mozart: "Eine Kleine Nachtmusik"
*****
HAPPY THANKSGIVING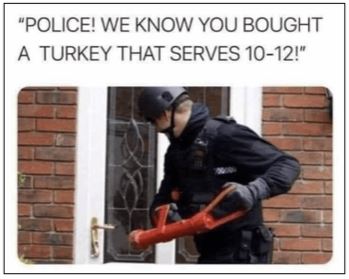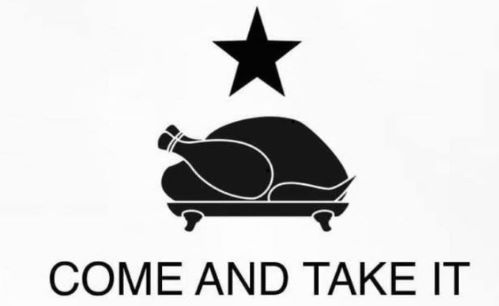 *****
THE WISDOM OF LEE TREVINO
I loved watching Lee Trevino when I was a kid. My greatest golf memory was following him and Chi Chi Rodriguez around at The Legends Of Golf Tournament. They were in the same foursome that day, and they kept everyone entertained with their banter. Lee Trevino had some great quotes over the years:
In case of a thunderstorm, stand in the middle of the fairway and hold up a one iron. Not even God can hit a one iron.
Pressure is when you play for five dollars a hole, and you've only got two in your pocket.
How can they beat me? I've been struck by lightning, had two back operations, and been divorced twice.
Only bad golfers are lucky. They're the ones bouncing balls off trees, curbs, turtles and cars. Good golfers have bad luck. When you hit the ball straight, a funny bounce is bound to be unlucky.
My wife doesn't care what I do when I'm away, as long as I don't have a good time.
You can make a lot of money in this game. Just ask my ex-wives. Both of them are so rich that neither of their husbands work.
Nobody but you and your caddie care what you do out there, and if your caddie is betting against you, he doesn't care, either.
My divorce came to me as a complete surprise. That's what happens when you haven't been home in eighteen years.
*****
MOTIVATION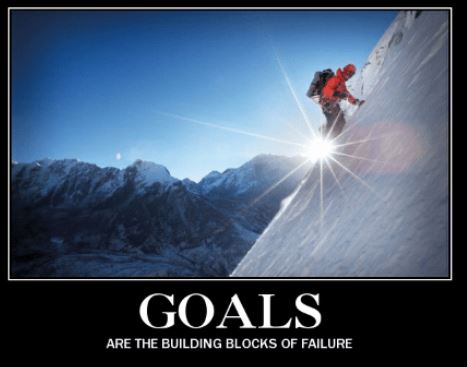 *****
CHRISTMAS GIFT IDEAS
It's only 6 days until Black Friday, so let me help you with some Christmas gift shopping ideas.
GUYS – your lady will LOVE the Ronco Rhinestone and Stud Setter. Trust me.
LADIES – for a can't miss gift, get your man a Pocket Fisherman.
What about the horde? What are you going to be buying for your loved ones this Christmas season?
*****
I HATE RUDE BEHAVIOR IN A MAN – WON'T TOLERATE IT
Mrs. Throckmorton has never had any interest in westerns – until now. Her girlfriends were all abuzz about Yellowstone, so we've been binge watching it, and she loves it! As an authentic drugstore cowboy, I couldn't be more pleased that she is suddenly in to westerns – or at least one western. Now I need to expand her appreciation of the genre. I'm thinking I need to make Lonesome Dove our next binge - it's only the greatest western ever. And here's the best scene.
https://www.youtube.com/watch?v=q5vskCOPEeg&ab_channel=PorflePopnecker

How about y'all? What's your favorite western movie or TV show? Any favorite scenes?
*****
THROCKMORTON'S FIRST LAW OF LIVE MUSIC: IF THERE'S AN UPRIGHT BASS IN THE BAND, IT'S PROBABLY GOING TO BE GOOD
Rockabilly never died, but Kevin Geil and Two Tons Of Steel have kept it fresh. This is some fun music.
Two Tons Of Steel: "Stinkin' Drunks"
Two Tons Of Steel: "Your Kiss"
*****
Tonight's overnight thread has been brought to you by Falling Cows.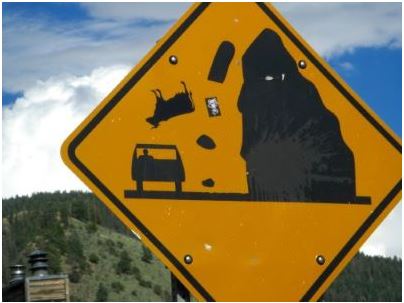 *****
Thanks again to the horde for letting me play host. Please feel free to offer any helpful feedback, insults, or tips at buck.throckmorton at gmail dot com

posted by Open Blogger at
10:00 PM
|
Access Comments