« Saturday Gardening, Puttering and Thanksgiving Thread [KT]
|
Main
|
Saturday Afternoon Chess thread 11-21-2020 »
November 21, 2020
Ace of Spades Pet Thread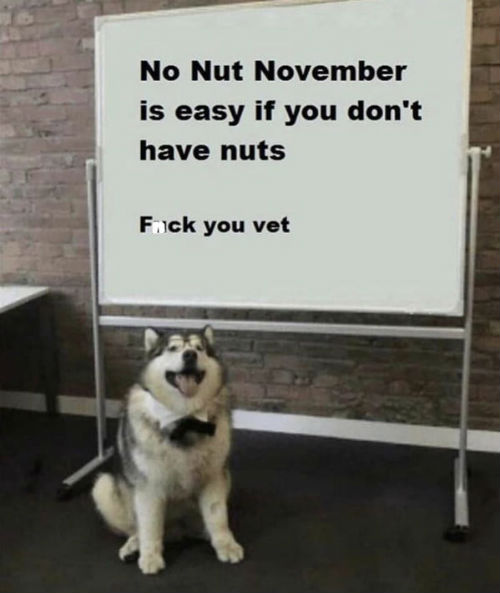 ***

Good afternoon and welcome to the almost world famous Ace of Spades Pet Thread. Put aside your worries and troubles and enjoy the world of animals.

***
A Little of This. A Little of That.
From our resident Cat Lady Shibumi.
Life-Sized Cat LEGOs Are A Thing Now, And Feline Lovers Couldn't Be Happier It is all fun and games until you step on one with your bare feet.
Something tells me that this activity would keep me awake at night.
***

How certain critters propose to their partner.
***
A fun video to check out. Quite the partner.
***
Meet The PetMorons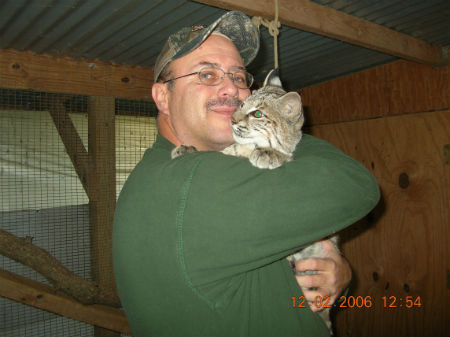 &&&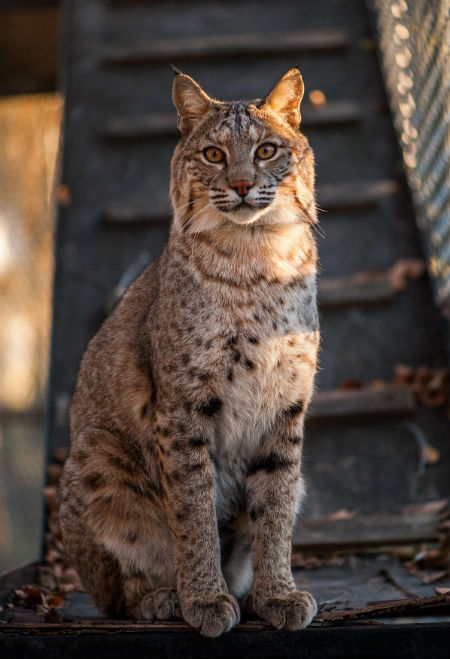 This is Moses. Yes, that is a bobcat.

He was found by a couple as a newborn cub next to a stream after a rainstorm. (hence the name Moses)

Thru a series of miscues, he was unable to be reunited with his mother. By the time the people who found him got him to a rehabber, they had kept and treated him like a kitten for two months.

I was only able to claim him for about six months while we rehabbed him.

He is at a big cat rescue, called Insync Exotics. The second picture is from about two years ago, which makes him 14 yrs old.

I would gladly have kept him if possible. - aka rickb223

First of all Rickb223, nice to meet you and Moses. Secondly what a gorgeous animal and a happy ending which could have turned out quite differently. Thanks so much for sharing Moses' story with us today.
***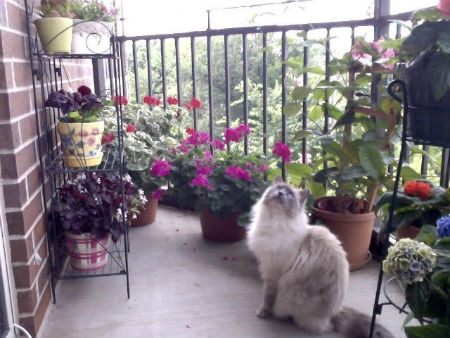 &&&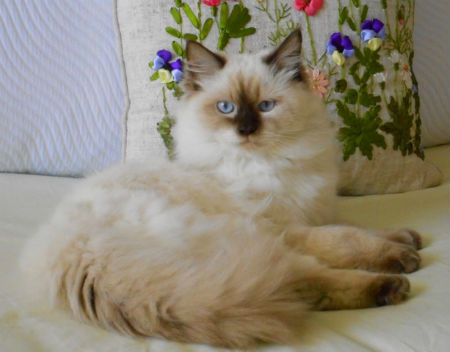 Hi Mis Hum! Two pictures for you if you have room. The top one is Peluche, my beautiful blue-point Ragdoll. She absolutely loved being outside in her little balcony garden. When I'd get home from work, she would run to the patio door to go outside no matter how cold. When I got laid off from my job, I began preparing my move back to North Carolina. During my search for a new apartment, I had one absolute must- it had to have a nice balcony for Peluche and her garden. I found a perfect place with an 18 X 10 balcony. Sadly, six days before the movers came to haul me away, she passed away without warning in the wee hours of the morning. One minute she was happily playing among the wrapping papers, sitting in my suitcases and then…she was gone at just 11 years. It absolutely broke my heart, and that balcony in the new apartment was a constant reminder of her absence.

The second picture is of Coco, my newest ball of fur. She is a chocolate-point Ragdoll who is not as adventurous when it comes to the great outdoors, but she loves looking out the big picture window at the birds and squirrels that visit. As you can imagine, I am hooked on ragdolls. They are a wonderful breed. There's no such thing as a stranger in their world and they crave human interaction. They're also great with other animals. Thanks so much for the Pet Thread- it's my weekly must-read! - Moonbeam

My first observation was what lovely flowers and plants you had there. Second observation was the kitteh appeared to be quite happy there. We are so sorry to hear of her passing. What a shock. Looks like you have your hands full with a cute successor.
***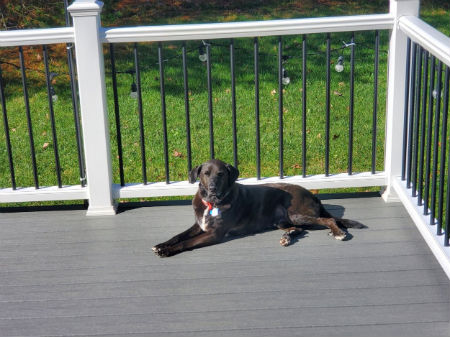 I've shared Zuko with everyone once before, when he was an recently adopted rescue weighing just 30lbs. Here he is, 2 years later, at 48 lbs and looking much better. In his "Surveying my domain" mode. And, of course, he is the best dog. I'm a longtime lurker have been reading Ace since the beginning, never miss the pet thread. - Roger
Zuko certainly appears to be a regal dude. Surveying his domain and eating well in the neighborhood. Thanks for the update and sharing this latest with us.
***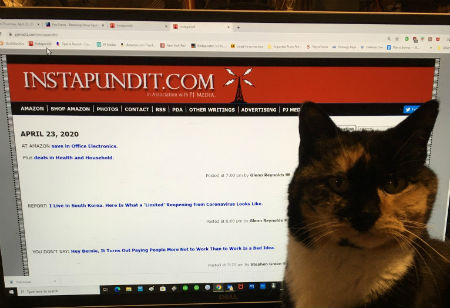 Long time reader, not a commenter.

After Dutchess reads Instapundit, we always visit Ace!

Dutch passed In September at 14, I still see her out of the corner of my eye…

Lord Whorfin
So sorry to hear about your pal's demise. She appears to have been a cat with great taste. Thanks for coming out of the shadows and sharing with us today.
***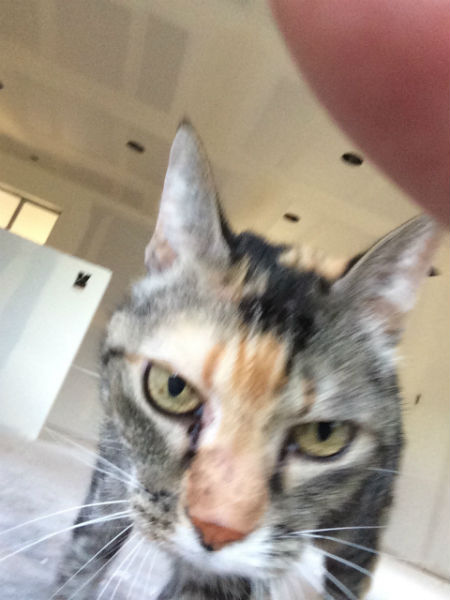 Hello MisHum,

Quite a few of the Texas attendees found it humorous the I have a cat and not a dog. Attached is a picture of my cat Michelle. She was found underneath a house being built where I was then working at.......20 years ago (when I was at the tender age of 9) Lil WDS named her Michelle because his best friend at the time was Michael. She has also been known by many other names....bicchecleta (Italian for bicycle, but fits), cat, puuckýmcpherson, shi**ymcpherson and others.

She has been a joy although not always pleasant. However, at 20 she has a tumor that is affecting her eye and comfort. Trying to set aside my selfishness, we will be giving her final comfort this coming week.

The picture is from 2015 when we remodeled our main level. She was not happy!

Thank you so much for letting me share. And thank you for all you do for AOS.

Kindest regards,

WDS 11/12/20

PS 11/16 Hi Mis Hum, We lost her at 3:45 this morning. WDS
***
Well Westminster Dog Show does lead one to believe you are a dog person. If looks could injure or maim Michelle had it. So sorry to hear of her passing.
***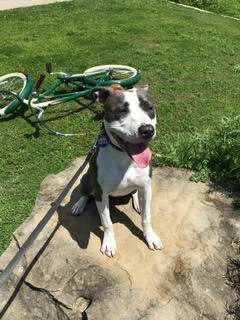 Tilda the Pit Bull at 1 year. Here's a pic of our happy dog.

Thanks,

P. Aaron

She appears to fit in well and does look like a happy and satisfied puppeh. Tilda looks like she is the life of the party. We appreciate your contribution.
***

What a great group of pets today. We thank you all for taking the time out of your busy schedule to share with us today.
If you have something pet related you would like to contribute, you can reach us at petmorons at gmail dot com.
Until next week, have a Happy Thanksgiving and a great week.

posted by Misanthropic Humanitarian at
03:00 PM
|
Access Comments