« Fox Still Refuses to Retract or Explain Its Completely Erroneous, Demoralizing "Call" of Democrats Winning +5 to +15 House Seats,
But Bret Baier Stealth-Deletes His Tweet Declaring the Democrat Gains
|
Main
|
Fake Jake Tapper: Esper Was Fired Because, Get This, He Was Slow-Rolling and Obstructing Trump's Order to Get Out of Afghanistan »
November 11, 2020
Twitter Anon Claims That The Majority Owner of Parler Is... George Soros?!
Photoshop?
Dan Bongino Denies, Stating "I OWN PARLER"
It sounds plausible. This motherfucker is buying everything to turn America into a communist hellhole, from DAs to decriminalize crime, to Secretaries of State to defraud the vote, to communication companies to stop communication.

But a commenter says this is a photoshop, and that Fox never claimed this.
Dan Bongino -- an owner of Parler -- denied this claim a few days ago. He tweeted "I OWN PARLER." I'm being told he owns it completely.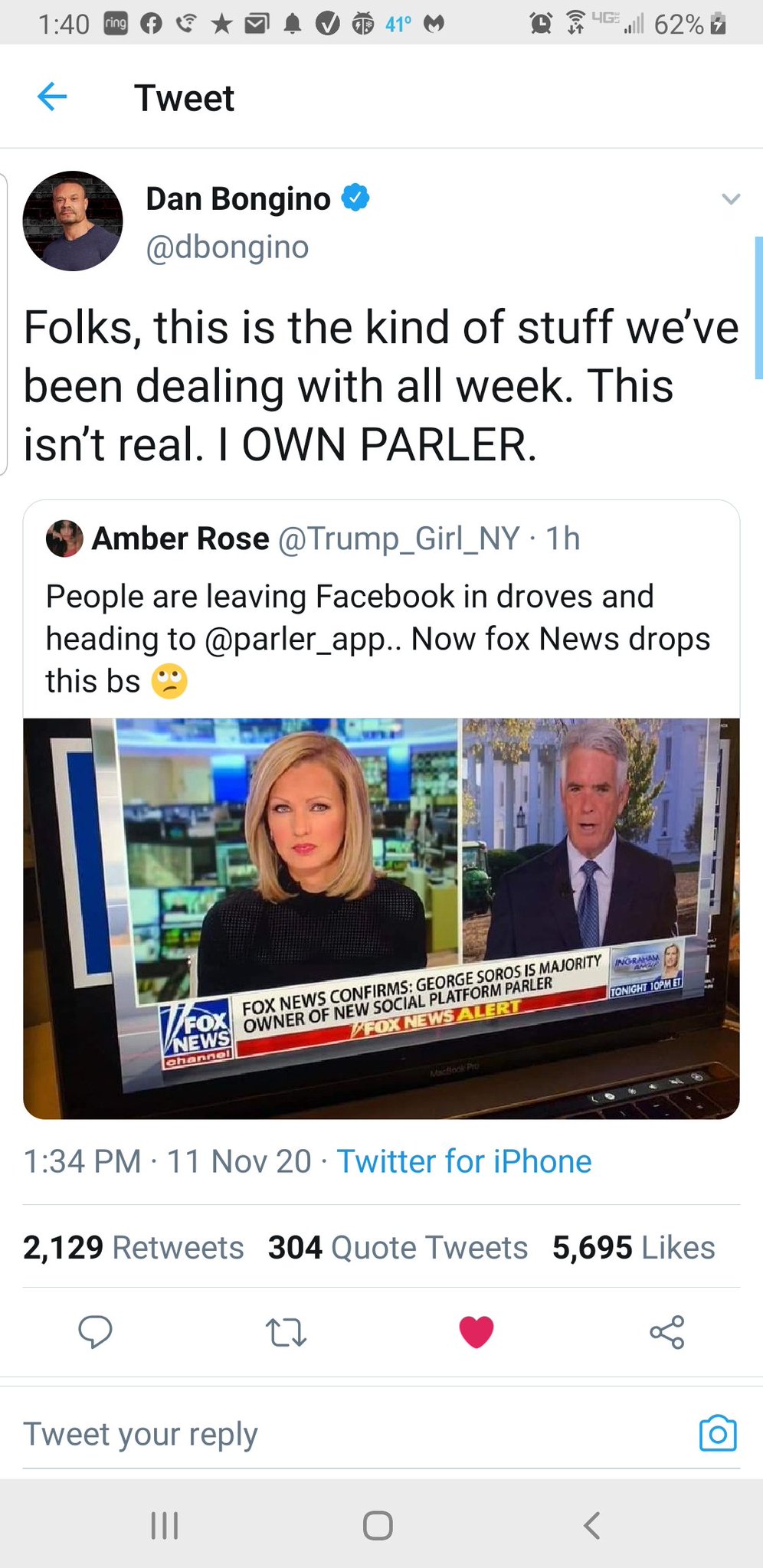 I will leave this up a little while, but I think I'm going to delete the post and hide the evidence. Like Bret Baier and the Fox News Decision Desk.
Question:
Assuming this is a fake claim -- and I do assume this -- who is pushing this fake claim?
Is it just to protect the established leftwing social media platforms?
Update: Emerald Robinson hears what I do: Fox News hired a crisis communications firm.
@EmeraldRobinson

Let me tell you how big the exodus from @FoxNews has become.

Fox has hired a crisis management team to handle PR for their ratings crisis.

#Foxit is real & it's spectacular.
#Foxit, I love it.

posted by Ace at
02:43 PM
|
Access Comments