« Adulterous Progressive Cal Cunningham Concedes NC Senate Race to Thom Tillis
|
Main
|
Leaked Audio Records Federal Investigators Threatening, Intimidating Election-Fraud Whistleblowers »
November 10, 2020
Tucker Carlson Blasts Neil Cavuto
He doesn't mention Neil Cavuto by name. But then, he didn't mention "The Moderation" by name either.
His words are a direct rebuke to fathead Neil for cutting away from a press conference about voter fraud and election lawsuits:
"You cannot ignore honest questions from citizens. You can't dismiss them out of hand as crazy or immoral for asking. You can't just cut away from coverage you don't like."
Unfortunately, in the Fox "News" Division, not only can you censor the news, but you get high fives from Paul Ryan and Bill Sammon for doing so.
Later he says:
"How dare you question the Decision Desk plebe, how dare you."
Which seems directed at Chris "We're just that damned good" Stirewalt.

More:
Something I noticed: CNN which takes every opportunity to dunk on fox isn't dunking on fox's ratings collapse -- almost as if CNN now considers them "part of the team" and on the Protected List.
Jane D'oh noticed too:
You know how far Fox has gone to the Dark Side? When Tater defends their election night coverage.
She links this Newsbusters article about CNN's Strange New Respect for neoliberal globalist corporate shill Fox "News."
[Newsmax's Christopher Ruddy:] They called Arizona with 14 percent of the vote in. Many other networks never called it. Meanwhile, they wouldn't call Florida for hours. Why? What was going on at Fox News that they didn't want to give the president the sense that he was winning or had the potential shot of winning?

STELTER: Fox has a great decision desk. I respect their decision desk. They don't -- they don't -- they don't do it like that. They don't play games like that, Chris.

RUDDY: I think media malpractice. Let's look at the Fox News poll. It was off by what, eight points? Almost every poll was -- the data coming out of Fox was not good at all.

STELTER: Yes, we're going to get into polls, but the Fox -- the Fox polls are scientific. They were trying their best.
Video below.
I don't think Tucker is long for Fox. We might see him go on one of those " " " " Sudden Vacations. " " " "
Which no, are not vacations. They are suspensions, but the people suspended are required by Fox to lie to the public about it because Fox corporate is a bunch of cowards, naturally enough, and refuses to answer questions about what it's doing.
I know I mentioned Fox's ratings cratering on Saturday, but wow. Look how far you have to scan down cable ratings before you see your first Fox entries.
Fox News is in Democrat Blue, appropriately enough.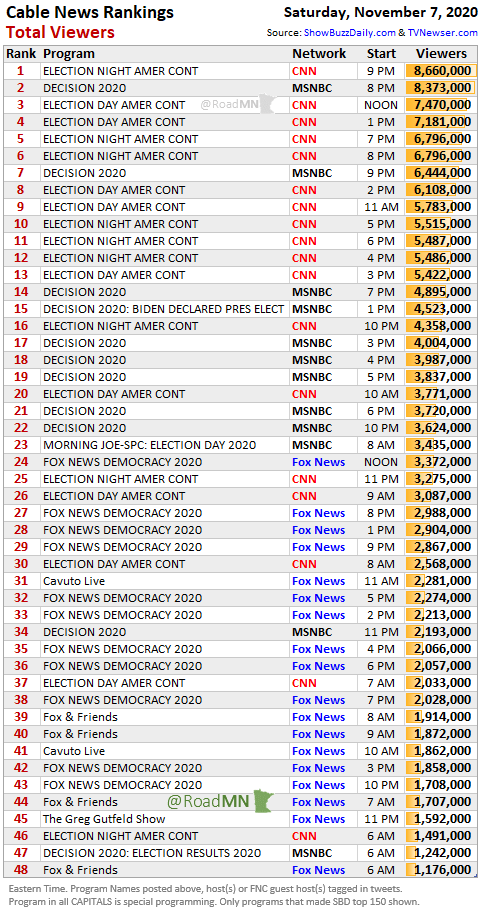 posted by Ace at
04:36 PM
|
Access Comments