ę Trump Fires Deep State Secretary of Defense and Democrat Stooge Mike Esper
|
Main
|
Cutting the Cord Hints and Help
Plus: Fox News' Ratings Crash on Saturday as Network Falls to Third Place
More: Sandra Smith Caught on Hot Mic Showing Anger That Anyone Doubts Fox News' Election "Calls" Ľ
November 09, 2020
Bret Baier Tweets That People Should Join Him and Martha McCallum for More Biden Propaganda;
Deletes the Tweet After Thirty Thousand People Tell Him "No Thanks, I'm Done With Fox"
I had wanted to post this yesterday. Wrongly, I thought it would keep until today.
As of yesterday, the last time I checked, only around 250 people had retweeted Baier's invitation to watch him and fellow liberal Martha McCallum.
Around 30,000 people had replied. Replies tend to be negative; most people, if they agree, will just retweet you. It's easiest to just hit a button. There is no button to say "I don't like this," so people who disagree have to reply.
Every single reply I saw was like this one.
As you can see, you can no longer read all of the replies, because Bret Baier deleted the tweet.
Here's a screencap of the tweet -- when it didn't quite have 30,000 replies yet: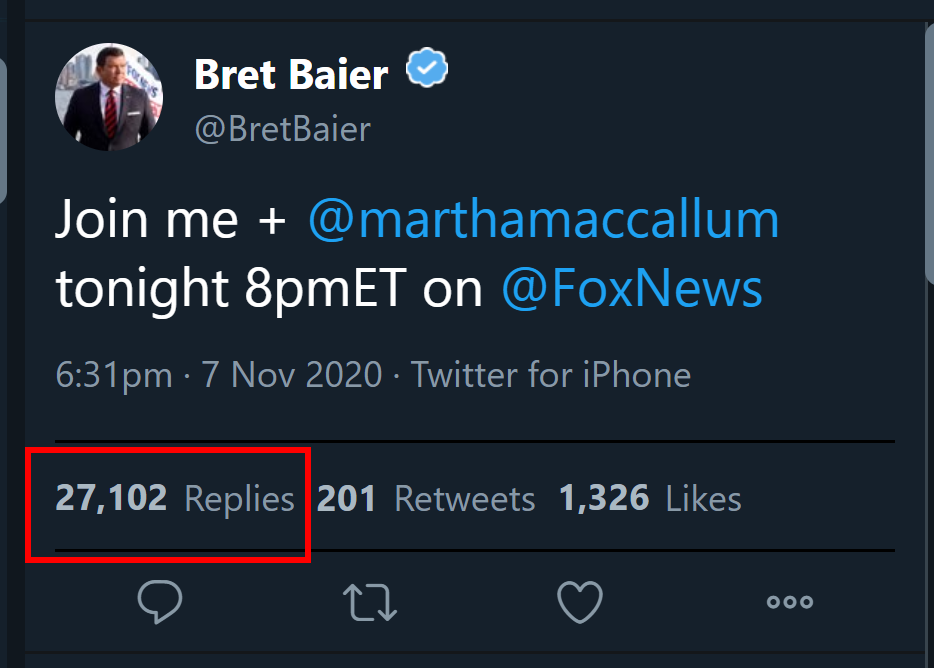 That's what the fifty-year-olds on Twitter pretending to be kids call "a ratio."
I have some news on the Fox TV boycott front.
I mentioned weeks back that I could not bring myself to finally cut the cable only because of my perceived need of Fox News, if there was some big story that I needed frequent access to a tv news channel for.
Well, we're in the middle of such a story, and I haven't watched a minute of Fox since election night.
Fox may think that former viewers like me will eventually backslide into bad old rotten habits in time.
I'm a little afraid of that, too.
So I'm going to make sure that can't happen.
I'm cutting the cable.
For a TV news station, I will just add the Newsmax app to my TV.
Unlike Fox -- Newsmax is free to view over the internet, no cable subscription required.
5.0 out of 5 stars Great conservative news outlet
Reviewed in the United States on May 21, 2020
Verified Purchase

If your a conservative this is the place to be. With Fox News taking the middle of the road viewpoint and siding more with liberal viewpoint as if they needed a bigger mouthpiece, Newsmax is my go to place for news. I am excited to see it on TV for free unlike the Fox News channel that requires a subscription or cable.
That link is for the app for the Amazon firestick but I believe it can be downloaded on to most "smart" devices (like a PS3). It's in the Apple TV store, for example.
Has Fox's stab-in-the-back of its formerly loyal audience cost it?
Yes, it has. Fox News one night one of election coverage -- but after the nationwide disgust at Chris Wallace and Christ Stirewalt and the rest of the leftwing crew, its viewers began abandoning it and CNN had the highest ratings for night 2 and night 3.
CNN topped Thursday night's election coverage with an average of 6.3 million primetime viewers, beating Fox News for the second night in a row in networks' ongoing competition to track Donald Trump and Joe Bidenís nailbiter presidential race.

Fox News had 5.6 million viewers last night, MSNBC got 4.9 million.
Maybe Brett Baier just needs to advertise more on Twitter...?
Goodbye Fox, and go fuck yourselves into bankruptcy.
James Murdoch's wife Kathryn tweets 'we did it!!!!' and shares anti-Trump posts after Biden's win - days after agreeing with CNN's Jake Tapper that Fox News should disavow Trump's election fraud claims

Kathryn Murdoch, 47, tweeted Saturday shortly after Biden's win was confirmed
She also shared posts that referenced 'Trump's authoritarian antics'

On Election Day she wrote: 'What will you tell your children or your future self about the part you played in history?'

Her husband James Murdoch stepped down from News Corp board in July

Kathryn also agreed with a remark by CNN host Jake Tapper in an earlier tweet
Tapper said Murdochs must acknowledge there is no evidence of vote fraud

By LAUREN FRUEN and KEITH GRIFFITH FOR DAILYMAIL.COM

PUBLISHED: 09:16 EST, 8 November 2020 | UPDATED: 14:38 EST, 8 November 2020


James Murdoch's wife Kathryn tweeted 'we did it!!!!' and shared anti-Trump posts after Joe Biden's historic win Saturday.

On Election Day she had written: 'What will you tell your children or your future self about the part you played in history?'

By Saturday she had also shared posts that referenced 'Trump's authoritarian antics' and 'surviving the gravest threat to our system of government since the Civil War'.
I think the goal here should be to cost the Murdoch Bois and their whore wives so much money they're forced fire Wallace, Stirewalt, Bill Sammon, Howie Kurtz, Paul Ryan, and the rest of the gang.
And then make them lose even more money so that they're forced to sell the company at a huge loss.
And then we should boycott the new ownership of Fox, too. Because the brand is broken. It's poisoned. Fox News was always shit, but at least it was our shit.
Now it's the left's shit. It's second-hand shit from CNN.
Say, Fox. Say, Chris Stirewalt of "We're just that damned good" infamy.
Have you bothered to retract your iron-clad lock of a call about the Democrats winning more than 5 new seats in the House yet?
Or are they arrogantly standing behind it?

When you're forced to answer questions about whether this "call" still stands or if it's been silently retracted, I'll hear about it at Newsmax or on American Greatness.
I won't see it on Fox, though.
That's my guarantee.
You are dead to me. You are just CNN with fatter anchors.
Little bonus: I'll be saving so much money on cable (which I didn't watch anyway) I'll be able to just buy the few movies or series I actually want to see.
More on cutting the cord:
57 By the way, folks, if you keep your cable then Fox News still gets a cut due to carriage fees - even if you don't watch.

If you want some form of live cable without paying for the news channels, you can get the Philo app for $20 a month, and get the news shows (TheFirstTV, NewsMax, America's Voice) from PlutoTV for free.
Posted by: lymond
154 Hubbymayhem was enjoying watching Fox News Facebook page. It was hemorrhaging followers at the rate of 100 per hour yesterday. Posted by: Madamemayhem (uppity wench)
126 Brett has a tweet on his page where he is responding to someone who accuses him of schilling for the left. To even respond to that publicly tells you all you need to know about what they are seeing behind the scenes. \

Keep it up, this is hurting them.
Posted by: DJ3Way

posted by Ace at
02:13 PM
|
Access Comments