« Saturday Gardening and Puttering Thread, November 7, 2020 [KT]
|
Main
|
Saturday Afternoon Chess thread 11-07-2020 »
November 07, 2020
Ace of Spades Pet Thread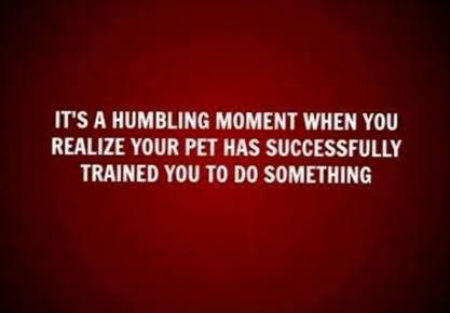 ***

Good afternoon and welcome to the almost world famous Ace of Spades Pet Thread. Forget about your trials and tribulations and enjoy the world of animals.

We appreciate it if you would leave current events out on the front curb. Thanks.

***
A Little of This. A Little of That.

I thought my Setters were whiners.................

(H/T Legally Sufficient)
***

A cute video from our pal Hogmartin..............

***
Pure bred dogs were bred for specific purposes. As our society evolves so does our attitudes. A very interesting look at the Greyhound breed and the fact that Greyhound racing is being phased out. H/T CBD

It's been nearly a decade since the numbers were tattooed in her ears, but they remain remarkably legible. In the right one, dots of green ink spell out 129B: Vesper was born in the twelfth month of the decade's ninth year and was the second in her litter. The National Greyhound Association (NGA) gave that litter a unique registration number (52507), which was stamped into her moss-soft left ear. If I type these figures into the online database for retired racing greyhounds, I can learn about her life before she was ours, before she was even Vesper.

Smokin' Josy was born to a breeder in Texas, trained in West Virginia, and raced in Florida. Over three years, she ran 70 races. She won four of them. In Naples on May 12, 2012, she "resisted late challenge inside," to clinch victory, according to her stat sheet. In Daytona Beach on April 17, 2013, she "stumbled, fell early." Five days later, after a fourth-place showing, she was retired.


There's a picture of her on this website. Taken on an unidentifiable track, her leash is held tight at the collar by a man who is cut off at the torso. His left Reebok is planted between her front legs. Vesper — Josy — looks directly at the camera, her brown eyes full of something I could translate as either desire or worry, anticipation or anxiety. Perhaps her expression is simply confusion at the unfamiliar contraption pointed in her direction. She is wearing a sunny yellow tank top emblazoned with a black number six.

She's recognizable — younger and leaner of course — but different. This picture reminds me that so much of my dog's identity is invented by who happens to be looking at her. When I see this picture, my chest swells for this cherished creature, a girl who is tall (and brave) enough to steal table scraps, who has no use for squeaky toys but sometimes spins her body in so many circles that she is still panting 10 minutes later. When the person who took this picture uploaded it to the site, he likely saw a working dog, a racing dog, an animal both fulfilling and fulfilled by its genetic destiny. The dog in the picture, like Shakespeare's rose, doesn't change but everything else does — the tone, the stakes, the moral obligation of the viewer.
I had an acquaintance who had two of them. Retired race dogs, pampered and loved and sweet dogs.
***
Meet The PetMorons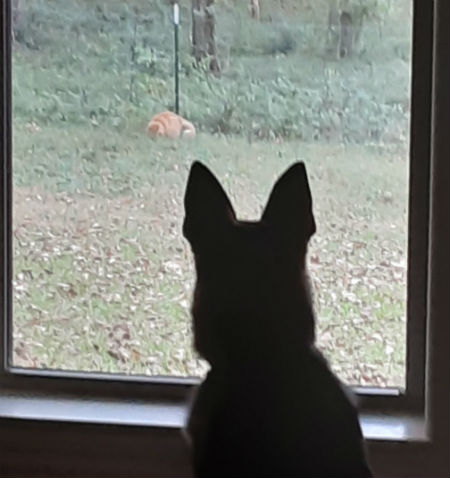 I caught Maizy watching Seamus finishing up his business and I could almost see the thought bubble over her head. "Soon...soon my precious. You will be mine."
Love the pictures of other people's animals. They are all adorable.

Bean Counteress of Rohan
You captured a unique photo of Maizy. Thanks for being such a good regular here at the Pet Thread. I really do appreciate it.
***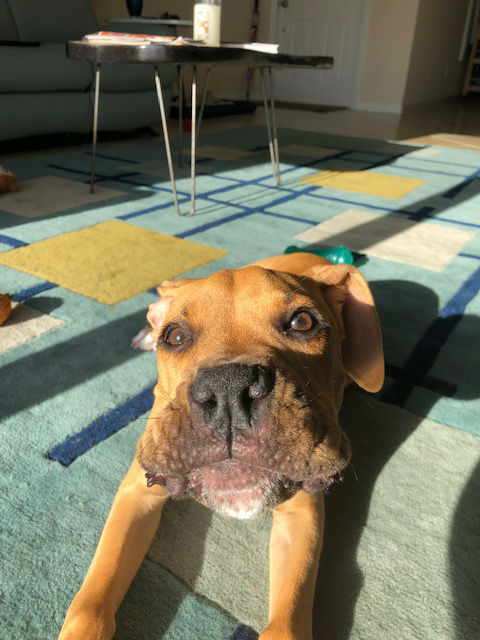 Mis Hum, I'd like to introduce Beckett to the Hoard. Beckett is a 4 month old Boxer boy. He comes from a line of Boxers with the reputation as "Devil Dogs." We we're looking for an older Boxer rescue when Beckett found us. We're in for a fun ride. The Saturday afternoon Pet Thread is my weekly must read. Thanks - Bob
What a cute puppy Bob. Yes, if you were looking for an older dog and got this young guy you are in for a trying but fun ride. Thanks for making the Pet Thread a weekly must.
***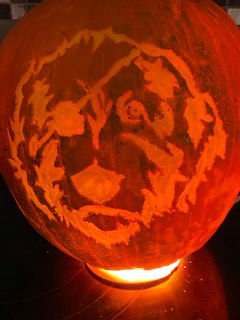 My daughter carved this likeness of her Labradoodle Gus. (Eye patch added for Halloween, of course.)

"Iris"
Your daughter is very artistic Iris. Don't be afraid to submit a real photo of Gus sometime to us. Thanks for sharing this nice work with us today.
***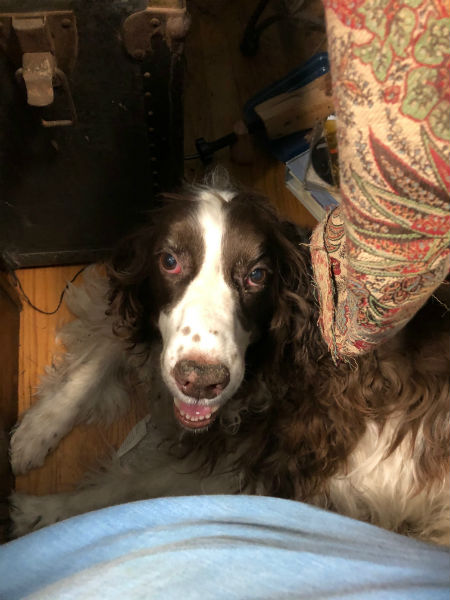 Thought I would send a picture of Gary. He's my dog with cancer. I post as Notsothoreau
Damn! So sorry to hear about Gary's health. He doesn't look old and he appears to be one cute Springer Spaniel? Thanks for your contribution today.
***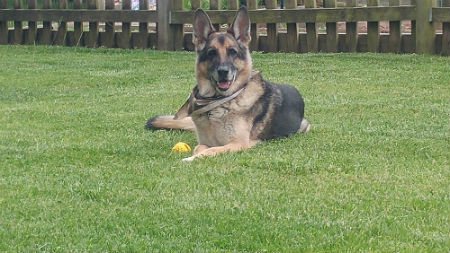 Panzer, 9 years old and still going strong, this pup sure knows how to pose for a picture. He has trouble with other dogs, but he's great with humans, although the little humans don't always appreciate his desire for herding them. He doesn't listen all the time in two languages (English and German), and he loves making his presence known to the neighbors and dogs walking by the house.-Ballonmann
My what a stunning photo and a regal pose by Panzer. Well why should your dog being any different when it comes to selective hearing? Seriously, thanks for sharing. We appreciate it.
***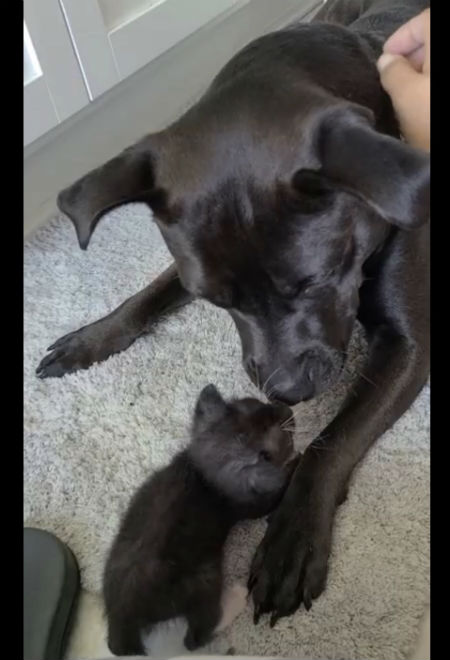 Daily lurker here; when I post, it's as "Reine".

Here is Itty Bitty Kitty with Rosie the Ferocious Pittie.

These are two of my daughter's pets. She found Rosie abandoned, apparently just after having given birth to a litter of puppies. Never did find the puppies. I was adamantly opposed to keeping Rosie - pitbull, ya know. Rosie turned out to be one of sweetest dogs I've ever met - full of energy, but not a vicious bone in her body, and looooooves everybody.

Itty Bitty Kitty is an abandoned kitten daughter found in her boat, very young, very sick, about a day away from dying. Itty Bitty Kitty has been nursed back to health, and these two are now practically a bonded pair. Remainder of daughter's menagerie, not shown, includes another dog & 2 grown cats. She really needs a bigger house.

Awwww how dang cute is this photo? Wonderful story about your daughter and her big heart. Her house might be small but not her heart. Thanks for hanging with AoS daily.
***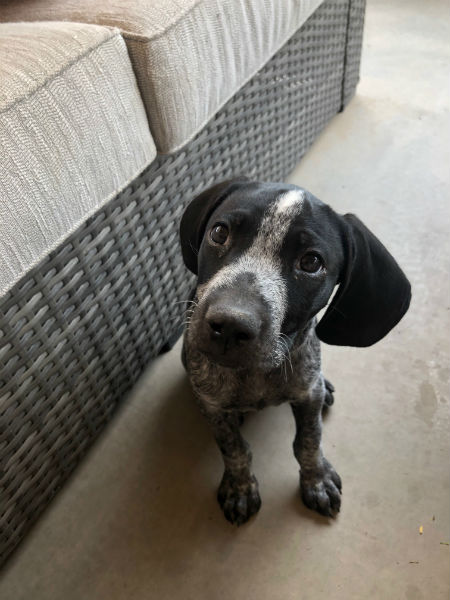 Hi from beautiful Surprise, AZ. Here is Hank, our 8 week old German Shorthair Pointer. He's a good boy who loves to lie in the sun and chase the lizards in the yard. Love seeing the pet morons!

- DavesNotHere, longtime lurker and occasional commentator

A puppy who enjoys lying in the sun? I'm surprised by that. He is a cutie for sure. Enjoy the challenge of this pup. Thanks for sharing.
***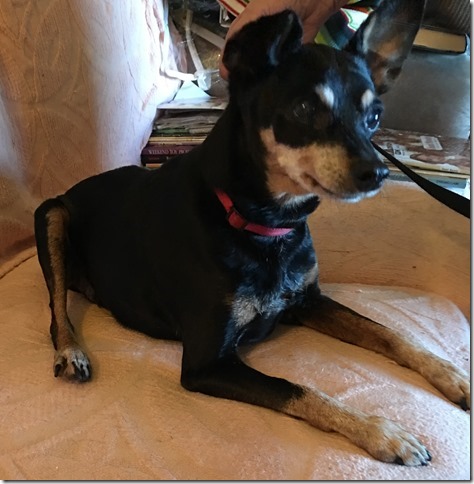 This is Kiwi, our 15 year old MIn Pin. She's starting to show her age and seems to be getting weak in her hind quarters causing slips now and then. Wouldn't happen if she wasn't so hyper but that is one of the reasons we love her. Thanks for the pet thread. - Ron in Missouri
Kiwi doesn't appear to be that old. A Min Pin hyper? Really? Just kidding, a very nice breed and durable. No need to thank me for the Pet Thread folks like you make it happen. Thank you.
***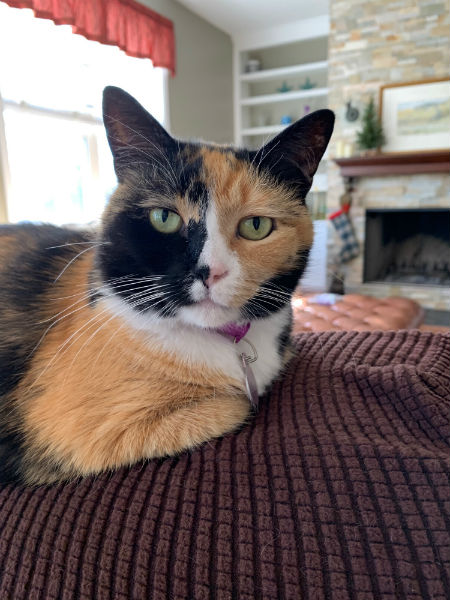 Hello-
This is Azalea. She's about 7 years old. We adopted her at our local shelter when she was 13 months old, they told us she had already had a litter of kittens. The kittens were all adopted out, so it was her turn. She seemed very calm and quiet to me, what with all the mayhem going on around her in that noisy busy shelter. A day or so after we brought her home she just shut down - didn't eat, wouldn't play, wouldn't even really look at us so we dragged her off to the vet where they ran a bunch of tests, found nothing wrong, then diagnosed her as being depressed. We didn't even know cats could get depressed but they gave her a shot of appetite stimulant and it did the trick. She perked up and hasn't stopped eating since! She's a good girl and she sleeps on my pillow every night. Thanks for the pet thread each week! - Nan

My goodness what spectacular coloring and markings she has. I'm not surprised she was depressed she had been taken out of her environment. We are happy to hear she has adjusted well and become your buddy. Thanks for your contribution.
***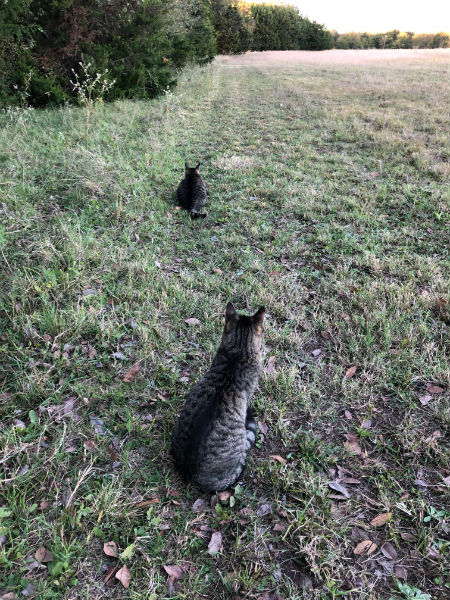 My cats Andy and Simba enjoying a Biden/Harris rally. We're all faithful lurkers who love the Pet Thread. - Bill
Looks like those kittehs had great seats! Hey thanks for sharing with us today.
***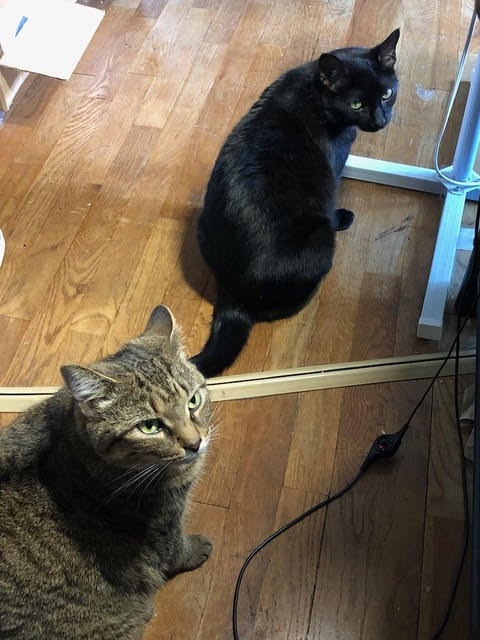 Obligatory cat tax: Lydia and Oscar, home office assistants. - Hogmartin
They seem to be nice and quiet cube mates even though they have a serious look. Thanks for all of your contributions today.
***

What a great group of pets. Thanks. Now you might wonder why the dogs were first and the cats last. Well, I just post the photos and stories in the order I receive them.
Enjoy the world of pets today. And if you have something you wish to share, please contact us at petmorons at gmail dot com.
Have a great week!

posted by Misanthropic Humanitarian at
03:00 PM
|
Access Comments