« Tuesday Overnight Open Thread (11/3/20) Election Day Edition
|
Main
|
Mid-Morning Art Thread »
November 04, 2020
The Morning Report - 11/4/20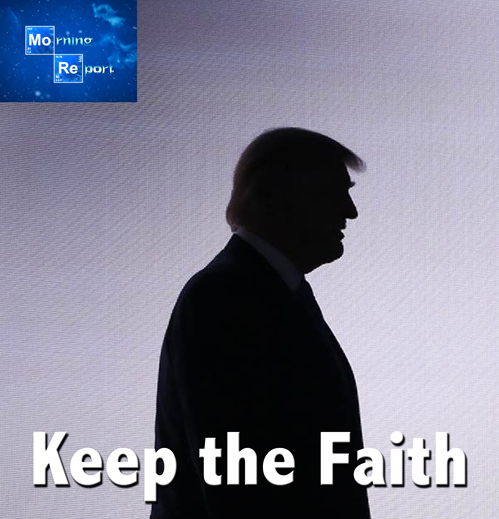 Good morning, kids. 4:00AM here in NYC and I'm sick to my friggin' stomach. This election is the equivalent of the Chris Wallace moderated first debate, which itself was a microcosm of the past five years. Nothing was too shameless, immoral or illegal when it came to destroying Donald Trump the candidate and president. - - BREAK.
Okay, oddly enough it's now 5:38AM and after coffee and aggregating the most up to date links I could find, the fog is lifting bit by bit and things are beginning to come into focus as I formulate my morning fulmination. And I am indeed fuming as I remain sick to my stomach. In any case, as of right now while the election is in suspended animation as we wait on Milwaukee and Philadelphia to manufacture enough phony votes to steal the national election, or at least attempt to steal it, Trump is hanging onto the lead in Pennsylvania (+640,000), Georgia (+100,000), North Carolina (+100,000) and Michigan (+200,000). He's down in Wisconsin (-14,000), Arizona (-93,000) and Nevada (-7,500).
I'm not a guru on this by a long shot, but I'm sure Dave in FL (unless he's rage-stroking and or passed out drunk like most of us by now is perhaps most qualified to sort this out at least in terms of the math, if not the politics. And that's where we pick it up. For the past G-d knows how many months I have been stating that despite the lockdowns and intentional tanking of the economy, as well as the mail-in ballot madness, Trump was going to win re-election clearly if not decisively the cheat factor notwithstanding. Of course, Democrat hinky meshugas and even voter intimidation a la the New Black Panthers circa 2008 was to be expected. But in a sane world, given who this President is and what he has achieved against his rival as well as all the other things like enthusiasm, there was just no way in hell the Democrat Industrial Propaganda Complex could pull off a cheat to end all cheats.
While Malig-Nancy Pelosi and Hillary the Popeil Collapsible Wonder Bollard are vile hags, when they flapped their dentures about Biden never conceding was a shot across the bow. And then, with the in-your-face bullshit early on of thug operatives in Philly barring legitimate GOP poll watchers from polling places and openly crowing about it, and then Fox news calling Virginia and Arizona, while waiting ages to call Florida and one or two other states for Trump when he was the clear winner to even Stevie Wonder in a blindfold, and then a pipe suddenly bursting in the office where votes are being tabulated in Fulton County, to Philadelphia putting a lid on vote counting until later today because, reasons! And on and on and on.
I mean, this Mickey Mouse banana republic garbage is so blatant and in your face that Zombie Papa Doc Duvalier just phoned from hell to say "le dude! I can smell it down here!" More than that, while the Florida victory was so fantastically huge and driven by a usually reliable Democrat bloc - Latinos - the fear of socialism is still visceral even in the younger generations who might not have experienced it first hand. That is a positive. But there are a few warning bells about last night should the unthinkable happen:
That the senile and corrupt Joe Biden could finish so strong speaks to either the gullibility or unseriousness of far too many Americans. Biden obviously has mental acuity issues and has a history of corruption, but that did not seem to be a big deal to the Americans who voted for him. I guess the probability of more lockdowns are lost on a number of Americans who are more frightened by the Wuhan virus than the probability of America becoming a socialist, if not communist, nation under a Biden presidency...

...By sitting on the results of states like Georgia and North Carolina, states that, of this writing, showed Trump with narrow leads with 99 percent of the precincts in, Fox allowed Biden to gain momentum while slowing Trump's dominance. It looks like the influence of RINO Paul Ryan as a Fox Corporation board member and the legacy of analyst Bill Sammon (Fox News VP Politics) resulted in a psy-ops (psychological operations) campaign against conservative morale...

... States like Wisconsin, Michigan and Pennsylvania declaring they need more days to count their votes also raises the specter of voter fraud. Globalists, corrupt voting officials and the deep state are most likely in on this skullduggery. Through this coordinated effort, along with the media, the race is close and the stage is set for either stealing the election for Biden, civil unrest, or both.
Whatever transpires today and in the days that follow, President Trump is not going to lay down and die. I am assuming that his legal teams are on the ground especially in PA to fight the cheat with every legal means at their disposal. And G-d forbid this does go to the SCOTUS, well, the seating of Amy Coney Barrett looms exceedingly large.
On a positive note, despite Hickenlooper ousting Gardner in Colorado, the GOP is on track to retain control of the Senate. And in this news might be a kernel of hope that the Democrats are not infallible. They burned through an Iran-sized pallet of cash in trying to unseat McConnell, Graham and Ernst. So, with a bit of luck, maybe that is a foretaste of their ultimate demise in trying to steal the White House. Let's face it; Donald Trump did in fact win re-election last night. What we are watching now is just another stage of the coup that started five years ago to destroy him and us.
Lots of links. Have at it. G-d preserve us always. Will update as and when events unfold.


ELECTION AS OF 4:00AM EASTERN