« Halloween Thread
|
Main
|
Saturday Overnight Open Thread (10/31/20) Halloween Edition »
October 31, 2020
Saturday Evening Movie Thread 10-21-2020 [TheJamesMadison]
A Kingdom of Conscience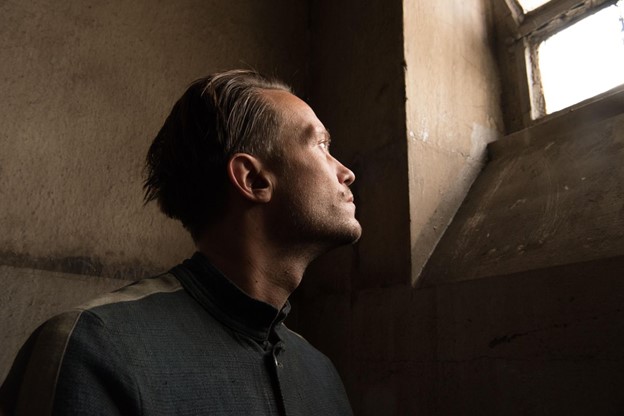 Well, the election is in a few days, so I've been thinking of conscience recently. It started as I finished
Terrence Malick's filmography
with
A Hidden life
, and it recalled two other recent films by Catholic filmmakers, Martin Scorsese's
Silence
and Mel Gibson's
Hacksaw Ridge
. All three are about young men faced with impossible choices between their bodies and their souls. All three are great films of wonderful emotional power, and all three are also completely distinct from each other. They all start in similar places, go through similar journeys, but come to very different ends, and I think they're worth a look.
One Against Many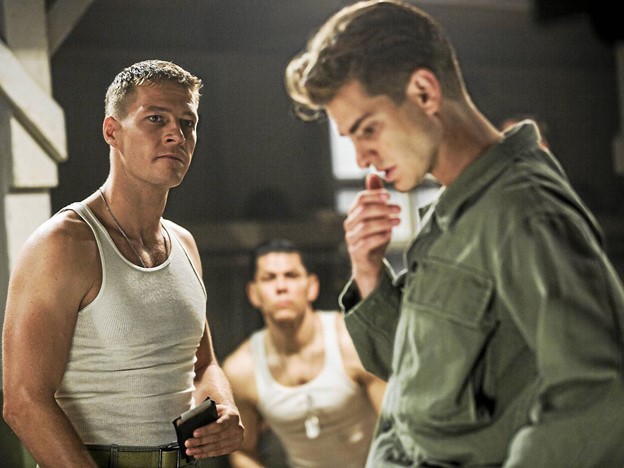 One of the biggest unifying motifs across all three movies is the idea of one man standing up for what he believes against a larger, stronger force. In
A Hidden Life
that larger force is the German Army. In
Silence
that is the Japanese shogunate. In
Hacksaw Ridge
that is the US Army. All three men have to remain steady in the face of extreme pressure to hold to what they think is right. The scope of that force gets sold in all three in different ways.
Franz Jagerstatter was just a young farmer with a young family trying to survive until the next harvest like any other. He wanted little more than to have his quiet little life, but when the German Army started conscription and demanded a loyalty oath to Hitler, Franz couldn't accept that, but the monolithic opposition was larger than just the army. Hitler's grip on Austria was so thorough that even Franz's local priest couldn't help him out of fear. His bishop refused to offer a helping hand. All Franz had was his wife, Fani.
Father Rodrigues was a dedicated Jesuit priest sent into Japan immediately after the shogunate shut the country off from outsiders to find his mentor, Father Ferreria. In order to even get into the country, Rodrigues (along with Father Francisco) have to make it to China and be smuggled into the country. There, the people are terrified and oppressed. The small Christian community Father Rodrigues finds cowers, always afraid of being found out. When the local officials arrive, the small people of the village have nothing to fight back with there's too much against them.
Desmond Doss, a Seventh Day Adventist, lives in Lynchburg, Virginia and he's been molded by a key event from his childhood where he had to point a gun at his father to protect his mother from his drunken outburst. Doss does not want to hurt anyone or anything. He's even a vegetarian, eating a plate of greens while his family eats a plate of meat. When World War II breaks out, Doss can't just stay behind as a conscientious objector when all the boys he knows are going off to fight and die, so he joins up. He refuses to hold a gun, though. The US Army, personified most by Sergeant Howell, berates him, tries to force him to take up the weapon, and eventually tries to drum him out of the service. He has to stand up, along with his new wife and his father, against this so that he can go and help in the way the he sees fit, running head first into enemy fire without a weapon of any kind.
Tone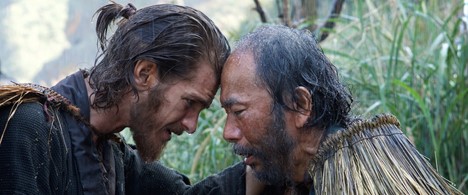 Let me take a break from the story to talk about tone.
All three films, while dealing with similar subjects, feel markedly different. The three directors who made them (Malick, Gibson, and Scorsese) are all Roman Catholic, though Scorsese would probably call himself a lapsed Catholic. However, they all have distinctly different cinematic sensibilities. If I were to boil them down to a word each, I would say that Malick was dream-like, Gibson was visceral, and Scorsese was pained. All three of those distinct tones come across starkly across all three films.
A Hidden Life
is everything you would expect from a Malick movie. It's wistful with loosely assembled moments of emotional truth as people whisper over the soundtrack.
Silence
is shockingly quiet for a Scorsese picture, absent any diegetic music is gone completely as is his wont. It's also brutal in how it treats the emotional scars of its characters as Father Rodrigues gets further and further into the twisted world that was Japan for Christians in the 17th century.
Hacksaw Ridge
is easily the most straightforward and Hollywood of the three (though it was made in Australia with Australian tax credits, hence all the Australians in the film), but it's also very much a Mel Gibson movie with large emotions and extreme violence dominating the second half of the film. We never lose sight of Doss's humanity, though, which carries us through the carnage.
This is a way of saying that all three have similar points, plots, similar main characters (heck,
Silence
and
Hacksaw Ridge
both star Andrew Garfield as Rodrigues and Doss), they're all three very different movies.
Conflict between the Personal and the World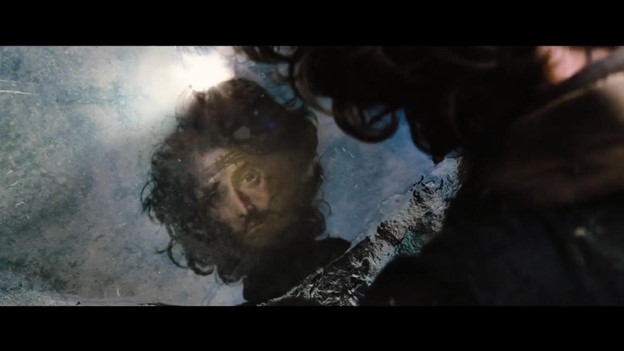 Two of the three characters want to make the world a better place. Rodrigues goes to Japan to find his mentor, protect the existing Christians, and convert more to Christianity, while Doss wants to contribute to the fight against the Axis Powers in his own way. The third, Franz, would be happy to work in the German Army as a medic (much in the same way that Doss served), but he never volunteers, happy to only contribute by farming.
Pressing up against the greater interests that overshadow them is what reveals their greatness of character. It is the source of meaning in all three films, and it is how they ultimately ask really hard questions of the audience.
Franz could just say some words that he doesn't mean, serve as a medic quietly, and wait out the war, but he will not say those words. His conflict is small in scale, and is frequently noted as being of such small significance and completely unseen by anyone who could appreciate it that he's going it for nothing. And yet, Franz stands firm, bolstered by the sweet and mundanely loving letters with Fani, his wife, frequently talking not of their travails but of their children and their love for each other. His fight is small, unseen, and impacts few, but the movie presents it with such power as the fight becomes over the scope of a human soul.
Father Rodrigues has to run, eventually being chased down by Japanese forces, and he meets the extension of the monolithic power in Father Ferreria himself. He hadn't disappeared or died, he had been turned, taking a Japanese wife and writing books disproving Christianity to the Japanese audience. The conflict turns from an external one against the oppression of the Japanese into an internal one against Rodrigues's own faith, and that all happens when Ferreria presents his own evidence against Christianity. The Japanese put Rodrigues into a camp where they attempt to force him to apostatize through torture.
Doss holds firm in his conviction, getting court marshalled and potentially imprisoned for his refusal to take up a gun. His father, the drunk and World War I veteran, dons his old uniform to come to his son's aid, convincing his old commanding officer to let his son go in as he deems fit. As an artistic note, this happens the earliest in the movie of the three events listed, and it has a wonderful emotional power because of Hugo Weaving as Doss' father, who plays the character so woundedly.
Resolution
This is where the stories begin to diverge rather starkly. They all have similar points about standing true to your convictions, but they end up saying it very differently.
Franz never bends. He quietly accepts his fate without conflict, and he gets executed by guillotine. The movie ends with a quote from the ending of
Middlemarch
by George Eliot that says, "for the growing good of the world is partly dependent on unhistoric acts; and that things are not so ill with you and me as they might have been, is half owing to the number who lived faithfully
a hidden life
, and rest in unvisited tombs." It's not that Franz's sacrifice moved history, but that history is made up of those who made their small decisions. Franz's was a choice that took its toll on him and his family, affecting little beyond it (in fact being largely unknown for decades), but the fight was ultimately worth it. No one could understand it at the time, except for Fani in the final moments, but the fight was for his soul, and he won it.
Rodrigues does bend. He breaks. Faced with further torture not only of himself but of some Japanese civilians if he does not apostatize, he hears the voice of Jesus on the image placed on the ground that he must step upon that gives him permission to step, to save not only those around him but himself as well. Rodrigues joins Ferreria for the rest of his life as a proofer against Christianity and inspector of imported goods for Christian symbols. This is the most complex ending of the three, showing us a broken man but providing us with a question of whether he kept his believes private or did change them. In a small break from the original novel written by Japanese Christian Shusaku Endo, Scorsese shows a small, crudely made crucifix in Rodrigues' hand as he rests in his coffin and the flames begin to eat away at his wicker casket around him.
Doss has the earliest turning moment in all three, and the second half of the movie shows him demonstrating his resolve in graphic terms. Mel Gibson loves graphic violence in movies, and he ratchets it up to show the carnage of he central fight to the film, an endless battle at the top of Hacksaw Ridge during the Battle of Okinawa. It's effectively a kill box where Americans have been going to die for a while, and Doss goes, without a weapon of any kind, along with the rest of the 77th Infantry. The fire is brutal and wipes out their ability to advance or even retreat. Night descends and Doss does what he can, rescuing dozens of men who are injured and lowering them to the ground below the ridge. As he goes, he prays to God saying, "Lord, help me get one more."
Conscience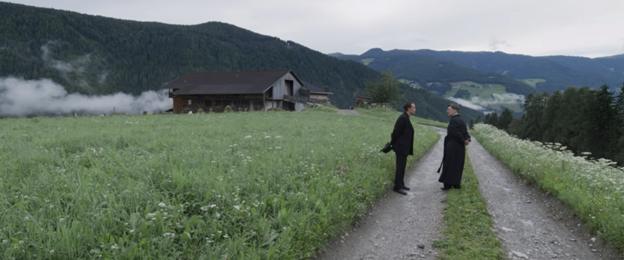 All three characters, conflicts, and films demonstrate the emotional and personal toll one can take when staying true to one's beliefs, particularly to God. In a world and culture that demands conformity away from God, these are wonderful examples of the cost and reward for doing so.

Oh, and all three are just great movies.

Movies of Today

Opening in Theaters:

Come Play

The True Adventures of Wolf Boy

Movies I Saw This Fortnight:

A Hidden Life (Rating 4/4) Full Review "For any other director this would be a crowning achievement, but for Malick this is just another remarkably great film in a remarkably great career." [Personal Collection]

Gemini Man (Rating 1/4) Full Review "A photorealistic looking young Will Smith will only get you so far in storytelling, and it's not very far at all." [Amazon Prime]

Cats (Rating 0.5/4) Full Review It's the sort of flawed that makes the movie's mere existence a flabbergasting paradox, leaving one with questions about the layers and layers Tom Hooper had to work through to get the $95 million to produce and release such a broken, ill-conceived piece of cinema." [HBO Max]

Suicide Squad (Rating 0.5/4) Full Review "I swear, if you're going to hire a guy to write and direct a $150-$200 million movie, make sure you're happy with your choice before he starts filming. If he's in the editing bay, don't try to rework everything. It never comes out well." [HBO Max]

Birds of Prey and the Fantabulous Emancipation of One Harley Quinn (Rating 0.5/4) Full Review "This movie was poorly written, poorly shot, and poorly edited. It has the ambition of an aggrieved Tumblr account." [HBO Max]

Batman V Superman: Dawn of Justice (Rating 3/4) Full Review "All in all, though, the Ultimate Cut of Batman V Superman: Dawn of Justice is a ride through a complex plot with some interesting stuff on its mind at the same time. There's great spectacle along the way as well. It could have used more time as a script to hammer some stuff out and clear some stuff up, but as it is, I find it an entertaining three hours." [Personal Collection]

The Twilight Zone: The Movie (Rating 2/4) Full Review "Overall, the anthology of Twilight Zone remakes and pseudo-remake is a real mixed bag. Part of that is definitely a direct result of the tragedy that claimed three lives on set, and it's just part of the package now. It's impossible to dismiss." [Personal Collection]

Brainstorm (Rating 2/4) Full Review "I don't think I've ever wanted to love a movie more and not been able to." [Netflix DVD]

Contact

Email any suggestions or questions to thejamesmadison.aos at symbol gmail dot com.
Follow me on Twitter.
I've also archived all the old posts here, by request. I'll add new posts a week after they originally post at the HQ.

posted by Open Blogger at
08:00 PM
|
Access Comments