« Tuesday Overnight Open Thread (10/27/20)
|
Main
|
Mid-Morning Art Thread »
October 28, 2020
The Morning Report - 10/28/20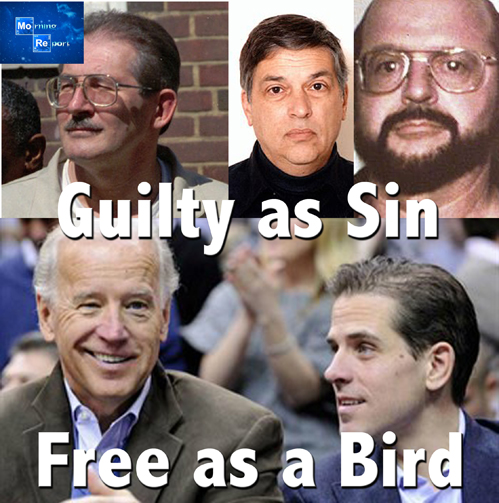 Good morning, kids. Wednesday and a couple of things are in the lead: Biden crime family whistleblower Tony Bobulinski's appearance on Tucker Carlson last night (whose show overall this month just became the highest-rated cable news show in history per Nielsen) and a flare up of the mostly peaceful rioting, looting and mayhem in Philadelphia, Washington DC and New York as a result of two police shootings of black suspects.
We'll get to those in a moment. But Tony Bobulinski, the ex-business partner of Hunter Biden who verified the initial reporting in The New York Post about the contents of Biden's laptop, sat down for a full hour with TuCa and blew the lid (all kinds of puns there!) off the story.
Here's a recap of why Bobulinski came forward:


Bobulinski's name recently became public knowledge when James Gilliar, another businessman working on SinoHawk, sent an email to Tony Bobulinski, setting out the terms Gilliar had been negotiating with CEFC. What caught everyone's interest was the statement that Hunter would hold "10[%] for the Big Guy." Bobulinski confirmed that Joe Biden was the "Big Guy."

At this point, Schiff, the media, and Joe Biden, none of whom ever denied the legitimacy of the email, claimed that the whole thing was a Russian smear. This unfounded accusation got Bobulinski's dander up. As a naval officer from a military family and a true patriot, being smeared as a Russian agent was beyond the pale.

Bobulinski demanded that Schiff retract the insult and, when Schiff failed to do so, he went public and did a full document dump. Bobulinski had saved everything -- every document, every email, and every text.

That's the quick background to the interview with Carlson, during which Bobulinski said that:

- Hunter and James Biden brought nothing to the deal other than the Biden family name,
- What China wanted was the Biden family name,
- Joe Biden was involved in the business deal, so much so that he had veto power over negotiations,
- In 2017, Bobulinski met Joe Biden twice when the Biden side of SinoHawk was courting him to step in and act as CEO,
- Bobulinski also spoke at length with James Biden, Joe's brother,
- When Bobulinski asked James how they could get away with this kind of deal, which seemed to be falling into dangerous territory given that Joe could run again for president, James announced, "plausible deniability," and
- The Biden group stiffed Bobulinski, leaving him out of pocket for all his expenses while channeling CEFC's money into another entity that did not involve Bobulinski.
Bobulinksi said it was "crystal clear" that Hunter Biden had brought his father up to speed on the status of a joint venture deal with the before he met with the former vice president. "They were putting their entire family legacy on the line. They knew exactly what they were doing. They were dealing with a Chinese owned enterprise ...that had strong financial support and political support from the Chinese Communist Party. That's how it was presented to me. That's not my own words. That's how they presented it to me and read me in on it," Bobulinski said.

Bobulinski recalled bringing up his concerns with Jim Biden the following day after his meeting with the former vice president that their business dealings with the Chinese could impact his brother's 2020 presidential aspirations.

"I know Joe decided not to run in 2016, but what if he ran in the future? Aren't they taking political risk or headline risk? And I remember looking at Jim Biden and saying, 'How are you guys getting away with this? Like, aren't you concerned?'"

"And he certainly looked at me and he laughed a little bit and said, 'plausible deniability.'" Bobulinski said.
This is murder. I have zero sympathy for the doddering, demented half-dead corpse (who will be instantly disposed of if GOD FORBID he winds up winning on Tuesday) or his inept, drug addict, vile spawn. The Bidens sold out America's national security and foreign policy to corrupt foreign leaders and to our number one geo-political enemy hell bent on world hegemony. Considering their crimes date back not only to the eight years he was VP but well into his near half-century as a senator, one can make the case that the Bidens may very well have done more damage than the Rosenbergs, the Walker Family, Aldrich Ames and Robert Hanssen combined. It's now a toss up as to which is the worst political scandal in US history; this or the plot to overturn 2016 and overthrow President Trump. In any case, both are no doubt interconnected considering the players involved.
That includes our national security and federal law enforcement agencies as co-conspirators before and after the fact. The FBI had the laptop and Christopher Wray sat on it, looking to run out the clock in hopes that Trump would not be re-elected and all of this would be swept under the rug. And now, lookie here!
Federal law enforcement officials reportedly obtained a Foreign Intelligence Surveillance Act (FISA) warrant against a Chinese business associate of Democratic presidential nominee Joe Biden's son, Hunter Biden.

The Daily Caller News Foundation reports that the revelation suggests that the man, Patrick Ho, was "suspected of acting as a covert agent of a foreign government..."

... "Ho was charged on Dec. 18, 2017 with conspiracy to violate the Foreign Corrupt Practices Act and money laundering related to CEFC China Energy contracts in Uganda and Chad," the report stated. "Ho had been an executive at the multi-billion dollar Chinese energy company prior to his arrest."

Ho was mentioned in a Senate report released last month titled, "Hunter Biden, Burisma, and Corruption: The Impact on U.S. Government Policy and Related Concerns."
In November 2017, Ye Jianming's associate and Hunter Biden's reported client, Patrick Ho, was arrested and charged with violations of the Foreign Corrupt Practices Act, international money laundering, and conspiracy to commit both. The first call that he reportedly made was to James Biden, who reportedly referred him to Hunter Biden. Ho was convicted in March 2019 on charges of money laundering, conspiracy, and violations of the Foreign Corrupt Practices Act and was sentenced to three years in U.S. prison for his role in a multimillion-dollar scheme to bribe officials in Chad and Uganda in exchange for business advantages for CEFC, Ye's company. Department of Justice documents describe Ye as Patrick Ho's boss and, again, note that Ye's company supplied funding to the China Energy Fund Committee. Ho worked as the secretary-general of the committee during the period when he was carrying out his illegal schemes.
So as long as two to three years ago - before any of the revelations on the laptop came to light - the DOJ, FBI, CIA and whatever other useless corrupt alphabet soup bureaucracy knew about the Bidens and essentially DID NOTHING. Worse than that, they withheld exculpatory evidence and allowed Adam Schiff-for-Brains and the Democrats to move forward with an impeachment against President Trump for the corruption and crimes that the Bidens themselves were guilty of. Christopher Wray deserves to be dragged out of the Hoover Building and horsewhipped in the street on national TV. But no. He too will have a seven-figure book deal and a gig on CNN. I'm seething.
* * * * *
As stated, there has been a flare up in rioting and mayhem in the wake of two more black suspects shot in the course of their encounters with police. The epicenter of the rioting is in Philadelphia, where that city suffered a second wave of terror last night. Considering that the violence and mayhem since the death of career criminal George Floyd in Minneapolis last Memorial Day is a key factor in drawing voters towards Trump - including perhaps an historically significant number of black voters - and that Pennsylvania is a key battleground state, I can't see this incident as hurting Trump. It doesn't exactly help Biden either, especially since the Dems are being consumed by his huge gaffe at the debate in openly calling for an end to fracking and fossil fuels in general.
As for the violence itself, two thugs who played stupid games and won stupid prizes is just the convenient pretext. I think what we're really seeing a dress rehearsal for Election Day. The Armed Militant Wing of the Democrat Party - BLM/Antifa - will not wait until after dark to take to the streets. They are out to intimidate people away from the polls.
If you live either in a deep blue urban or other area that might come under siege by the terrorist thugs, get to the polls and vote if early voting is available to you. Also, stay indoors on Election Day, arm yourself to the teeth and have enough food and other essentials on hand for 72 hours. I can't even believe I typed this paragraph but these people are out of their minds with rage and hate, and cannot be reasoned with. To paraphrase Col. Putnam at Bunker Hill, "don't fire until you see the whites..." dressed in black.
Elsewhere...
- Amy Coney Barrett taking her seat on SCOTUS looms large as an Obama-appointed hack-in-black rules that South Carolina does not have to match signatures with absentee ballots. I expect the SC GOP to appeal this immediately to the SCOTUS?
- Two other less sensational yet no-less horrendous Biden Crime Family rackets.
- Trump train keeps on rolling while Biden holds a rally where FDR went to die.
- Two interesting profiles on up-and-coming GOPers, including one woman taking on putrid crone Rosa DeLauro and another who was a refugee from Soviet Ukraine.
- Iran and France butt heads.
- More on the madness of the Green New Deal
And lots of other hot links, but no beer. Have at it.


BOMBSHELL BIDEN CRIME FAMILY REVELATIONS
NOTE: The opinions expressed in some links may or may not reflect my own. I include them because of their relevance to the discussion of a particular issue.
ALSO: The Morning Report is cross-posted at CutJibNewsletter.com if you want to continue the conversation all day.
Follow us on Twitter: @CutJibNews
Follow us on Instagram: @Cutjibnewsletter


posted by at
07:25 AM
|
Access Comments