« Highly Suggestible Morons Open Thread/
Tony Bobulinski on Tucker Carlson
|
Main
|
The Morning Report - 10/28/20 »
October 27, 2020
Tuesday Overnight Open Thread (10/27/20)
***
The Quotes of The Day
Quote I

"Especially in these times, Americans depend on the reliability and integrity of those that deliver the U.S. Mail," "Conduct by Postal employees that violates that duty will result in swift federal prosecution."United States Attorney Russell Coleman

Quote II

"Since freedom impelled and independence inspired and nationality exalted, a world super-government is contrary to everything we cherish and can have no sanction by our Republic. This is not selfishness, it is sanctity." Warren Gamaliel Harding (1865 - 1923), 29th President of the United States, March 4, 1921 (H/T Isophorone Blog)

Quote III

"Oslo is experiencing a bicycle boom. We want to give cyclists an opportunity to continue with the good trend into the winter." Director Heidi Sørensen at the country's Climate Agency

Quote IV

"What we really want is first an order allowing him to park, which we've got so far. And just a declaration that this violates First Amendment rights so that this school knows it and so that other schools know it," Jacob Huebert, Attorney at Law.

Quote V

"Protect your health but don't let the Court and the deliberately crippled Postal Service deprive you of your most precious civil right. Plan your vote," Former AG Eric Holder

Quote VI

I know her personally and she is not a good person. I know that sounds like a spiteful mother-in-law but I speak on behalf of my son's three other children that they do not see." Patricia Heiman
***

One more reason why I like Donald Trump and voted for him.
***

Common sense + humor = Hodge Twins.

***
(H/T Golfman)
***
What a sad and pathetic existence. Everything is racist. Every G.D. thing under the sun, including beer.

David L. Brunsma, a professor in Virginia Tech's department of sociology, claimed that both beer and the phrase " the American people" are racist in a recent book and tweet, respectively.

The book, co-authored by Burnsma and titled Beer and Racism: How Beer Became White, Why It Matters, and the Movements to Change It, claims to provide a "critical and interdisciplinary path to examine and understand the racial dynamics in the craft beer industry and the popular consumption of beer" according to its description.

"From the racist marketing of malt liquor to the bearded-white-dude culture of craft beer, readers will never look at a frothy pint the same after reading Beer and Racism." Tweet This
The book claims that beer in the United States has "always been bound up with race, racism, and the construction of white institutions and identities" and that American attitudes towards beer have led to "intersectional inequalities."

"Brewing up Race," "The Making of the (White) Craft Beer Industry", "Gentrification and the Making of Craft Beer" and "#WeAreCraftBeer: Contemporary Movements to Change the Whiteness of Craft Beer" are among chapters contained in the work.

In a tweet intended to promote his book, Brunsma included hashtags like "#blackpeoplelovebeer," "#brownpeoplelovebeer," and "#beerandracism."
***
The State of New York loses another business. Buh-bye says Kimber, Mfg.
Kimber Mfg., is pleased to name Troy, Alabama, as its official corporate headquarters and to announce it is hiring aggressively in all departments. After a carefully planned shift of leadership, R&D and manufacturing resources, Kimber has made substantial progress in the transition to its new, state-of-the-art headquarters in Troy, Alabama.

The final step in completing this new facility is adding staff across all departments. Kimber's new headquarters is situated on 80+ acres with more than 225,000 square-feet of space and is now home to industry-leading design engineering, product management and manufacturing capabilities.
***

Me, anti-social, how could that be? Just because I don't subscribe to wearing a mask.

Scientists in Brazil have linked resistance to Covid-19 safety measures, such as wearing a mask, with antisocial personality traits.

Their study was the first of its kind in Latin America and surveyed over 1,500 people aged 18-73.

Using a questionnaire, the scientists sought to identify the participants' affective resonance - their impulse to act on feelings stirred by another person - and asked a series of personality questions about how well certain statements represented their behaviour on a scale.

The survey also asked about compliance with Covid-19 containment measures over time, such as mask wearing.

When profiles were analysed, two were identified: an antisocial pattern profile who were resistant to Covid-19 safety measures and an empathy pattern profile who were compliant.
***
Risk and reward. It's been a concept present since the start of time. No one forced anyone to go to law school.

One of the harsh realities of law school that we don't speak about quite often enough is student loans. The average law student is shouldered with six figures of debt upon graduation, and these heavy debt loads act as huge setbacks for new attorneys. Lawyers in the early stages of their careers are delaying marriages, putting off home-buying, and postponing or forgoing having children because of student loans. And, of course, law school debt is taking a horrific toll on their mental health.

According to a new report put together by the American Bar Association's Young Lawyers Division and the AccessLex Institute, student loans are weighing heavily on the minds of recent law school graduates. More than 1,000 lawyers in their first decade of practice participated in a YLD survey meant to gauge the impact debt played in their lives, and a negative impact on mental health became a common, unprompted theme among their responses.

Here are just a few responses to the open-ended question "Which of these ways, if any, has your total student loan debt affected your life?" that the study's authors categorize as "difficult to read":

It turns out I hate being a lawyer but I can't afford to do anything else. My mental health has aged me prematurely. I can't afford to stay working in my area due to increased cost of living.
***
There is a right way and a wrong way to do certain things. Searching for treasure in a cemetery is wrong. Just plain wrong.

A man caught digging in the historic Fort Yellowstone Cemetery faces up to 12 years in prison and nearly $300,000 in fines. He was indicted on charges of excavating or trafficking in archeological resources and injury or depredation to United States property, the U.S. Attorney's Office for the District of Wyoming announced last week.

Rodrick Dow Craythorn, 52, appeared before a grand jury on October 22 and pled not guilty to two counts of illegal excavation, depredation, and damage to U.S. property. According to the U.S. Attorney's Office, Craythorn was claimed he was searching for Forrest Fenn's treasure — a collection of jewels and artifacts hidden by Fenn, an art dealer, in 2010 — when people discovered him digging in the park cemetery.
***

No word from the typical raging United States feminists. And our lefties think we have it bad.

Australia says it has raised "grossly disturbing" reports with Qatar that women were strip-searched and examined before a flight from Doha to Sydney.

The women were checked for signs of having recently given birth after a newborn baby was found abandoned in a toilet at Hamad International Airport.

The unidentified baby has been cared for since being found on 2 October.

The searches came to light when Australian women spoke out. Women from other countries were also examined.

All adult women on the Qatar Airways flight were required to disembark to be body-searched, two of the women told the Australian Broadcasting Corporation (ABC).

Thirteen Australian women were taken to an ambulance on the tarmac and told to remove their underwear before being examined, reports said.

Kim Mills told the Guardian she was among those taken off the flight and led into a dark car park, where three ambulances were waiting to perform medical examinations.

However, officials did not subject her to the examination due, she suspected, to her being in her 60s. Even so, she said, the experience was horrifying.

"My legs were just wobbling. I was terrified they were going to take me away somewhere. Why didn't they explain to us what was going on?" she said, adding that airplane staff later told her they didn't know what was happening.
***

It is 2020 so nothing surprises me anymore. Truth is stranger than fiction when it comes to Murder Hornets.

Heavily protected crews worked in Washington state on Saturday to destroy the first nest of so-called murder hornets discovered in the United States.


The state agriculture department spent weeks searching, trapping and using dental floss to tie tracking devices to Asian giant hornets, which can deliver painful stings to people and spit venom but are the biggest threat to honeybees farmers depend on to pollinate crops.

Quite the outfit.
***
Quite the breaking and entry duo.

According to IFL Science, a pair of young raccoons were spotted inside a branch of the Peninsula Bank when a client saw the mischievous animals while withdrawing money from the ATM outside in the early morning.

At first, the man thought the raccoons were merely a pair of stuffed animals. But he quickly realized that they were actually wild animals rummaging through the bank's empty office.

Once news of the furry bandits reached bank officials, they called in animal rescuers from the Peninsula Humane Society & SPCA.
***
The ONT Musical Interlude
Born on this day: 27 Oct 1967
Scott Weiland, vocals, Stone Temple Pilots, (1993 UK No.23 single 'Plush'). Velvet Revolver, (2004 US No.1 & UK No.11 album 'Contraband'). Weiland has also established himself as a solo artist, releasing three studio albums, a cover album, and collaborations with several other musicians since 1998. Weiland died on December 3, 2015 after being found in cardiac arrest on his tour bus in Bloomington, Minnesota, just before he was scheduled to go on stage with his band The Wildabouts. He was 48 years old. via thisdayinmusic.com
&&&
On this day: 27 Oct 1964
31 year old Salvatore Philip Bono married 18 year old Cherilyn Sarkisian La Piere. For a time they performed together as Caesar and Cleo before changing the name of their act to Sonny and Cher. Their union lasted 12 years. via thisdayinmusic.com
***

My guess? He isn't the Son of God but he is a Genius Award Winner.

ALTOONA, Pa. (WTAJ) — An Altoona man was charged after allegedly screaming and throwing items into the road at 5 a.m.

According to the complaint, 42-year-old Martin Miller was outside of his apartment on the 500 block of 12th Street in Altoona on Wednesday, October 14, when police arrived and observed two mailboxes laying in the street and a handle of vodka behind him.

Police spoke with the woman who called the police after Miller woke her up by screaming from the street that "skies are opening" and that he was the "son of God." She reportedly told officers that right before their arrival, he was throwing things into the street and screaming "Beam me up Scotty!" and "here piggy piggy."
***

It's old but it still makes, "Tonight's Feel Good Story of The Day."

***

Tonight's ONT has been brought to you by Roll Tide.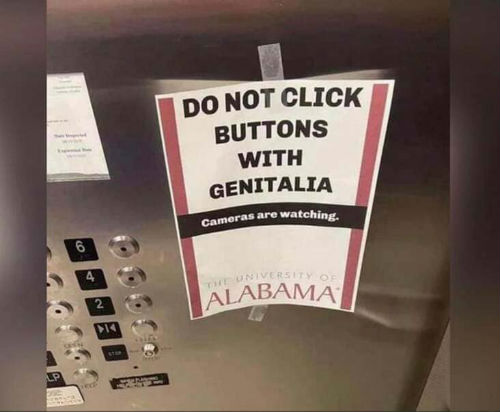 Notice: Posted with permission by the Ace Media Empire and AceCorp, LLC. ONT tips, loose change, drink tokens and burner phones to petmorons at gmail dot com. Complaints to someone who cares. And they aren't here.

posted by Misanthropic Humanitarian at
09:58 PM
|
Access Comments