« Saturday Gardening and Puttering Thread, Halloween [KT]
|
Main
|
Saturday Afternoon Chess thread 10-31-2020 »
October 31, 2020
Ace of Spades Pet Thread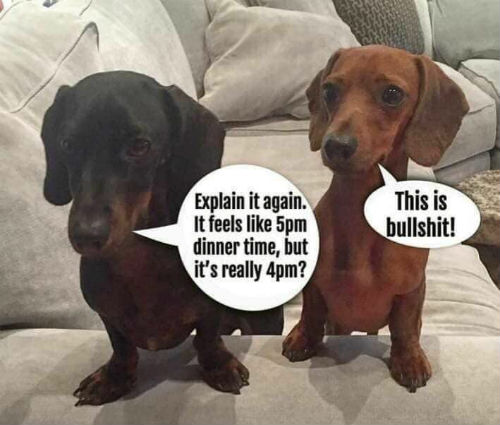 (I know my dogs will be saying this to me come tomorrow.)
***
Good afternoon and welcome to the almost world famous Ace of Spades Pet Thread. Take a mid-afternoon break and enjoy the world of animals.
***
A Little of This. A Little of That.
(H/T JR)
***

A life with a partner and no pets or vice versa? Can't imagine a life without pets.

A saying goes that if you want to taste true, unconditional love and loyalty, try a pet. A dog is man's best friend, after all. Human relationships are prone to seasons where you may be mad or frustrated with each other and even end up severing ties. However, once a pet loves you, that love is infinite. It explains why there have been often scenarios where someone is forced to choose between a pet and their partner. Below we dissect this matter in detail.
I'm fortunate that the Fabulous Mrs. Mis Hum loves animals as much as I do.
***

Missing two legs? Not a big deal to this cute little kitteh. H/T Shibumi

"Duck" is a little tabby kitten with a big personality and an even bigger zest for life.

The unusual-looking kitten lost her front legs after a sustaining a terrible injury; she was found with both legs irreparably mangled and was rushed to a vet clinic where her legs had to be amputated in order to save her life.

But despite losing her two front legs, Duck has never lost her drive or her love of life.
***
(H/T TeeJ)
***
Meet The PetMorons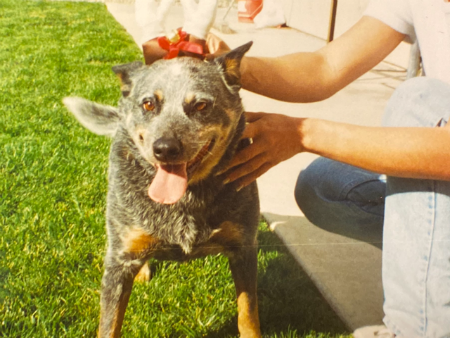 Hi Mis Hum,

This is my queensland heeler named April. She was the best ranch/truck dog. She was very intelligent and mischievous. We haven't had a dog since April as we are no longer allowed to have dogs on our ranches for food safety. My husband would throw broccoli for the dogs to go fetch. Broccoli can be waist high. The dogs looked like deer jumping up over the rows to find the piece of broccoli. When he would get to a ranch he'd slow down and the dogs would jump out and follow the truck. The workers taught our dogs to chase down jack rabbits. They also would swim in the reservoirs. I really miss her. She had a good life. She was the smartest dog I've ever had. - CaliGirl
I really hope you are around today and can explain to us serfs how a ranch cannot have a dog present. Sounds like draconian California laws to me. Thanks for sharing.
***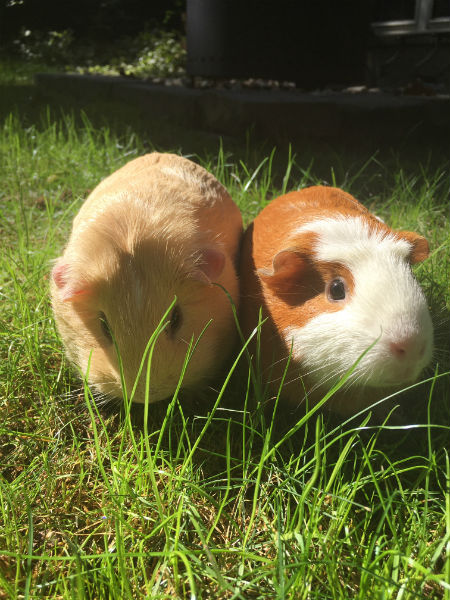 Very long time lurker here – you are definitely my favorite blog, followed closely by SDA. When I am on the road for work, my favorite thing to do is save AOS for the evening (hard to do, I usually hit it first thing every morning), when I sit down at a watering hole, order a juicy IPA, some wings, and delve into your blog!

Anyway, attached is a picture of our Guinea Pigs, Nugget and Spice, aka "Spicy" – she has quite the personality, and tons of energy. Nugget is quite the opposite – she is totally chill, and she is the queen of lounging! They are enjoying a warm NC October afternoon and munching on some fresh grass!
Best regards, Monty
What a cute pair of piggehs!!! They seem to be enjoying their outdoor experience. Is that something you do with them often? Thank you for the kind words. We are all glad you came out of the lurker shadows and shared your pets with us today.
***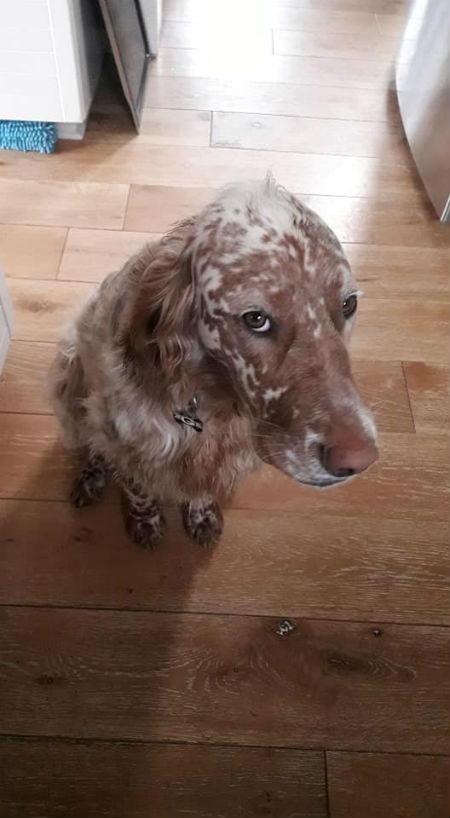 Levon at 20 months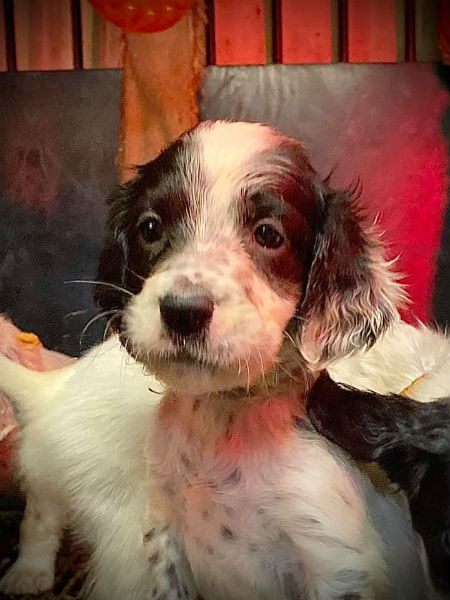 Tallulah at 4 weeks
Hi Mis Hum

Levon is about to get a little sister. Tallulah is almost ready to come home and my wife and I are super excited to meet her. Levon, Jake and Minette will have to share their toys. Five week old English Setter. Ain't she sweet? The birds, bunnies and squirrels better be on their toes!

Regards
Tom
Oh I'm a sucker for Setter puppies and blueberry pie. Congrats on the soon to be new addition. I know from experience she'll be a bundle of energy and joy. Thanks for the contribution Tom.
***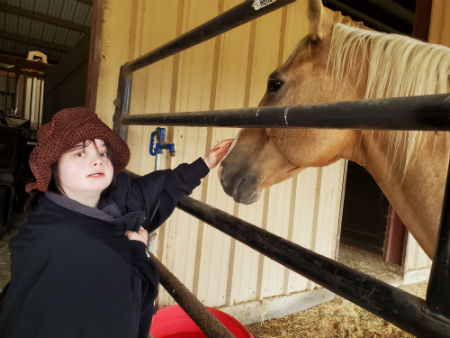 Just wanted to send along this picture from this weekend's Texas MoMe - our youngest daughter, Rebecca was quite taken with Champ, the horse belonging to our hosts! - Teresa

Pets, guns, kids what's not to like about the Texas MoMe? Thanks for submitting this photo. Rebecca looks like a sweet kid. Thanks again.
***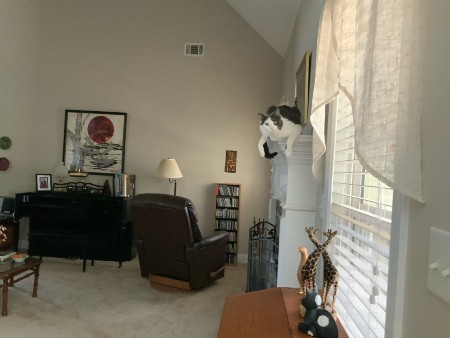 My crew is still lurking around. Mocha, Mindy and Dimino are keeping me busy. Last time you met them they were on my new white comforter . They actually live on it most of the day and night, but they do venture away now and then. They may look like they're chilling, but they've got me in their eyesight. Can't accomplish a thing w/o their help. God love them ❤️❤️❤️ - Debbie
Quite the crew there Debbie. They look quite comfy in their surroundings. And I bet they are quite the helpers when you are busy. Thanks for sharing with us today.
***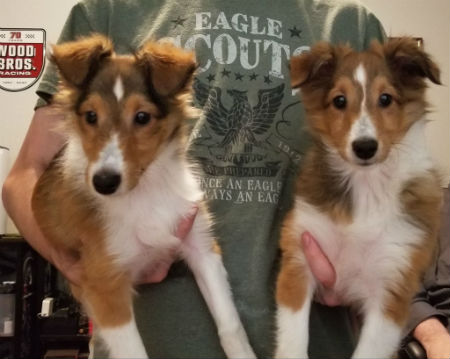 Longtime lurker here, very rarely post as Rudytbone. We recently grew our family by 2 Sheltie furbabies. Interesting story behind them: they were payback from my Sister in law. For my SIL's wedding, my wife "gave" her a Sheltie pup. Now, some 30 years later, the favor was returned with not 1, but 2 Shelties that we needed to retrieve from a breeder in South Carolina! We live in Houston. Needless to say, it was an interesting road trip.

That's Shelby on the left, and McKenna on the right. Being completely adorable is what is keeping them in good graces.

Love the pet thread!
Oh how freakin' adorable!!! Good luck with 2 puppehs. It is hard enough raising one, 2 is a challenge. Thanks for sharing these 2 cuties with us.
***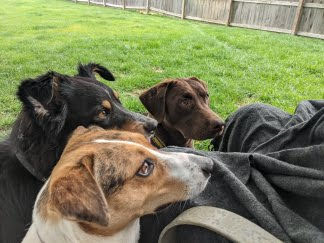 Sage, Bucky, Winnie taking a break for Grandma's homemade jerky.
Enjoy your site. - Richard
That must be some darn fine jerky to have their attention like that. I appreciate your kind words about the site and thank you for taking time out to share your pups with us.
***
Scout says:

"Can we just be done with this foolishness?"

- f'd
Yes, yes by all means. Great looking pooch there. Thanks for hanging with us today.
***

Fantastic group of pets today. Thanks to all who shared their photos and stories with us. Thank you to the folks who submitted pet links as well.
If you have something pet/animal related you would like to submit please reach out to us here at petmorons at gmail dot com.
Good luck with the time change and have a great week!

posted by Misanthropic Humanitarian at
03:00 PM
|
Access Comments