« Quarantine Cafe: Kick Evil In the Guts Edition
|
Main
|
The Morning Report - 10/29/20 »
October 28, 2020
Wednesday Overnight Open Thread (10/28/20)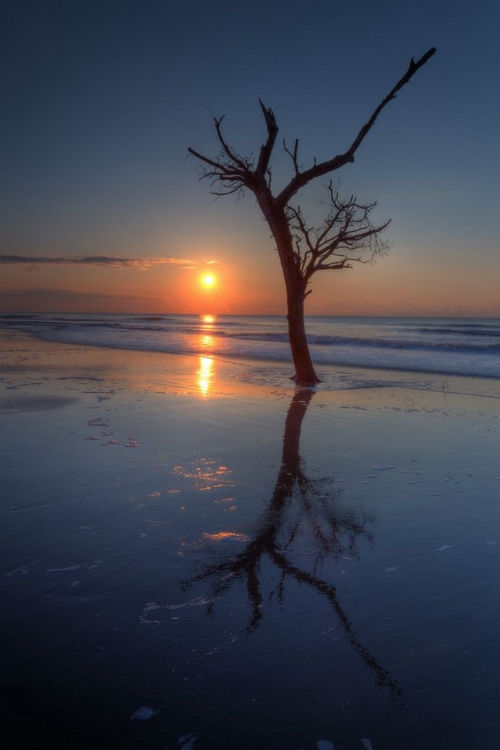 ***
The Quotes of The Day

Quote I

"Biological women and girls must continue to have the freedom to associate with other biological women and girls in activities that serve their unique interests and needs as females. Further, this beauty pageant has already made reasonable accommodations for fully transitioned transgender females without male genitals." Allison Kindle Pejovic, a lawyer with the Justice Centre
A "chick" with a dick, is still a guy.
Quote II

"We must call especially on young people to do without a few parties now in order to have a good life tomorrow or the day after," German Chancellor Angela Merkel

Quote III

"They wanted to celebrate their birthday. This is who we're dealing with. They're people who are not bad people. They want to live their life, and they make bad decisions." Michelle Fire

Quote IV

"I remain innocent of any claims against me. I took the actions necessary to dispose of the case and get on with my life," "Based on my experience as a defendant in the criminal justice system, I can imagine what happens to people without my education or means." Brian Dennehey, Libertarian candidate for Cook County DA

Quote V

"We've all been cooped up and it's been just a terrible year. We've just decided if this brings a little bit of joy and a little bit of smiles to someone, then we're doing everything right." Angela Nava of Richmond, TX
***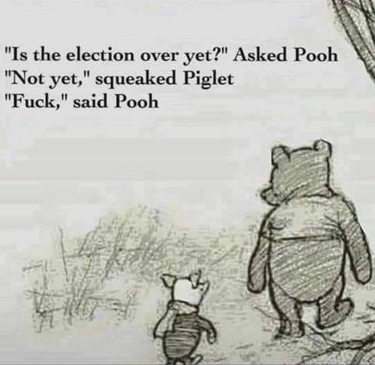 ***

It is never too late to start thinking about Christmas gifts for the Smart Military Blog reader. UH-1H Huey MEDEVAC for Sale!

1966 UH-1H Huey in restored condition, S/N 66-1080. This helicopter is #2 of 3 MEDEVAC helicopters that I'm restoring, some of the pics are of the #1 bird S/N 71-66224 that found its home already.

The helicopter is an in and out restoration project. The interior was redone to MEDEVAC with litter configuration. (Stretcher not included) The exterior has been repainted and stenciled as well. Potential buyers, please know that this aircraft does not come with data plate or maintenance records, it can't be made to fly and is for static purposes only. I went through this aircraft over a period of several months to achieve its current state and have done many hours of work. I hope the pictures can speak for themselves.
***

You sir, and I use the word "sir" loosely are a lying, gutless son of a bitch.

Miles Taylor has come forward and revealed himself to be the anonymous anti-Trump admin official who wrote the 2018 NY Times Op-Ed and Book critical of Trump.

In a statement to CNN, Taylor explains "More than two years ago, I published an anonymous opinion piece in The New York Times about Donald Trump's perilous presidency, while I was serving under him. He responded with a short but telling tweet: "TREASON?""

"Trump sees personal criticism as subversive," he continues "I take a different view. As Theodore Roosevelt wrote, "To announce that there must be no criticism of the President, or that we are to stand by the President, right or wrong, is not only unpatriotic and servile, but is morally treasonable to the American public. Nothing but the truth should be spoken about him or anyone else. But it is even more important to tell the truth, pleasant or unpleasant, about him than about anyone else." We do not owe the President our silence. We owe him and the American people the truth."
Surprised Twitter allowed these Tweets today.
***

Karens vs. Non-Karens. It's getting ugly out there.

An NHS worker has had his eye socket broken in three places after being thrown from a London Underground train when he confronted three passengers for not wearing masks.

The health service employee was also punched repeatedly during the attack, which occurred after he pointed out that it was a breach of coronavirus restrictions for the trio – two men and a woman – not to be in face coverings.

One of the group struck the victim several times before throwing him off the train and onto the platform at High Street Kensington station.

He also suffered a chipped jaw.
***
***

Halloween is Saturday night. Since tonight is my last ONT until Saturday I thought we would indulge in some Halloween topics. Nice to leave the world of current events behind us for a period of time.

As we approach Halloween....................

(H/T Gibson Girl)

Here is a way to keep Trick or Treating alive............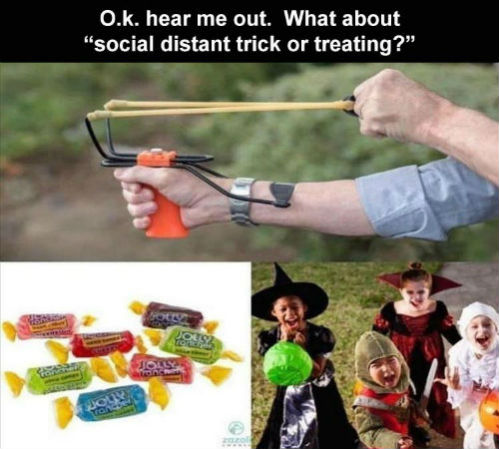 &&&
Crazy Costumes: A Celebration of Halloween and Beyond - A look at dressing up for Halloween and more in these lovely 20th Century snapshots
(Of course there is a Mystery Click)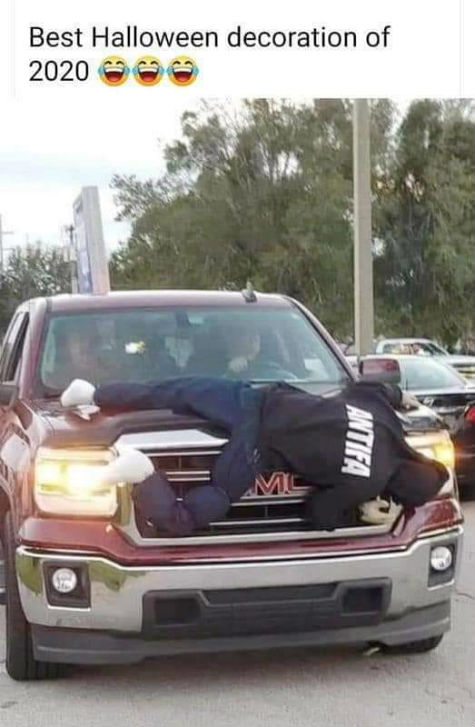 (H/T qdpsteve)

I really haven't been a fan of Halloween since I was in the 8th grade just a couple of years ago. The Fabulous Mrs. Mis Hum and I don't decorate for it. However, if we did I would emulate one Mr. Steven Novak of East Dallas.

Halloween, the high holy day of spooky season, has a sort of Spooky Scale™ that runs the gamut from the casual black cat, full moon, or harmless jack-o'-lantern to the extremes of disembodied corpses, chainsaw massacre enactments or, even scarier, the thought of paying bills every month under the terror of COVID-19.

Local artist Steven Novak finds himself comfortably at the "horrifying" end of the scale, as his East Dallas neighbors and the Dallas Police Department will surely attest.

"I've always been up to hijinks like flying ghosts or 7-foot tall snow sculptures of myself, so if I was gonna do Halloween, it was obvious that it should be hyperreal," Novak says. "No lights, fog machine, or camp … something that would really freak people out walking by in the dark. So I whipped up some dummies and slung 20 gallons of blood all over."
***

Loud pipes save lives Harley Davidson and their electric bike.

It's been almost a year since we've last heard from Harley-Davidson's nascent electric bike project, but based on what the company is announcing today, it may have been well worth the wait. Harley-Davidson unveiled a stunning new electric bike that it says will go on sale in March 2021. And the motorcycle manufacturer is also spinning out its e-bike division as a separate company called Serial 1 Cycle.

First and foremost, this is a nostalgia play. The name Serial 1 is a reference to "Serial Number One," the nickname for Harley-Davidson's oldest known motorcycle built in 1903. The bike's design, with its white tires, leather saddle and handgrips, and sleek black frame, are meant to harken back to that first prototype.

Harley's new company sprung out of the company's skunk works Product Development Center, where a small group of "passionate motorcycle and bicycle enthusiasts" have been working on designing and developing an e-bike "worthy of the Harley-Davidson name," Harley says.
>
***

Can We Wipe Out All Coronaviruses for Good? Here's What a Group of 200 Scientists Think


Coronavirus is almost synonymous with Covid-19, social distancing, and frustration. But it's not one virus—it's a whole family.

The good news is that we're already well acquainted with some members of the family. One estimate suggests these buggers have been around for 10,000 years, and we're aware of dozens of strains, with seven that can infect humans. Many coronaviruses just cause a sniffle or light cough—also known as the common cold. The problem sparks when a viral strain, normally happily living in a bat, pig, or rodent, completely benign, mutates enough to be able to infect humans. Adding to the series of unfortunate events, the virus gets the opportunity to make that dreary carrier-to-human hop. The strain then becomes dangerous to humans, we don't have any immunity against it—and the virus blazes through our population like wildfire.
Call me Mr. Negative, but they won't and they can't.
***
Leading up to The ONT Musical Interlude, Here's your chance to buy at auction a guitar owned by Eddie Van Halen.(H/T CBD)

Two of Eddie Van Halen's Guitars Are Going to Auction
Eddie Van Halen is one of the greatest guitar players of all time. In addition to an incredible legacy, the revolutionary guitar virtuoso also left behind two guitars that are set to head to auction later this year. The new dynamic duo of Julien's Icons & Idols Trilogy: Rock 'N' Auction are a 2004 EVH Charvel Art Series electric guitar (hand-striped, maple neck and fingerboard, Fender Stratocaster-style headstock) and a custom axe serial number F 0024 that Van Halen built himself with his guitar tech Matt Buick in his 5150 home studio. In addition to those two iconic pieces, this auction also includes a number of other memorable pieces of memorabilia.
Expected prices, $40K-$80K.........
The ONT Musical Interlude
Born on this day: 28 Oct 1936
Charlie Daniels who is known for his No.1 country hit 'The Devil Went Down to Georgia'. Daniels has been active as a singer since the early 1950s and was inducted into the Grand Ole Opry on January 24, 2008. He died of a hemorrhagic stroke on 6 July 2020, age 83. via thisdayinmusic.com
&&&
On this day: 28 Oct 1997
R.E.M. drummer Bill Berry announced that he was leaving the group after 17 years, becoming a farmer. via thisdayinmusic.com
***
A couple of Genius Award Winners tonight................
Definitely, this will show Mercedes.
A popular Russian vlogger recently made international headlines after purposely burning his expensive Mercedes-AMG G63, because he was sick of it breaking down all the time.

Russian media reported that young vlogger Mikhail Litvin bought his brand new luxury car in December of 2019, for a whopping 13 million rubles, or around $170,000. For that kind of money one would expect both performance and durability, only Litvin claims that his Mercedes-AMG G63 was really short on the latter. Despite having allegedly driven it only 15,000 km (about 9,300 miles), he claims the car has been in and out of repair shops over the last 10 months. Exasperated by the constant need for repairs and the manufacturer's reluctance to accept responsibility, the Russian vlogger decided that the best way to solve things was to simply burn the car down to a crisp.
&&&

Booze, pumpkin guts just what could go wrong for this Florida man?

Florida Man is accused of striking his girlfriend with a pumpkin and its innards during a 2 AM confrontation yesterday in the couple's apartment, police report.

According to a criminal complaint, Nathan Garisto, 26, was arrested Monday on a domestic battery charge. Garisto, free on $1000 bond, has been ordered to have no contact with the 29-year-old victim.

Police say that when they responded to the couple's Largo residence, the victim was "covered in pumpkin seeds and pulp." Garisto, cops noted, was "heavily intoxicated while engaged in a verbal argument with his girlfriend."
***
A couple of Feel Good Stories, they have been lacking as of late.
Cancer patient risks it all. Tonight's Feel Good Story of The Day.

Marshall Helm had been walking his granddaughter to the bus stop early in the morning when the bus driver drew his attention to the smoke and flames emanating from the house next door.

Helm ran over to the endangered home and threw open the garage door only to find flames climbing up one of the building walls. Despite how the Vietnam veteran has been battling cancer, he did not hesitate to charge past the flames and into the house so he could make sure his neighbors were safe.
&&&
Our vets deserve our thanks. And our help. Our second: Tonight's Feel Good Story of The Day.

A Vietnam veteran who has lived in a central Indiana home without power or running water for more than a year is getting a new house built from the ground up, thanks to a few volunteers.

The Delaware County Veterans Affairs Office worked with the volunteers to demolish 77-year-old John Holaday's old home in Muncie in early October and began rebuilding it, the Associated Press reported.
***

Tonight's ONT has been brought to you by Costume Ideas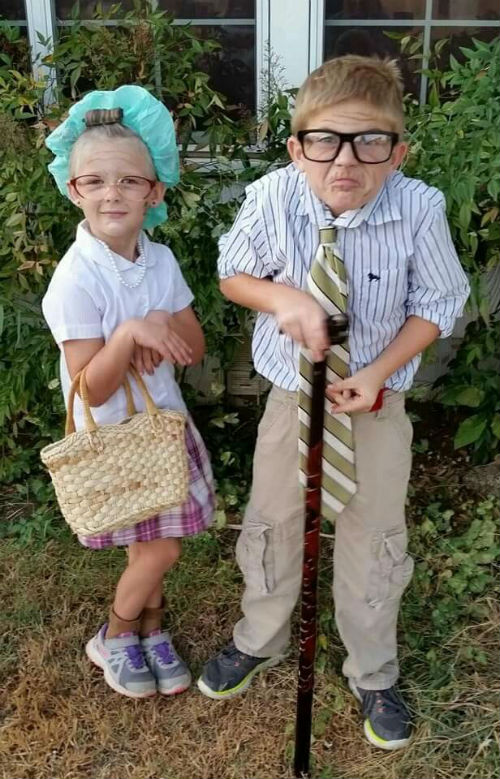 Notice: Posted with permission by the Ace Media Empire and AceCorp, LLC. Shelving projects are beyond our control.


posted by Misanthropic Humanitarian at
10:00 PM
|
Access Comments