« The Eyes Of Texas Are On The ONT
|
Main
|
Mid-Morning Art Thread »
October 23, 2020
The Morning Report - 10/23/20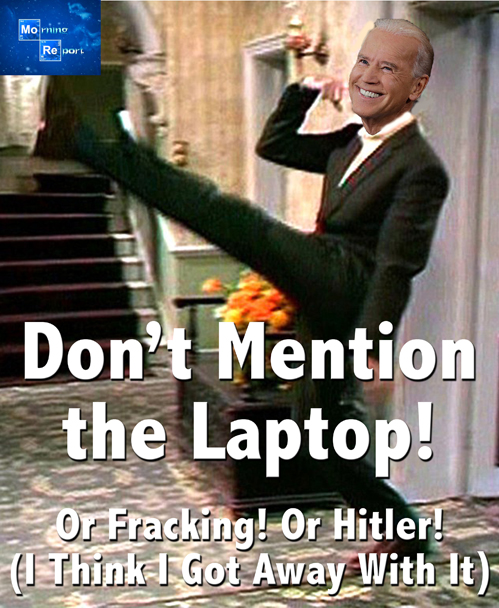 Good morning, kids. The weekend is here, and before we get to the ongoing thermonuclear blast of the revelations (so far) from the Hunter Biden laptop, the very-much related story of last night's final 2020 Presidential debate is front and center. For those who did not watch it, it's certainly understandable given both the disgusting hackery of Chris "Mike" Wallace and uni-lipped wonder Savannah Gutterball. But, last night, the President sealed the deal by first and foremost looking and acting presidential, polished and polite, unlike Debate 1 where he was definitely off his game, due in no small part to Wallace's blatant interference every time he was about to land a blow as well as perhaps the lingering effects of the Chinese Lung AIDS he had only been cured of a day or so prior.
UPDATE: I stand corrected: Debate 1 was on 9/29 and Trump announced he had the virus 3 days later on 10/2. That said, he no doubt was symptomatic or pre-symptomatic at the debate and maybe under treatment, so it did have an affect on his performance.
Trump owned the stage last not also with the unintentional assistance of both Joe Biden and "moderator/muzzler" Kristen Welker. Before we get to Goofy Joey Sundown, it was the totally biased and fraudulent Commission on Presidential Debates that changed the format by giving each speaker two-minutes to speak uninterrupted and Welker a mute button to kill the mic of either debater if he went over the limit. Translation: to silence Trump whenever he was scoring points, which is exactly what she did especially in the second half. But it was the format, ostensibly designed to help Biden, that played a big part in sinking him. A geriatric case being pumped with a pharmaceutical cocktail, sequestration for four straight days, a mind slipping away by the hour due to dementia and now on top of it revelations about his nearly half-century of grand larceny and fraud in selling out the country, and now he has to talk for two minutes straight on national television, while knowing which lie to spout and when, without any breaks for a quick magic bullet, and still sound lucid.
And then there was Kristin Welker. In fairness, during the first part of the debate, she actually came off as fairly pleasant but she was anything but unbiased given how she phrased every question from the Leftist point of view as an attack on the President. Meh it is what it is given who these people always are. As the evening wore on she hit that mute button every time she sensed Trump about to land another rhetorical body blow. But Trump's reserve and the fact that he was disciplined and not allowing them to rattle him that helped lead to Biden's undoing. And when he sundowned, it was spectacular.
The one thing Biden had to do was avoid talking about Hunter Biden and the laptop as long as he could and as long as Kristen Welker can give him cover. After Trump slyly wondered out loud how Joe made all his money, Biden opened his mouth and put the first gigantic torpedo into whatever is left of his campaign all by himself.
"His buddy Rudy Giuliani, he is being used as a Russian pawn. He's being fed information that is Russian -- that is not true. And then what happens, nothing happens. And then you find out that everything that is going on here about Russia is wanting to make sure that I do not get elected the next president of the United States because they know I know them. And they know me. I don't understand why this president is unwilling to take on Putin when he is actually paying bounties to kill American soldiers in Afghanistan."
Actually, to me and a lot of the commenters it sounded like he said "His buddy, Rudy Jovanni." I imagine the thought bubble over Joe was something like "Norman! Coordinate!" But I digress. In any case, the fact that Tony Bobulinski, the CEO of the Chi-com-connected company who confirmed the validity of the damning e-mails was sitting right in the front row as a guest of Trump probably rattled Biden's cage.
Next came one of the most memorable lines of the night, and one that crystallizes exactly who Trump is and a huge reason why he was elected.
In a discussion over criminal justice reform, Trump knocked Biden putting forward plans ostensibly to help the black community that the Obama administration never implemented in eight years.

"But why didn't he do it four years ago? Why didn't you do that four years ago, even less than that? Why didn't you do it?" Trump asked Biden. "You were vice president. You keep talking about all these things you're gonna do, and you're gonna do this, but you were there just a short time ago and you guys did nothing."

Trump then slammed Biden and former President Barack Obama for doing a "poor job" while in office. The president also derisively labeled Biden a "politician," a likely reference to Biden's over four decades in Washington before leaving office with Obama at the start of 2017.

"You know, Joe, I ran because of you. I ran because of Barack Obama, because you did a poor job. If I thought you did a good job, I would have never run. I would have never run. I ran because of you. I'm looking at you now, you're a politician. I ran because of you," Trump said.
Finally, the coup de grace was another self-inflicted wound. And it was a doozy.


Biden, on the other hand, blatantly lied about his record on banning hydraulic fracturing, commonly known as "fracking."

"I have never said I oppose fracking," the Democrat insisted.

"You said it on tape," Trump responded.

"Show the tape, put it on your website," Biden said.

"I'll put it on," Trump said.

"The fact of the matter is he's flat-out lying," the Democrat insisted.

NBC News commentator Kristen Welker asked, "Would you rule out banning fracking?"

"I do rule out banning fracking," Biden said. "What I will do with fracking over time is make sure we can capture the emissions from the fracking."

Trump had to get the last word. "He was against fracking, he said it... until he got the nomination, went to Pennsylvania. But you know what, Pennsylvania, he'll be against it very soon, because his party is totally against it."

Biden attempted to claim that he only opposed fracking "on federal land."
Later, as Team Biden tried desperately to put out that conflagration, Biden poured 5,000 gallons of his hoped-for banned gasoline on it.


Following the debate, Biden doubled down on his climate change plan to eliminate America's fossil fuel industry and the millions of middle-class jobs that Americans rely upon.

"Eventually we're going to have to go to oil, but we're not getting rid of fossil fuels. We're getting rid of the subsidies for fossil fuels, but we're not getting rid of fossil fuels for a long time," Biden said. "It will not be gone for (inaudible) probably 2050."

When questioned about his plan that will eliminate millions of Americans' energy jobs, Biden said, "They're not going to lose their jobs. And besides, they're going... there are a lot more jobs that are going to be created in other alternatives."
The Democrat Industrial Propaganda Complex can try to spin this any way they want. The fact of the matter is Biden and Kamal-Toe have openly vowed to destroy the petrochemical and coal industries countless times. They had to if they wanted to keep the Marxist base of Bernie Bros on the plantation and in the voting booth. But that does not exactly thrill people working in the energy sector, especially in swing states whose economies are or were booming before the lockdown like Pennsylvania and Ohio, or even Texas where Dems are deluding themselves into thinking it will turn blue. Not with this madness it won't.
But if you're still unconvinced, Joe Biden lost the debate the moment he invoked Godwin's Law. Yes, gentle reader. He mentioned Alois Schickelgruber, failed artist and famed Socialist, otherwise known as Hitler.
You could've turned off your sets right there, but then you would've missed him stammering, slurring his speech and finally, a move that was painfully cringeworthy...


Make no mistake about it, if you're winning a debate, you aren't looking at your watch, worrying about what time it is. This moment with Joe Biden is reminiscent of the disastrous moment when George H.W. Bush checked his watch during the town hall debate with then-Governor Bill Clinton and Ross Perot.

That moment defined President George H.W. Bush's entire performance in that debate, and made him appear disinterested and out of touch, as well as uncomfortable with his debate performance.

Congratulations, Joe Biden, you showed the entire country that you know you'd lost the debate.
An appropriate metaphor since by any metric, Joe Biden got his clock cleaned by President Donald J. Trump.
Elsewhere...
- The beat goes on with the Biden Crime Family scandal including new revelations about key Democrat leaders and VP candidate Kamala Harris.
- Twitter now trying to sabotage John James by flagging the unprecedented Detroit News endorsement.
- Must-read essay by Angelo Codevilla on our troubles with law enforcement.
- Amy Barrett on track to be confirmed in the full Senate on Monday
- DNI Ratcliffe warns on Iranian election interference here.
- Ghislaine Maxwell pulls a Charlie Gibson on prostitution.
- OrangeManBad at 52% Rasmussen job approval.
And other picture postcards. Stay positive. See both Dinesh D'Souza's and Shelby Steele's new documentaries. Pray for Trump, Limbaugh and Bongino. Have a great weekend.


FINAL TRUMP/BIDEN DEBATE RECAP
NOTE: The opinions expressed in some links may or may not reflect my own. I include them because of their relevance to the discussion of a particular issue.
ALSO: The Morning Report is cross-posted at CutJibNewsletter.com if you want to continue the conversation all day.
Follow us on Twitter: @CutJibNews
Follow us on Instagram: @Cutjibnewsletter


posted by at
07:26 AM
|
Access Comments