« The Dispatch's "Fact-Checker" Falsely Labels a Pro-Life Group's Ad as "Partly False," and then FaceBook Bans the Ad;
The Dispatch's Editors Won't Explain How This "Error" Slipped Past Four Editors
|
Main
|
Shock: "Undecided Voter" at Biden Managed Photo Opportunity Was Actually... a Speechwriter in the Obama-Biden Administration »
October 16, 2020
Jihadist Terrorist Beheads a French Schoolteacher on the Street;
New York Times Decides that the Real Headline Story is, "French Police Shoot and Kill Man After Fatal Knife Attack"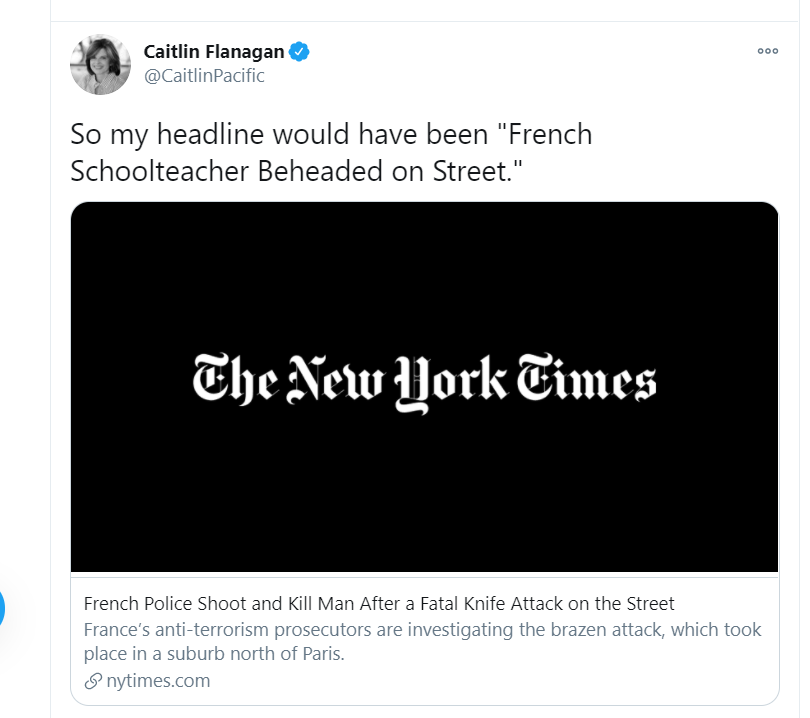 Islamic terrorism is just an idea, Jack!
Via This account from LeFigaro:
The teacher had been murdered by this Jihadist lunatic because he dared to show the Mohammad cartoons as part of a course on free speech and free expression.
The teacher had been threatened by "some parents" and had filed a complaint with the police.
But the savages couldn't handle Western civilization. So they did what savages do.
The savage foreign assassin cried out "Allahu Akbar" as he threatened police.

Can we slow down on Islamic immigration until Islam cures itself of its Death Cult obsession or do are we compelled to take this bloody, vicious journey with the Death Cultists?
I guess y'all didn't see Fake News NYT's original headline:

"Two More Covid-19 Deaths In France As Infections Re-surge In Europe"
Posted by: Soothsayer's Untrue But Accurate Tales