« The Morning Rant
|
Main
|
Mazie Hirono Demands to Know if Amy Coney Barrett... Ever Sexually Harassed Anyone »
October 14, 2020
Senate Investigating Hunter Biden Hard Drive, "Smoking Gun Email" Proving that Joe Biden Lied When He Claimed He Didn't Speak to Hunter About His Burisma Business Dealings
FaceBook Interferes in Election, Again
Or was it just the dementia at work, hitting the big "Delete" key in Joe Biden's shriveled brain?
Hunter Biden introduced his father, then-Vice President Joe Biden, to a top executive at a Ukrainian energy firm less than a year before the elder Biden pressured government officials in Ukraine into firing a prosecutor who was investigating the company, according to emails obtained by The Post.

The never-before-revealed meeting is mentioned in a message of appreciation that Vadym Pozharskyi, an adviser to the board of Burisma, allegedly sent Hunter Biden on April 17, 2015, about a year after Hunter joined the Burisma board at a reported salary of up to $50,000 a month.

"Dear Hunter, thank you for inviting me to DC and giving an opportunity to meet your father and spent [sic] some time together. It's realty [sic] an honor and pleasure," the email reads.

An earlier email from May 2014 also shows Pozharskyi, reportedly Burisma's No. 3 exec, asking Hunter for "advice on how you could use your influence" on the company's behalf.

The blockbuster correspondence -- which flies in the face of Joe Biden's claim that he's "never spoken to my son about his overseas business dealings" -- is contained in a massive trove of data recovered from a laptop computer.

The Senate says they are investigating.
Update: This meme is fake, but it's assembled from real pictures in the hard drive: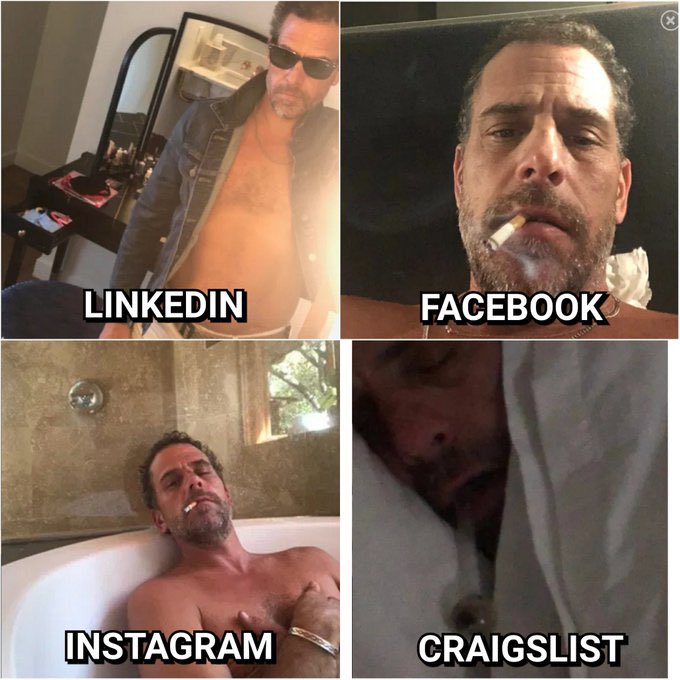 FaceBook is now "limiting" users' ability to share the story-- censoring it, throttling it.
They have never done this with any of the 8,000 anti-Trump "bombshells" that were soon proven false.
But this one, they're censoring.
Be sure you thank Mitch McConnell and the other archcorporatists for stripping away your right to free speech in favor of their corporate donors' alleged right to censor you.