« TWITTER LOCKS NEW YORK POST'S ENTIRE ACCOUNT, BLATANTLY ENGAGING IN MONOPOLISTIC RESTRAINT OF TRADE
|
Main
|
Twitter Suspends White House Spokeswoman Kayleigh McEnany's Account, 20 Days from the Election »
October 14, 2020
A TALE OF THREE PEAKS- IT WAS THE WORST OF TIMES [Muldoon]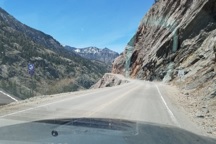 In Colorado, between Ouray and Silverton, lies Red Mountain Pass, a narrow treacherous winding mountain road through the historic silver mining district. On one side is a sheer cliff and on the other side is a several hundred foot plunge into the ravine. Along the way are three peaks named Red Mountain #1, #2 and #3. I have often pondered how silly it would be to try to drive this road with your windshield blacked out, using only the curves of the road in the rearvview mirror to guide your steering. I tell you that story so that I can tell you this story:
With that in mind, let's revisit COVID in Colorado again. Colorado's Health Department graphs indicate that just like Red Mountain Pass, there have been three peaks of COVID "cases"since April. I would like to compare the three periods corresponding to these three peaks and dig into the numbers a little bit. Lets look at Peak #1, the week of April 12-18, Peak #2, the week of July 5-11, and Peak #3, the week of Sept. 27-Oct 3.
COVID TESTS (PCR)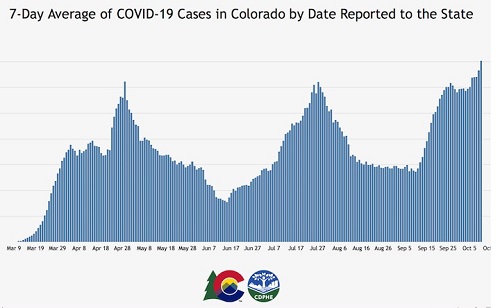 In April (Peak #1), a total of 10,602 PCR tests were reported, and the 7-day overage of new daily positive tests peaked at 452 on April 19.
In mid-July (Peak #2), 58,976 PCR tests were reported,, 5.6 times as many tests as during Week 1. The 7-day average of new daily positive cases peaked at 571 on July 10.
For Week 3, 117,137 PCR tests were reported,, ~twice as many as Peak #2 and over 10 times as many as Peak #1, and behold, the 7-day average of new daily positive cases was hovering at just under 600 (higher than the peak number for either April or July).
TEST POSITIVITY RATE
In Peak #1 (April) test positivity rate exceeded 20%
In Peak #2 (July) test positivity had bumped up slightly to 5.5% from a low of 3.2% in early June.
Now in Peak #3 (October) the positivity rate is less than 4%.
HOSPITALIZATIONS AND DEATHS
April 12-18 there were 1,627 new hospital admissions and 233 COVID deaths.
July 5-11 there were 249 new hospital admissions, up from a minimum of 134/week in May , sevenfold fewer than in April. Deaths in this timeframe maxed at 37/week.
Sept 27-Oct 3 There were 239 new hospital admissions, up from another minimum of 134/week in early September, similar to the July bump and sevenfold fewer than April. There were 35 deaths that week.
Notably, Colorado has had single-digit daily reported COVID-related deaths(7-day average) every day since the end of May.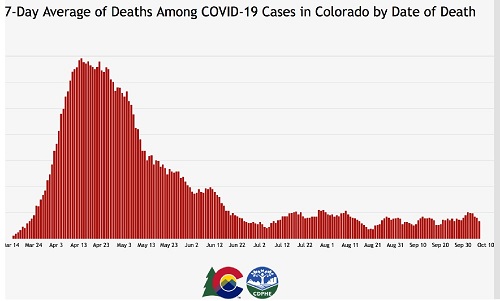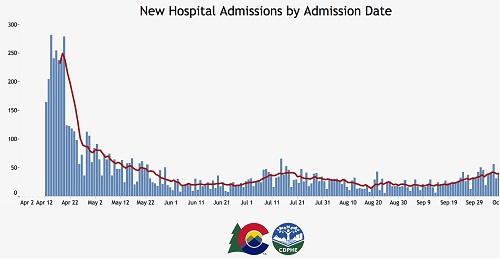 MASK ORDERS
The governor's initial mask mandate was on July 16, and the latest extension of the order on Oct. 11 coinciding with Peak #2 and Peak #3. There was no mask order during Peak #1

What can we gather from this?
1. When a virus exists within a large population, since many individuals have subclinical infection, the definition of what constitutes a "case" matter greatly. At a baseline prevalence in the range of even 3-5%,, increasing the total number of tests will give a corresponding rise in number of positive tests, irrespective of either the presence of actual disease or infectiousness of an individual.
2. Past trends are not necessarily predictive of future trajectories, especially in a complex dynamic system. Models are NOT real-life data.
3. The individuals being identified in the apparent peaks of July and late September are not getting sick or dying to anywhere near the extent of those in April, indicating that we are tracking merely the residual vestiges of an epidemic that has run its course.
4. Increasing the absolute number of tests run, while producing the illusion of a surge in cases, does not indicate a resurgence of the epidemic. It does not account for the consistently low case positivity rate, deaths and hospitalizations. Where are the second and third peaks for deaths and hospital admissions? They don't exist.
5. A positive PCR test does not equal a diagnosis of COVID.
As pointed out here, in July a minor uptick in hospitalizations prompted an exaggerated model suggesting a huge surge in hospitalizations was imminent, triggering the initial mask mandate. The huge surge never materialized.
I guess "progress" for Colorado is like traveling over Red Mountain Pass with the governor driving while relying solely on the appearance of the road in the rearview mirror, predicting the course of what the road might do. He's jerking the steering wheel back and forth with no idea where he is going. It's time for him to open his eyes

posted by Open Blogger at
06:41 PM
|
Access Comments