« Saturday Afternoon Chess thread 10-10-2020
|
Main
|
Saturday Overnight Open Thread – 10/10/2020 [Buck Throckmorton] »
October 10, 2020
Saturday Evening Movie Thread 10-10-2020 [TheJamesMadison]
Food Thread!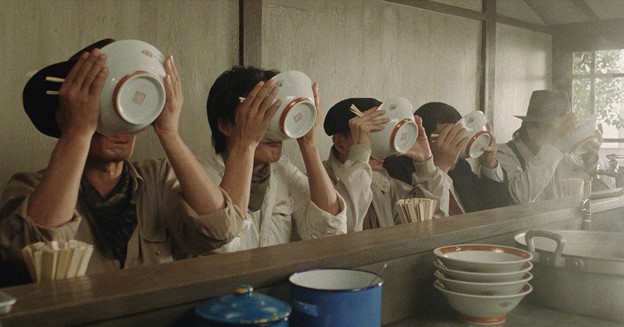 So, I watched the wonderful Japanese movie
Tampopo
recently for the first time, and it got me thinking about the great food movies. Movies where food itself is the centerpiece, helping to highlight certain joys in the world. Movies where the creation and enjoyment of food is central to everything that happens around it.
Thinking about it, I came up with the same three movies that most people come up with:
Tampopo
,
Babette's Feast
, and
Big Night
. All three were small movies of the 80s and 90s made either abroad or, in
Big Night
case, by Italian Americans in celebration of their heritage in the New World, and all three use the food as a vehicle for connecting with other people, family, friends, and strangers. Food becomes the sensual experience that bridges gaps between people of different ideas and backgrounds and creates the common ground for them to enjoy life, even if only for a short time. It's not just a celebration of good tasting things but a celebration of the transformative nature of food as a shared experience (something similar to movies about movies).
So, let's take a look.
The Food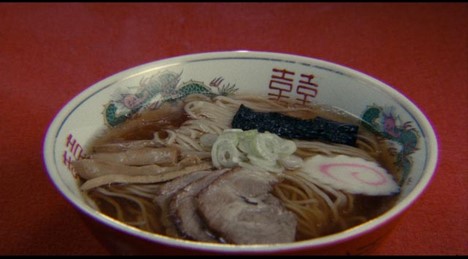 All three films are centered around specific meals, and they all have a central dish that attracts the most attention.
Tampopo
is about the perfect bowl of ramen.
Babette's Feast
's meal is centered around the entrιe quail in a puff pastry with foie gras and a truffle sauce.
Big Night
's meal is centered around a large timballo.
Each dish is lovingly prepared by the characters, and the process is shown with a delicate precision by the filmmakers. All three are prepared for specific character reasons and act as extensions of the characters reaching out into the wider world for something.
I'd love to be dropped into any of the three and savor the meals. The perfect bowl of ramen, with exacting instructions for every ingredient from the broth to the pork, sounds and looks delicious. The quail looks very different, but I can't deny that it looks succulent. The timballo makes my mouth water just thinking about it.
They're lovingly presented and delicious meals that the films want the audience to enjoy by proxy through the characters.
The People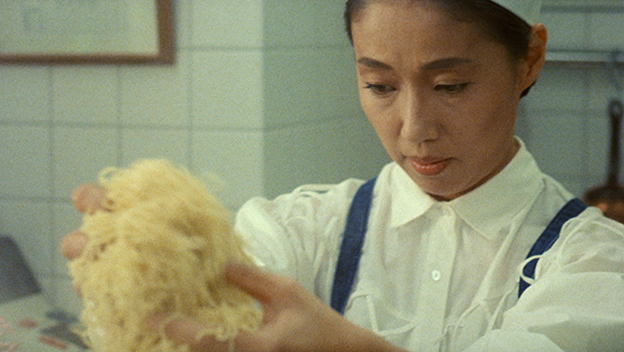 As I said earlier, all three meals are made by characters for specific reasons. Tampopo, the unsuccessful owner of a small noodle shop, wants to improve the prospects of her small shop, so she recruits the help of a truck driver passing through (modeled ever so slightly on Clint Eastwood's Man with No Name) to teach her how to make the perfect bowl of ramen. She's inept, and he understands the end result of a perfect bowl. They work together, recruiting an old master, who happens to be a homeless bum who leads a band of gourmets stealing bits of delicious foods from trash cans, a rich man's chef, and a contractor who contribute to her noodles or her shop. People from completely different walks of life, different income levels, and different means all coalesce around the single objective of good food.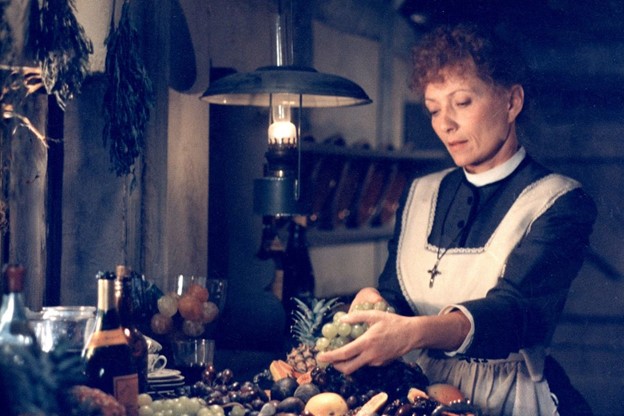 Babette's meal is a bit different. Her movie is in turns light and heavier, much more subtle a comedy than Tampopo's movie, but the effect is very similar. She has fled Revolutionary France to the tiny seaside village on Jutland in Denmark, taken in by a pair of sisters who are daughters of the leader of a small religious sect that advocates for strict asceticism in service to God. Babette serves the sisters faithfully for fourteen years, cooking their meals and taking care of their home in return for little more than shelter. When she receives a large inheritance from France, she decides that she wants to give a gift to the sisters which ends up being a large banquet, made by her hands, and straight from the menu she had created in her restaurant in Paris before the Revolution. It's an act of giving, of thanks, for the good they had done her.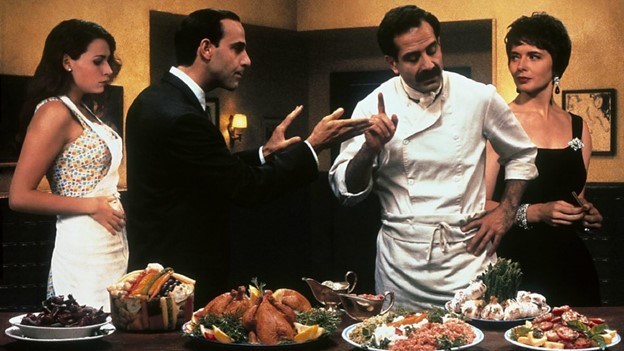 The two Italian brothers in
Big Night
run a struggling authentic Italian restaurant in New Jersey in the 50s. Primo, the eldest, is the chef, very exacting in preserving his art and heritage. Secondo, the youngest, is trying to run a business and has to interact with the customers directly. So, when Secondo brings out the delicately prepared seafood risotto to a customer who ends up confused and wants a side of spaghetti and meatballs, Primo rages against the request, calling her a Philistine before meekly succumbing to making the side dish. They are brothers joined at the hip through the business of selling food, and their business is crumbling. Across the street is a successful Italian-American restaurant run by Pascal, another Italian immigrant, who is unafraid of giving the people what they want. In a gesture of goodwill, Pascal offers to invite his personal friend, the famous singer Louis Prima, to Secondo's restaurant to help gin up some business.
The Effect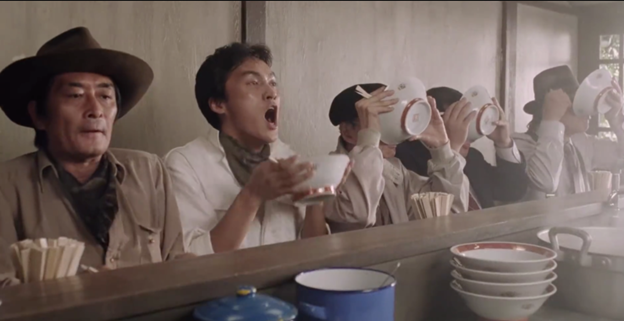 When Tampopo actually creates her perfect noodle bowl (indicated by all of them, in a row, slurping up the last of the broth noisily), it's a moment of togetherness and celebration of creation. The series of actions that led to Tampopo acquiring the knowledge and ability to make such a bowl brought these different people together, and the act of consuming the noodle bowls together makes them one, even if only for a moment. The wild and sudden success that greets Tampopo after she re-opens her new noodle shop brings the world that had sidestepped her to her door, all in celebration of food. The film is also a loose collection of stories that revolve around food, and the most prominent of them is a gangster and his ballerina girlfriend using food as part of lovemaking (it's an odd scene, but oh so Japanese).
This ornate meal Babette makes includes alcohol, turtle soup, the aforementioned quail, and several other delicacies, much to the horror of the members of the small religious group, who have entered a period of bickering after the death of their leader, the sisters' father. They decide to eat the meal prepared for them, but to say nothing of the food and to enjoy it not all, in preservation of their souls. Well, that meal ends up being as revelatory and healing as you might expect. The food is fantastic from dish to dish, the qualities of each new concoction highlighted by the sole outsider at the table, a famous general that had once briefly courted one of the sisters. His elegant descriptions of the meals helps the ascetics quietly appreciate the food (even to the point of teaching them how to eat the complicated looking quail dish). The remarkable meal ends up helping people get past old hurts and turning the experience into an almost religious one.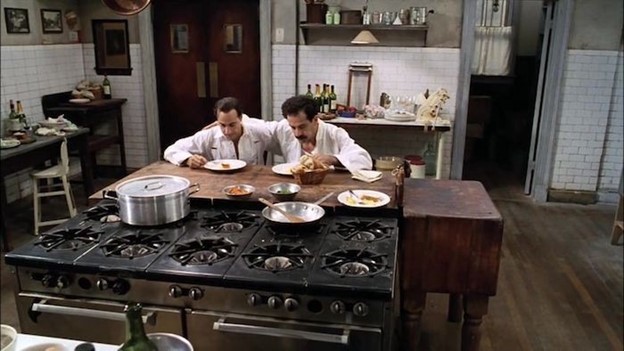 The big meal in
Big Night
, made for the singer Louis Prima, is large and ornate as well. The brothers slave together all day to get everything together, including the large timballo. The invite all of their friends and several people just off the street to enjoy the meal for free, an act of promotion. It's while the guests eat that everything is right with the world. Secondo has both his girlfriend and his mistress there (of whom the girlfriend knows nothing), and there's no conflict or even tension. Primo's crush, a local flower shop lady, comes, and they can bond better than in any of his awkward interactions at her shop. People talk, they sing, they dance, and they come together in celebration of the common experience of consuming great Italian food. Conflict on re-emerges after the meal is over. The girlfriend finds Secondo kissing the mistress and runs off. Primo and Secondo get into an outright fight over the underlying problems that have been plaguing them since the beginning of the film. The next morning, the brothers end up coming back together over...a meal, a simple omelet, completely wordlessly in a magical little moment of brotherhood.
The Final Bite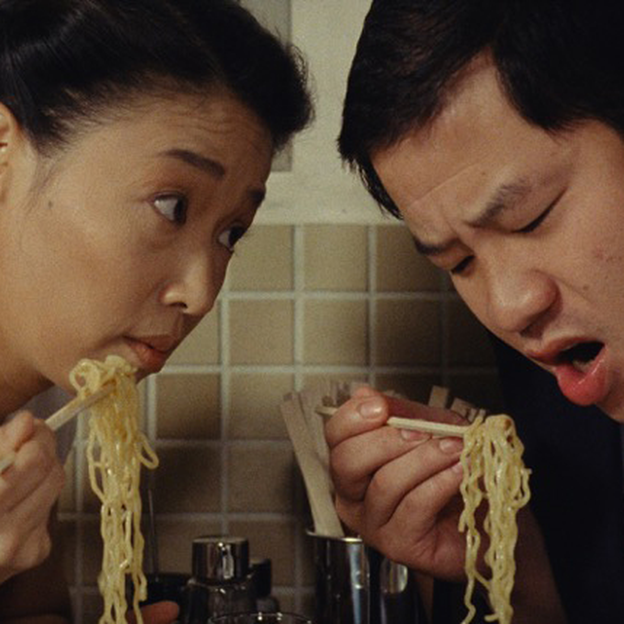 Food isn't magic, but it can have a magical effect on us. In some ways a big shared meal is like the movies, bringing a group of people into a single room to share in a single emotional experience, so movies about food actually end up meshing really well with film that way. Sure, we can't taste or smell anything on screen, but there's an implicit similarity that makes the two experiences mesh well.
Still, it's no replacement for actually eating the food, and I've been craving a timballo for days now.
Movies of Today
Opening in Theaters:
The War with Grandpa
Movies I Saw This Fortnight:
Ashes and Diamonds
(Rating 4/4)
Full Review
"Richly and intelligently written, beautifully filmed, very well acted, and moving,
Ashes and Diamonds
is a great film." [HBO Max]
The Thief of Bagdad
(Rating 4/4)
Full Review
"It's classic, silent Hollywood at its height. It's fun, imaginative, and with a winning performance at its core." [Personal Collection]
The New World
(Rating 4/4)
Full Review
"
The New World
is a work of art. It's one of my favorite films. It hits me emotionally like very few films can. It is the work of a visionary and a genius. I adore this film." [Personal Collection]
The Tree of Life
(Rating 4/4)
Full Review
"Terrence Malick is a genius. He understands the cinematic power of image and sound better than almost any other working director and most who have passed. He attacks his central questions from all angles, and never the one you might expect. He creates believable physical realities for his characters to explore and pursue his thematic obsessions. He has an incredibly distinctive cinematic voice, approaching large questions with intelligence and tenderness, while filling the frame with beautiful images that never feel staged or artificial." [Personal Collection]
The Little Foxes
(Rating 4/4)
Full Review
"William Wyler was a very good director who understood the visual elements of filmmaking better than most. In adapting this play, he used the tools of cinema to help tell the story in a visual way that's engaging and involving, much like how David Lean intelligent adapted
Hobson's Choice
for the screen. This is a hidden gem of a film." [Amazon Prime]
The Bourne Identity
(Rating 3/4)
Full Review
"
The Bourne Identity
is a good little movie that could spawn sequels but feels complete enough on its own. It's got that right kind of mix in the ending where Jason has completed a journey but enough has been set up within the film that any sequel could take a new direction somehow. We'll see, I guess." [Personal Collection]
The Bourne Supremacy
(Rating 4/4)
Full Review
"It's a great action film. It's a great thriller. It is Paul Greengrass elevating the material and Tony Gilroy finding a way to deepen it. I love this film." [Personal Collection]
The Bourne Ultimatum
(Rating 3.5/4)
Full Review
"The movie is more purely an action spectacle than
The Bourne Supremacy
, and in that it excels with one of the best single sequences of the franchise (Waterloo) and a strong final car chase." [Personal Collection]
Contact
Email any suggestions or questions to thejamesmadison.aos at symbol gmail dot com.
Follow me on
Twitter
.
I've also archived all the old posts
here
, by request. I'll add new posts a week after they originally post at the HQ.

posted by Open Blogger at
07:52 PM
|
Access Comments