« Food Thread: Bread And Circuses And Weird Booze...But Mostly Bread
|
Main
|
Sunday Overnight Open Thread (10/4/20) »
October 04, 2020
Gun Thread: 10-4 Edition! [Weasel]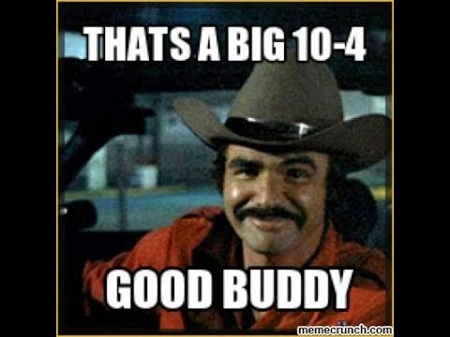 Well howdy again and welcome back to the 'ol Gun Thread. Nice to have you here! I managed to sneak down to the farm for a few days to do some vigorous organic tree farming and shoot some WeaselAcres video which I hope to have ready for next weekend. As I write this, President Trump is at Walter Reed Army Medical Center being treated for the Chinese Cooties, and I hope you will all join me in wishing both Mr. P and the First Lady a speedy and complete recovery. 10-4?
Well that's too short for a Gun Thread, so let's see what else we have below, shall we?

We have been talking a lot lately about ammunition and what represents a sufficient supply, and opinions seem to range anywhere from several hundred rounds to thousands. Truth is, at least in my opinion, I don't think you can have too much ammo but you can certainly have too little. You need to have enough to maintain proficiency through live-fire range practice, and then a reserve for self-defense purposes. You are the one who has to determine what the actual number is, given your personal circumstances.
Market dynamics and economics certainly play a part in the equation. You still have to pay the bills while stocking up for Spicy Time. How do you balance the need to supplement your supply when times are tight, or as we see now, availability is limited and prices are at a premium? In each Gun Thread I list some online suppliers, and more importantly, an excellent online search tool Ammoseek. Just plug in what you're looking for and results are shown in very close to real time. Ammo can still be found, but do not expect any bargains in today's climate.
There are also some things you can do to stretch your supply. First, make every shot at the practice range count. Don't simply go to the range and blast your way trough 50 or 100 rounds and call it good. Practice regularly but have a plan for your training and stick to it. Instead of randomly shooting until you have a bunch of holes on the target, treat it as you would any other training. A fixed number of sets with a certain number of repetitions per set. Six warm-up rounds, six sets of Mozambique Drill, four sets of offhand shooting, and so forth. Save your targets and study them when you get home. If you see an unwanted pattern developing, concentrate on that next time. Again, make every live-fire round count.
Don't be this guy. Is this guy making every round count? No, this guy is not making every round count. This guy isn't making any of his rounds count. This guy is also quite possibly retarded.
We have discussed it here often, but do not overlook dry fire as a training tool. You may be surprised at your improvement in sight picture and alignment if you spend as little as 10 minutes per day dry firing at home (with an unloaded weapon, please). Another training tool we have looked at before are electronic and laser trainers, which are a good option and relatively affordable. The idea here is to do as much as you can at home before you head to the range.
Finally, do not forget the often overlooked .22LR cartridge as a training tool. I'm not sure if they still do, but the military has used the .22 for marksmanship training, so why don't you? Everything you practice with larger calibers applies to the .22LR; grip mechanics, breathing and sight alignment, trigger press and recovery, it's all there at a very economical price per round and the last I checked bulk .22LR ammunition was still widely available.
So how have you made changes to your range time and shooting practice? Are you one of the ones with a zillion rounds who haven't needed to make adjustments to your routine, or have you found yourself going to the range less often or shooting fewer rounds once you are there? What are you doing to maintain proficiency that you can share with others?
******
So how do you store the ammo you have? Brownell's shows us how in the following video.
******
Next, our pal
Sua Sponte
has been back at the .22 bench, this time with a new ammo find!
I had been doing some online searching for more 22LR when I came across a company I had never heard of before, Federal Armament, out of Ft. Smith Arkansas and an ammo I had never heard of before, Sterling Cross Premium. I hadn't done any research on the company nor the ammunition, but, it seemed like a decent deal at 2000 rounds for $217, or about 10 cents a round, and even if it was just horrible ammunition I'm sure I have something around to put it through. Anyhow, it arrived today and I decided to take it out and see if I wasted a couple hundred dollars. Well, I didn't and couldn't believe the groups I was getting. Decided to get on line and do a little background on this otherwise new to me ammunition and discovered a pretty interesting story. Turns out Sterling Arms is based out of Canada, has a corporate office in NY as well as a manufacturing plant in Arkansas. What I purchased utilizes the same powder as found in CCI Stingers and Mini-Mags and the casings are produced by Aguila. Based on the performance, I'm willing to bet the bullet is also produced by Aguila and is comparable to their SE SV LRN, although I think the Sterling Cross may have performed a bit better. I think I made a good purchase here and learned that there are other production lines manufacturing the same quality ammunition that may be marketed under a different brand name, so, don't let that stop you from at least giving it a try.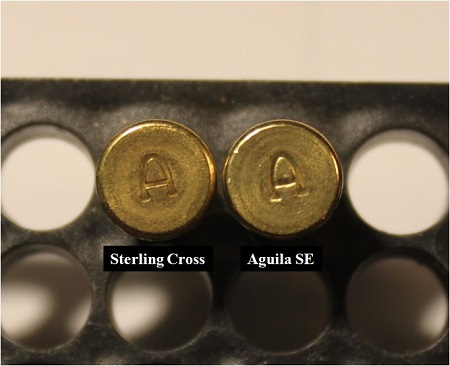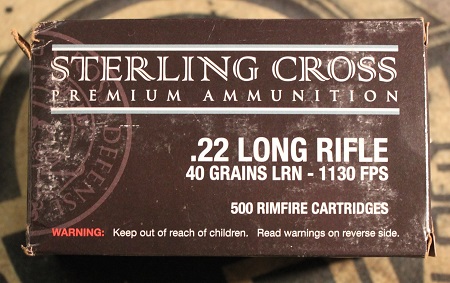 I would have to say that for all the characteristics it has with the Aguila, it actually performs much better and was on par with the Norma Tac-22 and Geco. Took it out today and got some really good results. I shot 4 Targets, 5 tables each, 3 rounds each table from 50 yards with an overall average of; 0.8862", 0.89", 0.832" and 0.852".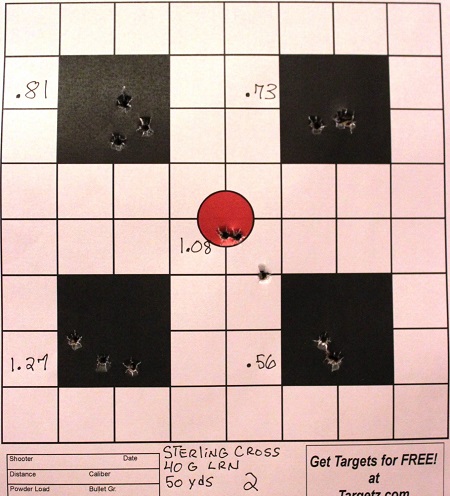 I figured 90 yards would give a good idea of what it will do at 100. I believe it did alright for not being in a bench rest, but, again shows I need to do some more practice. Best Group: 1.074", and worst group: 1.49".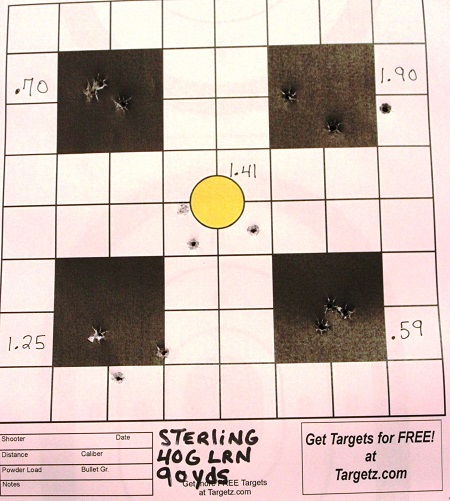 Here is what I really like about Sua Sponte's approach; he set out with an objective of finding accurate .22LR ammo, and has a logical and methodical process for identifying and recording results. You can apply this same process to any type of shooting, too. Identify a goal and develop a process for tracking your results. Nicely done, Sua Sponte!
******
Next, our pal WTM sends in a trip report and comes home with a bonus!
Finally got my .308 sighted in to my satisfaction, after maybe 250 rounds of mixed loads. I've given up on the .45-70 with hard cast lead bullets, though; the Marlin Micro-Groove rifling just flings them all over the place at 100 yards. I make a decent shot, make a slight adjustment on the scope, and then the next round is off the paper. Marlin had since wised up and began using Ballard rifling, but now they are done, as is Remington. Maybe Ruger can do something with them. My Model 1895 from circa 1979 is top-notch and very accurate with 400gr jacketed bullets, but later model Marlins were not up to par. One can find YouTube videos concerning this sad state of affairs.

BUT - the surprise of the day came when I was dumpster-diving between rounds. They have trash barrels set out about every 100 feet on the rifle range, and I usually look through them to find empty .308 ammo boxes - nice for the reloader with maybe 700 rounds of homeless ammo. This week, I was surprised to find box after box of empty brass in the trash - .308, .30-06, 6.5mm Creedmore, and some assorted loose brass. Picking up range brass is verboten, and I don't, but anything in the trash is fair game. I also found close to a dozen loaded rounds that had no primer dent - new factory ammo being thrown away. Two weeks ago, I found about 10 boxes (empty) of .300 Win Mag. I think this all means 1) people are buying anything they can get. Factory .300 Win Mag costs about $1.50 per round and there were mountains of new factory brass being left behind. Hard to believe. and 2) newbies to shooting still abound. Undoubtedly, it is they who threw the brass and loaded ammo in the trash. 45 years of range shooting behind me and I've never seen anything like this.

I cleared 40 rounds of factory .308 brass which is in the tumbler right now, and even found 6 rounds of .45LC brass - and I needed 5 to fill out a box of new brass that was short for some reason. All in all, a good day, except for the .45-70. Next week - my two .300 Win Mags.
Congratulations on a nice find, WTM! Do you know if any local police departments or other agencies use the same range? I've found they will usually toss their brass, to the benefit of those who simply keep their eyes open. One caution to you all when reusing surplus ammo boxes to store handloads; it's a very good idea to tape over the original box labels and record the specifics of the new handloads. I use a lot of the MTM plastic ammo boxes and there is no way on earth I could keep everything straight even after a short period of time. I had a local printer make labels on business card stock so I can record bullet and powder charge weights, expected velocities, date loaded, etc... You can get 500 cards made like this for around $10.
******
Next, our pal NeonMadman checks in and makes a great point:
I reload (and shoot) a lot of .38 Special, typically all low power wadcutter loads. I am now out of Bullseye powder, so I loaded up a batch with some older SR7625, which has been sealed and doesn't show any signs of degradation. However, this particular batch of used cases came with the reloading equipment years ago, and have been reloaded an unknown number of times. I have already tossed some cases for mouth cracks, and some of the nickel plated ones have been tumbled so many times the plating has worn off.

I loaded up 25 rounds with a 148 gr. wadcutters, and a light load of SR7625. They shot well in a S&W 19, but out of the 25 rounds, I had two defects; the left one which is hard to see is bulged ahead of the base and just starting to be a head separation, and the right one has a nasty side split. The primers look good, with no signs of high pressure, and otherwise the powder seems fine, but I have to believe that the cases are pretty much at end of life. Two bad ones out of 25 is too many, so rather than load the other 250 cases (already primed - sob!), I'll discard them and use my other batches of newer cases with a known history. Moral of the story - even with low power/low pressure loads, cases will eventually wear out, and when reloading, it is a must to inspect at every stage of the process. By the way, my local sheriff's office has been very helpful in disposing of unwanted ammunition/powder/components. They give it to the county bomb squad, who have a special burn facility for it. Don't just dump this sort of thing in the trash - get rid of it properly.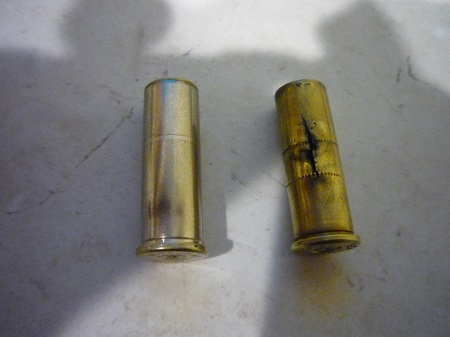 Thank you and great lesson, NeonMadman! A reminder to all of the reloaders out there, the few dollars you save in getting one more load out of brass isn't worth the problems you can have by pushing it too far. Always be extremely careful when using old brass with an uncertain history. Inspect your brass carefully and if you have any doubt, toss it!!
******
Stabby Things
Our pal UpstateLW sends in this very nice example of his work: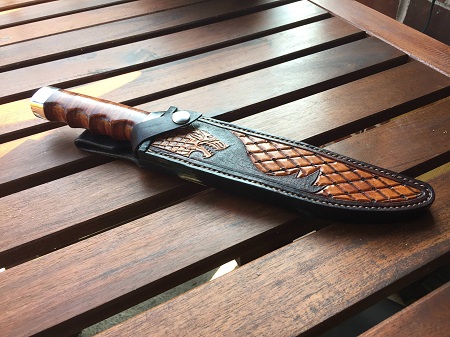 I'm a complete lurker of the blog and live in one of those blue states where owning a gun is about as illegal as using it illegally, therefore my firearms are all safely lost at sea in a red state with family. However the recent spate of knife pictures and stories had me thinking about showing off some of my leatherworking, specifically knife sheaths. Going back a couple years now this was the first sheath I ever made for a buddy of mine whose cheap Chinese hunting knife had finally destroyed the "leather" sheath it came with and I'm still not sure if the original sheath was real leather at any point in its existence. This was designed, cut, hand tooled, dyed, and stitched by yours truly out of 100% American veg-tan cow leather with a goatskin detail to help protect the blade from interior fasteners. My buddy was a big Game of Thrones fan and as it was my first sheath he got it for a right steal. I've since upped my prices significantly.
Holy Shit! That's beautiful work! Thanks for sharing it, UpstateLW!
******
Link-O-Rama
I'm really very seriously not kidding around anymore. Buy Ammo
AmmoSeek - online ammo search tool
GunBot - online ammo search tool
SG Ammo
Palmetto State Armory
Georgia Arms
AmmoMan
Target Sports USA
***Mail Bag***
Will it ever end? [h/t JT]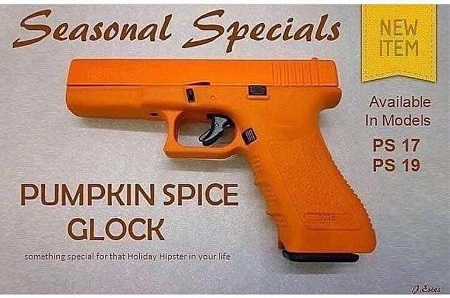 ******
Please note the new and improved gmail account morongunthread at gmail dot com. An informal Gun Thread archive can be found HERE. If you have a question you would like to ask Gun Thread Staff offline, just send us a note and we'll do our best to answer. If you care to share the story of your favorite firearm, send a picture with your nic and tell us what you sadly lost in the tragic canoe accident. If you would like to remain completely anonymous, just say so. Lurkers are always welcome!
That's it for this week - have you been to the range?


posted by Open Blogger at
07:00 PM
|
Access Comments