« Lockdowns Are Unconstitutional Absent Clear Evidence Of Extraordinary Need, And Wuhan Flu Ain't It
|
Main
|
Food Thread: Bread And Circuses And Weird Booze...But Mostly Bread »
October 04, 2020
First-World Problems...Part šešiasdešimt aštuoni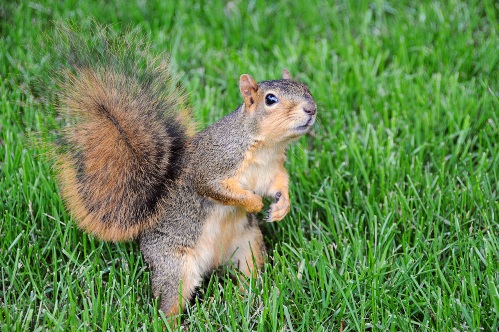 I hate the little bastards, and their even smaller buddies called chipmunks. As far as I can tell they search for buried nuts by smell, and they clearly don't have finely tuned olfactory tools, because they dig a lot for not much gain. And those holes are everywhere, including in flower pots? Freshly planted flower pots that absolutely do not have any nuts in them.
And let us not even mention when they manage to get into the house...usually the attic...where they revel in chewing conduit and ripping up insulation and making a horrendous racket at 3:00am.
And because I live in a socialist/fascist hell-hole that doesn't allow me the pleasure of shooting the furry little shits whenever I see them, I have to resort to other means of population suppression. Trapping works, but the most efficient trapping methods are a bit too public for my taste, since the laws in enlightened New Jersey are a bit murky. In fact, everything I am writing is for entertainment's sake, since I would never violate the laws of this state!
Poison is always an option, but keeping the bait away from dogs and cats and children is a challenge. Long stretches of PVC pipe, preferably with an angle in them work well. Just place the (hypothetical peanut butter mixed with ground mouse poison) bait in the middle, far from the curious tongues and hands of the innocent.
But...there are lots of them, and I am fairly confident that there aren't very many of me, so it is a constant battle to keep the population down around my house.
If only hipsters discovered squirrel stew or squirrel tail hats or squirrel claw necklaces or...

posted by CBD at
02:00 PM
|
Access Comments