« Tuesday Overnight Open Thread (9/29/20) Non-Girthy Debate Edition With Mystery Clicks
|
Main
|
Mid-Morning Art Thread »
September 30, 2020
The Morning Report - 9/30/20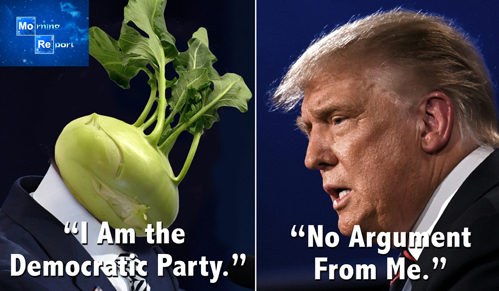 Good morning, kids. Wednesday, and of course last night's "debate" if you could call it that is in the lead. Obviously both sides are going to claim their candidate (or in the case of the Left, their hormone-injected gibbering dementia patient) won, but the one, for lack of a better word, "unifying" element of the evening was how truly horrible was the performance of Chris Wallace. That said, the Left hated him because they thought he was letting Trump take control of the evening and of course in reality it was because he was there to assist Biden, which he did.
As for the shout-fest that it was, well, what the hell did people expect? We knew going in, that short of the Dems cancelling at the last moment, which was a distinct possibility given the fact that no matter what his handlers did, a near-octogenarian Alzheimer's patient whose body clock was altered with a pharmacological mix coursing through his hardening arteries so toxic as to make Hunter S. Thompson blush was to say the least unpredictable, the only strategy they had was to let Biden pound the table with Khruschev's shoe, interrupt and just lie his sagging ass off. That's because not only does Biden have absolutely nothing during 47 years in Washington (as well as Kiev, Beijing and Bucharest) that he can even remotely call a success, there is ample evidence that he is one of the longest-serving and biggest criminals ever to hold public office. And unlike Paul Ryno or Pee-Air Defecto in 2012, Trump was going to rhetorically beat him over his Cream of Wheat-filled head with it.
And that's pretty much what he did and really, sadly what he had to do. Plus, as mentioned, he also had to deal with Chris Wallace who was probably the one wearing the Soledad O'Brien earpiece with John Podesta or whichever scum-du-jour is running Biden's fraud of a campaign cueing him to cut off Trump when he was on the verge of sinking the Bismarck herring with a kill shot. Wallace interrupted Trump 35 times and Biden not once. But Trump did not let him get away with it, stating "I guess I'm debating you, not him, but that's OK. I'm not surprised."
Again, the tumult and geschrei was a smokescreen, but in point of fact, Trump won the contest on substance. Plus a couple of crucial things perhaps damaged the already brain-damaged Biden, if not sealed the deal for any undecided voters (how is that even possible?) intelligent enough to be paying attention.
Biden shrieking at Trump to "shut up, man!" was bad enough, but his refusal to answer the question of whether or not he would pack the Supreme Court made for a deer in the headlights moment that caused Biden to melt down. Of course that's when John Podesta, er, Chris Wallace jumped in and said "Gentlemen, I think we've ended this."
Secondly, this was a self-inflicted dick-punch that may leave Biden kissing the canvas come November:
On multiple policy issues, Biden broke with the Sanders-wing of the Democrat Party. Despite calling the Green New Deal a "crucial framework" in his global warming plan, Biden announced that he no longer supports the Green New Deal at the debate.

"No I don't support the Green New Deal," Biden said.

On healthcare, Biden seemingly took a veiled shot at Medicare for All, a fixture of progressive Democrats' agenda during the Democrat presidential primary. Fending off concerns about Medicare for All, Biden said "Right now, I am the Democratic Party."

Similarly, on progressive Democrats' plan to defund police departments, Biden denounced the Defund the Police movement that has spurred a number of riots across the country.

"I'm totally opposed to defunding the police officers," Biden said.

Biden's ditching of the progressive Democrats' largest policy ideas comes as leftist activists are vowing to fight him if he is elected.
So, after even Bernie Sanders, Toothy McBigTits and all the other dangerous crackpots had to prostrate themselves before the DNC and beg their cadres to get out and vote for the ventriloquist dummy pretending to be "moderate," many of whom were incensed that their candidate was courting the votes of (gasp!) white oppressors in flyover country, the dummy tells them to FOAD on national TV with a "l'etat, c'est moi!" proclamation.
Yes, I'm sure many Lefties understand it was a "nudge-nudge wink-wink" routine so Biden can appease the rubes. But the enthusiasm gap for him is as wide as Nadler's waist. Remember that these are the same people (on paper) pulling down statues, burning down cities and shooting police officers. I don't think they're in the mood to play politics. And don't expect Bernie to get on TV later today saying "don't listen to what he said; he was faking it!"
Lastly, the declassified letter from DNI Ratcliffe showing that the Russia collusion hoax was indeed not just a hoax but an orchestrated smear campaign and then coup attempt to derail candidate and then President Trump is going to loom large as we head into October.
When the subject of a "transition" came up (based on Biden's assumption that he will win), Trump stated that he'd been denied a transition period. Instead, there was a coup attempt (emphasis mine): There was no transition because they came after me trying to do a coup. They came after me spying on my campaign. They started from the day I won and even before I won. From the day I came down the escalator with our First Lady. They were a disaster. They were a disgrace to our country. And we've caught 'em. We've caught 'em all. We've got it all on tape. We've caught 'em all.

Maybe Trump's exaggerating, but I don't think so. And maybe he's going to keep that evidence secret, but I don't think that either.

My guess is that this October, the Trump administration is going to release one piece of evidence after another showing that the Democrat party, from Hillary to Obama, and from the FBI to the CIA to the DOJ, and everywhere in between, engaged in a massive, seditious conspiracy to overturn the results of the 2016 election. Indeed, the information cascade has already begun with the release of DNI John Ratcliffe's letter about Hillary's conceiving of the Russia hoax.
Overall, at the very least Trump did himself no harm, certainly not with the base, and in all likelihood confirmed the fact that there is indeed media bias against him. About the only positive thing about Biden was that his team of gerontologists from the Mayo Clinic and the embalmer at Gateman, Goodbury and Graves made him appear almost lifelike. Otherwise, with the assistance of Chris Wallace, he came across as crude, loud and abrasive, forcing Trump to increase his volume. But Trump's volume did not diminish in the slightest the absolute veracity of his points. Biden's bald-faced lies were debunked and swatted away with ease. Looking ahead, I thought I saw somewhere that Skeletor Carville is already saying that there should be no more debates. From my perspective, if Chris Wallace is allegedly the "pro-Republican" moderator, it can't get any better for Trump, or Pence, going forward. Not that that really matters to either, I should think. Pence acquitted himself well against Tim Kaine and Kamala Harris intellectually is void. Her being black-ish an female might be her only defense insofar as any attacks from Pence will no doubt be called racist and sexist.
Looking ahead, we're now just over a month from Election Day. Debates or not, Biden being treated as a medical experiment, no matter how he looked and sounded last night, has got to have taken a toll. Now that they've messed up his circadian rhythm, he has to spend another 10 days putting a lid on the campaign at 9:00AM just to get back to normal - meaning "sundowning" by mid-afternoon. Much as I loathe the guy, this is dictionary-definition cruelty.
But as stated, Biden's biggest lies were not about Trump; they were the ones he told pimping his phony moderation. And that was also his biggest gaffe - pissing off his base. It perfectly illustrates an incontestable political truth: in order for Democrats to get elected, they have to lie about who and what they really are. Given what we have seen and experienced over this past year, that is increasingly harder and harder to do.
My verdict: Clear advantage Trump.
* * * * *
In other news...
- The military conflict that flared up between Azerbaijan and Armenia is threatening to spread as Turkey allegedly is getting involved on the side of the former.
- Sean Davis and Mollie Hemingway on the bombshell declassification of the DNI letter implicating Hilary Clinton and Barack Obama colluding to destabilize and overthrow Trump.
- More analysis of the Amy Coney Barrett nomination and what her seating at SCOTUS could mean both positive and negatively.
- DeBolshevik announces totally unconstitutional mask mandates and Gestapo agents on the streets to issue fines for noncompliance. Naturally, the largest potential target is the city's orthodox Jews.
- More on the plot to steal the elections via ballot harvesting, with the focus on Bro-Fo Omar/Nur and the madness in New York.
- Tulsi Gabbard wants to end ballot harvesting. Can you imagine if the Dems nominated her? Meh, non-starter; she's actually semi-normal.
-The US military is completely polluted with the SJW poison.
-A rather critical look at some of the failings of the MAGA agenda.
Have at it.


ABOVE THE FOLD, NOTEWORTHY, BREAKING
"If true, this would represent a substantial escalation of the fighting between Armenia and Azerbaijan that has already claimed nearly 100 lives in just three days, per the BBC. Turkey has publicly backed Azerbaijan from the start, and allegedly started sending Syrian rebels to Azerbaijan in recent days."
Armenian Jet Allegedly Shot Down by Turkey as Conflict Escalates in the Caucasus

Sean Davis & Mollie Hemingway: "This increased the likelihood that the Clinton operation -- and the FBI investigation that relied on Clinton-funded opposition research -- was tainted by deliberate Russian disinformation."
BOMBSHELL: Russia Believed Clinton Was Planning Anti-Trump Collusion Campaign In 2016, And U.S. Officials Knew It

DEBATE HIGHLIGHTS, LOWLIGHTS, ANALYSIS

"Candidates exchange insults as Biden tries to distance himself from leftist agenda."
Trump-Biden Showdown in Cleveland

At one point during the debate, amid several arguments between Biden, Trump, and Wallace, President Trump said, "I guess I'm debating you, not him, but that's OK. I'm not surprised."Moderator Chris Wallace Receives Blowback After Rocky Debate Performance

"He attempted to bring the same assertive moderation style he had in 2016, but Biden and particularly Trump weren't having it, repeatedly speaking over one another and ignoring Wallace's attempts to bring the debate under control."
"Shit Show": Fox News' Chris Wallace Completely Loses Control of Trump, Biden in First Debate

"You just lost the Left."
Biden: "I Am the Democratic Party Now"; Trump Delivers Blow in Response

You have to believe a significant number of hardcore Lefties were not amused, and will not be enthused come November.
Joe Biden Ditches Bernie Bros at Debate: Denounces Medicare for All, Defund the Police, Green New Deal

"It was hard to keep track of things during the debate but, if you paid attention, each candidate made a shattering statement that affects everything about U.S. politics."
Two Crucial Things Emerged from the First Presidential Debate

"Will you shut up, man?"
Biden Tells Trump To "Shut Up," Calls Him "Racist," "Clown," Not "Presidential"; Chris Wallace Runs Interference

"This was not the Lincoln-Douglas debates. It was more like mud-wrestling."
The Cleveland Brawl: First Presidential Debate Was a Cage Fight

Michael Goodwin: From the git-go, the president was determined to rattle Joe Biden by being a persistent interrupter, rarely letting the former vice president finish two consecutive sentences. On occasion, his interjections were smart, but mostly, they made him look boorish."
A Hot Mess of a Debate, and a Bad Plan by Trump

Not only did Biden dodge the question, but he lost his cool about the issue, and then accused his opponent of being unpresidential right after he said, "Would you shut up, man?"
Debate Recap: Trump Wins, Biden Doesn't Faint, Chris Wallace Goes Down Hard

"Contrary to Biden's claim, a Senate report released on Sept. 22 that revealed the wire payment, which was made to Hunter Biden's company in 2014, has not been disputed."
Trump Goes After Joe Biden Over Son's Role At Ukrainian Energy Firm, $3.5 Million Wire Payment

"Who do you have? Name one group that supports you."
Biden Can't Name Single Law Enforcement Group That Supports Him

"Not to insult you, but you really shouldn't use the word smart..."
Trump's Funniest Moments During the Grudge Match Debate

"... if Trump wins a large share of the Latino vote, he stands to win the electoral votes of Florida and Arizona, and also gain an extra slice of voters in Texas, Georgia, and New Mexico."
Spanish-Language TV Viewers Say Donald Trump Beat Joe Biden

If you don't watch the debate, you ain't black?
Blacks Twice as Likely as Whites to Say 2020 Presidential Debates are "Very Important" to Their Vote

JOE BIDEN'S 50-YEAR RAP SHEET

"Mary Ellen Bork, the widow to the late federal Judge Robert Bork, wrote a response to an article in the Wall Street Journal reminding readers of Joe Biden's role in her husband's failed confirmation."
Bork Widow: Biden "Orchestrated a Vicious Lying Assault," a "Man Without a Compass, Guided Now by Prevailing Progressive Winds"

SCOTUS-PEACHMENT, SHAMPEACHMENT, CLINTON/OBAMA COUP, CONGRESSIONAL PERSECUTION, SPYGATE, DEEP STATE, MUELLER DECEPTION

"Comey will be grilled about some of those findings during a Senate Judiciary Committee hearing on Wednesday."
10 Questions James Comey Could Face During His Senate Testimony: Analysis

""It is not surprising that members of the Special Counsel's Office did not always agree, but it is disappointing to hear criticism of our team based on incomplete information."
"Disappointing": Mueller Defends Trump Probe Against Criticism From One of His Own Prosecutors

CIVIL WAR 2.0: LEFTIST REIGN OF TERROR, WAR ON POLICE

"This is the media creating this picture, this face, this imaginary -- like the Wizard of Oz."
Chicagoans Blast Black Lives Matter: "Not an Authentic Black Movement"

"...a former juror complained that 'certain questions were left unanswered' and suggested that information presented to the grand jury was different from what Cameron presented to the public."
Kentucky AG Will Release Information Presented to Breonna Taylor Grand Jury After Juror Speaks Out

"Disheartening to see a U.S. Senator and a candidate for vice president give such high praise to a group that is trying to destroy our country."
Coalition of Black Pastors Rips Kamala Harris for Celebrating "Brilliance" of Black Lives Matter Founders

"The situation was clearly self-defense, and Kyle and his family will undoubtedly need money to pay for the legal fees. Let's give back to someone who bravely tried to defend his community."
Christian Group Raises $500,000+ for Kenosha Shooter Kyle Rittenhouse

"Once the police are gone, nothing can stop the mob."
Private Property: The Final Showdown

AMY CONEY BARRETT SCOTUS CONFIRMATION

"If a strict constructionist Supreme Court strips decades of leftist overreach from the government, it could ignite an American renaissance."
Turning the Clock Forward

"Barrett is a devout woman but has indicated in the past that her personal beliefs cannot interfere with her judicial opinions. And that spells trouble for those who would dearly love to see Roe on the dustbin of history."
Conservatives Should Be Careful What They Wish for in Judge Amy Coney Barrett

Larry Elder: "This is the Supreme Court, not a suggestion box."
Democrats Want Trump Not To Nominate RBG's Successor; Cue the Laughter

"Yet the left presumes that adoption, and a household bursting with happy children, must be antithetical to success or good parenting."
The disgusting War on Amy Coney Barrett's Family

"Let's apply the Democrats' proposed 18-year limit on Supreme Court justices to several prominent members of the Democrat Congress and see where the chips fall."
Democrats Want Term Limits for the Supreme Court But Not Themselves

CHINESE CORONAVIRUS FICTIONS, FACTS AND AMERICA IMPRISONED

"Anyone who is not wearing a face covering will be offered one, will be reminded it is required, and anyone who refuses to wear a face covering will be told that if they don't put one on they will be fined, and anyone who still refuses will be fined," he explained, noting that it will "happen aggressively." (fuck you, you loping hunk of piss - jjs)
DeBolshevik Announces Mask Patrols to Fine Offenders: "That Will Happen Aggressively"

"One plaintiff, Hayley Reed, the mother of a special needs child with speech delays, says her child has regressed due to shutdowns and lack of access to therapy."
New York State Parents File Lawsuit Against Angel-of-Death Cuomo for Forced Masking and Chinese COVID Restrictions

"I mean, there's a very high correlation between obesity and [Chinese] COVID deaths. And one of the reasons the United States has had more of a problem with [Chinese] COVID is simply that the comorbidities like diabetes, heart disease, high blood pressure, they're just higher in the U.S."
Whole Foods CEO Blasted For Condemning American Obesity, Linking It to Chinese COVID-19 Deaths

Does it really matter?
Updated CDC Data Show 2nd Chines COVID Death Peak Was Week That Ended August 1

"I'm a physician who works across central Kentucky. We're all fighting to end the [Chinese] COVID-19 pandemic. But trial lawyer Josh Hicks is looking to make a quick buck, suing hospitals who are treating [Chinese] COVID patients. Hicks even filed a lawsuit against a company developing a vaccine against [Chinese] COVID-19."
Rep. Andy Barr Hits Dem Trial Lawyer for Undermining Chinese Coronavirus Care

"Now it is time for the vice-president to finally receive his due for a job well done."
Mike Pence's Superb Chinese Coronavirus Response

DEMOCRAT-LEFTIST SCANDALS, CRIMES, CHUTZ-POCRISY, MESHUGAS

"Schaitberger to exit firefighters' union in January as spending investigation continues."
Top Biden Labor Ally Drops Reelection Bid Amid Federal Probe

PHONY DEMOCRAT ELECTION-STEALING POSTAL SERVICE SWINDLE, ELECTION FRAUD IN GENERAL

"Twenty years on from Britain first introducing mass mail-in voting, and half a decade since one of the most outrageous electoral fraud cases the Western world has ever seen, the United States of America is seeing the same third world politicking on its shores."
Major UK Electoral Fraud Case Was Precursor To Bro-Fo Omar/Nur Cash-For-Ballot Scandal

"The faulty ballots were sent to an unknown number of voters in Brooklyn and could result in ballots being voided if voters sign their own name on return envelopes bearing different names."
New York City Residents Receive Absentee Ballots with Wrong Names, Return Addresses

"This is straight-up disenfranchisement and an affront to our democracy. The vendor screwed up and is trying to fix it. Let them!"
Angel-of-Death Cuomo Trying to Stop Board of Elections from Resending Botched Ballots

"The coming Supreme Court conflict over election law.
Bush v. Gore Redux?

The suit argues that Michigan's current policy risks placing "the resolution of the contest past dates Congress has set for" the so-called safe-harbor deadline for settling disputes of Dec. 8 and the Dec. 14 Electoral College vote.
Ex-Michigan Officials Sue to Stop Absentee Ballots from Being Counted if They Arrive After Election Day

"How many state delegations the Democrats win in this upcoming election could determine who our next president is."
Report: Malig-Nancy Pelosi Preparing For House to Decide Outcome of the Presidential Election

"Gabbard, a former presidential candidate, has shown an extraordinary willingness to buck the propagandistic groupthink in her party, and Democrats have not always appreciated it. Yet she is right to warn about ballot harvesting and voter fraud, and she even noted that the recent Project Veritas sting videos illustrate her point."
Dem Tulsi Gabbard Raises the Alarm: "Ballot Harvesting Has Allowed for Fraud and Abuse"

POLITICS, 2020 ELECTION

"President Donald Trump's pathway back into the White House is widening, as allies of the president see after a long and brutal summer of the president climbing back into contention in enough battleground states to seal the deal and win a second term."
Trump's Four-Tiered Pathway Back into White House with Electoral College Victory Widens

For what it's worth.
Harvard-Harris Poll: President Trump Gains 5 Points on Joe Biden in Past Month

Meh, two sets of books.
Biden, Harris Release 2019 Tax Returns Ahead of First Presidential Debate Against Trump

Rabbi Fischer: "When you're rich, you deduct -- that's how it's done."
Trump, Taxes, and Idiots

"The vice presidential nominee's connections within the Democrat Party span both the establishment and radical wings. How does she get away with it?"
How Kamala's Corporate Cliques Cover for Her

"DeBolshevik, who has been under fire for other issues, largely related to his handling of the [Chinese] coronavirus pandemic that centered on New York City, seized on the report to attack the president."
DeBolshevik Announces Investigation Into Trump Taxes, Says Trump Needs To Pay "Fair Share"

"American voters have a right to know whether he'll go along with his party's scheme to pack the Supreme Court if Amy Coney Barrett is confirmed."
Joe Biden Needs to Answer Questions About Packing the Supreme Court

"Given Democrats' behavior during confirmation hearings since Robert Bork, whose last name became a verb, this seems to be a ridiculous contention."
Clarence Thomas Should Not Recuse Himself from Election-Related Cases Because Joe Biden Was a Jerk in the '90s

Salena Zito: "The calculation Biden seems to be making is the same one Hillary Clinton made in 2016: Run up the numbers in Philadelphia and suburban collar counties, plus Allegheny County, and hope the rural vote remains unenthused."
Rural Pennsylvania Turns More Red, but Is It Enough for Trump?

"As swing states open their economies the president sees gains in the polls, but will it be enough?"
In Pennsylvania, There's an Opening for the Economy -- And Maybe For Trump

"Because if that's what you want, that's what we've got. It's just two pieces of evidence, but they're telling and compelling."
Do You Want More Evidence There May Be a Hidden Trump Surge

"Can Senate incumbent Steve Daines (R) hold on against two-term governor Steve Bullock (D)?"
Montana Senate Race: The Battle of the Steves

"The 'Make America Great Again' movement has become just another Beltway institution on autopilot, disconnected from the people on whose backs it was built."
MAGA, Inc.

AMNESTY, IMMIGRATION, BORDER SECURITY

Lloyd Billingsley: "While California courts delay his trial on triple manslaughter and felony DUI charges."
Feds Send Criminal Illegal to Prison on Gun Charges

FIRST AMENDMENT, CENSORSHIP, FAKE NEWS, MEDIA, BIG BROTHER

"'Everything he says is false,' NBC News quoted CDC Director Robert Redfield as saying of Atlas. That's just not true, top epidemiologists told The Federalist."
Media Gunning For Scott Atlas Because He Keeps Exposing Chinese Coronavirus Lies

"Theill frequently criticized the Catholic Church, accused Evangelical Christians of being "the American Taliban" on Facebook, and compared President Donald Trump and those who support him to Nazi Germany."
Media Amplified People of Praise Accuser Who Said Evangelical Christians Were "American Taliban" in Amy Coney Barrett Stories

"In Laurence Tribe's telling, the vice president's tie-breaking vote does not apply to judicial nominees. That is supported by neither the Constitution's text nor the Senate's historical practice."
Yes, the Vice President Breaks a Senate Tie on SCOTUS Nominees

Jeffrey Lord: "Republicans Voters Against Trump oppose a conservative justice."
The Lincoln Project Attacks Barrett Nomination

"Now Media Matters is deploying another useful idiot to run interference on behalf of these groups conspiring a 2020 coup."
a href="https://thenationalpulse.com/news/justin-horowitz-media-matters-july-4/">Media Matters' New Reporter Justin Horowitz Says He's Too "Woke" For July 4th

"If this is the big pre-debate 'gotcha' that the Democrats and their allies in Big Media had in mind, it's a bit of a flop."
New York Times' Trump Tax Return "Bombshell" is a Joke

"According to the question results, 89 percent of people answered that they, in fact, did not die from [Chinese] COVID-19, nor did anyone in their family or household."
Univision Poll Wants To Know: "Have You Died Because Of [Chinese] Coronavirus?"

"Andrew Sullivan showcases the double standards and intellectual dishonesty that have, until the rise of the #NeverTrump right, been the province of the left and their mouthpieces in the Democrat media complex."
The #NeverTrump Right's Intellectual Dishonesty

SECOND AMENDMENT

"Second Amendment groups rally behind Supreme Court nomination."
Barrett Nomination Could Signal End of Supreme Court Inaction on Guns

FOREIGN AFFAIRS, INTERNATIONAL

"Corruption is a way of life south of the border."
Corruption is Once Again the Talk of Mexico

DEFENSE, MILITARY, SECURITY AFFAIRS

"To reinforce the principles that strengthen our military, the Trump administration should vigorously enforce prohibitions on critical race theory programs."
The Military is Using Racist "White Privilege" Materials, and the Next Funding Bill Would Make it Worse

THE ECONOMY, STUPID

"When you own real estate, your taxes are more complicated than those of wage earners."
Tax Sux

CRIME & PUNISHMENT, NON-DOSTOYEVSKY

"Multiple people died during a possible 'hostage situation' in Salem, Oregon, Monday, police said in a press release."
Police Report Multiple People Dead After Hostage Situation

"A total waste of taxpayer dollars."
Implicit Bias Training: A Pseudoscience Scam

Daniel Greenfield: "A Black Lives Matter hero slashing a gay man created a conflict for Democrats."
Slasher City: New Yorkers Go Under the Knife

HEALTH AND HEALTHCARE

"They're trying to replay the 2018 elections with Amy Coney Barrett as the new villain."
Dems Can't Stop Lying About Obamacare

"The coincidence of infections by the two viruses in the population has the potential to be a perfect storm."
Flu Vaccination Is More Important Than Ever This Year

EDUCATION, AND WHAT PASSES FOR IT

"Vote comes days after student newspaper removed an ad from a pro-Israel group."
Columbia University Students Pass BDS Resolution

When all you have is nothing, everything looks like racism.
California School District Pushes "Systemic Racism" Agenda After a Rope Swing Was Mistaken For a Noose

ACTUAL SCIENCE, TECHNOLOGY

"NASA offers to buy Moon resources mined by private companies. Meanwhile, a Chinese company is launching asteroid-mining robot into space in November."
The Latest "Race to the Moon" May Really be a Race for Rare Earth Metals

Our intrepid science reporter says, "The UAE is going to send its own home-built rover to the Moon, by 2024 if all works out right."
UAE Leader Confirms Goal to Land Rover on Moon by 2024

FEMINAZISM, TRANSGENDER PSYCHOSIS, HOMOSEXUALIZATION, WAR ON MASCULINITY/NORMALCY

"When there is no G-d, something or someone becomes g-d to fill the void, leading to tragedy, and eventual societal collapse."
Denver Bishop: "Not Possible to be a Catholic in Good Standing and Support Abortion" or "Unnatural Sexuality"

CULTURE WARS, NATIONAL SUICIDE

"White people's motives are suspect, clearly."
How To Be an Antiracist Ibram X. Kendi Attempts to Discuss Racism of Cross-Cultural Adoption, Fails Miserably

"Rather than serve help heal the nation, critical race theory has proven to be poisonous to liberty, true community, and our common humanity."
Critical Race Theory is a Classic Communist Divide-and-Conquer Tactic

"Atticus leads with evidence. Crump leads with accusations of racism."
The Left's Unfortunate Turn From Atticus Finch to Benjamin Crump

"Spineless corporate drivel."
Liberals Furious at Crypto-Currency Company for Rejecting Overt Displays of Social Justice Activism

Christian Toto: "The streamer's staunch defense of the controversial film comes at a steep price."
Analyst Slices Netflix Subscriber Prediction by Half Thanks to Cuties Outrage

"Hogg tweeted a warning about using violence to 'seize power,' but quickly clarified that he only denounces violence from 'young white people.'"
Little Shitler Camera Hogg Apologizes For Denouncing Violence, Saying His Message Only Applies To "Young White People"

"The current fashion of wokism is a descent into tribalism at best, nihilism at worst."
The Way to Perdition

"Status ambiguity across social structures has heightened the likelihood of violence in the United States."
A Primal Struggle for Dominance
NOTE: The opinions expressed in some links may or may not reflect my own. I include them because of their relevance to the discussion of a particular issue.
ALSO: The Morning Report is cross-posted at CutJibNewsletter.com if you want to continue the conversation all day.
Follow us on Twitter: @CutJibNews
Follow us on Instagram: @Cutjibnewsletter


posted by at
07:08 AM
|
Access Comments
Recent Comments
Recent Entries
Search
Polls! Polls! Polls!
Frequently Asked Questions
The (Almost) Complete Paul Anka Integrity Kick
Top Top Tens
Greatest Hitjobs