« Saturday Gardening and Puttering Thread, October 3, 2020 [KT]
|
Main
|
Saturday Afternoon Chess thread 10-03-2020 »
October 03, 2020
Ace of Spades Pet Thread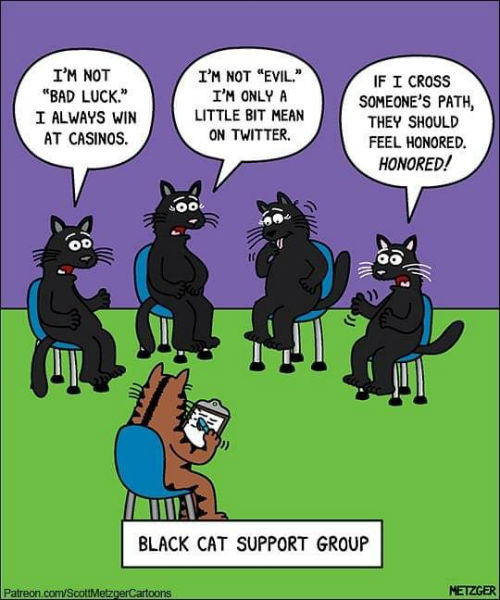 (H/T Ladyl)
***

Good afternoon and welcome to the almost world famous Ace of Spades Pet Thread. Enjoy the world of animals for a couple of hours today.

***
A Little of This. A Little of That.

Where there is a will, there is a way. Glad one of my dogs isn't watching this video. He's a horrible counter surfer.

(H/T BeckoningChasm)
***
In today's world of chaos. Enjoy, laugh and be happy.
***
Helpful tip to keep your feline away from your keyboard. Yes, yes, it is safe and humane.
***
Meet The PetMorons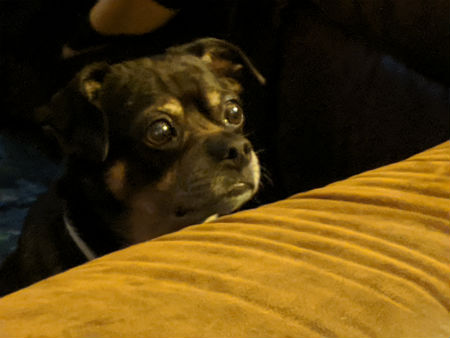 My sister's pug Buster. Older than dirt. Survived a blown ACL, kidney failure and a vet saying "it's time" a few years ago. Lived thru multiple hurricanes and wild barn cats, enjoying life to this day on a diet of specially-cooked chicken and daily insulin shots. This dog eats better than most of us do. Here he is pretending to be sad waiting for a lift up to the couch, because you know, blown knee. Very happy and pampered dog. - Brian in New Orleans
Sounds as if Buster might have 9 lives as well. He certainly appears to be neglected and in need. You and your sis keep up the good work. Thanks for your contribution today.
***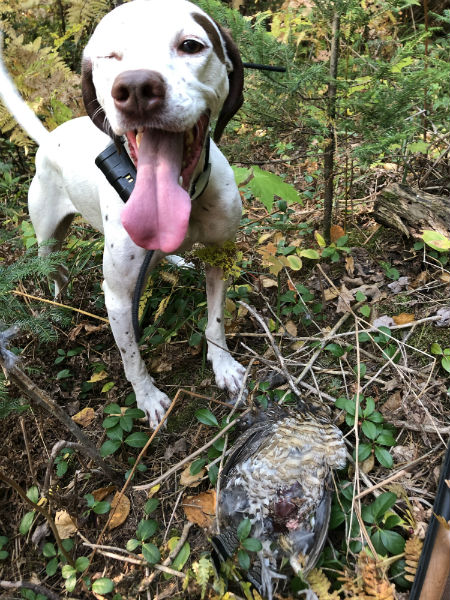 Hi MisHum,
Not sure if this photo would be acceptable for the animal lovers on the pet thread, but I think it might be a "first".
We were hunting this week north of you and you can see Gravy is proud of her hard work, both of us fighting through the early season bracken ferns. She is a 5 year old English Pointer, all muscle. -"clutch"
Personally I love hunting grouse, "rockets with wings". Especially difficult until October when the leaves are off. Gravy appears to love his hobby. Good on you. We appreciate your submission today.
***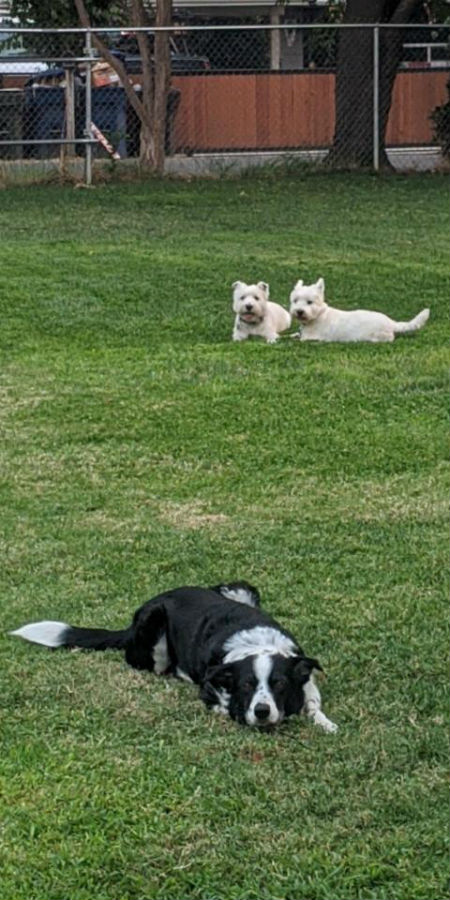 Hi Mis Hum!
Riley (the Border Collie in the foreground) has been featured before on the Pet Thread with his Westie, Haggis (background, left. plotting mischief). To the right of Haggis is his brother/litter mate, Comet, who came to live with us almost a year ago. Comet's first family could not keep him and, much to Riley's horror and chagrin, we said 'of course we'll take him!'. Riley and his "biting lambs" spend hours cavorting in the yard and entertaining one and all. - The Butcher
When I first saw this photo I giggled. I could just imagine the 2 on 1 gang up dog wrasslin' matches going on. We are happy to hear that Comet got to go to a great home.
***
This is my Belgian Malinois, Freya.

She is a Cinco de Mayo baby, so she just turned two on May 5th.

I was her fourth owner in her first sixteen months. She was with a Marine for 14 months, who then got recalled to the war and had to turn her in to fosters.

A couple of failed fosters later (waaay too much energy for kind and well-meaning folks who didn't know how to handle a Mal) she wound up in my hands, as the foster program knew my male German Shepard had recently passed.

Smart and athletic are inadequate descriptors for these dogs. She knows her commands in English, German, and sign, and will go home, be a lady (sit down and stop whatever you're doing), and put herself to bed on command.

I'm single with no kids and treat our situation as a vertical master-servant relationship, so no baby talk and no bribing or rewarding with treats (her treats are ice cubes out of the water bowl). We walk or run three times a day during the week and five on the weekends.

In short, if you have young kids or don't want to invest the time and effort to train and work them, *please* don't get a Malinois.

But if you can make that investment and enjoy such things it pays for itself many times over.

Thank you for spotlighting all the wonderful animals each week, you're doing God's work and so are the posters who adopt them.

Best regards,
Blacksheep
First of all, thank you for such a fine compliment. Freya and her master are very intelligent and hard workers. A beautiful dog and a wonderful ending to her story. Hopefully you have many wonderful years together.
***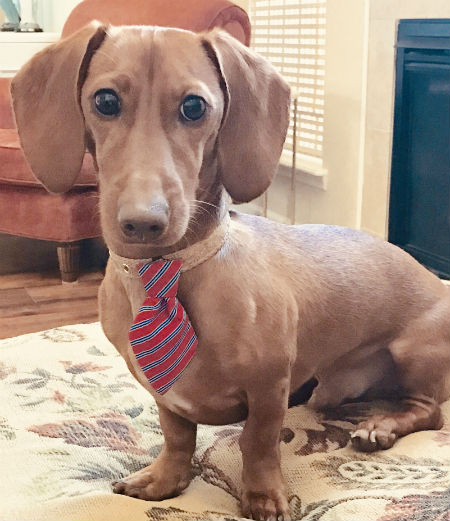 Here is our 5 year old mini doxie, Frankie. Now that our children are grown, he is our baby. This pix was on President Trump's Inauguration Day. As you can see, he dressed for the the occasion.

We are praying he can dress for President Trump's next Inauguration Day in 2021. - Cheryl
Frankie is not only cute but a fashionable dresser. He looks like an angel, but I bet you have some stories to the contrary. Thanks so much for sharing with us.
***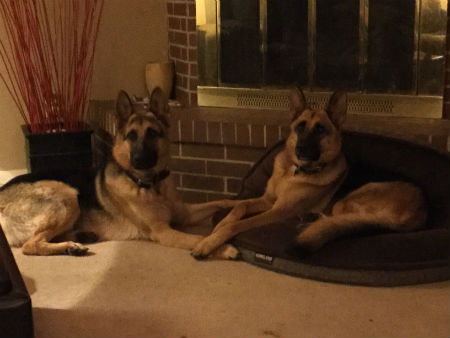 Ava & Günter love Saturdays and the Pet Thread!
And I love seeing everyone's pets. - Robert
A very nice pose and quite a stunning pair of German Shepherd Dogs you have there Robert. Thanks for sharing them with us today.
***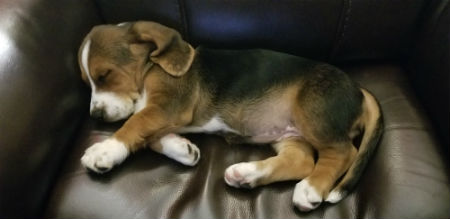 Long time lurker/sock puppet Beefy Meatball reporting in on our new family member, Sophia Lucille aka Sophie. The boss and I snuck up to Frisco, Texas, when the lockdowns started falling, and met a very nice family with a rare problem: a bunch of adorable basset hound puppies. The boss cuddled our new cutey and cried halfway back to San Antonio. We'd forgotten puppies are basically babies with razor sharp teeth and a thirst for human flesh.

Six months later, I am proud to report no fresh wounds or scarring on my forearms.We spent ~ 2 months RV'ng between here and Colorado- Sophie did great on the road and at the campgrounds. She loved meeting all the people and pets, taking long adventure walks, and splashing around in the water. We'll soon schedule her for doggie daycare for socialization, nipping separation anxiety in the bud, and giving us a break!
OMG how cute and adorable, PUPPEH!!! How can that cutie be such a ravenous arm chewer? Good luck with Sophie over the years. It sounds like she's in a wonderful home. Thanks for sharing.
***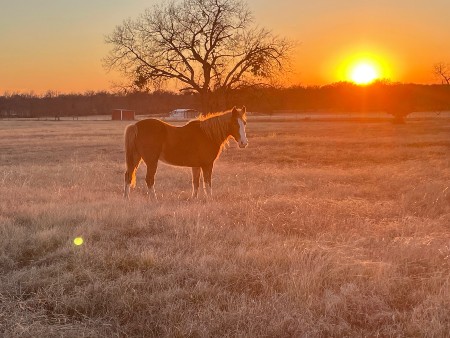 Here is Storm. He's a 3 year old Pomsky, hanging with his bff Freedom, an 11 year old Siberian cat who thinks he's a dog. Storm is not a fan of commies and liberals(birm) and wants to keep America great - Scot
Clearly a pair of PetMorons if we have ever seen PetMorons. It looks like you spend a considerable amount of time grooming those critters. We appreciate your contribution today.
***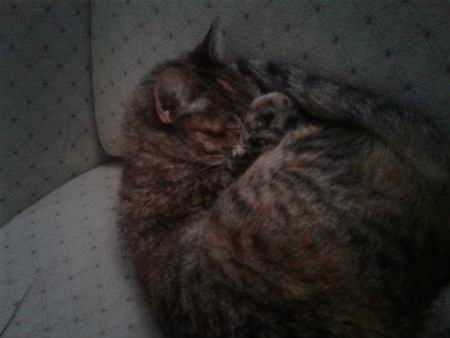 Skip's departed Cinnamon. Cinnamon made one of the firsts ( ok around 6th week) of the pet thread but thought to send one last how she was the last years as the best lap kitty
My coffee won't be the same on weekends - Skip
Awww Skip, so sorry to hear of Cinnamon's passing. Sounds like she was one hell of a companion. We hope your coffee time gets better.
***
I came across this foto recently. I don't know your policy on timeliness of fotos; is
54 years ago too much?

A bit of nostalgia. This is Fink (or maybe Funk), having just given birth to her litter,
back in Jan 1966. Her bedding is some old parachute cloth.

As an explanation, I was in the Army at the time, and went on Temporary DutY (TDY) from Korea
to the bowels of SE Asia, somewhere up in some country. When we got there, our predecessors
had adopted two very pregnant dogs (Fink and Funk), and they presented us with their
litters (5 and 2) about two weeks after we got there. To even this up, I shuffled one of
these puppies to the other mother, and nobody seemed to care.

We eventually gave away all the puppies but one. He grew up nicely in the five months I
had remaining on my tour. I saw one of his brothers, at four months, and he was one-half the size.
I guess our table scraps were better than plain rice.

Sorry no other fotos; I'm not big on photography. - Dave
First of all Dave, thank you for serving your country. It is greatly appreciated. Secondly, we accept all pet photos from 5 days ago to 54 years ago. 54 years just might be our oldest submission. What a neat story in a not so neat a place. We really appreciate you sharing this unique story.
***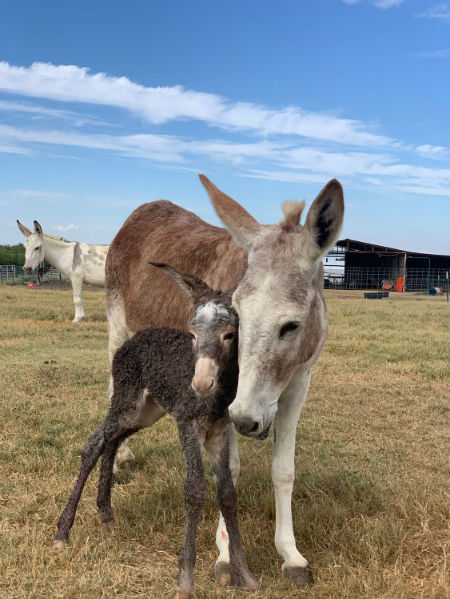 Meet Baby Bean and his mom, Jelly Bean. These pictures were taken shortly after he was born. While I was waiting to start a new job, I volunteered to do the early morning baby watch. After many hours of back runs and ear scratches, she gave birth while I wasn't there - go figure. Baby was clearly all legs. He is now a year old and likes to snuggle. - MW in Texas
Of course that is how it goes. Something about a watched kettle never boils or a baby isn't born. Something like that. What a cute baby. Thanks for sharing.
***
Once again the Horde demonstrates wonderful kindness and love of their pet friends. What a wonderful group again today. Thank you for your submissions.
If you have a story, link, pet or something else pet related, please feel free to contact us at petmorons at gmail dot com.
Until next Saturday, have a great week!

posted by Misanthropic Humanitarian at
03:00 PM
|
Access Comments