« Sunday Patriot Parade: Watch to the End
|
Main
|
Sunday Overnight Open Thread (9/27/20) »
September 27, 2020
Gun Thread: M1 Carbine Edition [Weasel]

Welp, I have been promising you people a video on the M1 Carbine for what seems like forever, and the planets finally aligned this past week and I was able to get 'er done! I really had meant to take care of ths sooner, but something always seemed to come up; running out of time at el farm-o, forgetting the ammo, forgetting the rifle... you know, the usual lame BS.
Anyhoo, let's take a peek below and see how it turned out, shall we?
The M1 Carbine is a great little rifle and it is a lot of fun to shoot! As I said in the video, mine was made by the Inland Division of General Motors in 1944. I found it online in 2012 and paid around $800 for it, which at the time seemed about the going retail price. I haven't checked values recently, but suspect they're going for more than that in decent condition. Prices aren't likely to go down anytime soon, so if you see one, grab it!
Manufacturers
Always of considerable interest to me is the list of companies who produced rifles and other war materiel under wartime contract. Manufacturers of the M1 Carbine included:
- Inland Division, General Motors
- Winchester Repeating Arms
- Irwin-Pedersen
- Saginaw Steering Gear Division, General Motors
- Underwood Elliot Fisher
- National Postal Meter
- Quality Hardware Manufacturing Corp.
- International Business Machines
- Standard Products
- Rock-Ola Manufacturing Corporation
- Commercial Controls Corporation
Does anyone else find the wartime production conversions from automobiles, typewriters, postal meters and juke boxes to rifles interesting?
American Rifleman: M1 Carbine
Book: M1 Carbine Wartime Production
Book: M1 Carbine Owners Guide
War Department Field Manual - U.S. Carbine, Caliber .30, M1
Book: M1 Carbine Assembly/Disassembly/Maintenance Manual
Sight Radius
In the video, I mentioned sight radius and gave an over-simplified explanation of the concept. It's a topic which is little more involved than I described, and applies to all weapons with iron sights, both handguns and rifles, alike. It also happens to tie in nicely with the discussion we've been having lately on iron sights and making adjustments to them. To clarify a point I made in the video, a weapon with a longer sight radius is not inherently more accurate but it makes it easier to shoot them more accurately than a weapon with a shorter sight radius. Small inaccuracies in sight alignment have a greater effect on target when using a shorter sight radius. Make sense?
The New Rifleman - Sight Radius
Shooting Range Industries - Sight Radius and the Effect on Accuracy
Pew Pew Tactical - Sight Radius: Why Does it Matter?
USA Carry - Sight Radius
These are just a few articles on the subject and I'm certain anyone interested in exploring the concept can find others.
******
First up our pal Brian in New Orleans sends us a picture of his recent range trip to his sister's place. Brian assures us the beer bottle was for the photographer, not one of the shooters!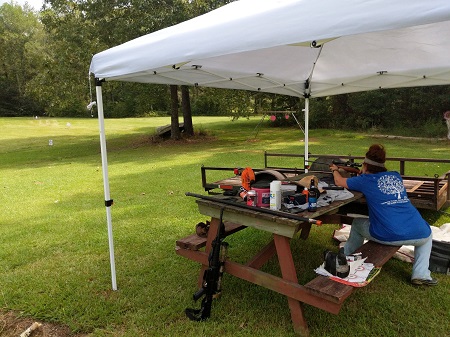 Went shooting this past week at my sister's place. First day off in 18 months and this trip was still delayed three times since early-August. Hurricane Sally still came while I was out there.

Here's my sister shooting a 60-year old Remington Scoremaster model 511 that's been by her back porch for a couple decades in case of a brave coyote. Leaning against the table is a Ruger 556 with discontinued Nikon 4-12x40 Coyote-special brush-camo scope that we got a great deal on from the clearance table.

Isn't that a great set-up? Steel plate at 100yds, paper at 50 and 25yds. Pink spray-painted steel plates for the pistols.
That sure is a great setup! Nothing quite like having a place to shoot of your own. I had to buy a damn farm to have that! Thanks for sending this to us Brian in New Orleans!
******
Next we have a pretty slick setup for securing your truck gun from our pal JT.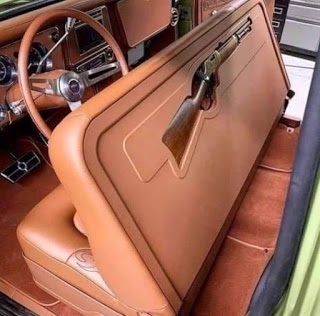 Is that sweet, or what?
******
And here's a sad story from our pal WTM that serves as a reminder to us all.
A friend of my wife's has a son, in his 40's, who had never been around guns thanks to Dad but married a woman who had. He then got a gun safe and a collection of handguns which he decided to clean one day.

I'm told that there were 3 identical pistols, probably semi autos then, that he had out to clean. It seems that one was loaded and the other two were not. He violated the first rule of gun safety, and began cleaning the loaded pistol. It discharged and the bullet struck the gun safe, ricocheting back and putting out one eye.

He is unemployed and has no medical insurance. There is one life ruined.

Naturally, my wife was in a panic about our own situation and I should be ashamed to say that I laughed at her. I told her that ALL of my handguns are loaded, both in and out of the safe, and even if they weren't I would treat them as if they were. I said that what happened with her friend's son was never going to happen here since I follow the rules of gun safety. I do clean guns frequently and have done so for over 40 years without mishap. Note that my long guns do not have a round in the chamber even though the magazine may be loaded.
I am fairly OCD when it comes to making certain a firearm is unloaded before I start to do anything with it, and even then always treat them as though they're loaded. Please, please, please make sure you follow the safety rules when handling any firearm. The eyeball you save may be your own. The rules aren't complicated. Follow them.
- Treat all guns as if they are always loaded.
- Never let the muzzle point at anything you are not willing to destroy.
- Be sure of your target and what is behind it.
- Keep your finger off the trigger until ready to shoot.
Thanks for the reminder, WTM!
******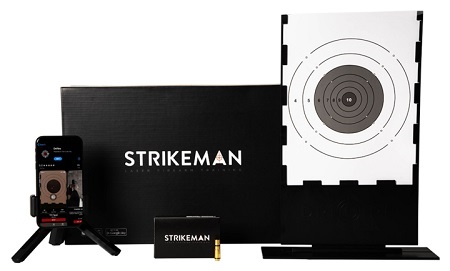 Next, our pal redc1c4 sends us a link for the Strikeman Laser Training System. This looks like another good indoor dry fire system, and it's available for pre-order now at $99 for an early October delivery. With ammo hard to find and expensive when you find it, a dry-fire trainer makes even more sense now than ever before.
Looks like a good deal and a smart investment, thanks redc1c4!
******
I'm pretty sure I need one of these:
******
Texas MoMe
The Texas MoMe will be here before we know it, I personally, I can't wait! Details are on the main page, left sidebar. Those of you wondering what all the fuss is about will simply have to attend one to understand. Fun doesn't even begin to explain it, and each year it just keeps getting bigger and better! There will be plenty of shooting opportunities, with dedicated handgun and rifle ranges.
Many of our fellow Morons are coming from around the country and for logistical reasons, may not be bringing their own gun or ammunition. Rest assured, there will be plenty of guns there for everyone to try, so if you are driving, please consider bringing a box (or two) of your favorite caliber ammunition to share. Thank you!!
******
Link-O-Rama
I'm really very seriously not kidding around anymore. Buy Ammo
AmmoSeek - online ammo search tool
GunBot - online ammo search tool
SG Ammo
Palmetto State Armory
Georgia Arms
AmmoMan
Target Sports USA
***Mail Bag***
I can think of several 'ette's here with these skillz! [h/t MisHum]


******
Please note the new and improved gmail account morongunthread at gmail dot com. An informal Gun Thread archive can be found HERE. If you have a question you would like to ask Gun Thread Staff offline, just send us a note and we'll do our best to answer. If you care to share the story of your favorite firearm, send a picture with your nic and tell us what you sadly lost in the tragic canoe accident. If you would like to remain completely anonymous, just say so. Lurkers are always welcome!
That's it for this week - have you been to the range?


posted by Open Blogger at
07:43 PM
|
Access Comments