« EMT 9/27/20
|
Main
|
Yes, We Are Better Off In Many Ways Than We Were 50 years Ago, But That Entirely Misses The Point »
September 27, 2020
Sunday Morning Book Thread 09-27-2020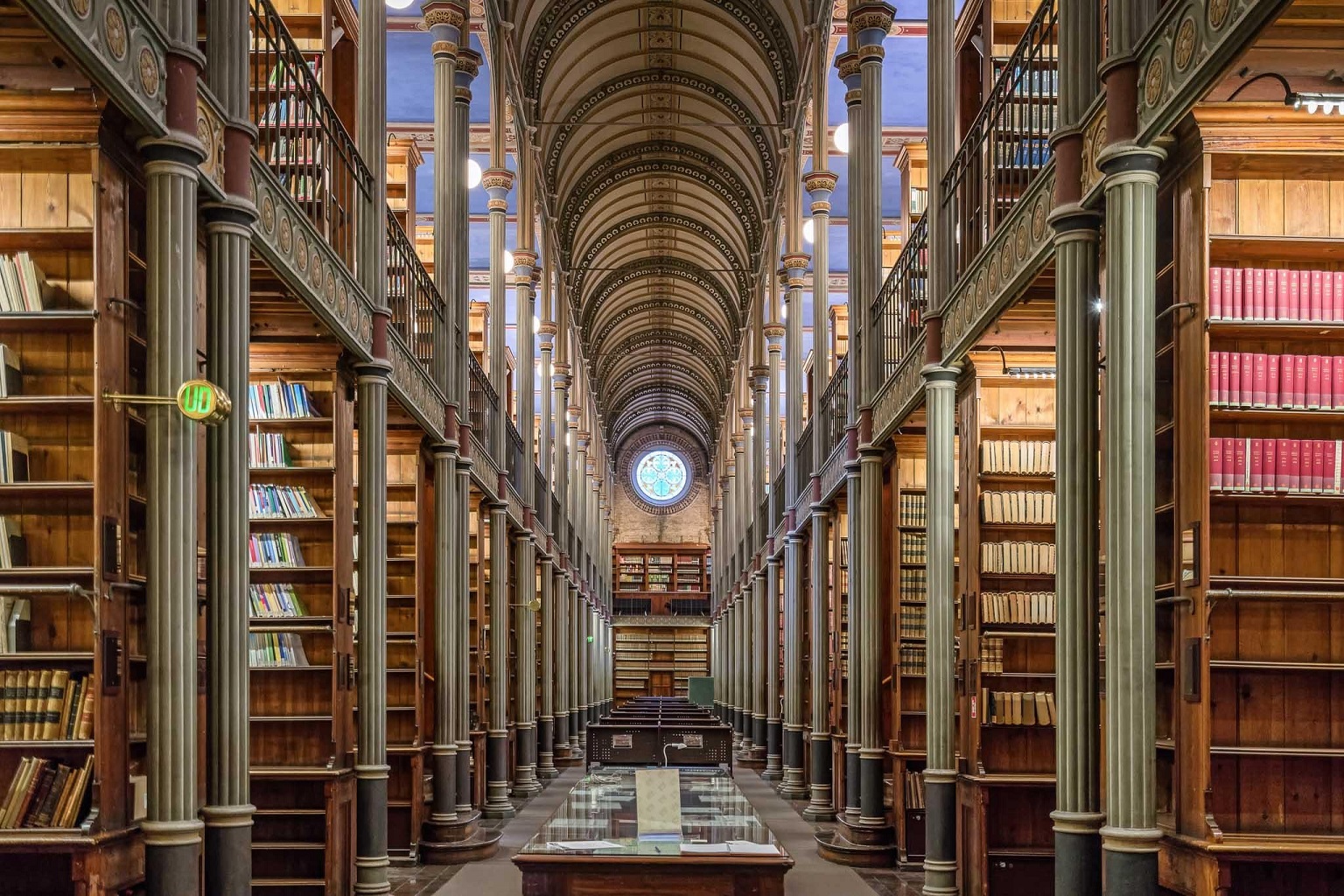 University of Copenhagen Library, Copenhagen, Denmark

Good morning to all you 'rons, 'ettes, lurkers, and lurkettes, wine moms, frat bros, crétins sans pantalon (who are technically breaking the rules). Welcome once again to the stately, prestigious, internationally acclaimed and high-class Sunday Morning Book Thread, a weekly compendium of reviews, observations, snark, witty repartee, hilarious bon mots, and a continuing conversation on books, reading, spending way too much money on books, writing books, and publishing books by escaped oafs and oafettes who follow words with their fingers and whose lips move as they read. Unlike other AoSHQ comment threads, the Sunday Morning Book Thread is so hoity-toity, pants are required. Even if it's these pants, which I guess look OK, but why pay $1200 for grass stains when I know any number of kids who will provide them for free?

Blog Note:
Thanks to moron commenter naturalfake for arranging to have Zombie Judge Roy Bean fill in for me last Sunday. The judge provided a number of interesting book recommendations and, from what I saw, he didn't have to hang anybody.


It Pays To Increase Your Word Power®
And you thought it was the Germans who had a word for everything: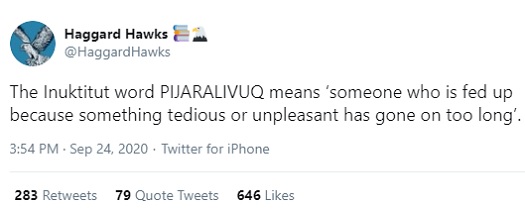 Also, if you could figure out a way to use this word in a Scrabble game, you'd make a yuuge score.


Whither American Civilization?
Since the Wuhan flu crap started, I've been drawn to reading books like Boorstin's "The Discoverers" and Hackett Fischer's books about the Founders, because I want to read books that celebrate our history and civilization rather than denigrate it. And also because I fear that in the near future authors like Boorstin and Hackett-Fischer and Barzun might very well be banned for being "white supremacist."

Posted by: Donna&&&&&&&&V at September 13, 2020 10:50 AM (HabA/)
A little over a year ago, I mentioned a new history textbook that does just this, i.e. it celebrates American history and civilization rather than condemns it. Land of Hope: An Invitation to the Great American Story is written by historian Wilfred M. McClay of the University of Oklahoma, which sets our country on a foundation of respect rather than contempt:
A great nation needs and deserves a great and coherent narrative, as an expression of its own self-understanding; and it needs to be able to convey that narrative to its young effectively. It perhaps goes without saying that such a narrative cannot be a fairy tale or a whitewash of the past; it will not be convincing if it is not truthful. But there is no necessary contradiction between an honest account of the American past and an inspiring one. This account seeks to provide both.
A much longer and more complete review is here.
Antifa/BLM scum lobbing fireworks and Molotov cocktails at police officers is what you get when you feed your kids a steady diet of Howard Zinn and other "f*ck America" academics. And I must say I'm a bit astounded that it took us this long for us to get a president who is willing to use the bully pulpit call out this poisonous miseducation for what it is.
Donna also says she has been reading From Dawn to Decadence: 1500 to the Present: 500 Years of Western Cultural Life, which has a grand vision:
Highly regarded here and abroad for some thirty works of cultural history and criticism, master historian Jacques Barzun has set down in one continuous narrative the sum of his discoveries and conclusions about the whole of Western culture since 1500.
And:
The triumphs and defeats of five hundred years form an inspiring saga that modifies the current impression of one long tale of oppression by white European males.
Donna mentions, as an example, Barzun's defense of Columbus:
Barzun notes that there were plenty of people in Spain - especially clergymen - who recognized the humanity of the Indians and denounced brutal treatment of them right from the start. It was NOT official policy of either Spain or Columbus to slaughter the Indian population. The problem was that official authorities in Spain had very little control over what individuals bent on becoming very wealthy did in the New World. The sort of personality types willing to sail off into the unknown and risk tremendous hardships were the same sort of men who ventured alone into the American West centuries later - very tough hombres and not infrequently that toughness crossed the line into ruthlessness. But, as Barzun also points out, the Indians themselves were hardly peaceful innocents - the Caribs encountered by Columbus had exterminated an earlier tribe. Barzun could say such things in 2001 and still get praised by critics at the NY Times and Atlantic. If he were still alive today (he died in 2012, close to his 105th birthday), he'd certainly have antifa brats picketing his house.
These are good things to think about as we are engaged in a pitched battle to determine the course of America's future. And anyone who says that America needs to be "fundamentally transformed", as Obama did in one of his early speeches, is on the wrong side.
Oh, and this just popped up in the Amazon margin, an American history book written for children: Your Life Belongs to You: A True Story About the Birth of the United States by Charlotte Cushman, who says:
For many years I presented this story to my class of Montessori children ages 2½ to 6. They loved it. I would only tell them a small part of the story each day as I laid out illustrations of the people and events in order of occurrence. I often gave them a cliffhanger so that they could contemplate and discuss what might happen next, as they eagerly awaited the next part of the story.

No child should be denied knowledge of the history of his country. It is important for children to understand that what people have done in the past has an effect on how we live now. They need to be able to connect the dots—to see which prevailing thoughts led to fights, what ideas led to prosperity, what actions led to other actions, and so on.

Our country has a unique history of men and women with the right ideas who had the integrity and courage to put those ideas into practice. If Western Civilization is to survive, this is a story that needs to be told and cannot be lost.
Emphasis mine. "Your life belongs to you" is a great one-sentence description of what America offers, particularly Europeans tired of being bossed around by various kings, lords, dukes, earls, etc.


Who Dis: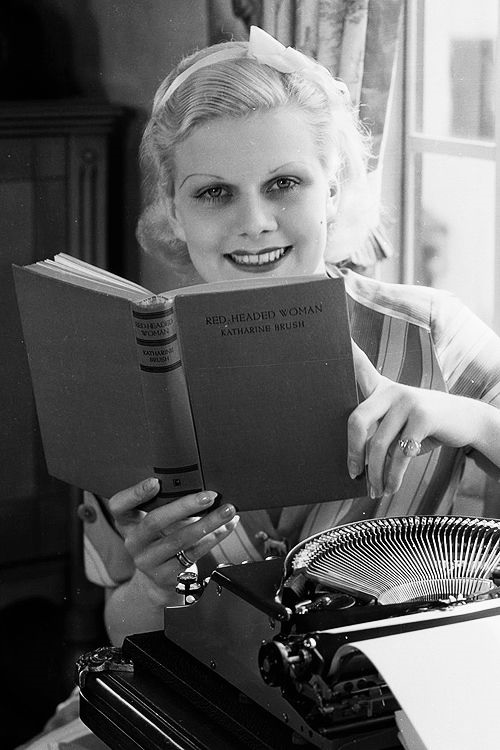 (Last week's 'who dis' was author
Frederick Kohner
and his daughter Kathy, the inspiration for his best-selling novel 'Gidget'.


How We Got Here
Here is a book that might raise some eyebrows: Primal Screams: How the Sexual Revolution Created Identity Politics by Mary Eberstadt and I almost don't have to quote the blurb because the title pretty much tells you everything:
As Eberstadt illustrates, humans from time immemorial have forged their identities within the structure of kinship. The extended family, in a real sense, is the first tribe and first teacher. But with its unprecedented decline across a variety of measures, generations of people have been set adrift and can no longer answer the question Who am I? with reference to primordial ties. Desperate for solidarity and connection, they claim membership in politicized groups whose displays of frantic irrationalism amount to primal screams for familial and communal loss.
This suggests that Ms. Eberstadt is perhaps building on her 2013 book, How the West Really Lost God: A New Theory of Secularization
The conventional wisdom is that the West first experienced religious decline, followed by the decline of the family. Eberstadt turns this standard account on its head. Marshalling an impressive array of research, from fascinating historical data on family decline in pre-Revolutionary France to contemporary popular culture both in the United States and Europe, Eberstadt shows that the reverse has also been true: the undermining of the family has further undermined Christianity itself.

Drawing on sociology, history, demography, theology, literature, and many other sources, Eberstadt shows that family decline and religious decline have gone hand in hand in the Western world in a way that has not been understood before—that they are, as she puts it in a striking new image summarizing the book's thesis, "the double helix of society, each dependent on the strength of the other for successful reproduction."
You can see the same themes running in both works.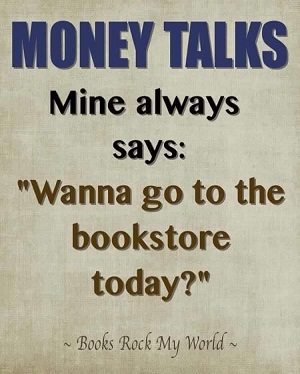 Moron Recommendations
38 I just began Edward Achorn's new book "Every Last Drop Of Blood: The Momentous Second Inaugural Of Abraham Lincoln" . Having listened to an interview of the author, in which he noted parallels between the struggles Lincoln faced and Trump faces every day, I was hooked. I even bought the hard cover edition, so I have high expectations!

Posted by: Huck Follywood at September 13, 2020 09:14 AM (gtNWf)
What's so great about Lincoln's second inaugural speech? In his book Every Drop of Blood: The Momentous Second Inauguration of Abraham Lincoln, Edward Achorn explains:
By March 4, 1865, the Civil War had slaughtered more than 700,000 Americans and left intractable wounds on the nation. After a morning of rain-drenched fury, tens of thousands crowded Washington's Capitol grounds that day to see Abraham Lincoln take the oath for a second term. As the sun emerged, Lincoln rose to give perhaps the greatest inaugural address in American history, stunning the nation by arguing, in a brief 701 words, that both sides had been wrong, and that the war's unimaginable horrors—every drop of blood spilled—might well have been God's just verdict on the national sin of slavery.

...A host of characters, unknown and famous, had converged on Washington—from grievously wounded Union colonel Selden Connor in a Washington hospital and the embarrassingly drunk new vice president, Andrew Johnson, to poet-journalist Walt Whitman; from soldiers' advocate Clara Barton and African American leader and Lincoln critic-turned-admirer Frederick Douglass (who called the speech "a sacred effort") to conflicted actor John Wilkes Booth—all swirling around the complex figure of Lincoln.
You can read Lincoln's speech here.
___________
23 Last week I responded to a comment about all the grimdark stories by recommending a couple of authors that write lighter and humorous fare, but that was kind of late in thread so I'm repeating it here. If you're looking for fun and funny books you should try A. Lee Martinez and the John Moore who's written books like A Fate Worse Than Dragons and The Unhandsome Prince and Heroics for Beginners.

Posted by: Cybersmythe at September 13, 2020 09:10 AM (qDSku)
Let's take a look at John Moore, who likes to take fairy tales and twist them around in humorous ways. Take, for example, The Unhandsome Prince:
Caroline's plan to live happily ever after has hit a snag. She's spent months mapping the swamp, building tadpole nets, and kissing every wriggling frog she could get her hands on, and one has finally turned into a prince. Unfortunately, Prince Hal is not, as promised in the fairy tales, particularly handsome. In fact, he's kind of dorky-looking.

Hal himself isn't very eager to marry a girl so obsessed with appearances, but he finds that a lot of people have a stake in his impending nuptials—including a sorceress in training, an irritating dwarf, and Hal's own royal family, who seem to have misplaced large portions of the treasury. But the biggest reason for him to marry Caroline, true love be darned, is that if he doesn't, it's back to the lily pads for him—permanently…
You get the idea. His other novels include Bad Prince Charlie and A Fate Worse Than Dragons. And the prices are $4.99-$5.99 each, so you're getting a good deal.
___________
'Ette commenter Catherine e-mailed in a rec:
A homeschooling mom I know personally has self-published an adorable little book for the tween set. She looked for an agent and was told that while the book was good, there wasn't enough about toxic masculinity or trans children to get a contract. :( So she went out on her own and got it done.
The book is titled White Rock Avenue: The Case of the Missing Lawn Mower and Catherine tells me:
The book is in the vein of Encyclopedia Brown with the heroine coming from a Catholic homeschooling family. I proofread it for her, and I laughed out loud a few times while reading it. I purchased it, and it has the ultimate seal of approval from my children in that the ones that read independently read it in one sitting. It's probably at the 10-12-year-old level for reading, but it would make a good read-aloud for the younger set as well.
Available on Kindle and paperback.
---
And here's another book for young adults that Amazon suggested, looks like fun, The Adventures Of Young John Quincy Adams: Sea Chase
Young John Quincy Adams befriends a boy whose father is illicitly buying weapons, finds a girl pretending to be something she's not, learns from a French doctor connected to a mysterious Committee, and discovers a British spy in search of something that might not be there.

In Sea Chase, bestselling author John Braddock has written a story of the American Revolution for young adults...

Inspired by the incredible true story of young Johnny Quincy Adams' first journey to Europe, Sea Chase is a novel of action, courage and resilience in the face of enemies, foreign and domestic.
$2.99 on Kindle.
___________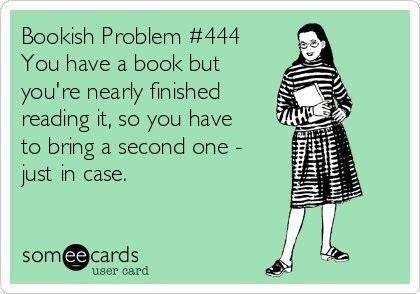 Books By Morons
Moron author Jerry Carroll has published a sequel to his 2014 book The Great Liars, a novel about some wild WWII shenanigans and whether Roosevelt knew about the impending attack on Pearl Harbor. The Greater Liars picks up the action where the first novel left off:
The madcap and harrowing adventures past and alarmingly present continue for roguish former Navy officer Lowell Brady and Smithsonian scholar Harriet Gallatin as government agents try to keep secret events just before Pearl Harbor that could bring down some very big names in the Capitol. It is early in the morning in 1953 when FBI and CIA agents rise from beach grass and fire at one another in an operation that has gone tragically awry. Pulling off a Bonnie-and-Clyde getaway, Brady continues his recollections of his wartime experiences as she tape records them with eyes on the rear view mirror as terror mounts on their endless cross-country flight from danger. Her dawning realization that Lowell is an adrenaline junkie who gets a charge from narrow escapes is making making her as nervous as a cat in a room full of rocking chairs.
Both novels can be purchased on Kindle for $2.99 each.
___________
So that's all for this week. As always, book thread tips, suggestions, bribes, insults, threats, ugly pants pics and moron library submissions may be sent to OregonMuse, Proprietor, AoSHQ Book Thread, at the book thread e-mail address: aoshqbookthread, followed by the 'at' sign, and then 'G' mail, and then dot cee oh emm.
What have you all been reading this week? Hopefully something good, because, as you all know, life is too short to be reading lousy books.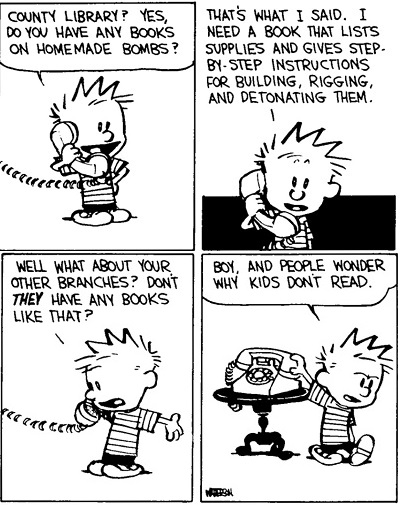 (I guess we're lucky that Calvin never discovered the
Loompanics catalog
.)

posted by OregonMuse at
09:05 AM
|
Access Comments