« First-World Problems...Part Setenta E Oito
|
Main
|
Gun Thread: Gimme Ammo Edition [Weasel] »
September 20, 2020
Food Thread: Form Follows Function, And Function Follows Form...Sometimes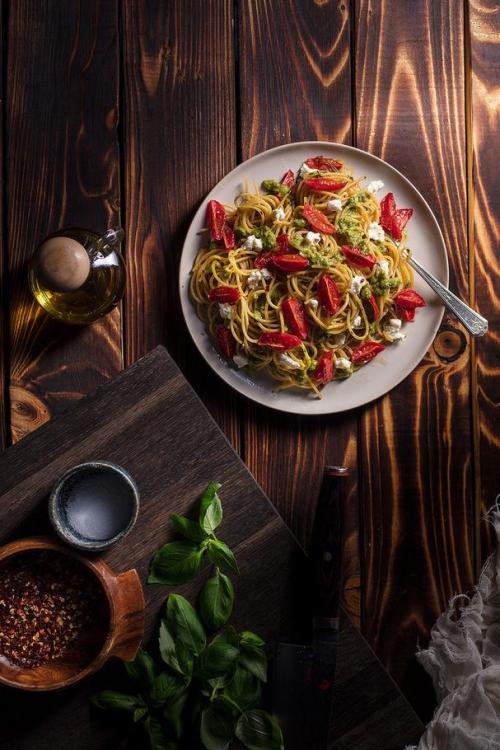 How many of you pay attention to the appearance of your food? You bakers just sit down...we all know you are fixated on that stuff! But I am talking about everyday foods, not gorgeous desserts. Salads with multicolored ingredients and garnishes for soups and plating carefully and all the other stuff that may not matter on the fork but certainly makes a difference in visual pleasure.
I was thinking about this a few days ago while I made Ina Garten's "Guacamole Salad," which is actually pretty damned good! She calls for yellow peppers, which are sometimes difficult to find, but set off the other colors of the salad rather nicely. I'm pretty slow on the uptake so it took me a few (dozen) times before I realized why she specified them.
And as much as I pooh-pooh that sort of thing, it is important, because the pleasure of the dinner table is more complex than the taste and texture of the food.
That being said, I have had plenty of meals that were not particularly appealing to the eye, but were magnificent in all other respects. And of course I have eaten my share of beautiful but tasteless foods.
You guessed it...I have no point; just an observation.
******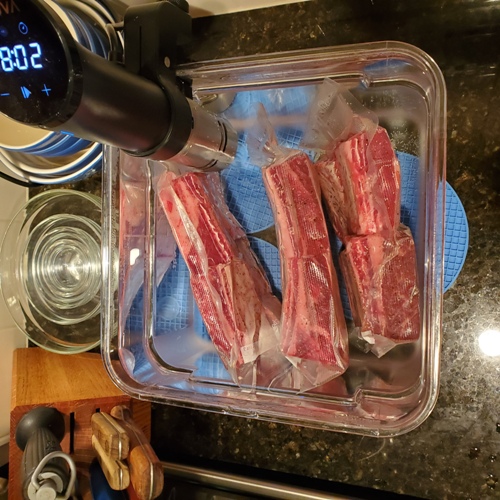 Since I almost never talk about Sous Vide I thought I might mention what I made for dinner on Friday night for Rosh Hashanah dinner. That's the Jewish New Year, and it is a festive and happy holiday.
And that's seven pounds of beef short ribs with about eight hours to go in a 48 hour cook. It was a really complicated recipe: salt, pepper, into the vacuum bag and forget about it for two days. Then I chilled them in several changes of cold water, took them out of the bags while saving the juices (I am giddy with anticipation of what I can do with that!), and when I was ready to finish them just popped them onto a very hot grill and crisped them for about six or eight minutes.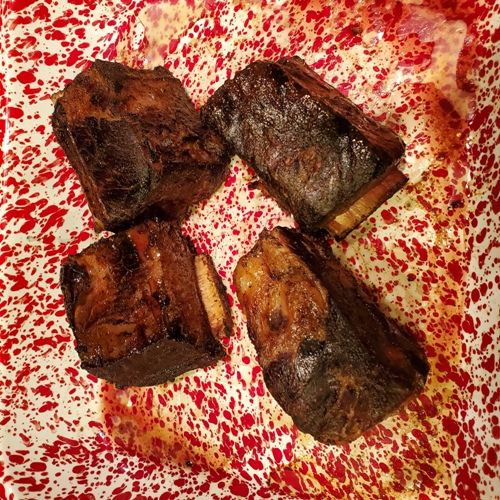 How did they turn out? They were spectacular. One of the best dishes I have ever made. And one of the simplest. I served them with a cauliflower gratin and some Oakland-style barbecue sauce, and they didn't need the sauce. Which was too bad, because it was a really good batch, without that ridiculously unbalanced bay leaf flavor that the recipe calls for. Four bay leaves? I put one small one in and pulled it out after five minutes and it was perfect.
Sous Vide lends itself to long and slow cooking. Sure, it works fine for quick stuff, but I think its real value for the home cook is to replace long and messy braises and roasts, and to render and soften fat in high-fat meats like the thick pork chops that are on the menu tonight at Chez Dildo.

******
I may have posted this a few years ago, but it is loads of fun, particularly "Crazy 'Bout My Bacon."
BBQ All Stars by Chris Cassone & Friends
Yup...he is a Moron!

******
What the hell is this? Does Big Bourbon have no shame? I sort of get the cinnamon-flavored stuff, because that is a flavor that can be found naturally in some bourbons. But chocolate?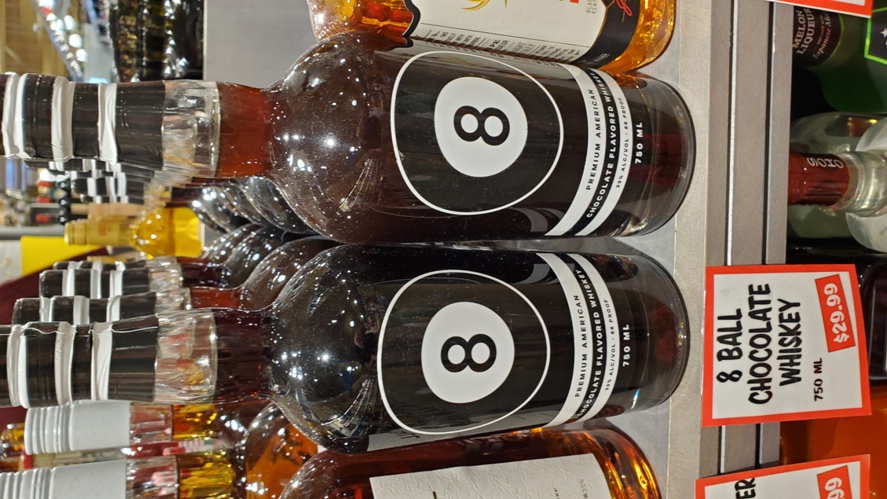 I'll bet it's syrupy-sweet and chemically and pretty damned awful. A cardboard membership without ampersands for the first Moron (and moron) to taste this stuff and report back.
Oh...$30? Really? There isn't a chance in hell that I would buy this, because for that much money I can get a pretty good bourbon that stands on its own, and then toss in some cocoa powder if I am really bored. And drunk. And stupid.

******
And speaking of adulterated booze...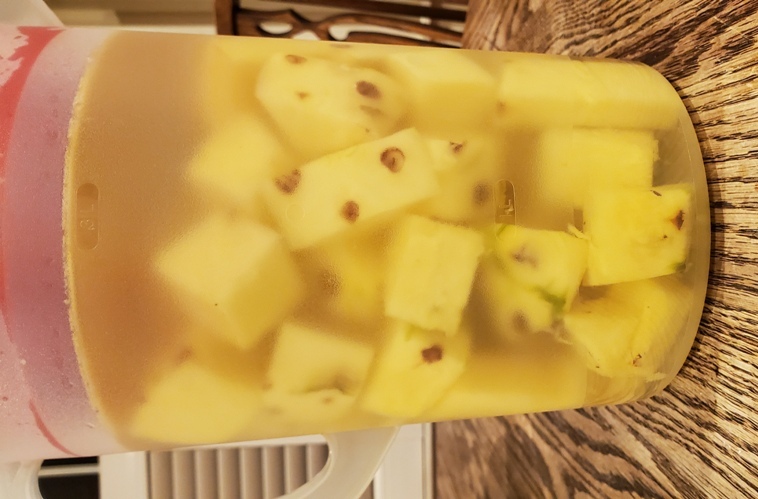 A local steakhouse that we frequent has a big container of vodka with chunks of pineapple. They make a shaken drink with it that my BIL orders every time we go. On a lark, I ordered one, and it is pleasant. So...I made a batch using one pineapple and about 1.50 liters of vodka. I let it extract for about four days before tasting it. Well, I let my BIL taste it first. And when he didn't collapse I tried one. Not bad, although I put a few drops of spicy Thai bitters in for some extra complexity.
I also asked one of our resident bartenders (bitter clinger) about the extraction process, and he said:
I'd go a minimum of a week.

I personally rebottle fruit infusions at two weeks with fruit, if I'm infusing at room temperature. I strain them through fine mesh or cheesecloth and then store them in the freezer.

If you infuse at cold temps you probably want to go a bit longer, maybe up to a month.

If you are using peppers to make pepper vodka, keep a closer eye on it. If you go too long you can wind up with some chalky notes to it that are unpleasant.

As for cocktails, one of my favorites at the bar was a French 76. Basically an 1.5 oz of Pineapple infusion, .5 oz of lemon juice and a sugar cube. Put that cube and the lemon juice in a Collins glass or flute and let it saturate a few seconds, then add your vodka give it a quick twirl and top it off with sparkling wine.

Pineapple plays well with heat too, something I'm sure you recognize from cooking. I made a nice little cocktail a few months back for a class I was teaching to some wine moms with pineapple infused vodka, Ancho Reyes Chile liqueur and some mango syrup and a super thin slice of jalapeño on it.

A pineapple upside down martini style drink with some Butterscotch schnapps, a little pineapple purée (maybe from blending your fruit?) and a drip or two of grenadine are the end.

Perhaps mix it with sparkling coconut water, though I'm not a fan of the stuff. I'd think one of the flavored ones might be okay for a fizzy highball.

But ultimately, I think if you really want the pure essence of it, yeah your instincts are pretty much spot on. Keep it simple. Maybe use a big cube in your tin to help beat up that pineapple. And run it through a fine mesh strainer when you are done.

Smoke goes well with pineapple too. Make you one of those fun smoke-filled ice spheres and crack it in the glass, or alternatively, the tiniest possible drop of liquid smoke or even a drop or five of an Islay scotch like LaPhroaig.

I better shut up now or I'll just keep rattling off ideas!
Wow.
******
A few (hopefully) interesting links.
Your "Expired" Milk Still Has So Much More to Give
A close look at my sourdough starter
Chard and Sausage with Crispy Spiced Chickpeas
When I buy in bulk I buy from Herbco.com, and the savings is just ridiculous. When I make big batches of spice rubs they are lifesavers, and they don't seem to be political, in spite of the location (central California).

******
Here's the salad I mentioned, although I suspect I have posted it before.
One modification is to back off just a bit on the salt and lime. And that's weird to me, because those are two flavors I rarely get too much of!

******
Food and cooking tips, Large-breasted Muscovy ducks, young wild pigs, bartenders who use vermouth in Martinis (but not too much), pork belly that doesn't have 5-spice, low-temperature-roast chicken, and good tomatoes that aren't square, pale pink and covered with Mestizo E.coli:
cbd dot aoshq at gmail dot com
. Any advocacy of French Toast with syrup will result in disciplinary action up to and including being
nuked from orbit.
And yes, shaking a Manhattan is blasphemy...it's in the Bible!

posted by CBD at
04:00 PM
|
Access Comments