« US CENTCOM Commander: There Isn't Proof of the Democrat-Media Conspiracy's Info Op Last Month About Russians Paying Bounties to the Taliban to Kill Americans;
Claim Comes from the CIA, Who Are "Very Emotional" About the Argument
|
Main
|
Kaleigh McEnany: Since No One In the Press Asked Me About the Historic Abraham Accords, I'll Answer My Own Question For You »
September 16, 2020
FoxNews' "Outnumbered" Panel Forbids Any Mention of the Fact That George Soros Donated Millions to Elect the Communist DAs Who Refuse to Prosecute Antifa/BLM Rioters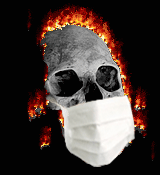 I believe it was Melissa Francis who first declares mention of George Soros illegal, to be seconded by a beaming Marie Harf, the former Obama thot who can't believe she now runs an allegedly "conservative" news network.
"So it's verboten," Gingrich concludes.
This is not a conspiracy theory -- this is a documented fact, reported in the actual media when it could be spun as a positive thing.
Now that the communist DAs are acting as political protectors of the rioters and arsonists, it's "verboten" to mention it on Fox News.
Even though it's been reported on...Fox News!
District attorneys and current candidates whose campaigns benefited from the work of left-wing organizations -- including ones backed by liberal billionaire George Soros -- are now pushing for new practices that could see sharp reductions in prosecutions and incarcerations.

Soros, through the Justice & Public Safety PAC and other groups, has been spending millions of dollars on prosecutorial races in recent years, with a number of beneficiaries making headlines since their elections.

St. Louis Circuit Attorney Kim Gardner, who was boosted by Soros in her campaign, drew controversy when she announced her office was bringing felony charges against Mark and Patricia McCloskey, the couple who brandished guns outside their home as protesters marched by in June.

...

Another high-profile prosecutor who has been backed by Soros in the past is Cook County, Ill. State's Attorney Kim Foxx. Foxx drew national attention when she dismissed the case against actor Jussie Smollett, who had been accused of faking a hate crime attack against himself. The case was later taken over by a special prosecutor who filed new charges.

...

San Francisco District Attorney Chesa Boudin, another beneficiary of Soros-tied contributions, recently defended the movement to defund police. In a discussion with Rep. Ayanna Pressley, D-Mass., earlier in July, Boudin questioned whether money going to police was "the most effective" use of taxpayer dollars.

That was July 30.
But George Soros has put out the word to his minions that it is an "antisemitic conspiracy theory" to connect him with the communist DAs he did in fact pay for.
Are they trying to make some think distinction between Soros funding these DAs, versus the organizations he bankrolls financing them?
If that's the thin distinction they're making, why don't they just make that tiny (meaningless) distinction?
If they're making such a narrow distinction, they should say so, instead of this just forbidding any mention of Soros and filling the studio with this weird, pregnant silence, suggesting some Dark Mystery that cannot even be alluded to.
Why is FoxNews attempting to "Voldemort" any mention of George Soros?
Why are they acting on Soros' behalf? Is he an investor in the company now?

Or does FoxNews conceive of its own audience as so virulently antisemitic that mere mention of Soros' political activities (he converted to Christianity when he was working with the Nazis and now says he's an atheist) will send them all into violent pogroms?
Even though Soros is not Jewish -- he converted to Christianity when he was partnered up with the Nazis, and now says he's fully an atheist.
If so -- if Fox imagines its audience as monsters -- then Fox should say that, too.

If that's what Fox Fucking News thinks of its audience -- then tell us.
Had enough yet?