« Saturday Morning Coffee Break
|
Main
|
Saturday Gardening and Puttering Thread, Labor Day Weekend 2020 [KT] »
September 05, 2020
For the Love of Looting [KT]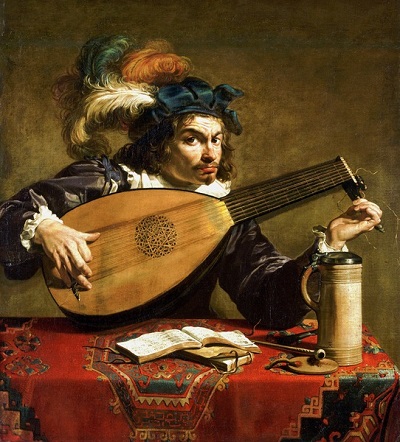 Lute Player, Caravaggio (Reproduction)
My, there has been a lot going on lately. It is heartening that in the midst of it all, a couple of bullying ideologies have been receiving some pushback.
That Book Promoting Looting
Well, Joe Biden isn't the only one who has been favored with a powder-puff interview lately. Do you remember the NPR interview of Vicky Osterweil, the author of the book promoting looting? The book proclaiming that small business owners are not part of the community?

NPR has now apologized for the interview, saying that it did not serve NPR's audience. Heh.
Becket Adams wrote:
National Public Radio is scrambling to do damage control this week after it promoted the views of a dangerously ignorant pro-looting activist who is also a gigantic anti-Semite.

In late August, NPR's Code Switch department published an interview with Vicky Osterweil, author of In Defense of Looting. In the interview, Osterweil was given free rein to spout several major falsehoods, drawing little to no pushback from NPR.
At about the same time the book came out, Steven Hayward wrote a post about Our Collapsing Cities with a quote from Sir Roger Scruton's book How To Be a Conservative:
Conservatism starts from a sentiment that all mature people can readily share: the sentiment that good things are easily destroyed, but not easily created. This is especially true of the good things that come to us as collective assets: peace, freedom, law, civility, public spirit, the security of property and family life, in all of which we depend on the cooperation of others while having no means singlehandedly to obtain it. In respect of such things, the work of destruction is quick, easy and exhilarating; the work of creation is slow, laborious and dull. That is one of the lessons of the twentieth century. It is also one reason why conservatives suffer such a disadvantage when it comes to public opinion. Their position is true but boring, that of their opponents exciting but false.
Sort of fits in with the responses to the pro-looting book, which did not all come from conservatives. It has been kind of fun to see what people have said about the book and the author in the short time since it was written.
A wine critic proclaimed the author the worst person in the world in a rather detailed post.
Thomas Chatterton Williams put up a video featuring a Black Democratic State Senator that really does serve as a refutation of the pro-looting ideology.
And one by a former Obama employee on the mean streets.
To my partial surprise, the book is only tangentially about looting. Mostly it's a defense of violence, arguing that nonviolence, in the form associated with (for example) Martin Luther King, is a tool of white supremacist cisheteropatriarchy
I see lots of tweets hating the NPR... 'In Defense of Looting' interview. But you should read it. It is vacuous, even borderline sociopathic, but now you know the best, most carefully considered arguments for looting
Osterweil represents an increasingly in vogue brand of "white allyship," which is as performative as it is narcissistic, as self-defeating as it is hypocritical, and as blind to a sense of inner personhood as it is insistent upon denying black people their own.

Needless to say, this has nothing to do with actually helping black people, nor does it have anything do with actually helping white people. It has nothing to do with anything.

Because it's nihilism.
What's particularly appalling is that so much of this discourse is being driven by children of the professional class who clearly have no grasp of what it means to pour years, decades, or even generations into building up some unglamorous small business that's rooted to one spot.
Most decent folks consider collective punishment to be an evil so great we made it a war crime.
Spectator book review. Compare to the one in Huffpost, which notes that looting may be a vital aspect of the BLM movement.
Teaching Critical Race Theory in the Federal Government
You may recall Christopher F. Rufo's battle against Critical Race Theory indoctrination in the federal government.
David Thompson wrote:
An introductory "thought-work session" encouraged reluctant attendees to associate their whiteness and maleness with "white supremacists," the KKK, and "mass killings." As one does, of course. With equal obviousness, employees of pallor were expected to recite - which is to say, confess - an extensive list of benefits of their supposed "white privilege." Benefits including "the ability to dominate language," and the fact that "no-one is afraid to come to my garage sale."
Well, it looks like Christopher F. Rufo has won a battle.
Breaking news from yesterday:
Trump orders stop to 'White privilege' diversity training in federal government
In a memo issued to federal agencies on Friday, Office of Management and Budget Director Russell Vought said it has come to the president's attention that the executive branch has "spent millions of taxpayer dollars to date 'training' government workers to believe divisive, anti-American propaganda."

Citing press reports, Mr. Vought said employees across the executive branch have been required to attend training sessions where they are told that "virtually all White people contribute to racism" or where they are required to say that they "benefit from racism."

"According to press reports, in some cases these training have further claimed that there is racism embedded in the belief that America is the land of opportunity or the belief that the most qualified person should receive a job," Mr. Vought said in the memo. "These types of 'trainings' not only run counter to the fundamental beliefs for which our nation has stood since its inception, but they also engender division and resentment within the federal workforce."
Hope everybody can get along at those garage sales this weekend.

Music with Lutes (not Looters)
Imagine you are in a tavern. Or outside a tavern because you are in California and you are not allowed inside the taverns, and the electricity is off. This is the first music you hear. . .
And here's an Archlute, played by a young composer. Hope you have a chance to relax this weekend.
This is the Thread before the Gardening Thread.
Serving your mid-day open thread needs

posted by Open Blogger at
11:15 AM
|
Access Comments