« Saturday Gardening and Puttering Thread, August 29, 2020 [KT]
|
Main
|
Saturday Afternoon Chess thread 08-29-2020 »
August 29, 2020
Ace of Spades Pet Thread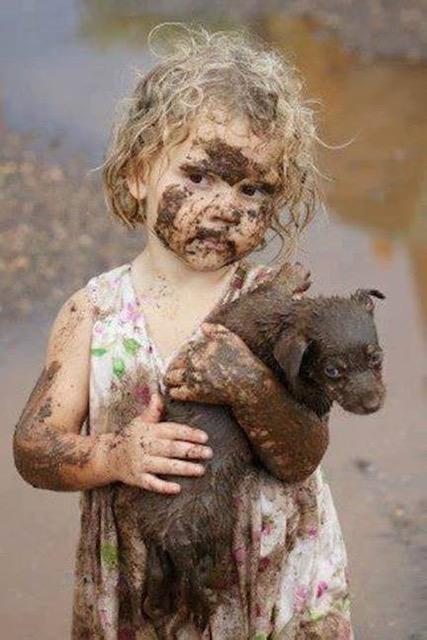 ***

Good afternoon and welcome to the almost world famous Ace of Spades Pet Thread. Escape your projects, leave the world of madness outside the front door and enjoy the world of animals.

Please leave current events out on the front porch
***
A Little of This. A Little of That.
Lions and tigers and bears, oh my.
***
K-9 Alarm Clock
***

Everybody gets to do what they want to do.
***
Meet The PetMorons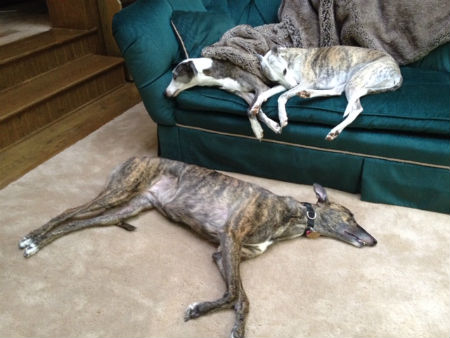 Saturday August 22nd is our rescue greyhound Dazzle's tenth birthday.She is still a very healthy, happy and playful goofball.She is pictured here with her two little whippet sisters Sophie and Hannah.Eleven year old Sophie (right) has been totally attached and devoted to Hannah (left] since we brought her into our home at eight weeks of age.They have been inseparable ever since.Sadly Hannah passed on to Doggie Heaven in May at thirteen years five months of age.Sophie has been lost and very sad ever since as have we. Mark and Pat

So do you have a race track in your back yard? Just curious is all. A belated Happy Birthday to Dazzle. What a great group they appear to have been. Sorry to hear you lost one of your 3 Amigos. Thanks for your contribution today.
***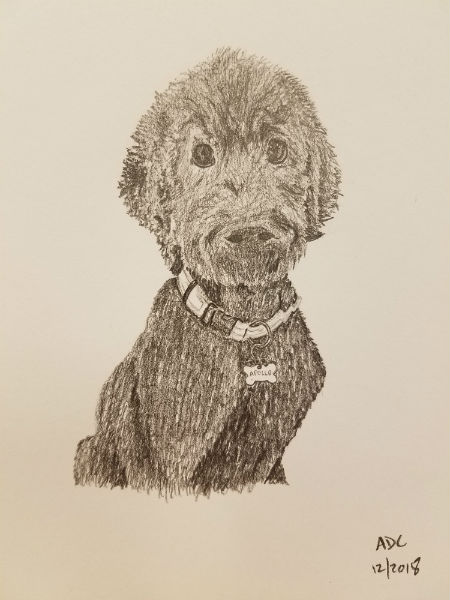 Here's a picture of my friend's dog, Apollo. As you can see, he is a very good boy. - Sobek
I do admire your work, beautiful. So how many treats did you hold for Apollo to get him to sit still for this wonderful portrait? Thanks for sharing.
***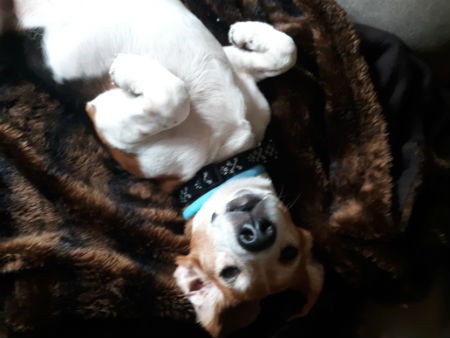 This is Joe, our hunter beagle rescue. He had been abandoned in the woods. As you can see, his life continues to be one of misery and travail. From Goatexchange.
OMG, how do you look in the mirror each morning? What a horrible life that poor doggeh leads. Honestly, Joe looks like he is one lucky dog. We appreciate you sharing him with us today.
***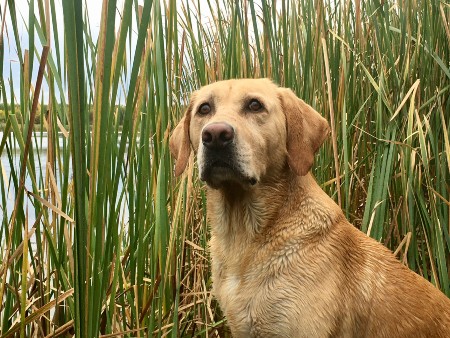 This is "Ozzy". He is thirteen weeks old, now and is a West Highland Terrier / Toy Poodle mix. My Mom has been searching for a new dog and her seventy-four year-old brain decided she "needed" a puppy. ...*Save Me, Lord.* Beside the biting, he is very trainable. He just doesn't know how sharp his teeth are. My poor Mom looks like she's been handling porcupines.

Thank you for the Pet Thread, Misanthropic Humanitarian. How can you not love pets?

-Your Friendly Neighborhood Slapweasel
Hi Slap, thanks for sending in your Mom's puppy's photo. So Ozzy is a typical puppy who loves playing the "chew game". Good luck on your Mom's wounds. Cute puppy!
***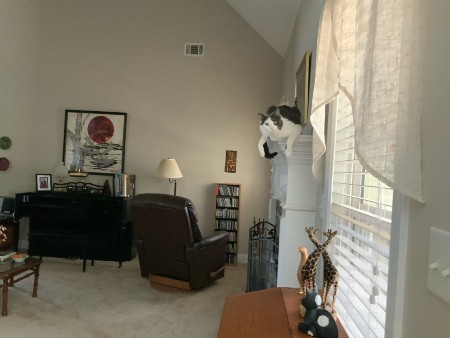 Hello,

A long term lurker here. Here are my puppies for your Pets thread.

> Both of our boys are rescues. Sandy is a Pomeranian and is 11 and he was in a home where he was confined in the bedroom and only brought out when they wanted to play with him. Once he got to our place he calmed down and has been a happy boy ever sense.

Brody is a pot cake from Turks and Cacao's. He was left in a bag on the side of the road. When someone found him he was extremely dehydrated. We adopted him when he was 6 months and has been part of our family for the last two years. - Paul

Hmmm, those miscasts sure do look good on that furniture. It sounds like they have adapted well being adopted by a lurker with a big heart. Thank you for this warm story.
***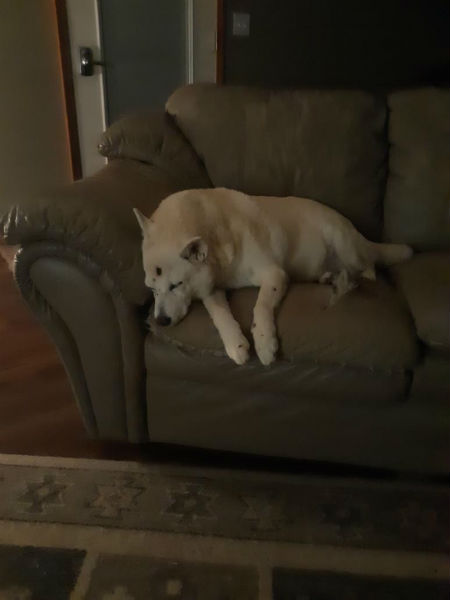 Always a faithful lurker here. Been meaning to let the horde know about
our pack. You have graced our pack on your pages many times before and I
thank you for that. Unfortunately, it is not good news. Jazz was not
doing well at all and it was time to let her go. As a side note, I was
working for the vet at the time, I have been going to for over 30 years
and the amount of animals that come in for euthanasia is overwhelming.
We were with her till the end and she is now at peace. We got her from
my sister in-law and she was probably headed to the local shelter as my
sister in-law could not keep her any longer. So one day we went over and
dog napped her. We had her for about 4 years and she had a great pack
and loved her walks to the gun club. I miss her so, but she was loved
and cared for. This picture is of her right before she took a turn for
the worse.
Thanks for letting me share, Chris
Chris, no need to thank me. The Pet Thread is here to celebrate our wonderful pets. Condolences on your loss. The hardest thing about having one is saying "goodbye". I'm glad if we can be helpful you.
***
Dear Misanthropic Hum:

Thank you for doing all the hard work pulling together the Pets Thread every Saturday. It's the best part of the best website.

Submitted for your consideration for inclusion in a future Saturday thread is: Norman. Norm The Dog is a pit/beagle/Lab mix. Pit muscle and the strong pit jaw. Beagle coloring and a hound dog nose. Lab face and gentle Lab mouth. He seriously is one of the those dogs who everybody knows his name. People who I don't even know have stopped their cars when we're out walking (twice a day, every day, no matter what), just to meet and greet Norm. Because they've heard about him from other people. And of course he's always ecstatically happy to say hello.

Norm showed up in my driveway one morning when he was a little more than one year old. He just turned 10, according to the unofficial vet records. So I'm submitting this on the occasion of a milestone birthday. He really is the best dog ever. I know I know, everybody says that and everybody's right. But Norm really is.

Just call me: the Guy at the End of Norm's Leash.
I appreciate the kind words. However, I don't appreciate the fact that you are starting to cause a fight on who has the best pet ever. All kidding aside, thanks for being a lurker who wants to share his pal with us.
***
Wonderful Morons and wonderful pets. Thank you everyone. I'm not sure where the cat photos and stories are. Perhaps they are all on summer vacation.
If you have something you wish to share please contact us at petmorons at gmail dot com.
Until next weekend, have a great week!

posted by Misanthropic Humanitarian at
03:00 PM
|
Access Comments