« AP: Andrew Cuomo Significantly Undercounted the Number of Nursing Home Victims He Murdered By Only Counting Those Who Died In the Nursing Home -- Rather Than at the Emergency Room or ICU, After Being Infected by Him -- as "Nursing Home Deaths"
|
Main
|
Kamala Harris, The Little Girl Who Joe Biden Callously Worked to Racially Segregate, Picked as Running Mate to Joe Biden »
August 11, 2020
WarnerMedia Lays Off Over 800 Workers; DC Comics Hit With a "Bloodbath"
The company says it's "refocusing" -- almost entirely on their would-be Netflix streaming competitor, HBO Max.
Most things not related to HBO Max are being "streamlined."
On Monday, WarnerMedia began a round of layoffs, letting go hundreds of staffers amid the coronavirus crisis that has crippled Hollywood with shelved tentpoles and production shutdowns. Sources said the first wave of layoffs is expected to be around 600 staffers, with a heavy focus on Warner Bros.

Stephens said that HBO Max will remain one of the key growth focus areas for the company....
He says that he doesn't know when they'll be releasing films.
Addressing planned upcoming theatrical releases, he said, "I am not certain where those are going to go," suggesting possible "further delays in some of the titles" as the cinema reopening and theatrical release schedules have remained in flux.
The merged company was already heavily in debt due to the cost of AT&T buying the huge Time Warner, and already was planning layoffs and the sales of entire divisions to reduce that huge debt load.
But Layoffs Intensified, as ABC might say, due to coronavirus:
AT&T recently detailed a roughly $830 million hit to second-quarter earnings before interest, taxes, depreciation and amortization from the novel coronavirus pandemic and a roughly $2.8 billion revenue impact after in the first quarter having mentioned a $433 million earnings and a $600 million revenue hit.
The monopoly Amazon is refusing to add HBO Max to its Firestick, probably because any of these streaming services are a competitor to Amazon Prime.
AT&T/Warner Media is starting to talk up the Anti-Trust Card.
This is a clear threat to Amazon, and a clear offer to testify against them in Congress:
WarnerMedia CEO Jason Kilar hasn't shied away from sharing his thoughts on Amazon's refusal to add HBO Max to its Fire devices.

Addressing the importance of putting consumers first, Kilar explained to Bloomberg how, with a society that is so technologically driven, "what tends to happen is concentration of successful companies unlike anything history has seen. We have fewer companies but larger companies."

Kilar argued how some companies, however, conflate their interests with statements pertaining to consumer focus. Kilar noted how this leads to a lot of decision-making that favors the company, not the consumer. When pressed for an example, he pointed directly at Amazon, saying, "If Amazon were truly focused just on the consumers with Fire devices, HBO Max would be on Fire devices. The consumer wants it." He then joked how people should "call the Seattle folks" for answers as to why HBO Max is currently unavailable on Amazon Fire devices.
It's a "bloodbath" at the WarnerMedia-owned DC Comics, with the Editor in Chief, the Publisher, and one third of the editorial staff sacked.
Included in the sackings is -- this is a rumor as of yet, not confirmed -- leftwing SJW ideologue Andy Khouri, one of the absolute cancers killing the industry, who brought in GamerGate skel Zoe Quinn to "write" "comics" for DC, despite her having no comic book experience and no writing experience (outside Depression Quest and a failed kickstarter). Khouri filled DC's Vertigo imprint with angry yet untalented SJW freaks; Vertigo was cancelled within a year.
DC had already laid off people last year, and now has to cut even more. Co-publisher Dan DiDio was fired last year, leaving the other co-publisher, Jim Lee, supposedly in charge; now Jim Lee has been pushed out of that position, though he'll probably be kept in some other role. (He's a major comic book artist.)
Why did this happen to DC Comics?
Let's ask Wonder Woman and see if she can tell us.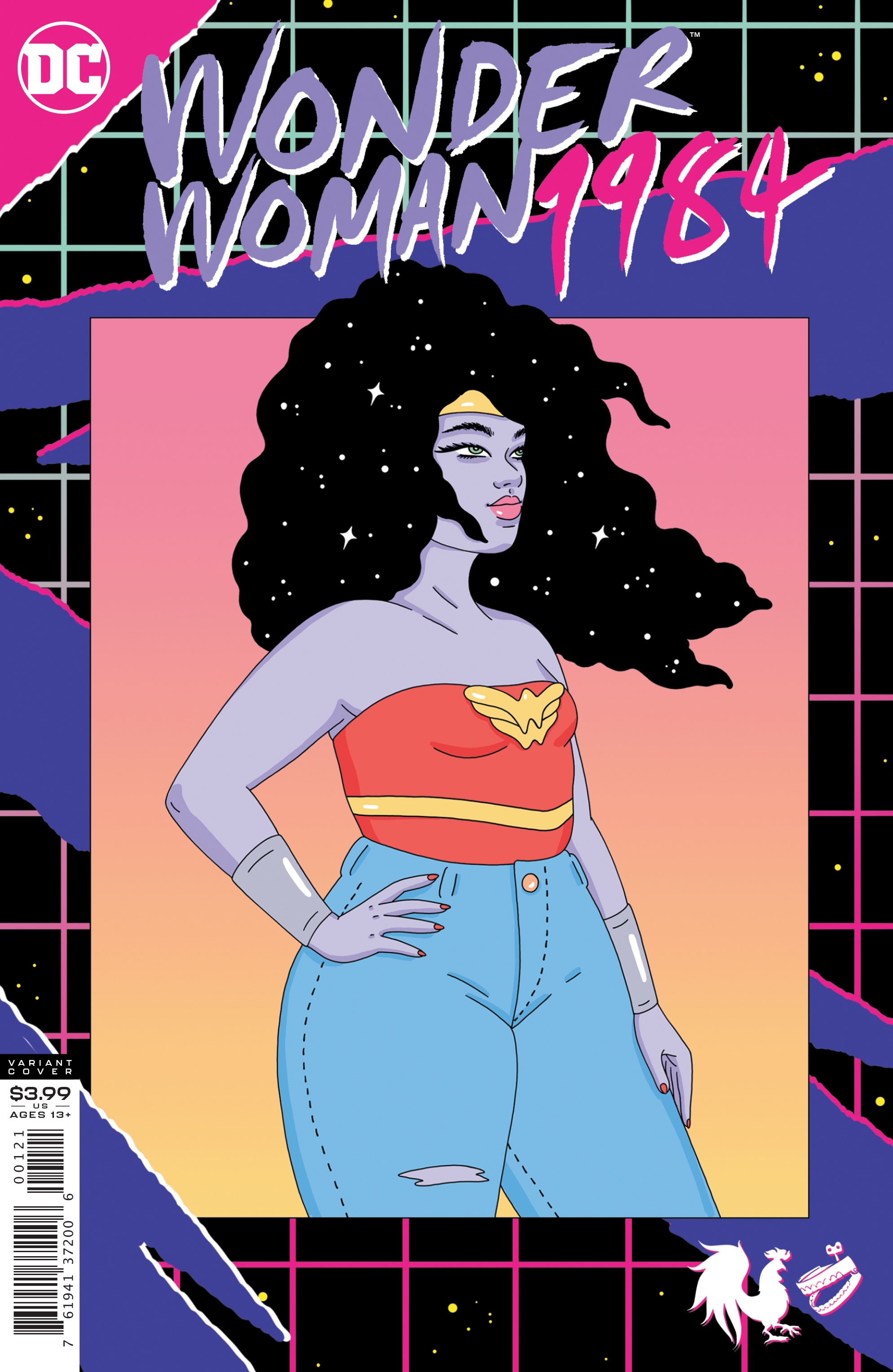 That's a variant cover of the upcoming comic book version of the Wonder Woman 1984 movie, for an animation company called Rooster Teeth -- which itself is a WarnerMedia property.
That cover may not have caused the "bloodbath" of cuts at DC, but this kind of aggressively alienating #Woke bullshit -- which has been going on for years and years -- has put DC on the chopping block.
Not only did DC Comics -- which itself has chased Marvel for a gold medal in the #Woke Olympics -- accept this variant cover, they actually celebrated it and promoted it through their DC Nation twitter account:
Rooster Teeth is itself a Time Warner, now Warner Media property, and is itself expected to be severely downsized -- was this cover an insult/fuck you to WarnerMedia as Rooster Teeth gets ready to be "consolidated" with another division and almost entirely scrapped?
They were just hit with big layoffs this past September, which they're probably still pissy about.
And Rooster Teeth just took a super-#Woke turn itself, announcing they were deleting all "problematic" content and would be hiring SJW diversity advisors to help them make better censorship decisions in the future:
Hi everyone,

Today, as part of the broader representation and inclusion goals of our company, we are reviewing our content library and removing some videos we no longer feel comfortable hosting on our platforms. We took an honest look at 17+ years of videos, many of them made live and uploaded on a daily basis, and concluded some do not fit the values of Rooster Teeth today and are counterproductive to the work we are striving to do to be more inclusive of all people. We aspire to entertain our existing community while fostering connections with a diverse audience. Any content that doesn't do that doesn't belong on our platform. This review is ongoing; over time we will also edit videos, provide disclaimers where appropriate, and continue to remove content if we so choose.

In June we stated #BlackLivesMatter and said we were working on a plan to ensure a more diverse, inclusive and equitable Rooster Teeth. We want to be transparent about what we've accomplished and what we're still working on. Laney Ingram, our Head of Legal & Business Affairs, has expanded her responsibilities to include Diversity, Equity & Inclusion (DEI). She is partnering with Senior HR leader Stephanie O'Connor, who comes to us from Fullscreen. We have also hired an outside DEI consultant, Ingrid Hadley. Together, Laney, Stephanie and Ingrid are laying the groundwork for our DEI strategy and initiatives going forward. We are also working closely with WarnerMedia on all of our DEI strategies and are thankful for their support and the opportunities they open up in this area.
So yeah, I can see this as a real #PowerBottom move by butthurt SJWs who know that they'll soon be forced to Learn to Code.
And why did DC accept and then promote this cover? Maybe for the same reason.
The cover is interesting because while Wonder Woman is clearly fat, she has no breasts, really. That's now standard SJW artistic practice -- men like boobs so women must not be drawn with them, to defeat the "male gaze." Even if the woman is very fat and could be expected to have big boobs.
But the artist herself usually draws curvy women who do have breasts. #Cancelling Wonder Woman's breasts seems to have been a Special Customer Request by either Rooster Teeth or DC Comics.
Here is a google search for the artist's (Robin Eisenberg's) work -- but content warning. A lot of it involves fairly graphic lesbian sex and dildoes and masturbation.
All sorts of content warning there.
I'm not a prude, and lord knows I don't mind some lesbian sex, but... what is this artist doing on a book aimed largely at teenaged (or younger) girls?
Male artist Frank Cho was forced to quit illustrating Wonder Woman because his PC drip SJW writer objected to any sex appeal in Wonder Woman at all.
"EVERYONE loves my Wonder Woman covers and wants me to stay. Greg Rucka [the SJW writer\ is the ONLY one who has any problem with covers. Greg Rucka has been trying to alter and censor my artwork since day one," Cho told the site.

According to Cho, Rucka, who declined to comment, found his third Wonder Woman cover "vulgar" and said it "showed too much skin".

...

Cho called Rucka's objections "baffling, since my Wonder Woman image is 'on model' [meaning: It follows the "Bible" of the drawn model of what the character looks like] and shows the same amount of skin as the interior art", and said the author had a "weird political agenda" against him.
A "weird political agenda," yes, but not just against him. This double standard is now the rule at both Marvel and DC -- heterosexuality is a disease to be censored and denigrated, but gay sex should always be celebrated and exalted. Even in books aimed at teens!

posted by Ace at
03:17 PM
|
Access Comments