« EMT 07/26/20
|
Main
|
What A Concept! An Ally That Will Fight, Rather Than Expect America To Spend Its Blood And Treasure »
July 26, 2020
Sunday Morning Book Thread 07-26-2020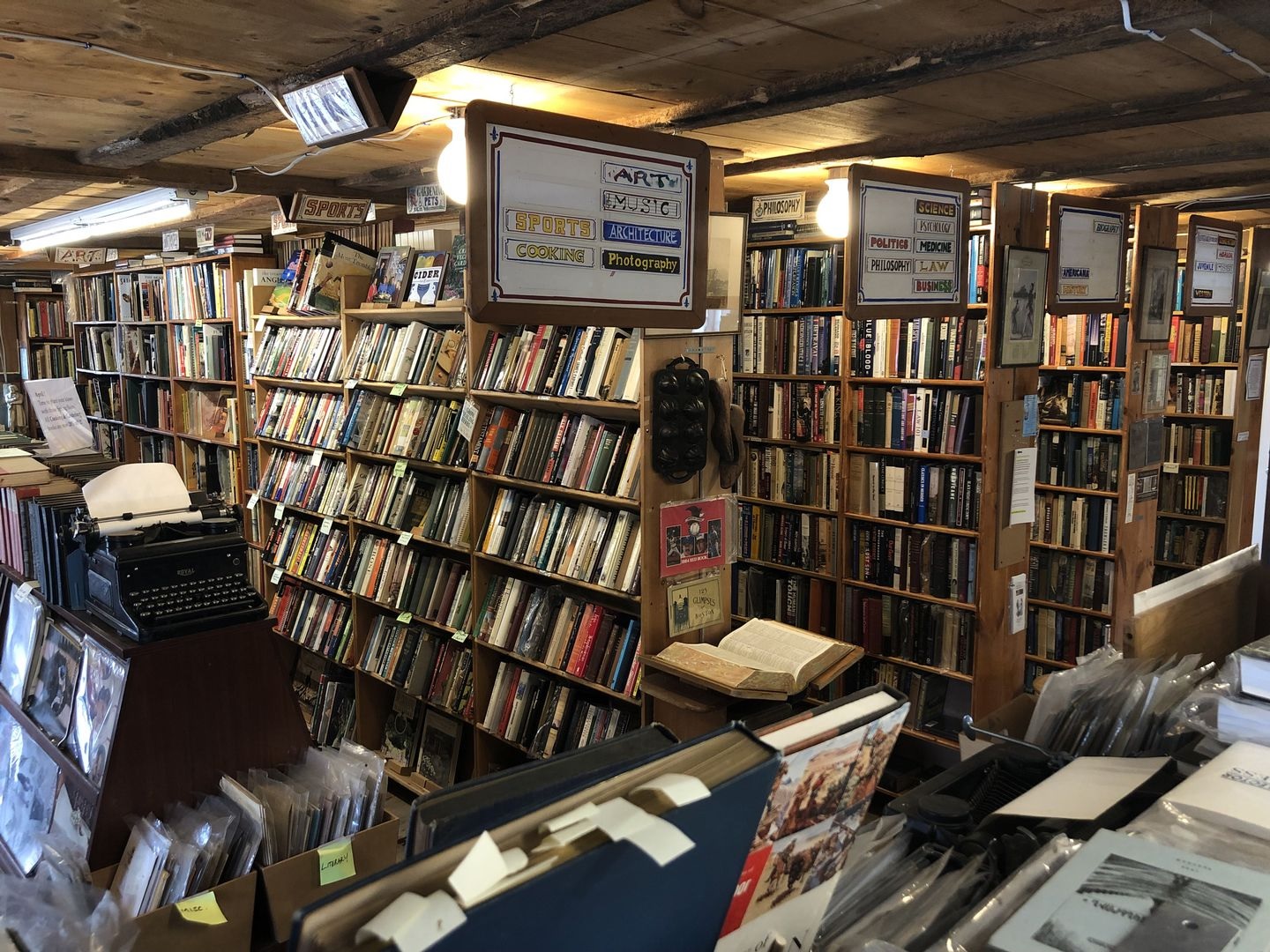 Avenue Victor Hugo Book Shop, Lee, NH

Good morning to all you 'rons, 'ettes, lurkers, and lurkettes, wine moms, frat bros, crétins sans pantalon (who are technically breaking the rules), and the rest of you humorists, comedians, clowns, and those who know the difference. Welcome once again to the stately, prestigious, internationally acclaimed and high-class Sunday Morning Book Thread, a weekly compendium of reviews, observations, snark, witty repartee, hilarious bon mots, and a continuing conversation on books, reading, spending way too much money on books, writing books, and publishing books by escaped oafs and oafettes who follow words with their fingers and whose lips move as they read. Unlike other AoSHQ comment threads, the Sunday Morning Book Thread is so hoity-toity, pants are required. Even if it's these pants, which I guess don't look as bad as some of the others pants I've shown, but there's just something, I don't know, unmanly about them. They look like jammies worn by little kids, which the 'Frozen' motif doesn't help. The guy looks like an overgrown toddler.


Pic Note:
Avenue Victor Hugo is one of America's great used bookstores:
For nearly 30 years, Avenue Victor Hugo Books was a fixture of Newbury Street in Boston's Back Bay, at one time holding over a quarter-million magazines and 150,000 used books. Awarded "Best Used Bookstore" multiple times by Boston Magazine, the store was a favorite of Boston-area authors and college students alike. During its years on Newbury Street, Avenue Victor Hugo also played host to Fiction, Galileo, and Galaxy magazines, all published by [store owner Vincent] McCaffrey.

Vince and his wife, Thais Coburn, have now moved Avenue Victor Hugo to the quiet town of Lee, New Hampshire, 10 minutes from the University of New Hampshire campus in Durham.

The new location is a post-and-beam barn, open to browsers on Fridays and Saturdays between 10am and 6pm. The shop carries good reading copies and first editions of the best in fiction, history, biography, poetry, drama, and more as well as collectible magazines...

The store retains its Back Bay charm by offering something that online book shopping can't: the serendipity of discovery that only comes from browsing shelves of old books and the guidance that only a curmudgeonly old bookseller can offer.

It Pays To Increase Your Word Power®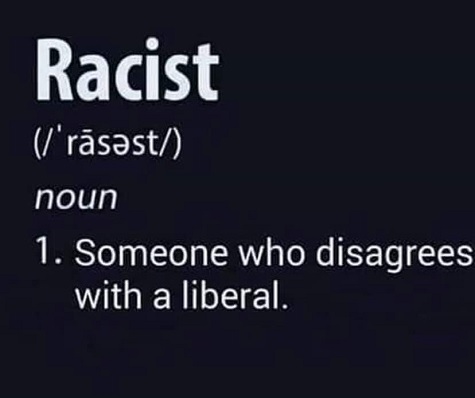 (see also "fascist", "misogynist" and "white supremacist")


Whither Poetry
I'm not usually a big fan of poetry. I mean, I like some poems, but my sophistication is usually down around the "There once was a man from Nantucket..." level. But even so, I thought that this article, Poetry Magazine Caves to the Mob, which J.J. Sefton linked to last week, caught my eye:
At the 1913 Armory Show in New York, Americans first saw the works of Van Gogh, Picasso, and Matisse. In the same year, Stravinsky's "Rite of Spring" debuted in Paris. The previous year saw another major cultural event: the establishment, in Chicago, of a small monthly magazine called Poetry. Its founder, Harriet Monroe, had been exhilarated by the fresh breeze blowing across the Western world...

In the first issue of Poetry, Monroe explained she had founded it to provide a vehicle for the new poetry "in a world unaware of its immediate and desperate need of her [i.e. poetry], a world whose great deeds, whose triumphs over matter, over the wilderness, over racial enmities and distances, requires her ever-living voice to give them glory and glamour."

Poetry soon became the flagship of modern verse. In its first three years alone, it published poems by Erza Pound, William Butler Yeats, D. H. Lawrence, Robert Frost, Carl Sandburg, Rupert Brooke, Vachel Lindsay, William Carlos Williams, Marianne Moore, Conrad Aiken, and Edwin Arlington Robinson. In its June 1915 issue, Monroe published T.S. Eliot's pathbreaking "Love Song of J. Alfred Prufrock"; five months later, she ran Wallace Stevens's now-classic "Sunday Morning."
The story this article tells is the drearily familiar one of having to repeatedly apologize to the unappeasable woke mob. My point is, for those of you who are so inclined, the entire archive of Poetry magazine, dating back in 1912, has been digitized and made available online here. You can't download the individual issues, but you can search by author and by poem.


Who Dis: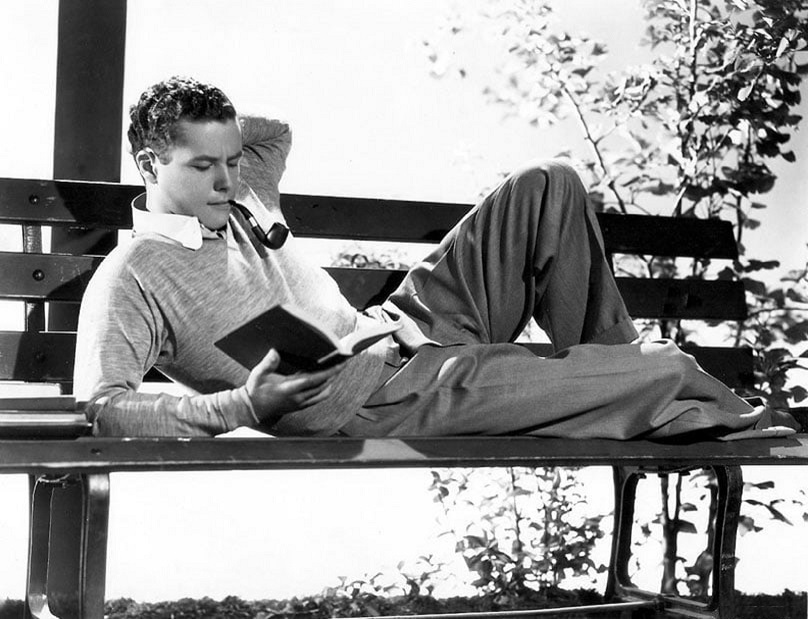 (Last week's 'who dis' was Eye-talian sexpot
Sophia Loren
.


Free Book
The first installment in the E.M. Foner 'AI Diaries' trilogy, Turing Test:
Mark Ai goes to work every day as a PC repairman, but fixing computers is just a cover job. Along with his mission managing the observation team, he's attempting to fill in as a parent for a teenage neighbor, provide a good home for a dog, and pick up a little money on the side. It's a juggling act that understandably leads to breaking a few rules, but things really start spinning out of control when competing aliens arrive.
Marked down to $0.00 until the end of the month.
If you want to continue the series, you can follow it up with te sequel Human Test, and then the third, Magic Test, each for $3.99.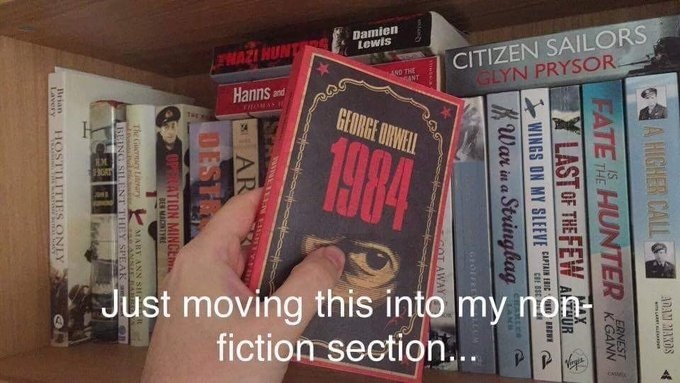 Moron Recommendations
13 Since we are going to have Civil War I just bought the collected short stories of Ambrose Bierce for Kindle. $0.99 on Amazon this morning.

Getting tuned up for the coming devastation and wild boars eating the remains on the battlefield and all.

Posted by: Huck Follywood, protester at July 19, 2020 09:07 AM (NVYyb)
Wild boars eating corpses? Huh. We used to pray for wild boars to eat the battlefield corpses. During WWI, the dead bodies just stayed out in no-man's land for weeks and months at a time and you could just watch them decay. Also eaten by rats, I'd bet. In fact, I have heard that was where Tolkien got the idea for the chapter in LOTR where he had Frodo and Sam hoofing it through the Dead Marshes with Gollum and seeing the dead orcs and elves from a long-ago battle down in the muck.
Anyway, you can indeed get Bierce's short stories for 99 cents on Kindle. But for only a couple of dollars more, you can get everything he ever wrote, including a lot of Bierce material that has never before appeared in digital format (so they claim). Lots of illustrations with the original artwork, too. Novellas, essays, all of the short stories, poetry, newspaper articles, personal correspondence, etc. Such a deal for $2.99. What are you waiting for?
___________
29 After watching the Bowie flick "The Man Who Fell to Earth", I decided to read the original novel of same by Walter Tevis (1963), which I had in my teetering Death Stacks.

Posted by: All Hail Eris, She-Wolf of the 'Ettes 'Ettes at July 19, 2020 09:17 AM (Dc2NZ)
I knew Bowie's movie was based on a book, but I don't know anything about it, so let's have a look:
The Man Who Fell to Earth is the story of
...Thomas Jerome Newton, an alien disguised as a human who comes to Earth on a mission to save his people. Devastated by nuclear war, his home planet, Anthea, is no longer habitable. Newton lands in Kentucky and starts patenting Anthean technology—amassing the fortune he needs to build a spaceship that will bring the last three hundred Anthean survivors to Earth.

But instead of the help he seeks, he finds only self-destruction, sinking into alcoholism and abandoning his spaceship, in this poignant story about the human condition...
I know guys like this. Whatever they do, they just can't get it together enough to accomplish the designated task because of their personal problems and idiosyncracies.
TMWFTE is available on Kindle, too.
As noted further in last week's book thread, the author, Walter Tevis, also wrote a number of other novels, two of which have been made into movies, The Hustler and The Color of Money.
Oh, and look, not a movie, but he's got a novel called The Queen's Gambit about a young orphan girl who develops into a chess prodigy:
When eight-year-old Beth Harmon's parents are killed in an automobile accident, she's placed in an orphanage in Mount Sterling, Kentucky. Plain and shy, Beth learns to play chess from the janitor in the basement and discovers she is a prodigy. Though penniless, she is desperate to learn more—and steals a chess magazine and enough money to enter a tournament. Beth also steals some of her foster mother's tranquilizers to which she is becoming addicted.

At thirteen, Beth wins the chess tournament. By the age of sixteen she is competing in the US Open Championship and, like Fast Eddie in The Hustler, she hates to lose. By eighteen she is the US champion—and Russia awaits...

Fast-paced and elegantly written, The Queen's Gambit is a thriller masquerading as a chess novel—one that's sure to keep you on the edge of your seat.
One review says that what Walter Tevis did for pool in The Hustler, he does for chess in The Queen's Gambit. And for only $2.99. So yeah, I'll have to read this one.
___________
Moron author George Milonas recommends the work of another au thor, Jason Anspach's "Galaxy's Edge" series. Says he's read the first 9 in two weeks and there's "not a dud in the bunch."
The first in the series is called Legionnaire and it describes the galaxy as
A hot, stinking, dumpster fire. And most days I don't know if the legionnaires are putting out the flames, or fanning them into an inferno.

A hostile force ambushes Victory Company during a reconnaissance-in-force deep inside enemy territory. Stranded behind enemy lines, a sergeant must lead a band of survivors against merciless insurgents on a deadly alien world somewhere along the galaxy's edge. With no room for error, the Republic's elite fighting force must struggle to survive under siege while waiting on a rescue that might never come.

Join Victory Company as they fight for their lives. When you think you've surrounded the Legion... you've just made your last mistake.
According to the author page on Amazon, the books appear to be in the $2.99-$4.99 range, so if you like military science fiction, you'll be getting a lot of bang for your buck. So to speak.
___________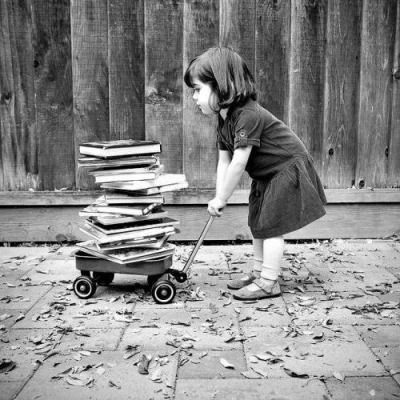 Books By Morons
Moron author J.W. Kerwin has just released his third legal thriller featuring attorney Brendan O'Brian, Dishonored Promises:
New Jersey attorney Brendan O'Brian finds himself representing two grieving widows. One wants him to find out what happened to her husband, who went to work one morning and never came home. The other needs help dealing with a life insurance company that won't pay what appears to be a perfectly legitimate claim.

O'Brian's search for answers will take him from New Jersey courtrooms to a small town in Georgia to the consulate of the People's Republic of China.

Along the way, he'll cross paths with Chinese intelligence agents who will stop at nothing to obtain seemingly worthless bonds, an attorney with a bottomless bag of dirty tricks, and a United States senator whose audacious plan could fundamentally alter America's relationship with China.
Jim sent me an advance copy of this book a month or two ago, and I must say, the story just hooked me on the first page and dragged me in. I mean, who would *not* want to hear the story behind a woman whose husband died in a work accident and the company cremates him and then notifies her by phone and then says goodbye as if that ended the matter?
The plot involves a lot of legal wrangling in different contexts and the author gets into the nuts and bolts of all that's involved with presenting an argument before a judge and he even makes that sound exciting, which I think is no mean feat. It's one of those books you don't want to stop reading.
So I very much recommend it. The Kindle edition is only $2.99.
The first two novels in this series, which I've mentioned before on the book thread, Slow Death in the Fast Lane and A Stranger in My Own Hometown are also very good.
___________
So that's all for this week. As always, book thread tips, suggestions, bribes, insults, threats, ugly pants pics and moron library submissions may be sent to OregonMuse, Proprietor, AoSHQ Book Thread, at the book thread e-mail address: aoshqbookthread, followed by the 'at' sign, and then 'G' mail, and then dot cee oh emm.
What have you all been reading this week? Hopefully something good, because, as you all know, life is too short to be reading lousy books.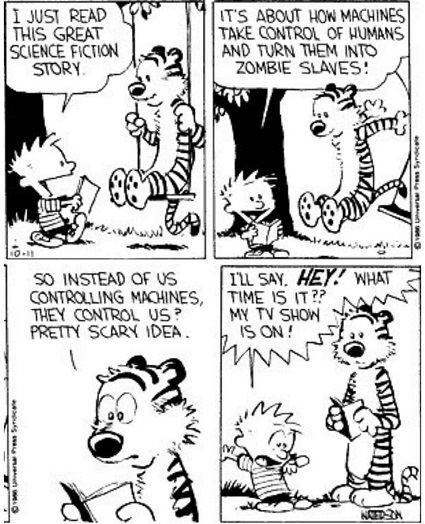 posted by OregonMuse at
08:49 AM
|
Access Comments