« Food Thread: Wet Dough Makes Good Bread...And A Mess
|
Main
|
Sunday Overnight Open Thread (7/12/20) »
July 12, 2020
Gun Thread: Good News/Bad News Edition! [Weasel]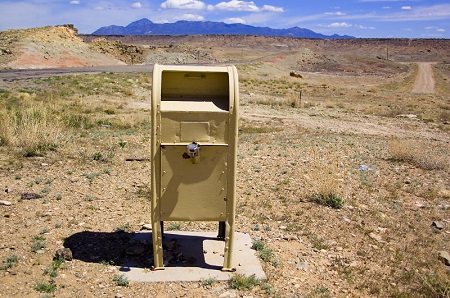 Welp, I didn't make it to the farm this week, so no there is no WeaselAcres video this evening. Good news: I did upgrade both my PC equipment and video editing software, which should make things a lot smoother from an editing perspective. Bad news: I spent so much time screwing around with the PC and video editing software, that I ran out of time to do much writing for the thread this week. Oops!
So, with my humble apologies, let's see what we do have, shall we?
First up, our pal JM sends the following:
I got my firearm from Palmetto after a several-week wait for "processing". The FBI background check took 24 hours. The guy in the store said 24 hours was about as long as he has seen.

I used the store's ultrasonic cleaning service on my Ruger Mk III, which got really dirty from .22 ammo. For $35, it included disassembly, reassembly and oiling. It did come out clean.
So there are three things to unpack here. For those of you who have recently purchased guns online, how much time did they take to ship, and how long did the background check at the transferring FFL take? It might be interesting to see what different delays retailers are experiencing, and how long the background checks are taking.
With regard to ultrasonic cleaning, what experiences have you all had? Good, bad, or indifferent? Is it worth the trouble of mixing the solution and drying cases afterward? I have never used one, but I know that a lot of competitors use them for cleaning brass. I've never felt the need to have brass looking brand new, and just use my trusty ol' vibrating cleaner with crushed walnut. The brass isn't bright and shiny, but it does seem to remove at least some of the powder residue crud.
How big of a difference do they make? Let's take a look at this demonstration video from RCBS.
Well they certainly are bright and shiny! Here's a link to the RCBS tumbler at Midway USA which appears to be on sale right now. The bottle of solution the guy used retails for about $25, and he only used a couple of ounces, so that doesn't seem too bad.
Do you all use an ultrasonic cleaner, a wet steel pin tumbler, or something else for brass? How about for your guns? I have to say after watching the video, I may be changing my mind a little!
******
Love 'em or hate 'em, everyone has an opinion on Glocks. Our pal A.H. Lloyd has taken the time to put his thoughts on the subject down and share them with us. No death threats, 'kay?
The Glock Thing

As the Horde's leading Glock critic, I thought it might be useful to outline some of the reasons I dislike them.

In order:

5. The Aesthetic. These are some of the ugliest guns ever designed. They are hideous in their lines and proportion. Even fans of their reliability have to admit this.

4. That Trigger. Yes, it works. Some people use it well. But to a certain class of individuals it is like fingernails on the proverbial chalkboard. Shoot a Walther and then tell me how awesome Glock's trigger is.

3. The Grip. I freely admit I have small, soft and girlish hands, but there is something just weird with the balance of Glocks. I've handled them many times, even shot well with them, but it's all wrong, distorted, funhouse mirrors, non-Euclidean geometry. Handguns are very personal and these grate with me.

2. The Lifestyle. It's a like a cult - once you get a Glock, you never stop talking about them. Is there a Scientology tie-in? Is there something in the Zima that makes you bring it up?

1. The Brand. Too many people go to gun dealers and the first words out of their mouth are "I need to get a Glock." During the recent outbreak, they sold out - not because these were the best choices but because people had been brainwashed to believe that Glock has all the answers. No, they aren't for everyone, and they are not the ne plus ultra of handguns. They are cheap and reliable, which is fine, but hardly superlative.

I am a man of very particular tastes. I don't care for the feel of the 1911, but I respect those who venerate it. I consider Lugers grossly overrated, but people are welcome to collect them.

Glocks set my teeth on edge. There are numerous equally affordable choices that are often of superior quality. The discerning gun owner - or potential gun owner - should look far and wide, finding the best solution to their particular situation.

And yes, in many cases it is a REVOLVER, not a Glock that would suit them best.

For these reasons I rise in principled opposition to the Glock. It's a lonely calling, but I cannot deny it. Conversationally speaking, whenever someone brings up a Glock, I must remove the safety catch on my metaphorical Browning.
Thanks, A.H. Lloyd! I'm not entirely certain, but I get the impression you're leaning away from the brand, correct? So let's hear it from the Glock fans out there!
******
A lurker follows-up on the subject of insurance, personal liability umbrella policies, and coverage for the use of force in self-defense.
I'm an insurance agent in the state of Indiana. Our umbrella policies carry the same exclusion for intentional acts, but also carry this exclusion to that exclusion:

"However, this exclusion does not apply when the loss arises out of the use of reasonable force by an insured to protect persons or property."
Well isn't that interesting? I'm guessing there is some legally recognized definition of "reasonable force" to be applied in cases such as this. If you have an umbrella policy, this seems like a situation where it'd be smart to read the fine print and perhaps discuss the topic with your agent.
******
Our pal RI Red took Mrs. R to the range and shares this bigly excellent range report.
What Could Prompt Mrs. R To The Range, Again?

I bought Mrs. R her very own DPMS M-4gery a couple of years ago. She was appreciative, but never wanted to actually go shoot it. After seeing the couple in St. Louis face down the mob, she remarked on their apparent lack of skill. Sensing an opportunity, I arranged a range trip today.

She thought that it would be a good thing to start out with the little Ruger SR-22 that I gave her for Valentine's Day a few years back. Within 2 magazines she was hitting a small .22 spinner at 25 yards with regularity. Seeing that she was having fun, we moved left to the 100 yd berm. Her AR has pop up sights co-witnessed with a red/green dot holo. Shooting off of an ammo can, she was soon hitting the gong with a satisfying thud about 8 out of 10 shots. This is her FIRST time shooting any rifle over .22, by the way. I then had her switch over to my Bushmaster A-3 with the removable carry handle peep sights - more thuds. I put my 4 power scope on and she decided to shoot the lollipop tree. The pic below is her just missing the top paddle after hitting the lower 5 in order.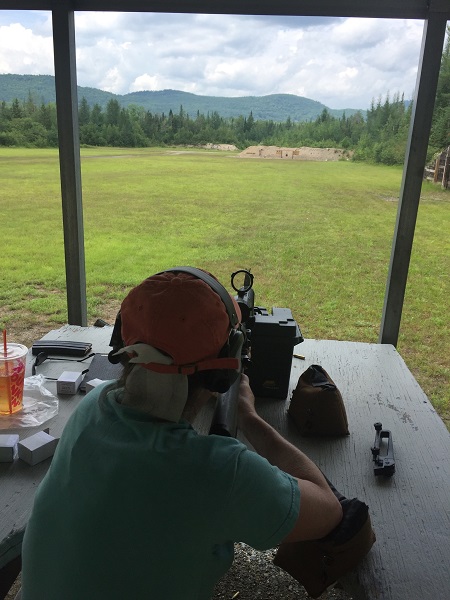 But wait! There's more!
Right after I suggested she try the gong at the 200 yd berm to the left. Thud. Damn, this getting good.

Then we talked about St. Louis and how two people standing slightly apart holding ARs at the low ready might be a better visual for a mob. Back to her DPMS. Below is her after coming up, sighting and shooting off-hand for the first time ever. Thud.

Yes, she's a little bitty thing, but Samuel Colt made her equal to anyone. And yes, she has dryer sheet tucked into the back of her hat and it does keep black flies away. I might be falling in love all over. I will never stray, that's for certain.

70 rounds of .22
80 rounds of .556.
And she said, "Why do these magazines empty so fast?"

All in all, a good day at the range. And she said, after, "Thanks for making me go to the range."
No, thank you!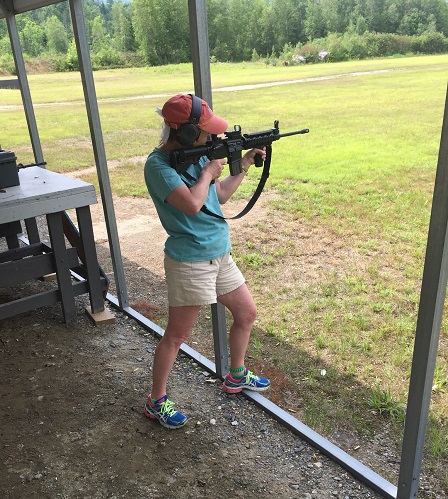 Dammit! I'm misting up!
Thanks RI Red! Not surprising, really, but Mrs. R sure does sound like a keeper! And all the cool kids have dryer sheets in their hats, Yo. Congratulations, brother!
******
This week we have an interesting historical story from our pal WTM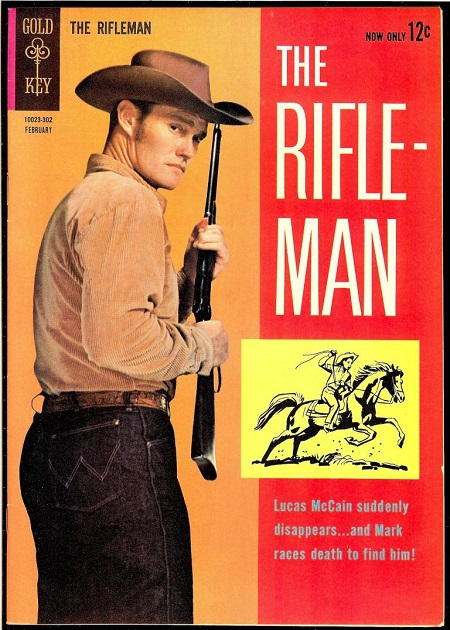 Nice find, WTM! How many of you were fans of Chuck Connors and The Rifleman when you were young?
WTM also notes:
I went to the local Academy yesterday to see how guns and ammo were doing.

Any and all ammo for semi-autos was completely sold out, as was all .223. Plenty of other rifle ammo, except .308, and shotshells, with a very small selection of revolver ammo. A box of 50 .44 Mag was $50, which is the main reason why I reload.

Handguns were in very short supply, although there were plenty of long guns other than AR-15s. And it's like this everywhere around here now. My local Bass Pro Shop was about as bad last month when I checked in. The silver lining is that the dem dream of confiscatory gun control is over for now.
Thanks for the SITREP, WTM. How are things looking or the rest of you, ammo and gun availability-wise?
******
ATTENTION NoVaMoMe 2020!!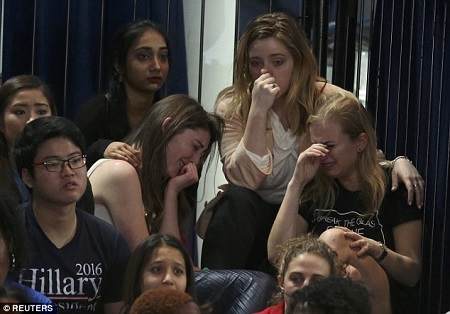 Sad people who cannot make the new NoVaMoMe date of August 29th
Due the Chinese Cooties hysteria in Virginia, the NoVaMoMe 2020 has been postponed until Saturday, August 29th. The time and location remain the same. If you haven't already, please check your email and let the Central Planning Committee know if you are able to make the new date. If not, your registration fee will be refunded and we will open your spot to those on the wait list. Questions? Just email us at NoVaMoMe2020 at gee mail dot com. Thank you!
******
Link-O-Rama
I'm really very seriously not kidding around anymore. Buy Ammo
AmmoSeek - online ammo search tool
GunBot - online ammo search tool
SG Ammo
Palmetto State Armory
Georgia Arms
AmmoMan
Target Sports USA
***Mail Bag***
In a tactical situation, I was taught to be creative in adapting improvised shooting positions. Well, not quite this creative! [h/t ibguy]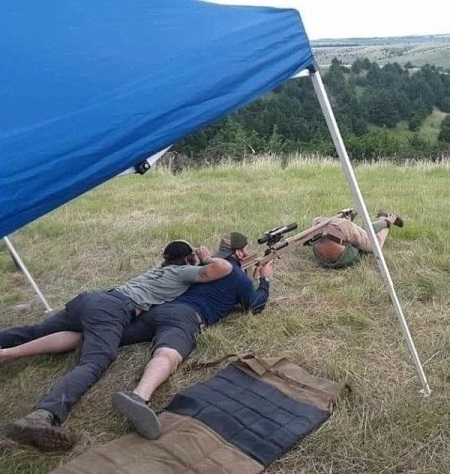 Thanks(?) ibguy!
Funny, but this looks almost exactly, scenery-wise, like where I learned to shoot. Minus the slightly ghey tactical bro guys, of course!
******
Please note the new and improved gmail account morongunthread at gmail dot com. An informal Gun Thread archive can be found HERE. If you have a question you would like to ask Gun Thread Staff offline, just send us a note and we'll do our best to answer. If you care to share the story of your favorite firearm, send a picture with your nic and tell us what you sadly lost in the tragic canoe accident. If you would like to remain completely anonymous, just say so. Lurkers are always welcome!
That's it for this week - have you been to the range?


posted by Open Blogger at
07:00 PM
|
Access Comments