« Saturday Afternoon Chess thread 07-04-2020
|
Main
|
Saturday Overnight Open Thread (7/4/20) Happy Independence Day Edition »
July 04, 2020
The Occasional Fishing Thread, Best Laid Plans Edition [Bandersnatch]
Welcome Piscators and Piscatrixes, Nimrods and Nimrettes, and Rough Riders of all genders to the current installment of the occasional fishing and hunting and other wholesome outdoorsness thread, Bander's Not Here Edition. .
I had the best gag for this post. I was going to be off the grid because I need it and just leave you rapscallions to yourselves, but much as I wanted to I couldn't avoid a couple absolutely have to be done things, so I haven't set off. I will leave within a couple of days and I'm going without an agenda or timeline so I'll be offline as much as possible.
I'll be here somewhere: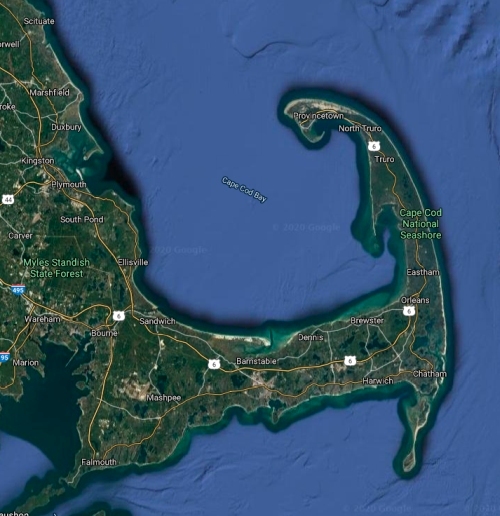 If you're on around the Cape and want to say hi I'm the guy with the long beard, a red XTerra and likely a blue Pungo kayak atop it. Or write the mail address below and I'll break OpSec.
One of the things that slowed me down while life was catching up was the forecast.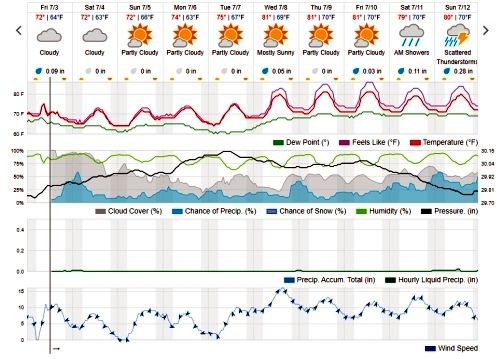 Wunderground is the best thing ever. The bit that I'm really paying attention to is the arrows at the bottom which show wind speed and direction. They've been N-NE for too long, and while you can always possibly catch fish "East is least" is not a phrase for nothing. Anyway, it looks like the prevailing SW is coming back to town.
People used to get nutty about "spot burning" on the internet, but (i) that's old hat, (2) there are almost no secret spots, ( C ) fish that were there today and made it to the internet may be elsewhere tomorrow, and (vier) you guys are all my buddies and pals anyway. There is an arc to these things. In the early internet it was open channel, then it went to code, then it died. Now I have assholes trying to sell me their fishing secrets on the internet. So this is a nod to the old days.

I like this spot on the outgoing. The bar in front of the mouth changes every year, so this picture is not reliable. By outgoing I mean from mid-tide (three hours in) to an hour or less before low. Slack low and slack high are nobody's friend. That's when you move.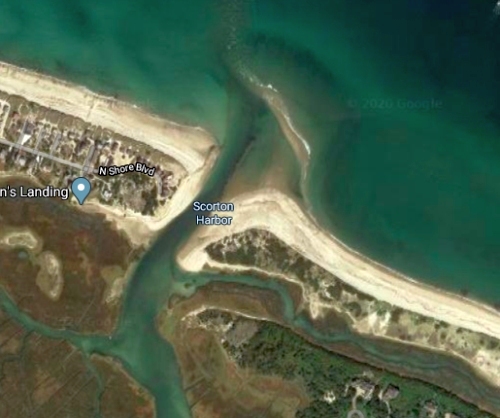 I like this spot on the incoming. Bait comes in the channel and spreads out on the flats, fish follow bait. You can wade the flats if you figure out how to get there.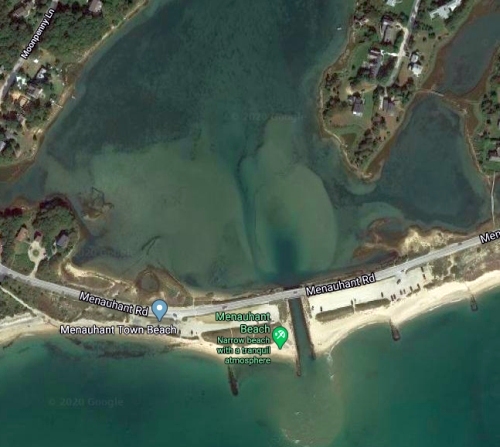 The Barnstable Flats is a pretty good kayak spot. There are actual oyster beds where the oyster beds show in this image. It's from a legitimate Google maps picture, but I never figured out whether it was a gag on google's part.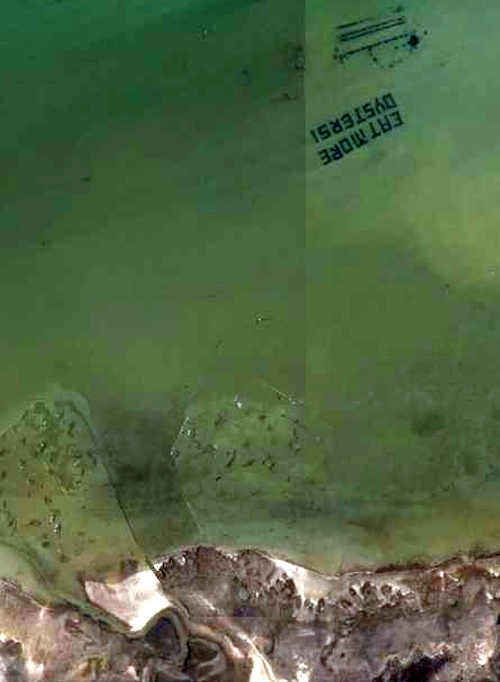 This is my real Holy Grail, the outer beaches of Cape Cod. Ocean-facing, unspoiled, pure raw surf from Provincetown to the bottom of Monomoy Island. No honky tonk, no boardwalk, no private property, Wading the surf was a peak experience.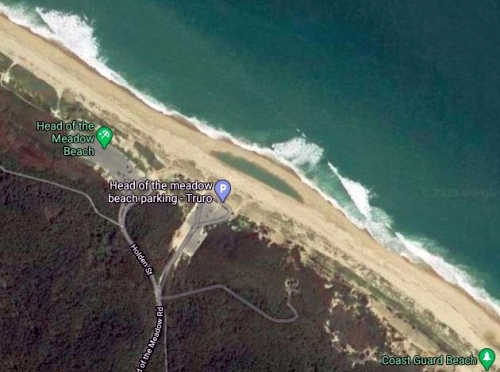 But then it got ruined.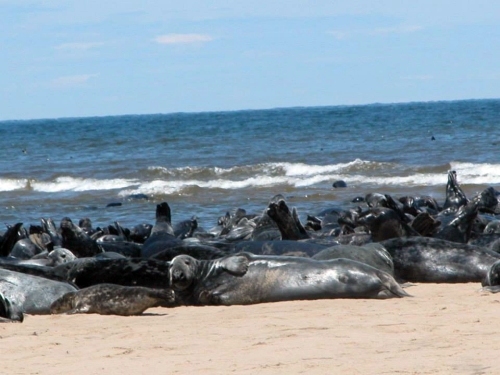 Twenty years ago there were two smallish colonies of these stinky bastards. One was sort of hidden and the other supported a couple of seal watching businesses that ran down to see them on Monomoy. Then they figured out that we're not allowed to eat them and they multiplied. There are at least 80,000 of these brutes lining the coast and they're better fishermen than we are. Fishing in the surf now means competing with these.
Of course, it's not as if the seals have nothing to fear: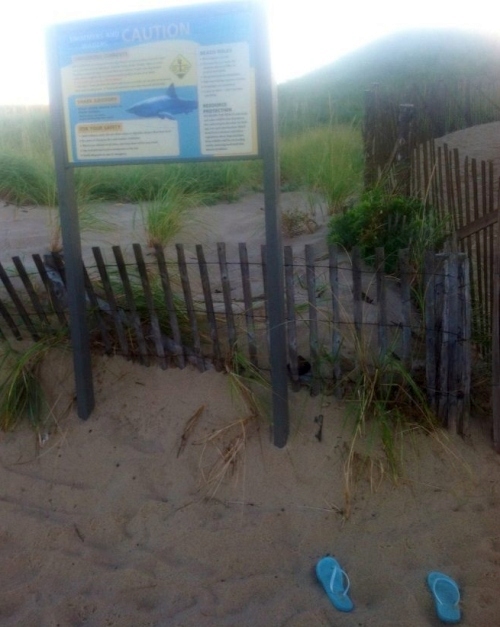 I took this at dawn. There was no one on the beach and the little girl had not returned for her flip flops.
Anyway, despite all the fishy hubris I'll probably spend half the time at the Land Ho.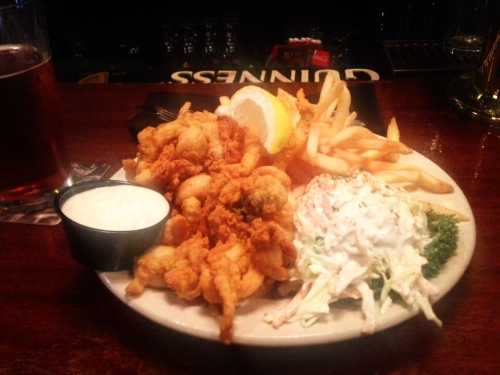 So, are you going to drop off the grid this summer? Where and how? Please to be telling stories as that's the point of this place.
From the mailbag, we have John the Lurker:
Technically this may not be a "Fishing" pic, but what the heck. I took this picture of an Osprey in Virginia Beach VA a couple weeks ago while on a business trip. I wish it was framed better but the pesky bird refused to be agreeable. They were flying around all day showing off their catch. Beautiful bird!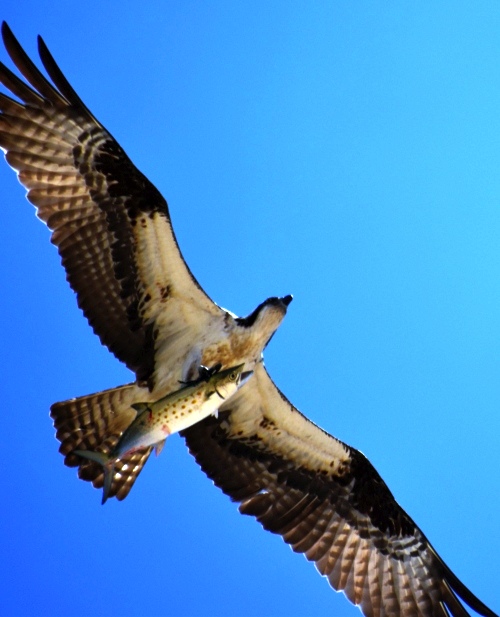 I'll say. Meanwhile, Celia Hayes was moved by the critter thread from last episode.

A good few years ago, I had a family of opossum kits at large in my back yard. At one point, when I was peacefully reading on the back porch glider, one of them climbed up onto the glider, climbed up onto my lap, experimentally gummed the edges of the book I was reading, a fold of my blouse and my finger ... and then upon concluding that none of those were any good, went to gambol among the other stuff in the back yard.
My next door neighbor, upon being told this story, confessed that if one of those hairy little rat-tailed things had ever climbed onto her lap - she would be screaming still. Possums are OK, really - they are just uber-ugly, rat-tailed cats.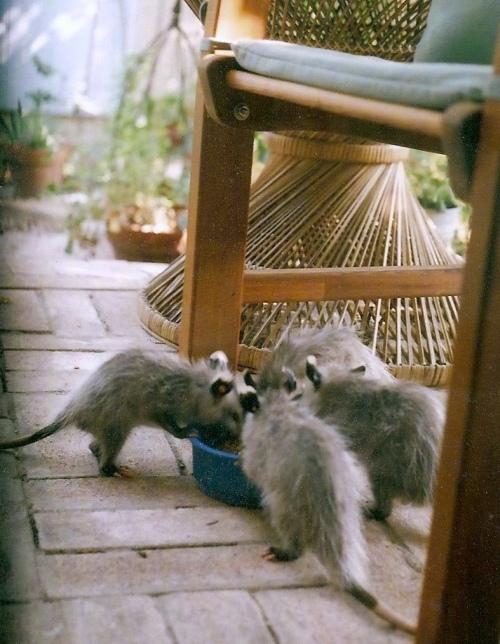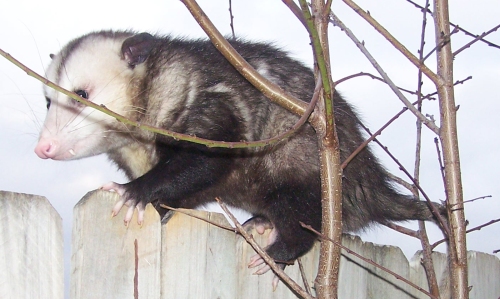 And with that we move on to the raison d'etre of this here HQ, the comments section. Brickbats, praise, and fish brag pics are welcome at aoshqfish at sign gmail thing

posted by Open Blogger at
08:30 PM
|
Access Comments