« Food Thread: Desperately Seeking Headline: Will Cook Pork Chops And Pizza For Ideas
|
Main
|
Sunday Overnight Open Thread (6/21/20) »
June 21, 2020
Gun Thread: Father's Day Mail Bag Edition! [Weasel]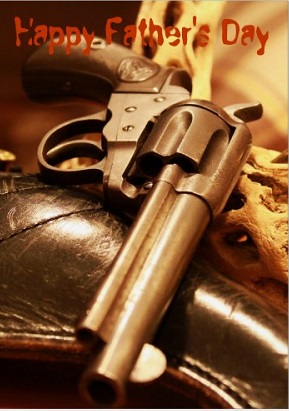 Happy Father's day to all the Moms and Dads out there!
Holy Crap, people! You really blowed-up the 'ol mailbox this week! Thank you so much for taking the time send in all the great pictures, stories and other information. I'm a little behind on responding to email so if you sent something and I haven't replied to you, thanks for your patience! Now let's take a peek below and see what we have, shall we?

Last week, our pal Kilroy wasn't here suggested "a fun subject might be the nomenclature of cartridges and what the numbers represent" and our other pal Neon Madman, the cartridge collecting expert, jumped right on it with the following:
Hooo, boy. Yes, it would be fun. I could write pages about this. However, let me try to put forth a very condensed version of what passes as a cartridge numbering system. I say this because there really isn't a true defined system, it is more of a traditional way of doing things that is frequently modified by marketing specialists, manufacturers, and others.

Shotgun shells are typically defined by a set of numbers: gauge, length, powder charge, shot weight, and shot size. The gauge is the diameter of the shotshell. Traditionally, a shotgun bore size was defined by the weight of a pure lead ball that would fit the bore; a 12 gauge shotgun had a bore such that a pure lead ball that fit it weighed one twelfth of a pound. A 10 gauge shotgun had a bore that matched a lead ball weighing one tenth of a pound. This was a hangover from the days when cannon were sized in a similar manner; a 12-pounder cannon shot a cannonball that weighed 12 pounds.

Shotgun shell length is important to pay attention to, and the allowable shell length for a particular gun will be stamped on the barrel. These are typically 2 3/4, 3, or 3 1/2 inches, and in the old days 2 5/8 or 2 9/16 chamberings existed. The reason to pay attention is that if a longer shell is put in than the gun is chambered for, such as a 3 inch shell in a 2 3/4 chamber, there may not be enough room for the shell crimp to unfold when the shell is fired, causing an obstruction and high pressure condition that could blow the gun.

Powder charge is numbered in "dram equivalent", something that is almost meaningless to the modern shooter. It is the equivalent of a black powder charge weight in drams, and basically the higher the number, the more powerful the charge. Of course, weight of the shot charge defines how much shot the shell is loaded with in ounces, and the shot size number defines how big the pellets are.

OK, let's talk about rifle cartridges. Here's where it really starts to get wild. The traditional format is .xxx-yyy-zzz [name], where .xxx is the caliber or bullet diameter in thousandth of an inch, yyy is the powder charge weight in grains, and zzz is the bullet weight in grains. The [name] is typically the manufacturer who developed the cartridge, or the intended user. For example, let's look at the .45-70-405 Government cartridge. This is .45 caliber, originally loaded with 70 grains of black powder, and had a 405 grain lead bullet. "Government" refers to the fact that this was originally a military cartridge for the Trapdoor Springfield rifle.

The important thing to remember is that for rifles (and pistols), this system is traditional, not absolute. Everyone messes with it. The .30-06 Springfield cartridge should be .30 caliber, but actually is .308 (same as the .308 Winchester). The -06 refers to the date of introduction (1906), not the powder charge. The .38 Special pistol cartridge shoots the same .357 caliber bullet as the .357 Magnum. The .250-3000 Savage cartridge referred to one with a .250 caliber bullet that achieved 3000 FPS velocity. European cartridges generally use the bullet diameter and cartridge case length in millimeters, such as the 8x57 Mauser.

Anyone interested in cartridges should pick up a copy of "Cartridges of the World", a fascinating book about the subject.
Way to bitch slap us with some knowledge, Neon Madman! Thank you!
*****
Last week our pal Xipe Totec provided us with great questions to start a load development discussion, and this week Xipe has sent in some pictures from his collection.
This is my M-44. Mannlicher style stock blank from Richards micro fit stocks. Timney trigger. Full length bedded. Welded turn down bolt handle. Burris light magnum long eye relief scope. Rust blueing. 8.6 pounds. Laminated stock for warp resistance. Laminated stock is difficult to checker due to various grain direction and hardness. Bore was slugged at .313" so I am shooting Hornady SST 150 grain .312" bullets. I intend to hand load to 2700 FPS. I will send a view of the other side shortly.


***
This is my hand made rifle. It is a single shot falling block action. Except for buying a Shilen bbl. blank, it is 100% hand built. I dragged the Ozark walnut log out of the woods. I made the mounts for the original American made Weaver scope. I machined the action parts and hardened them in my antique forge. The action parts are Austempered O-1 tool steel. The receiver is hardened and tempered 4140. The fore end is free floated via an aluminum 'I' beam I machined and bolted to the front of the receiver. My design. Basic design is DeHass Vault Lock #2 with many mods. Slow rust blue I did myself. Chambered in 30-40 Krag. I carved and checkered the stock from raw milled walnut. Shoots 1 1/2" groups at 100 yards. Hand loaded to 2700 FPS. Best part: it weighs 5 pounds! Estimated time investment 850 hours. 24" bbl. It has taken several bucks and is completely ambidextrous.

Like how Xipe casually mentions that he wandered out to the workshop and threw together his own rifle? Damn, Man! Very nicely done!
*****
Next we have a nice report from our pal Scuba_Dude on his range trip and MicroMoMe with our pal CBD:
Well it finally happened after all these months, I MADE IT TO THE RANGE!!!!! Woo Hoo!!! And joining me was no other than CBD himself!

So what can I say, it was a beautiful day outside, low 80's, light wind, blue skies and the tinkling of brass hitting the concrete.

This is my first time ever going to my range during the week, I did not expect it to be busy but it was!! Due to the Wuhan Flu our outdoor range decided the way to do social distancing was to close ever other port. This attributed to the crowded conditions but I will say I have NEVER seen the range this busy. Pretty much every port on the 100 yard rifle range was occupied by someone exercising their 2A Right which had every other port closed. The pistol range if I remember correctly tried to do that but to be honest I can't say it looked like every other port was closed. CBD, please correct me if I am mistaken. I met up with CBD outside the clubhouse and CBD is a very nice, friendly person and the first person from AoS I met outside the blog and a COB to boot!!

We proceeded to the pistol range as the 100 yard range looked to be full. Because I reside in the Peoples Republic of New York City I am not permitted to take my handgun across State Lines, and our range is in New Jersey. CBD who resides in NJ brought one of his pistols, a Walther PPQ in .45ACP and was gracious enough to let me give it a try. We placed the target stand around 7-10 yards from the bench and started putting rounds down range. The first picture shows our first 10 rounds each. I was shooting on the upper left hand target and CBD was the bottom right. As you can see CBD really loves his Walther, I think he sleeps with it. I think we put at least 50 rounds each through the Walther. The second picture shows how the target was when we had finished.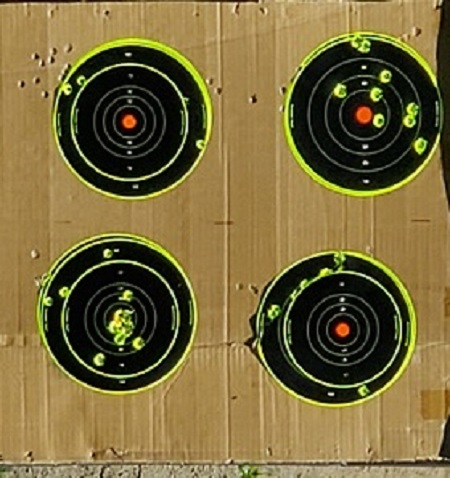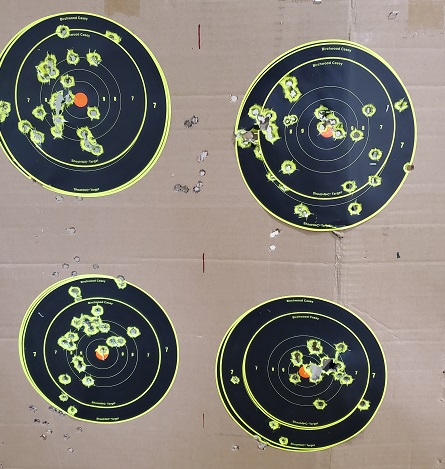 Moving along, Scuba_Dude continues his report:
Next we went onto the 100 yard range. CBD brought his AR-15 and I brought my Savage 110 in .308 which I never really completed zeroing the scope the last time.

First my rifle.
We got there just as the line went cold for target change. I decided to first put my target at the 50 yard line and see what the rifle would do. Range goes hot and I am looking through the scope at the lowest power setting, put the crosshairs at the center of the target and squeeze the trigger.
Boom!! Dead Center!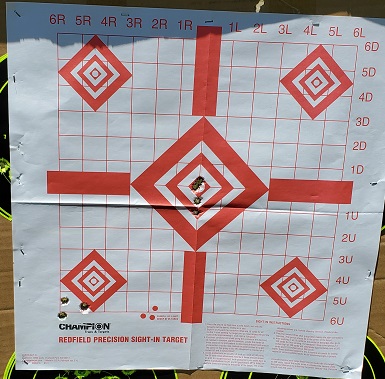 Well, I am thinking this must be a fluke. I relax a bit, again look through the scope, put the crosshairs on the center of target and squeeze the trigger. Boom!! Dead Center again. Wow!! What is going on? I decided to see what would happen if I aim at the metal plates that our range has placed 100 yards away. Still keeping the scope on the lowest power I aim at one of the 8-10 inch circular plates they have hanging there and squeeze the trigger. Nailed it!! I then shoot at a couple more steel targets at 100 yards and hit them all. So I came back to my target and aimed at the target at the bottom left and shoot. Hmmm, almost 1 MOA low and left. I shot 2 more times and you can see they both were low and left. Took 2 more shots at center of target and with one 1/2 MOA low and the other 1 MOA low. When the line went cold I took my stand out to 100 yards and threw a shoot and see target on it. The 5 shots you see on there were me aiming at the center and 2 shots with me aiming at the top right target. So, I think I still have to work on zeroing the scope a bit more.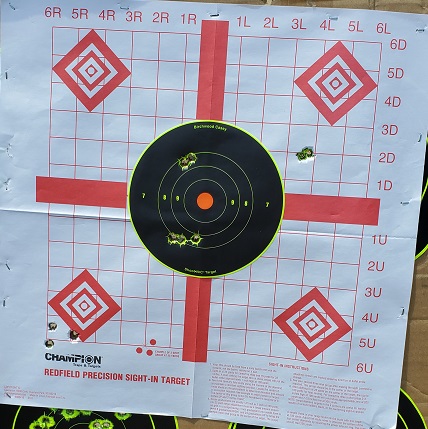 Now onto CBD. I will give the highlights but he may want to fill in more of the details. For some reason after he took his first shot with the AR it did not cycle and he spent the next 10 - 15 minutes trying to rack the bolt back. He wound up taking down the AR there trying to figure out what was wrong. A guy in the port next to him graciously helped diagnose what was wrong with the rifle and even took the time to break down the bolt assembly to find out why the rifle would not cycle. I will say this, you will find the NICEST and most HELPFUL people at a gun range.

So that is it for now. Had a great time and it was really great meeting CBD. Hopefully it will not be the last time.
Outstanding report, Scuba_Dude! Thank you and congratulations to you both on some nice shooting! Those fancy-pants ARs can be finicky at first, and I'm sure CDB will have it sorted out in short order. Get it? Short order As in cook. HAHAHAHAHA! I crack myself up.
*****
Next we have a great submission from our pal waepnedmann who has a very creative solution for a reloading bench when space is at a premium.
We are limited on space, so I designed and built this two-sided reloading bench on casters. It is very stable even while sizing rifle brass, but pivots around easily when I want to use my Dillon Square-Deal B. There is an overhanging top shelf with a strip of LED lights on each side, but they were too bright for the photo. The orange buckets are for brass. This has worked out very well.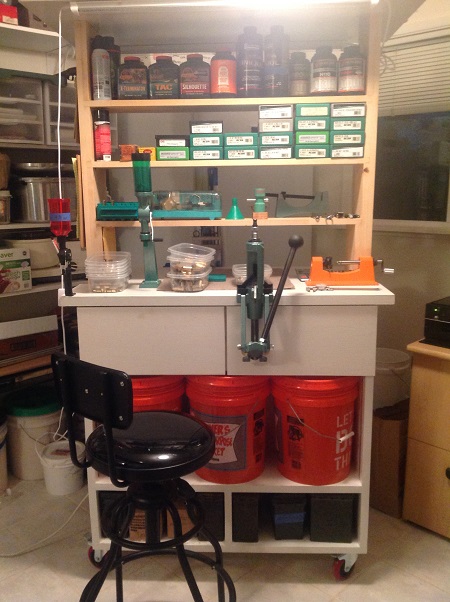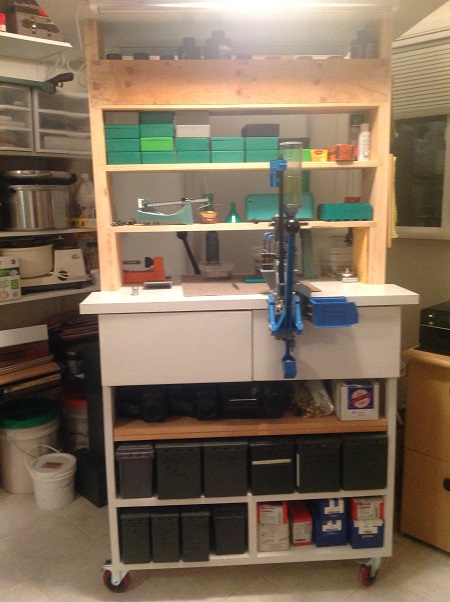 That is cooler than shit, waepnedmann, and very nicely done! Thanks for sharing!
*****
For those shooting vintage military weapons, have you ever wondered if your surplus ammo is corrosive? Well our pal redc1c4 sends us an excellent summary of both corrosive and non-corrosive USGI ammunition with identifying headstamps, found at AmmoGarand.com. In addition to the ammo list, there is a lot of great Garand information at the site. Check it out! Thanks redc1c4!
******
ATTENTION NoVaMoMe 2020!!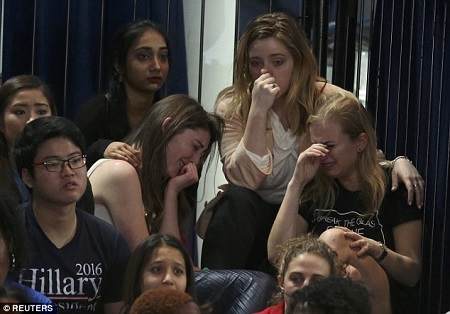 Sad people who cannot make the new NoVaMoMe date of August 29th
Due the Chinese Cooties hysteria in Virginia, the NoVaMoMe 2020 has been postponed until Saturday, August 29th. The time and location remain the same. If you haven't already, please check your email and let the Central Planning Committee know if you are able to make the new date. If not, your registration fee will be refunded and we will open your spot to those on the wait list. Questions? Just email us at NoVaMoMe2020 at gee mail dot com. Thank you!
******
Link-O-Rama
I'm really very seriously not kidding around anymore. Buy Ammo
AmmoSeek - online ammo search tool
GunBot - online ammo search tool
SG Ammo
Palmetto State Armory
Georgia Arms
AmmoMan
Target Sports USA
***Mail Bag***
Have you ever found yourself laying awake at night wondering which pistol was the very first Jerry Miculek ever fired? Lord knows the question has plagued me for years, and now we have the answer!
******
Please note the new and improved gmail account morongunthread at gmail dot com. An informal Gun Thread archive can be found HERE. If you have a question you would like to ask Gun Thread Staff offline, just send us a note and we'll do our best to answer. If you care to share the story of your favorite firearm, send a picture with your nic and tell us what you sadly lost in the tragic canoe accident. If you would like to remain completely anonymous, just say so. Lurkers are always welcome!
That's it for this week - have you been to the range?


posted by Open Blogger at
07:00 PM
|
Access Comments